Avocado has launched its official Veterans Day sale, offering 10% off all of its organic beds, which means you can save 10% on the Avocado Eco Organic – the most affordable fully certified organic mattress in America. This drops the price of a queen Eco Organic down to $1,169, which is very competitive for a bed of this quality.
Many of this year's best mattresses are discounted throughout the year, but some like the Avocado Eco Organic, rarely dip below MSRP. So when Avocado announce that they are offering a site-wide 10% discount to mark Veterans Day 2023, it's worth paying attention.
This 10% off Avocado mattress deal adds up to a saving of nearly $130 on a queen size Avocado Eco Organic, which, even at full price, is already America's most affordable organic mattresses. We don't yet know whether the price will drop any lower as part of this year's Black Friday mattress deals and sales, but it's rare to see more than 10% off an Avocado bed. Plus, all purchases come with a 100 night trial, 10 year warranty and free shipping.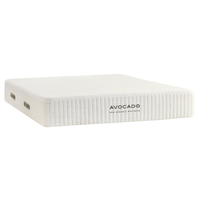 Avocado Eco Organic mattress by Avocado
Was: from $777
Now: from $699.30 at Avocado
Saving: up to $170
Summary: America's most affordable organic mattress is currently 10% off when you use the code HOLIDAY at checkout, driving the price of a queen size down to $1,169. Aside from picking your size, there aren't any customizable comfort features with this hybrid mattress. However, more than 900 pocketed coils crafted from recycled steel and 100% GOLS-certified organic latex (sourced from Avocado's own sustainable farms in Guatemala) results in full-body contouring, providing gentle-firm support suitable for most sleeping positions. For those looking for a sustainably sourced, certified organic mattress at a reasonable price, this is a hard sale to pass up on. The Avocado Eco Organic is also a naturally cooling mattress thanks to the use of latex, making it an excellent choice for hot sleepers.
Benefits: 100 night trial | 10 year warranty | Free shipping
Price history: 10% might not feel like a huge discount, but it means a saving of nearly $130 off of an already competitively priced, fully organic queen size mattress. Although this deal could just be a precursor to a bigger discount in the Black Friday sales, we rarely see Avocado offer anything above 10% off so now is a great time to buy.
Do organic mattress mean healthier sleep?
Opting for an organic mattress, which are often a bigger investment than standard mattresses, all comes down to personal preference. But it's easy to see their appeal. Crafted from toxin-free, sustainably sourced materials, such as GOTS certified wool, cotton and latex, organic mattresses are kinder to both you and the environment. They're also naturally cooling and breathable.
As well as being free from synthetic materials, including synthetic foam, polyester, and fibreglass, a certified organic mattress (not to be confused with a 'natural' mattress, where synthetic materials may still be present) is naturally hypoallergenic, making it a solid choice for anyone who suffers from allergies.