If you're a forgetful type who constantly loses your keys, an Apple AirTag is an ideal solution that makes locating valuables a breeze. However, these little devices rarely go on sale.
Fortunately, Amazon just slashed the price of a single Apple AirTag and an AirTag multi-pack in a rare sale.
For a limited time, a single Apple AirTag is on sale for $27 at Amazon. That's only a small discount compared to the regular retail price of $29, but you can score a bigger saving if you opt for a multi-pack. Case in point, the Apple AirTag four-pack is on sale for $89 at Amazon— that's a $10 discount. Even if the savings are on the smaller side, these still qualify as some of the best Apple deals you can get right now.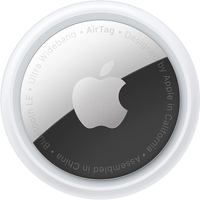 Apple AirTag: was $29 now $27 @ Amazon
The Apple AirTag is an excellent key finder that is extremely easy to set up and does a great job of locating your valuables. What more could you ask for? A single AirTag has only seen a modest discount at Amazon, but grab a four-pack of AirTags to get a bigger saving.
Naturally, we rank the Apple AirTag as the "best key finder for iPhone," and there's a lot to like about this miniature locator. In our Apple AirTag review, we called the tracker "a clever device that is super simple to set up, and its Precision Finding feature makes it easy to find everything from your keys and wallet to your backpack or luggage."
In particular, the easy setup process really impressed us. But we also liked the compact design and the abundance of accessories that are available, including some very attractive leather keyring cases. We weren't quite so pleased with how easy it is to scuff an AirTag. The fact they don't work with Android phones is frustrating, if not exactly unexpected.
The tag's privacy features also need work as AirTag stalking is a very real thing that you'll want to take steps to protect yourself from it to be on the safe side. However, in our real-world testing, we've found an Apple AirTag is a great way to ensure you can always find your valuables, or give you the peace of mind to know that your luggage is where it's supposed to be, and that is definitely worth $27.
If you're not entrenched in the Apple ecosystem, you might want to consider an alternative tracker like the Tile Mate for $24 at Amazon. In our Tile Mate review, we labeled the keyfinder our best value pick and were impressed with its low cost and solid set of features.