Most Anticipated TVs of 2019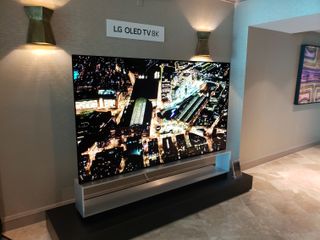 The Hottest TVs, The Coolest Features
CES 2019, like past CES shows before it, is a big show for TVs. Bigger, brighter, bolder screens are the rule for the world's biggest consumer electronics show. But this year, in particular, TVs seem to be stealing the show, with stunning 8K resolution sets coming from every major manufacturer, smart features that are smarter than ever with voice recognition and smart home support, and dramatically reimagined form factors that push the boundaries of what a TV can be.We're looking at all of it during our week in Las Vegas, and bringing you hands-on impressions, first reports and sneak peeks at the hottest TVs of today and tomorrow.
Credit: Tom's Guide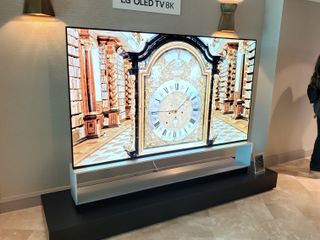 LG Z9 OLED 8K TV
The new LG Z9 is the first 8K TV to put the new resolution on an OLED display, delivering the unbeatable black levels and pixel-perfect backlighting that LCD sets can't match. It's also wicked smart, with LG's new Alpha A9 Gen 2 processor handling powerful upscaling and video processing, along with all the smart TV features offered on LG's ThinQ line. Combined with more than 30 million pixels and potent brightness, and the LG Z9 8K OLED promises to be the best looking TV of 2019.MORE: LG Shows off 8K OLED Smart TV for 2019
Credit: Tom's Guide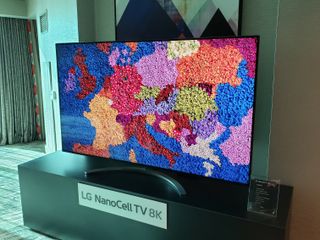 LG NanoCell 8K TV (75SM99)
The second 8K TV coming from LG is the NanoCell 8K TV (75SM99), which is an LCD display. The 33-million-pixel resolution matches the OLED model pixel for pixel, and thanks to LG's NanoCell filtering film, the black levels will be better than you would see from most LCD displays without sacrificing brightness of color accuracy. It may not match the OLED model in terms of razor sharp illumination, but it's just as clear and just as smart.MORE: LG Shows off Smarter 4K Sets for 2019Credit: Tom's Guide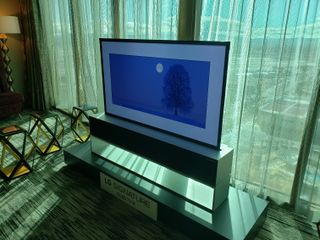 LG Signature OLED TV R
Last year, LG demoed a rollable TV, and in 2019 that rollable design becomes a real product, the LG Signature OLED TV R. Using a flexible glass panel, OLED on glass technology and an innovative segmented rear panel design, the 65-inch 4K TV rolls away into a discreet base when not in use. It also has special modes for intermediate positions, letting you use the top third of the screen as a music player, or retracting the screen entirely to use the built in soundbar on its own.MORE: LG Rollable TV First Hands-on: This is Beyond AmazingCredit: Tom's Guide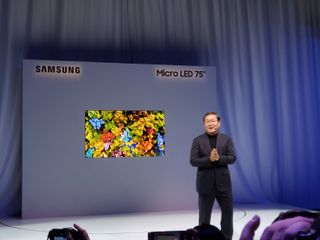 Samsung The Window MicroLED 4K Display
Last year's jaw dropping wall-sized microLED display was big news, but the smaller 75-inch version, called The Window, might be an even bigger deal. The display uses microLED technology to provide super bright, vibrant color, and the TV can be customized to unique sizes and aspect ratios. Size it up or down, set it up as an ultra-wide display, or even set it up in a square shape for an arty look. Regardless of the configuration, the TV's software adjusts to deliver the best aspect ratio and resolution available, letting you customize your TV to your heart's content.MORE: Samsung's Modular MicroLED Window Feels Like the Future of TVCredit: Tom's Guide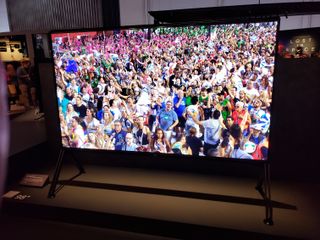 Sony Master Series Z9G 8K LCD TV
Sony's play for the new 8K market is a pair of 8K models that not only look great, they also sound amazing. The Sony Master Series Z9G comes in two sizes, 85 inches and a whopping 95 inches, with 8K LCD panels that offer impressive resolution and HDR support. Further refinements include IMAX Enhancement certification -- a new HDR and optimization standard -- and Netflix Calibrated Mode for picture perfect streaming. But the biggest draw may be the sound, thanks to Sony's new Acoustic Multi Audio which creates sound that seems to come straight from the screen, making dialogue more realistic and immersive.MORE: Sony's 8K Master Series TV Is a Feast for the Eyes and EarsCredit: Tom's Guide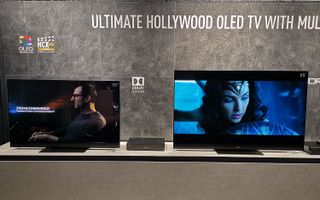 Panasonic GZ2000 OLED
Panasonic's newest OLED is an impressive first as the GZ2000 OLED TV becomes the only TV on the market to support Dolby Vision and HDR10+, to competing optimization standards that had previously been mutually exclusive. Billed as the TV Hollywood professionals use, the Panasonic GZ2000 OLED comes in 55- and 65-inch sizes, and should sound good, too, thanks to Technics-tuned sound and Dolby Atmos support.
MORE: Panasonic GZ2000 OLED TV Hands-On: Come for the Picture, Stay for the Sound
Credit: Tom's Guide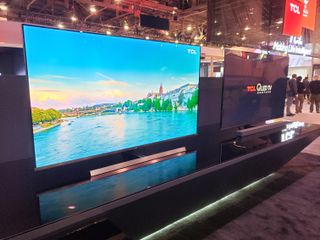 TCL 8-Series 8K QLED
After years of making and selling quantum-dot TVs in China, TCL has brought it stateside for it's own 8K TV, the TCL 8-Series 8K QLED. Americans may be used to hearing about QLED on Samsung products, but the technology is not exclusive to Samsung, and TCL plans to use the same quantum dot enhancements to offer brighter, more vivid color. The TCL QLED 8-Series TVs will be coming in both 8K and 4K resolutions in 2019.And while pricing specifics have not yet been announced, TCL representatives have assured me that the company's dedication to affordable value will also extends to its 8K models, meaning that this may be one 8K TV you can actually afford.
Credit: Tom's Guide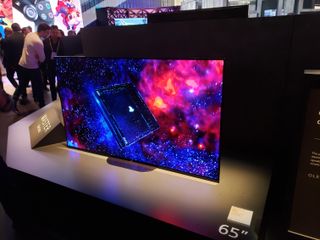 Sony Master Series A9G OLED
Sony's Master Series is still fairly new, but the upcoming A9G OLED TV looks great and sounds good too. The 65-inch model features Sony's exclusive Netflix Calibrated Mode, so 4K and HDR content streamed on the TV will look its very best, and the OLED panel doubles as a center channel speaker with Sony's Acoustic Surface Audio+, the latest iteration of it's sound-from-screen technology.
Credit: Tom's Guide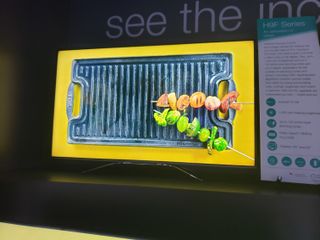 Hisense H9F Android TV
Hisense is about more than just budget-friendly sets. The upcoming H9F Android TV is one example of an aggressive push into the premium smart TV market. The smart TV has Android TV with Google Assistant built-in, but the smart design goes further. The display gets extra-vivid color with quantum dot enhancement, and a content-aware system called PQ AI that adjust your TV display settings depending upon what you're watching. It's a smart move that takes the hassle out of using the various modes on your TV, letting you enjoy the best experience without digging into menus or jumping between setting modes. The big game will play in in sports mode, while movies automatically switch to cinema mode, with all of the frame rate, color and smoothness settings applied to make the content look its best.
Credit: Tom's Guide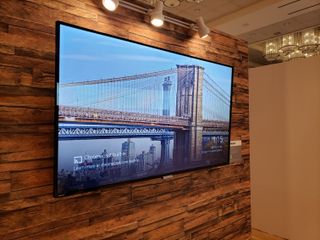 Philips 4K UHD Android TV 5704 and 5904
Philips is showing a pair of Android TVs that offer 4K resolution and a full array of smart functionality, but there's one more feature on the 5904 you might want to notice. Android TVs all include Google Assistant, but the 5904 includes built-in far field microphones which let you speak to the TV without using the remote. This gives you the same natural interaction you would get from a Google Home smart speaker and all of the TV-controlling conveniences we've seen in smart TVs the last few years, without having to hunt for the clicker.
Credit: Tom's Guide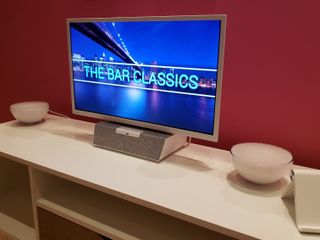 Philips 24-inch Kitchen Android TV
For those times you simply don't have an free hand, the Philips 24-inch Kitchen Android TV if the voice interaction designed for cooks at the counter. The small TV uses Android 8, and has far-field microphones built in so you can look up recipes and videos while you chop and saute.And it's not just for cooking content. You can watch Netflix and other streaming video, surf through over-the-air channels, and control smart home devices using the included remote or the built in voice control.
Credit: Tom's Guide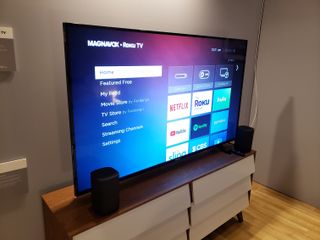 Magnavox 4K Roku TV
Magnavox is introducing its first batch of 4K Roku TV's, in sizes ranging from 43 to 65 inches. Whether you want it in the living room or the den, you can stream from your favorite services and use Google Assistant - a feature just added to 2019 Roku TVs. But the most appealing feature may be the price; the Magnavox 4K HDR Roku TV will launch this spring with a starting price of $349.
Credit: Tom's Guide