When buying your next 4K TV, should you buy an OLED TV or should you buy a QLED TV? It's a question we get quite a lot and, having tested dozens of them over the years to help name the best TVs you can buy, we've got the experience to answer.
That said, we're not playing favorites here. Both technologies — OLED and all LED-LCD TVs with quantum dot filters — offer something special from the first-generation LCD TVs you remember from over 10 years ago, and we think there's room in most homes for both. It all comes down to where you put them and how you plan to use them.
Our OLED vs QLED comparison story goes into more detail, but here I'll briefly cover what the two technologies are all about and what you need to know before you buy.
OLED TVs vs QLED TVs: what's the difference?
OLED TVs almost need no introduction. You've probably heard on commercials and seen on advertisements that they offer perfect contrast thanks to individually lit pixels and been told that they offer great color accuracy and saturation levels. All of that is certainly true. OLED TVs are some perennial favorites here at Tom's Guide because they deliver all of the above, as you'll see on our best OLED TV page.
The only problem with OLED TVs is that these individual pixels can degrade over time — eventually these pixels will either degrade to the point where they won't hold an accurate color, hold onto a single color forever or burn out entirely. How long this process takes is a hotly debated subject in the industry.
Meanwhile, QLED TVs are a lot closer to the LED-LCD TVs you remember because, well, at their core they still use LED-LCD technology. QLED really just means that a TV with LED lighting in back and an LCD front has a thin film of quantum dots wedged in between them. When a current is passed through the film, the quantum dots can dilate or contract, boosting brightness and color saturation. Until recent advancements in OLED technology, QLED TVs were easily the brightest TVs on the market — barring some really expensive MicroLED TVs, but that's a subject for a different article.
The problem with QLED TVs is that they're only as strong as their lighting system. QLED TVs with edge-lighting like the 70-inch Samsung Q60C QLED TV aren't going to have the best contrast compared to QLED TVs with full array local dimming and Mini-LEDs. The difference in quality between QLED TVs varies so wildly that you have to be a lot more cautious when buying a QLED TV than you do when buying an OLED that mostly all use the same or similar technology.
That's a nice segue into the first thing you should know…
QLED TVs aren't as fancy as you think
Because there isn't much special to QLED TVs besides the quantum dot filter, pretty much every manufacturer has a series of QLED TVs. That's nice because that allows you to buy a QLED TV at a number of different price points — but it also means that not all QLED TVs are made equal and some of them are really pretty bad.
Take, for example, that Samsung Q60C QLED TV I mentioned earlier. For starters, it uses edge lighting which hurts the contrast of the TV but it also doesn't have nearly the same brightness output of other top-end QLED TVs like the wonderful Samsung QN90C QLED that we just reviewed a few weeks ago. The Samsung Q60C only has a native 60Hz refresh rate and doesn't offer any HDMI 2.1 ports.
There are a few OLED TVs with a native 60Hz panel — like the LG A2 OLED — but most offer a native 120Hz refresh rate and, compared to QLED TVs, are much closer in performance to one another. QLED is a great enhancement, but it's become so widely available now that the name doesn't really mean that much.
OLED TVs are flawed, but not for the reason you think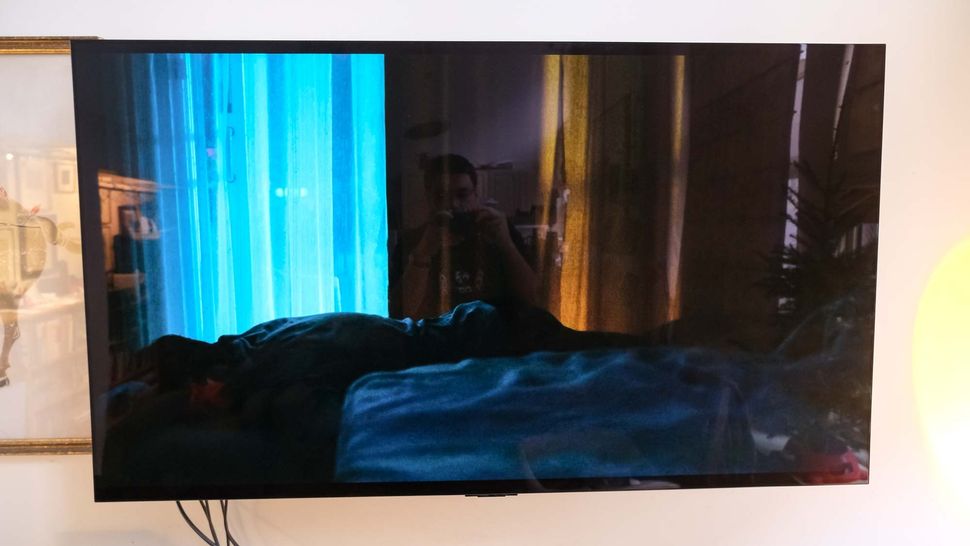 When I talk to most readers about OLED TVs, the first thing they bring up is burn-in. In fact, the term has almost become synonymous with the TV technology. That said, it's not nearly as common as it used to be even five years ago.
The reason for this is that LG Display, the leading manufacturer of OLED displays, changed the chemical composition of its organic light emitting diodes. Now they use a stable hydrogen isotope called deuterium that increases the lifespan by a factor of 5x. (Read more: OLED burn-in — here's why older TVs get it but newer ones don't.)
Instead the biggest problem with OLED TVs in general is that most have a glass front panel that is ultra-reflective. If you have any light coming from behind where you're sitting, you'll almost certainly see it reflected in the TV screen and that can obscure those inky black details that OLED TVs are known for.
For years, I would tell readers that you should only really buy an OLED if you plan on watching it with the lights off at night or in a light-controlled room like a dedicated home theater. That way, you could mitigate any issues with reflectivity.
These days, though, there's a new technology that has upended everything we knew about OLED…
QD-OLED and QLED with Mini-LED lighting are the best of both worlds
But what if you could have the higher brightness of QLED TVs but still keep the better black levels and color saturation of OLED? Thanks to QD-OLED and QLED TVs with Mini-LED lighting, you can.
QD-OLED just stands for quantum dot organic light-emitting diodes. Samsung Display, the panel research, development and design arm of Samsung, is producing them en masse and they're making huge waves in the TV world. The first models to use QD-OLED — the Samsung S95B OLED and Sony A95K OLED — just came out at the end of last year and were some of the best TVs we saw because of their extra brightness and great colors.
But you don't necessarily need to go the OLED route if you don't want to. Your other option is QLED with Mini-LEDs that pack tens of thousands of LEDs into the lighting element, resulting in higher overall brightness without light bleed or haloing around objects. It's a technology we've seen on the aforementioned Samsung QN90C and it's a true OLED competitor. Mini-LED QLED TVs can often be had for around as much or even less than competing OLED models, so be sure to read some reviews on them before making a buying decision on your next 4K TV.
Bottom line
Unfortunately, there are no clear winners between the two technologies. They each offer something special and will suit certain types of viewers and not others. Hopefully, though, you now have a better understanding of each and can start narrowing down your options. Next, be sure to check out specific reviews of TVs here on Tom's Guide or hop on over to buying guides on the best OLED TVs or best Samsung TVs to look at the top models of each technology.
More from Tom's Guide