We've reviewed more than 40 TVs in the last year to tell you which is the best 4K TV. Our favorite 65-inch set for the money is the LG C9 OLED TV, which delivers superb picture quality, excellent smart features and the most advanced feature set of any TV on the market. The best budget 4K TV is the TCL 43S517 Roku Smart 4K TV, which delivers a striking 43-inch picture with excellent contrast.
If you want the ultimate detailed picture, 4K or ultra-HD TVs are the sets to buy. They pack four times more pixels (3840 x 2160) than traditional HD TVs, and they are the first models to get new technologies such as wider color gamut and high dynamic range (HDR) video. In our labs, we've tested all of the most popular 4K TV sets, evaluating them based on sharpness, color and viewing angles, as well as design, smart TV features and sound.
For other great 4K TVs, the mid-range Vizio M-Series Quantum (M658-G1) and Samsung Q90 QLED TV are some of the best we've reviewed, earning top marks as the best sub-$1,000 model on the market and the best OLED alternative, respectively.
Latest News & Updates (August 2019)
Having trouble keeping all the TV brands and features straight? If you're puzzled about what makes an LG TV different from a Sony, or you need help deciding between an OLED and QLED, check out our guide to the top TV brands.
Get a sneak peek of TCL's newest Roku TVs with our hands on of the 2019 TCL 5-Series, 6-Series and the new premium 8-Series.
We've just wrapped up the review of one of the best TVs we've ever seen. If you want a premium TV experience like no other, check out the Samsung Q90 QLED TV, which proves that OLED isn't the only option for stellar picture quality.
Best 4K TV Overall
LG C9 OLED TV
The LG C9 OLED wowed us in more ways than one, with a best-in-class OLED display, superb smart features, and a design that looks impressive even when the TV isn't on.
Best Under $500
TCL 43S517 Roku Smart 4K TV
The TCL 43S517 Roku Smart 4K TV offers a 43-inch 4K TV that's packed with premium features, excellent performance and a sweet bargain price.
Best OLED Alternative
Samsung Q90 QLED TV
The Samsung Q90 QLED TV is the top premium 4K LCD on the market, and it's a great OLED alternative.
Best 4K TV Overall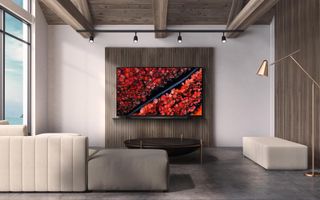 When it comes to quality, its hard to match OLED technology, and LG's C9 OLED TV represents the best we've seen. Watching the best-in-class display is stunning, thanks to incredible color quality, sharp resolution, pixel-level precision lighting and unmatched black levels.
But it wasn't just the OLED display that puts the C9 above the competition. LG has outfitted the 4K smart TV with advanced HDMI 2.1 ports, support for a range of truly intelligent smart features, and a double-whammy of integrated voice assistants nobody else can claim: Google Home and Amazon Alexa built right into the smart TV. It's the sharpest, sleekest and smartest smart TV we've seen in 2019, and the easy pick for best 4K TV overall.
MORE: LG C9 OLED Review: The Best Is Back and Better Than Ever
Best Under $500
Great things can come in small (and affordable) packages. The TCL 43S517 Roku Smart 4K TV is smaller than most TVs we recommend, but with a super affordable price, great picture and sound quality, and a slew of unexpectedly premium features, this 43-inch model is a screaming deal. (And you can find larger sizes at similarly affordable prices).

We've reviewed plenty of inexpensive Roku TVs, but TCL's reputation for better-than-average quality and some genuinely exciting features – like Dolby Vision HDR, Dolby Atmos audio support, and integrated voice search – make this substantially better than most cheap sets we've seen.
MORE: TCL 43S517 Roku Smart 4K TV Review: A Steal for Under $400

Best Picture Quality
The Sony Master Series A9F OLED TV is one of the best OLED TVs on the market, and blows away the competition with its great picture quality, an innovative sound system and an improved version of Android TV. The display boasts the widest color gamut we've ever seen, and the per-pixel backlight produces some of the best contrast available. Sony's improved Acoustic Surface Audio+ delivers sound right from the screen, and is good enough that there's no need for a soundbar. It's the best Sony TV we've seen and one of the best TVs on the market period.
MORE: Sony Master Series A9F OLED TV Review: The OLED to Beat

Best Under $1000
The Vizio M-Series Quantum delivers the best smart TV you'll get for under $1,000. With local dimming and color boosting quantum dot technology, it has impressive picture quality and great HDR performance, complete with Dolby Vision support. A built in Chromecast opens up a vast landscape of apps and services, and the updated SmartCast software includes support for Apple AirPlay2 and HomeKit, making it just as good for iOS users.
MORE: Vizio M-Series Quantum 65-inch (M658-G1): Our Favorite Under $1,000
Best for cord-cutters
The Vizio P-Series 65-Inch P65-F1 isn't just a good TV, it's probably the best thing around for cord cutters who want plenty of content options. Vizio's smart TVs have been hobbled in recent years by funky smart functionality and the marked absence of a built-in tuner, but the Vizio P-Series 65-Inch P65-F1 corrects these missteps. With great performance, an expanded app selection, major flexibility offered by the built-in Chromecast and the return of the tuner, this TV shapes up to be the best option for anyone who wants to ditch their cable or satellite subscription.
MORE: Vizio P-Series 65-Inch P65-F1 Review: Best Vizio TV Yet
Best OLED Alternative
You may hear great things about OLED, but here's the reality: Samsung's QLED technology is so good, we had to put the two side-by-side to even spot the differences, like the fact that Samsung's LCD-based displays offer better brightness than LG's best OLED. And with superb color quality, smooth motion handling and crisp, clear images, the Samsung Q90 is one of the best TVs ever made.
Throw in Samsung's excellent smart features, intelligent processing of video and audio, and a wealth of advanced features, and it's easy to see that the Samsung Q90 QLED TV is the best alternative out there to premium OLED TVs.
MORE: Samsung Q90 QLED TV Review
Best Outdoor TV
The elements are hard on TVs, but the SunBrite TV Veranda Series 55-inch TV (2019) is ready for the outdoors, with a weatherproof design and a screen made for daytime viewing. With strong 4K picture performance, HDR capability and excellent sound quality, it's a great choice when you need a TV for your garage or deck.

MORE: SunBrite TV Veranda Series 55-inch (2019) Review: Our Favorite Outdoor TV
How we test 4K TVs
We evaluate TVs both with instrument-based measurements, such as color accuracy and gamut, as well as subjective tests, to see how well the screens display real-life video. For ultra HD 4K TVs, it's especially important to see how they upscale the HD content that will make up the vast majority of the content people view on the screens. We also consider design and usability. For details on our testing methodology, please see How Tom's Guide Tests and Reviews TVs.
The best time to buy a TV
If you're planning to purchase a new television, the best times to buy are in November, December, and January, according to our sister site ShopSavvy. However, deals on smaller models can be found in the back-to-school timeframe of June-September, too. For more deals and advice on purchase timing, check out ShopSavvy's TV section.
Wondering whether you should buy last year's TV at a bargain or wait for the new sets to arrive in stores? Check out our advice to one conflicted TV shopper.
MORE: Buying a TV? Here Are 11 Things You Should Know
Where to get 4K content
If you're wondering where to get native 4K content, streaming services such as Amazon Instant Video, Vudu and Netflix now shoot and stream some original programs in 4K ultra HD. Sony and Samsung offer media players that let you download 4K movies from multiple studios. Although live 4K broadcasts don't exist yet, the best 4K TVs can upscale HD content to look convincingly more detailed, and the higher number of pixels per inch allow you to sit closer to the screen without seeing a distracting grid – it will even let you enjoy a larger size TV in a smaller room.
Are you planning to buy a PlayStation 4 or Xbox One? Then you should check out our guide to see which 4K console is right for you.
MORE: Where to Get 4K Content
Should I get a TV with HDR?
One feature you'll see mentioned frequently in ads and reviews is HDR, which stands for "High Dynamic Range." This newer offering indicates that a TV can deliver better contrast and brightness with more colors, making your 4K movies and games look even better. Not every 4K TV has HDR support, and neither does all 4K content, but whenever HDR is offered the improvement is striking.
MORE: What Is HDR TV, and Why Does It Matter?
You'll sometimes see HDR under different labels, like Ultra HD Premium or Dolby Vision. As of right now, there is no industry standard for HDR content, and sussing out which manufacturers support each version of the format can be tricky. Thankfully, additional HDR support can often be added with a software update, and many manufacturers support multiple formats already.
The good news is that HDR support is becoming more common and more affordable, making it easier than ever to get the best picture quality available.