If you're itching to play the most impressive, demanding games in the biggest and most beautiful form possible, you need one of the best gaming PCs on the market.
It's a big investment, we know, but trust us: it's an investment that pays off in more ways than one. Sure, blasting through hordes of foes at blazing-fast frame rates and high resolutions is fun, but you can just as easily use your gaming rig for graphic design, animation or simply streaming movies and TV in beautiful 4K.
Now that new consoles have hit the market we should pointout that while the PS5 and Xbox Series X deliver plenty of power, they're still no match for one of the best gaming PCs. If you want fast-loading SSDs, gorgeous ray tracing, massive quantities of RAM, 4K resolution and 60+ fps frame rate, you don't have to wait until the consoles come back in stock; you can have the the best gaming PCs right now.
Plus, unlike a console, you can upgrade PCs as better components becomes available. Don't be put off by the prospect of getting your hands dirty; modern PCs are easier to upgrade than ever, and the time you invest will pay off with amazing performance.
We test new gaming PCs regularly to see if they pass muster for this list, and update the page as systems become available. Read on, and we'll help you find your next great gaming machine.
What are the best gaming PCs right now?
The best gaming PC right now is the the Alienware Aurora R11, thanks to its sleek, stylish design, blistering gaming performance and painless upgradability. If you want to be able to swap in newer graphics cards over time and don't want to deal with a bunch of screws and tools, the Aurora is for you.
If you're looking for the best cheap gaming PC, the CyberPower Gamer Xtreme VR is our top budget pick. One of our favorite mid-range options is the Dell G5 5090, which starts at a reasonable entry level, price, has an attractive design, and, like its bigger Alienware brother, is fairly easy to upgrade.
The Corsair One Pro i200 is a good choice for folks seeking a hybrid gaming machine for both graphic design work and play. There's also the MSI MEG Trident X, which boasts a gorgeous design and is small enough to fit into almost any gaming setup.
The best gaming PCs you can buy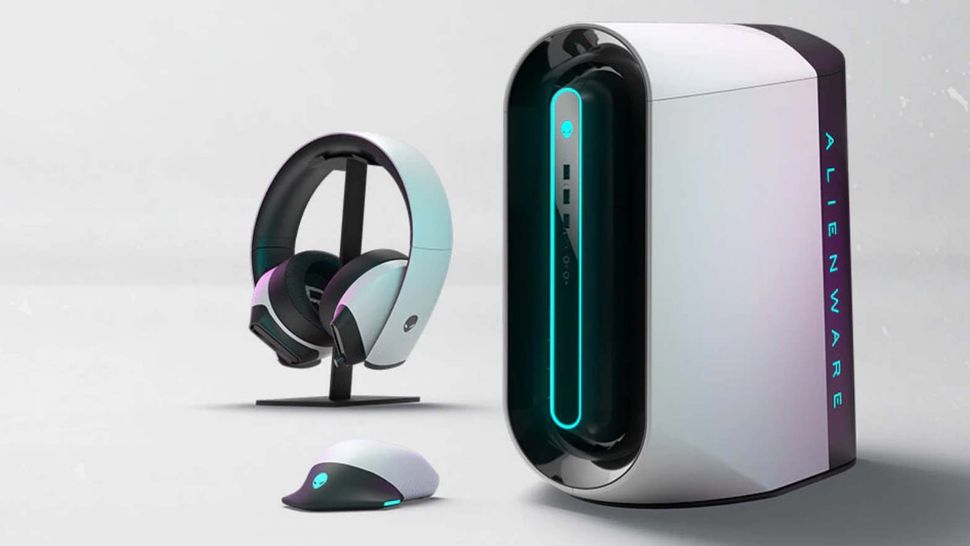 The Alienware Aurora R11 is currently one of the best gaming PCs you can buy, whether you go for a modest model that costs $1,000, or a mighty behemoth that costs $5,000. This gorgeous, highly customizable device features a slick chassis with a striking oval faceplate, as well as hardware up to an Intel Core i9-10900F CPU and an Nvidia GeForce RTX 3090 GPU.
The system can get pretty pricey, and the built-in Alienware software can be tetchy at times. But generally speaking, the Aurora R11 is built from the ground-up to run the latest and greatest games at peak settings, with frame rates exceeding 60 fps at 4K resolution, and 300 fps at 1080p resolution. It's also relatively easy to upgrade, thanks to a tool-free back plate and a fair amount of space inside for additional RAM and storage.
Read our full Alienware Aurora R11 review.
The CyberPower Gamer Xtreme VR is one of the best gaming PCs for folks who want to spend $800 without sacrificing much in the way of power. Packing a Core i5 processor and an Nvidia GTX 1660 graphics card, this desktop can run mainstream games at high settings and even handle virtual reality without much of a sweat. Better yet, the Gamer Xtreme VR is very easy to open up, making it a great starting point for gamers who eventually want to upgrade to more powerful parts.
The Gamer Xtreme VR has long been a favorite at top online retailers, and for good reason. On top of its strong performance and low starting price, this machine has a fairly sleek and flashy design, complete with custom RGB lighting both on the fans and within the case. You also get a CyberPower keyboard and mouse right out of the box, so you can spend less time fetching extra accessories and more time fragging your friends online.
The Corsair Vengeance i7200 doesn't cost nearly as much as some of its competitors, but it still gives you access to some of the most powerful hardware on the market. That's because the Vengeance i7200 comes in a plain-looking case, and doesn't include any peripherals. But if you prefer substance to style, this is probably the right gaming PC for you. With CPUs up to an Intel Core i9-10850K and GPUs up to an Nvidia GeForce RTX 3090, you can make a beast of a machine — if you can pay for it.
Apart from that, the Vengeance i7200 features beautiful RGB lighting, a tasteful glass side panel and extremely quiet fans. That makes it a good productivity tool in addition to a gaming powerhouse. Whether you game in QHD or 4K, there's almost certainly a Vengeance i7200 build that will work with your setup.
Read our full Corsair Vengeance i7200 review.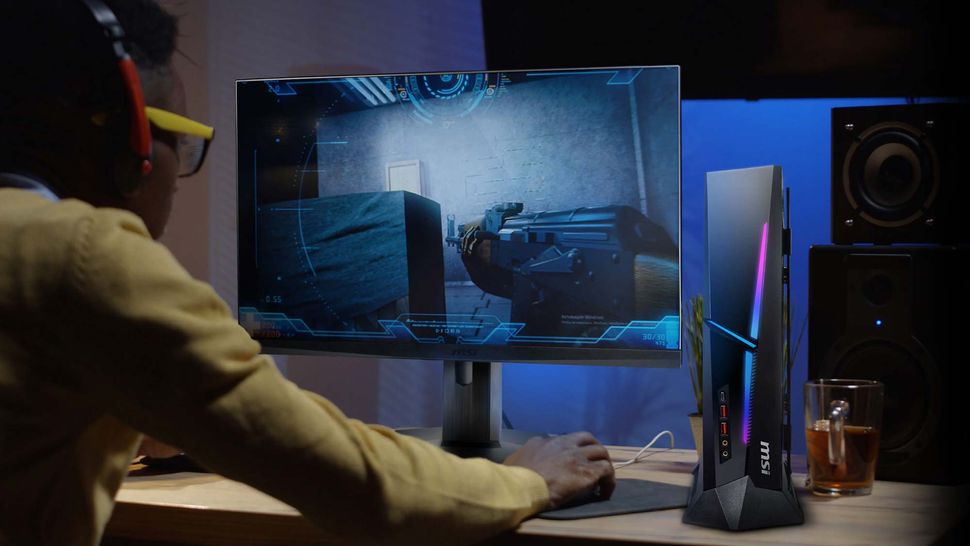 The first thing you'll notice about the MSI MEG Trident X is that it's absolutely gorgeous. This small, angular machine fits easily into just about any gaming nook, and is ideal for either desktop or living room setups. The second thing you'll notice is that it runs games absolutely beautifully, whether you want to experience them at full HD, QHD or UHD settings. With a variety of processor, GPU and RAM options from which to choose, you'll be able to customize a machine that works for your games, and for your monitor.
Just be aware that no matter how you design the MEG Trident X, it's going to be expensive. Furthermore, the accessories it comes with — the MSI Clutch GM11 Mouse and MSI Vigor GK30 Keyboard — are mediocre at best, and disappointing at worst. Still, in terms of both physical design and raw performance, the MEG Trident X is one of the most gorgeous and functional gaming PCs on the market today.
Read our full MSI MEG Trident X review.
The Corsair One Pro i200 is arguably the best gaming PC if you need a device for both work and play. This powerful machine packs an Intel Core i9-10940X CPU and an Nvidia GeFore RTX 2080 Ti GPU. That's admittedly not the newest gear, but it's still more than capable of running the latest games at high settings, or churning through massive amounts of graphic design or video projects.
The real selling point of the Corsair One Pro i200, though, might just be its chassis. This PC is about as small and light as pre-built gaming desktops come, at only 15 x 8 x 7 inches and 23 pounds. Furthermore, the device is absolutely gorgeous, with a tasteful gunmetal color scheme, and two programamble LED lights. You might need a few more USB ports than this system offers for heavy-duty creative work, but if you can afford the One Pro i200, it'll serve you well both professionally and for fun.
Read our full Corsair One Pro i200 review.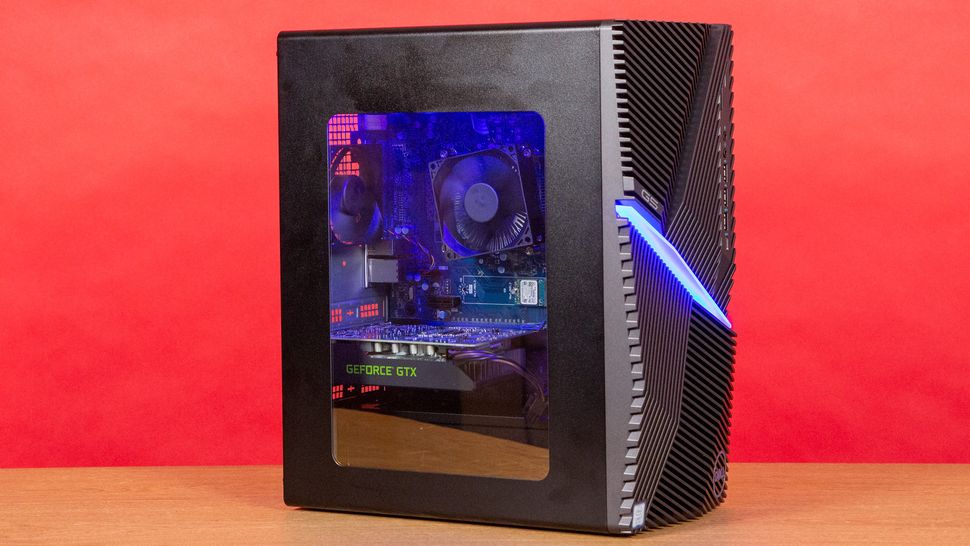 The Dell G5 5090 is one of the best gaming PCs for folks who want a solid entry level machine that's very easy to upgrade. This fairy affordable desktop starts with a modest Core i3 processor and Nvidia GTX 1650 card, but can be outfitted with up to a Core i7 CPU and RTX 2080 GPU for more intensive gaming.
One of the G5's biggest selling points is its sleek, foolproof chassis, which is incredibly easy to open up should you want to swap out components over time. We found Dell's desktop to be reliable for playing AAA games at 1080p and 60 frames per second, and like that the machine comes mostly free of bloatware. Overall, if you need a good, affordable desktop that you can make more powerful over time, the Dell G5 5090 is a great choice.
Read our full Dell G5 5090 review.
How to choose the best gaming PC for you
Price: If affordability is your concern, most decent gaming PCs start around $700 to $1,000. For that price, you're looking at specs such as Intel Core i3 and Core i5 processors, Nvidia 1660 and 1660 Ti GPUs and 8GB to 16GB of RAM.
Performance: Think about the type of gaming experience you're after. Game streaming services like Google Stadia can offer decent performance, but if its solid 1080p/60fps gaming you want, a machine with a decent Core i5 processor and GeForce 2060 or AMD Radeon RX 5600 GPU will get you there. Cards such as the Radeon RX 5700 and GeForce 2080 hit a nice sweet spot for dependable 1440p gaming. Going 4K? You'll want to spring for hardware such as an RTX 3080 or AMD RX 6800.
Upgradability: Gaming PC components are always evolving, and the best gaming PCs can be easily upgraded with new parts over time. Machines such as the Alienware Aurora and Dell G5 are easy to open up and tinker with, even for the less tech-savvy. Compact machines, such as the Corsair One, can be a bit harder to open up. So if you plan on upgrading your investment over time, keep this in mind.
VR-readiness: Want to game in VR? Requirements for headsets such as the Oculus Rift S and HTC Vive start at an Nvidia GTX 1050 Ti / AMD Radeon RX 470 GPU, an Intel Core i3 or Ryzen 3 processor, 8GB of RAM and a DisplayPort 1.2 or mini DisplayPort. Make sure your machine meets this requirements before you plunk down cash for one.
How we test the best gaming PCs
In our search to find the best gaming PC, we run every model we review through a standardized gauntlet of real-world and benchmark tests, in order to measure how each desktop stacks up as both a gaming machine and as an everyday computer.
As far as hard numbers go, we currently run the framerate benchmark utilities for Shadow of the Tomb Raider, Far Cry: New Dawn, Red Dead Redemption 2 and Grand Theft Auto V at 1920 x 1080 with graphics maxed out, as well as at 2560 x 1440 and 4K if a system allows for it. On top of that, we play tons of graphics-intensive games in order to give you a sense of how these gaming desktops hold up anecdotally.
In terms of synthetic tests, we run a gamut of benchmarks that include 3DMark Fire Strike Ultra (for graphics) and Geekbench 4 and 5 (for processor performance). We also run the SteamVR Performance Test on all of our machines to evaluate how ready they are for virtual reality. To test a system's hard drive, we measure how fast each PC can copy 4.97GB worth of multimedia files.
Check out all of our desktop computer coverage:
Best computers | Best all-in-one computers | Best mini PCs | best gaming keyboards | best gaming desks | best gaming monitors |