Trend Micro Premium Security for Mac: Specs
Malware protection: Good
System impact, background: Light
System impact, scans: Moderate
macOS compatibility: 10.15
Browser extensions: Yes
Firewall: No
Hardened/secure browser: Yes
Blocks Potentially Unwanted Apps: Yes
Ransomware rollback of encrypted files: Yes
Password manager: No
Scan scheduling: Yes
Webcam protection: Yes
System Optimizer: No
VPN: Yes
Backup: No
Support options: Phone, email, live chat
Hours of operation: 24/7*
Email: Yes
Phone: Yes
Chat window: Yes
* Premium Security only
With the ability to scan just about every nook and cranny, Trend Micro's Premium Security gets our nod as the most comprehensive and thorough way to check for malware on a Mac. Don't be in a hurry though, because the scanning takes hours.
Still, it offers good protection, attractive pricing and a slew of security-minded extras. On the other hand, its VPN is a separate app with no integration and the Trend Micro online portal misses an opportunity for integration with nothing more than a way to check licenses and pay for them.
Our Trend Micro Premium Security for Mac review will help you decide if this is one of the best Mac antivirus software suites around and if it's the right choice for protecting your Apple computers.
Trend Micro Premium Security for Mac review: Costs and what's covered
Trend Micro still offers its free HouseCall app that provides deep system scans to find and remove malware. There's also a 30-day trial for the full program.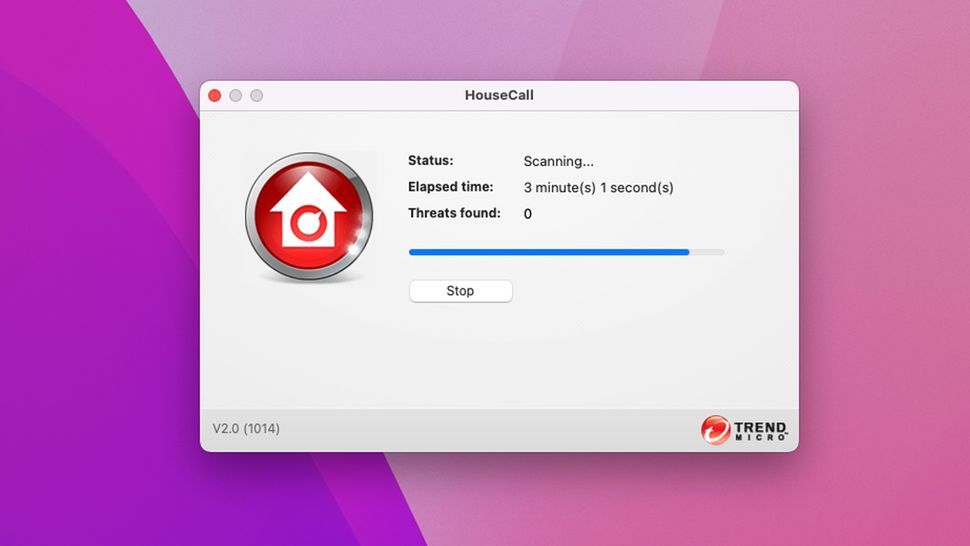 Meanwhile, the paid Antivirus for Mac is the basis for the paid app's security. On top of blocking malicious email attachments, it includes webcam and microphone protection as well as the Trend Micro Check browser add-ons. It costs $40 a year for a single computer.
The Internet Security package covers three Mac or Windows systems for $80 and adds parental controls. Its social media monitor can keep your Facebook and Instagram accounts clean.
Trend Micro's Maximum Security package raises the price to $90 a year to cover up to five devices that use Windows, Mac, Android and iOS. Mac users get shortchanged because the system optimizer is only for Windows.
Premium Security is Trend Micro's flagship security suite and the version I looked at. It adds ID Security that searches the Dark Web for your personal information and provides advice on how to fix it. The package also includes unlimited VPN access for five and 24/7 support. It costs $130 for 10 systems, or $13 per user but there are steep discounts during the first year. This is in the middle of the pack on pricing, with Intego costing more than double and Sophos costing less than half as much.
To use Trend Micro's security products, you'll need macOS 10.15 (Catalina) or higher. Windows users with Intel-based systems can use it on anything from a Windows 7 machine to a Windows 11 system, while those with the newer ARM-based systems need Windows 10 or 11. Android phones and tablets need to have version 5 or newer, while iPhones and iPads require iOS 11 or newer.
Trend Micro Premium Security for Mac review: Antivirus protection
Regardless of which Trend Micro product you get, they all have a three-layer defensive structure. It starts with local scanning for threats using its extensive database of malware techniques and exploits.
There's also real-time monitoring that uses advanced behavioral checking to look for potentially dangerous system changes which can indicate the first signs of a break-in. These triggers include files being moved surreptitiously or encrypted.
This is backed up with online analysis using AI to analyze new potential threats. Trend Micro can lift a hash version of a file deemed to be suspicious and potentially dangerous from your computer for this forensic evaluation. Scanner updates are sent out as often as hourly to the company's hundreds of millions of users.
Most of the recent changes to Trend Micro products have been in its back-end operations to speed up malware detection and streamline tasks. Trend Micro's defensive phalanx includes things like the ability to block the loading of unwanted apps and stopping emails that contain malicious code or phishing attempts. Its scanner is sensitive to ransomware threats but lacks things that others have, like Intego X9's ability to look inside an iPhone or iPad when it's connected to a Mac computer via USB.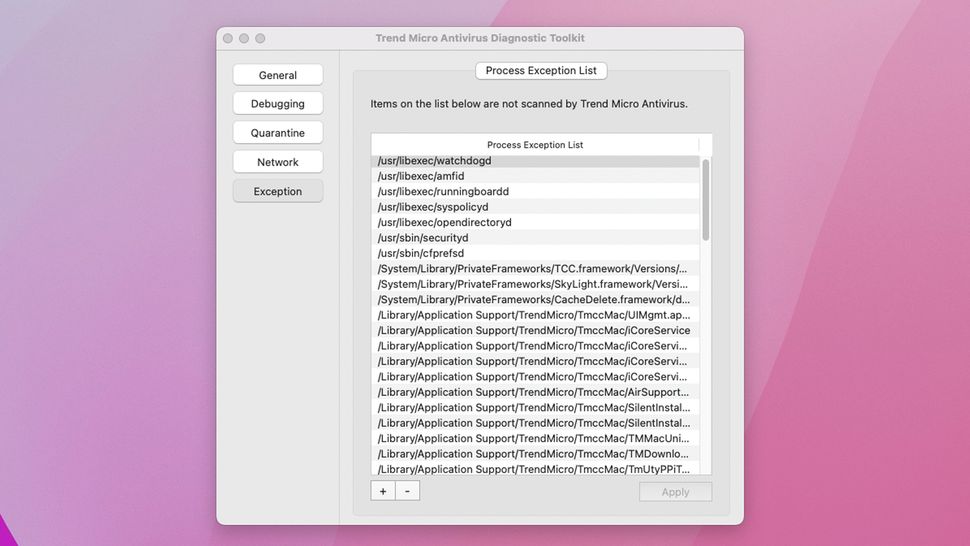 Originally designed to make tech support easier, the Trend Micro Diagnostic Toolkit is great for those who like to know what's going on under the hood. It's a separate app that can figure out what to do with quarantined files, check the Internet connection and let you view all of the program's exceptions. At any time, it's the place to stop any of Trend Micro's components.
Trend Micro Premium Security for Mac review: Antivirus performance
Historically, Trend Micro's protection has been top shelf with the best scores – or nearly so – on third party evaluations. In the March 2022 AV-Test malware survey, Trend Micro got a 99% score on finding and eradicating viruses. That's down from its perfect score in March 2021.
On the other hand, Avast, Bitdefender, and Norton all scored 100% on the same tests. However, all the participants had no false positive results on the AV-Test examinations this time around.
Things improved in the May-June 2022 AV Comparatives Mac Security Test, with Trend Micro getting a 100% score on malware, up from a 99.6% result last year. The others in the Mac protection crowd, including Avast and Bitdefender, matched this. On the other hand, Intego scored a slightly lower 96.8%.
Trend Micro scored 99% on blocking Potentially Unwanted Apps (PUA) from being installed. This is on a par with Avast and Bitdefender. Again, Intego scored a slightly lower 97%, meaning that a few threats might sneak through.
Trend Micro Premium Security for Mac review: Security and privacy features
When installing Trend Micro's software, it provided the choice of automatically adding its Check Web browser extensions, a big plus for those in a hurry. The security add-ons work with Chrome, Edge, Firefox and Safari. They not only block sites based on their reputation for but provide a checkmark next to online destinations determined to be safe. One of Trend Micro's security focal points has been combating the rise in fake websites.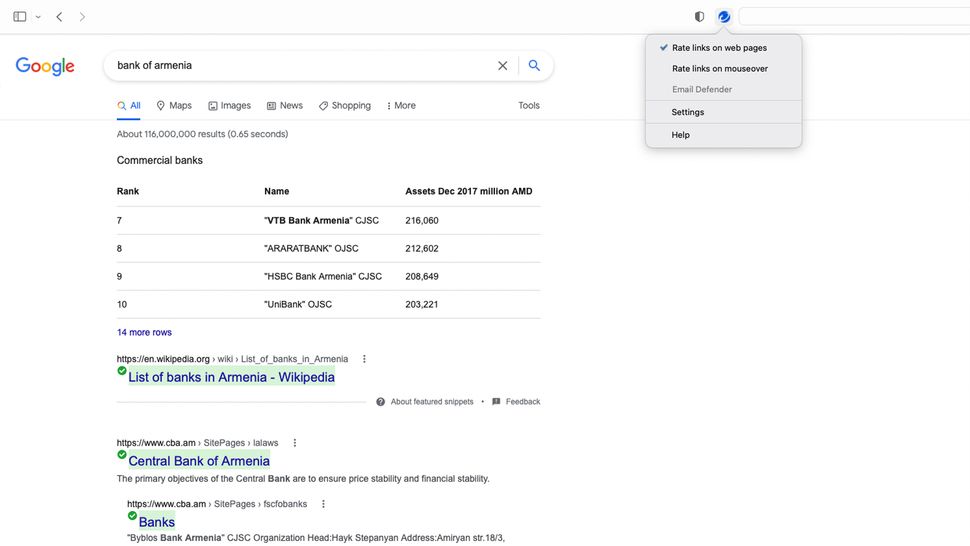 However, there are several items that require separate installations and are not integrated into the main program like the ID Security feature that provides a Personal Data Protection Score to help improve your online hygiene. It scans for your Social Security number and eight other parameters on the Dark Web. The other items that Trend Micro keeps separate include, the Unarchiver to open a variety of compressed files and AdBlock One to stop ads. Cleaner One Pro can remove junk files but costs $60 a year even for Premium Security subscribers.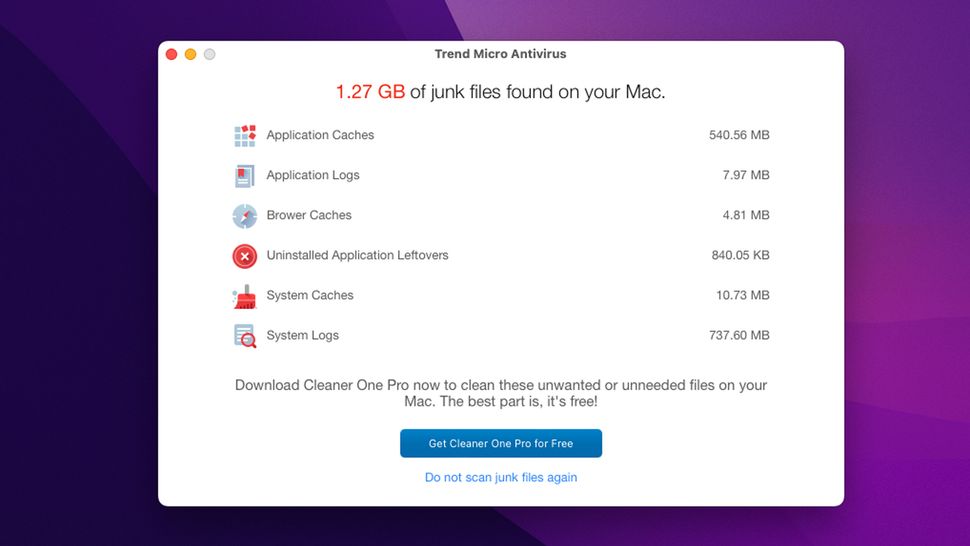 Unlike the Windows version, Trend Micro's Mac software does without a full set of parental controls, although the Website Filter is the next best thing. It lets adults pick and choose the content to block or let through. It can also be set to an appropriate age group but lacks the ability to cut a child's Internet connection altogether.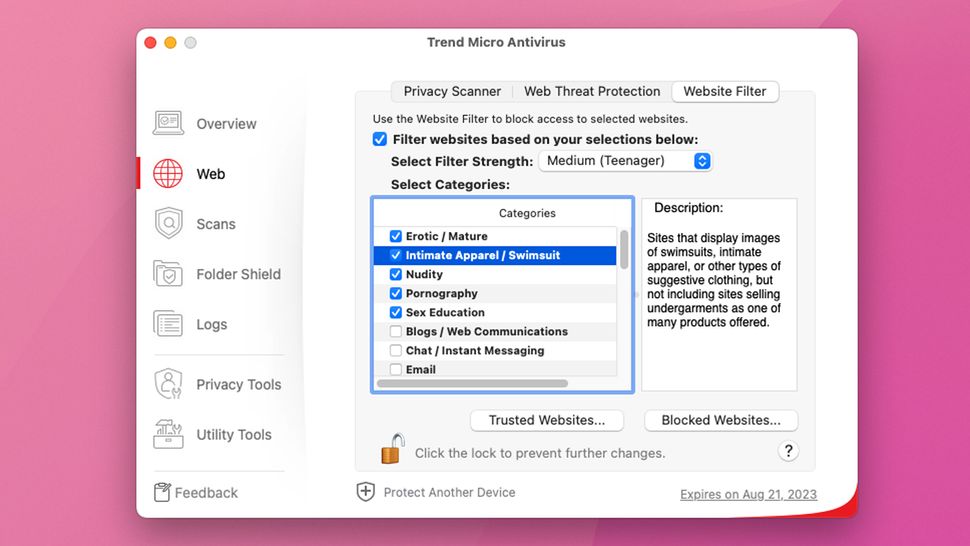 Overall, Trend Micro's Mac software misses a few must-haves such as a firewall, password manager and backup software.
Trend Micro Premium Security for Mac review: Performance and system impact
To measure the performance impact of Trend Micro's software and compare it to other Mac malware programs, we used the GeekBench 5 Compute benchmark to assess its performance potential at critical points. This software gauges the overall performance of a system with an emphasis on gaming, video editing and other high-end operations. Our test system was a Mac Mini with a 3.2GHz M1 processor, 8GB of RAM and 256GB of storage (223GB unused).
Prior to loading the software, the system registered a GeekBench 5 Compute score of 19,903. After it was loaded, but before any scanning took place, the Mac Mini's score dropped by 1.4%, showing a moderate amount of system overhead required. Still, it's unlikely that anyone will notice the difference.
While running a full scan, the GB5 score dropped further to 19.253, a decline of 3.3%. This puts it in the same class as Sophos Home Premium (at 3.9%) but much better than Intego's 6.3%, Malwarebytes Premium + Privacy's 4.7% drop or McAfee Total Security Premium's 4.8%. None could come close to Bitdefender Premium Security's 1% decline.
It had a slow start when it came to scanning though. Trend Micro took 3 hours, 16 minutes and 19 seconds to examine the Mac Mini's drive and index its elements. The pay-off is unmatched thoroughness with the scanner looking at 4,316,892 items, the most of any Mac security software we looked at. The good news is that after the second scan, the system knows what to focus on and did the same scan in 33 minutes and 49 seconds, bringing it more in line with the others.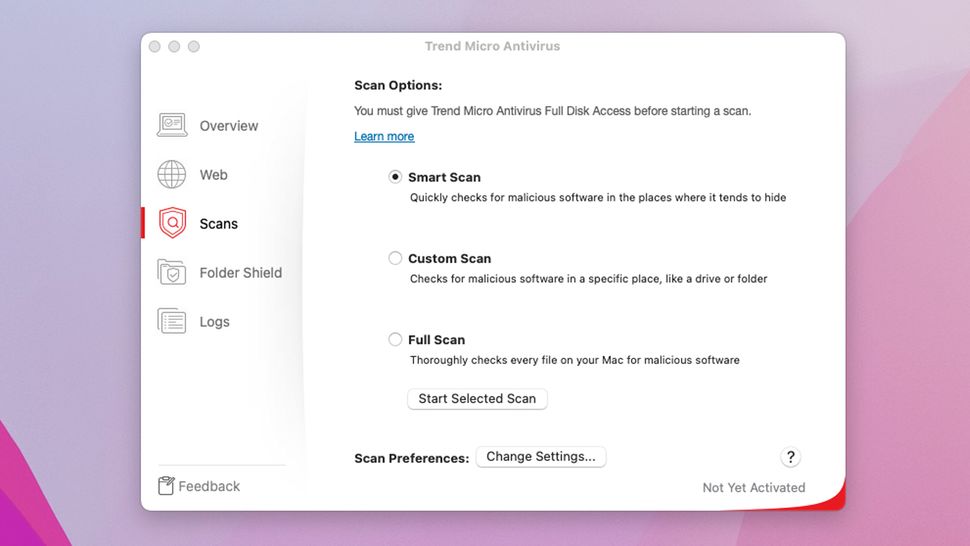 There's no Quick Scan option, but Trend Micro has a Smart Scan which is similar and looks at the places where infections are more likely. It looked at 6,642 files in 36.9 seconds. That's much slower than Intego and Sopho's two second scans but should be plenty fast for most.
Trend Micro Premium Security for Mac review: Interface
Trend Micro's Mac interface is a bit outdated but remains functional with a white and gray look punctuated with bits of green and orange. The windows can be moved around, but can't run in full screen. At the top of the Overview screen is a large check mark and "Protected" to show everything is good. If there's a problem, that would change to a large red "X".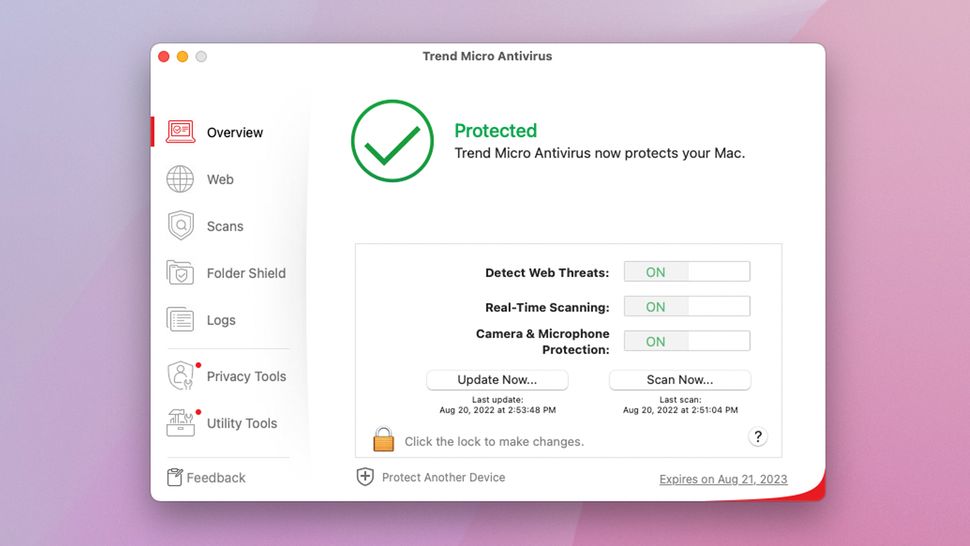 Below are On/Off switches for major defenses, including Detect Web Threats, Real-Time Scanning and the Camera and Microphone Protection. Tap on the Web Threat area to get details of the Web Threat Protection defenses. Happily, it has a slider for choosing Low, Normal or High scanning sensitivity.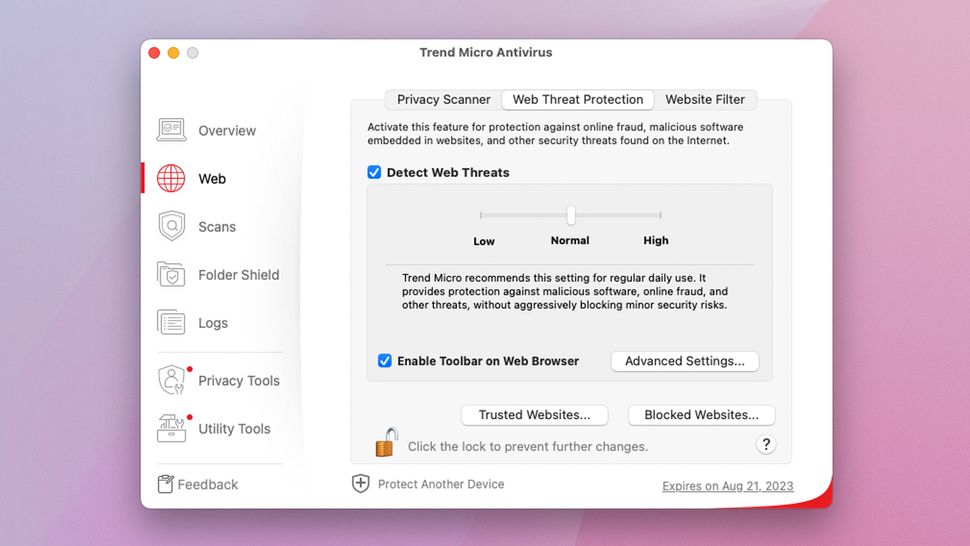 Opening Real-Time Scanning reveals the scan parameters, including scheduling scans. The camera protection section has no subsidiary window of details or choices.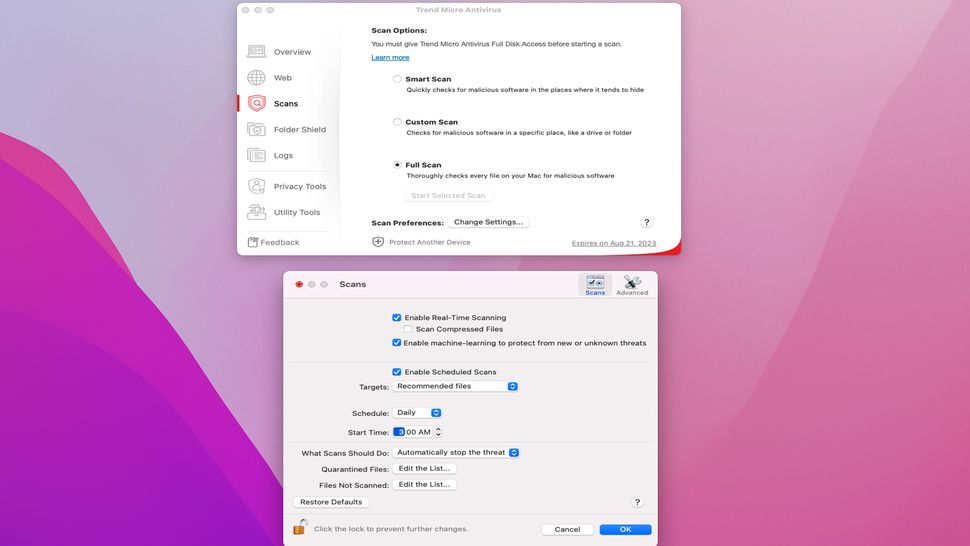 Near the bottom of the screen is an Update Now button to check for new software. The Scan button next to it instantly starts a Smart Scan, making it one of the fastest programs to check for infections. A full scan needs to be started from the Scans section.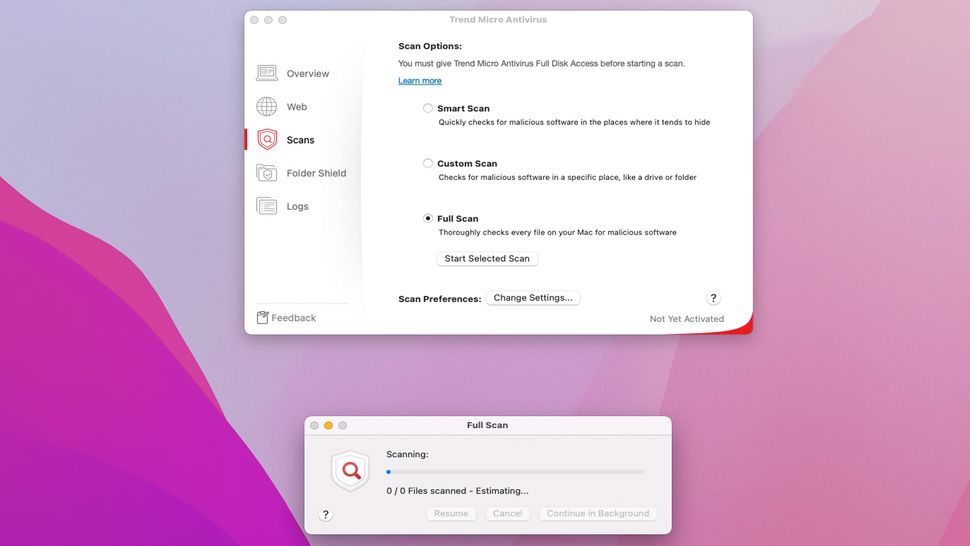 The next major category down is the Web section. In addition to the Web Threat Protection area, there are two more: Privacy Scanner and Web Site Filter. While Privacy Scanner checks your social media interactions and works with Facebook, Twitter and LinkedIn but not Instagram, the Web Site Filter blocks some of the more dangerous aspects of the web.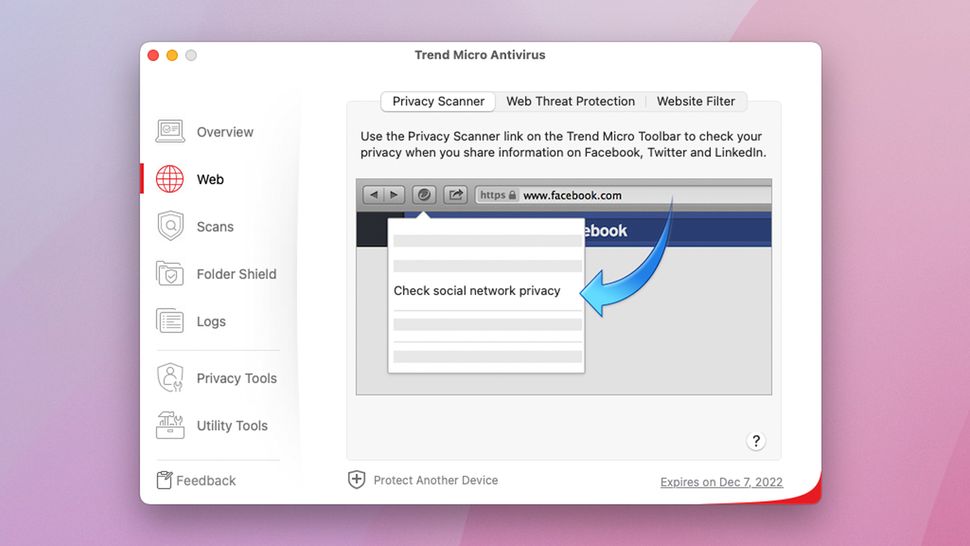 Trend Micro's Folder Shield can protect anything stashed in it from changes made by ransomware. While Documents, Music, Photos and more are protected by default, any folder or file can be added. The small checkbox at the bottom is easy to miss but it can add anything on a USB flash drive to the protected folders.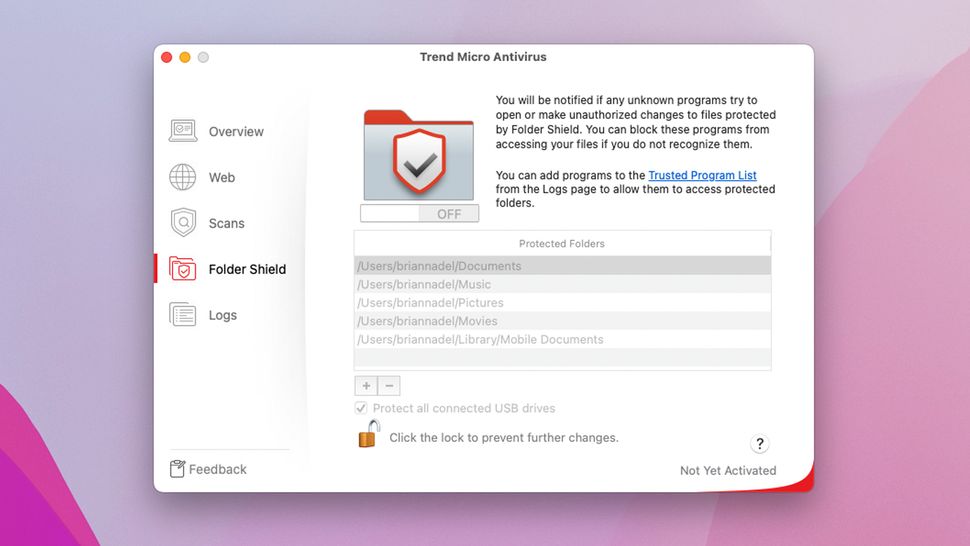 Meanwhile the Logs section shows what's in the Folder Shield as well as unsafe sites visited, sites blocked and updates received. Oddly, when the logs section was set to Scan Results the window remained empty even after dozens of scans.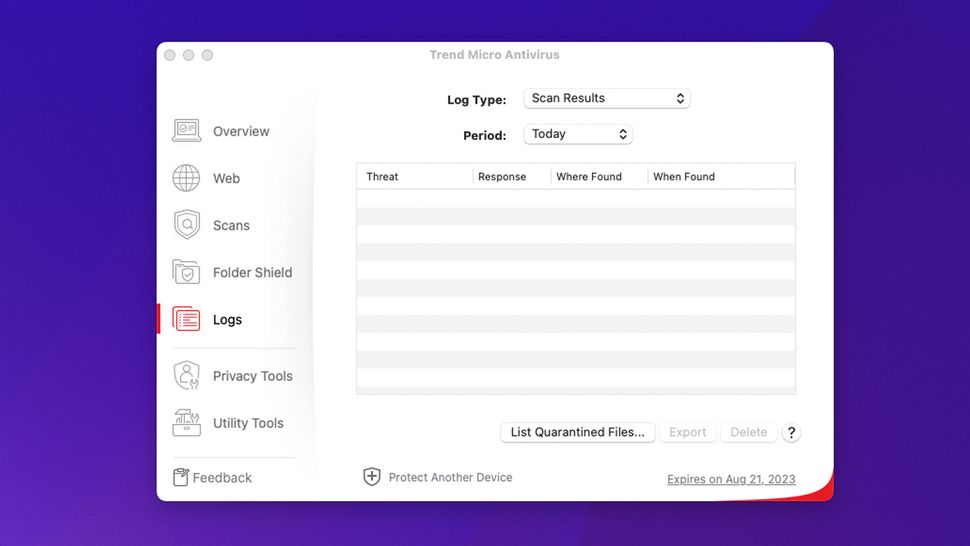 Below the fold line are a bunch of Trend Micro add-ons that likely should be part of the main program like the Proxy One Pro VPN service.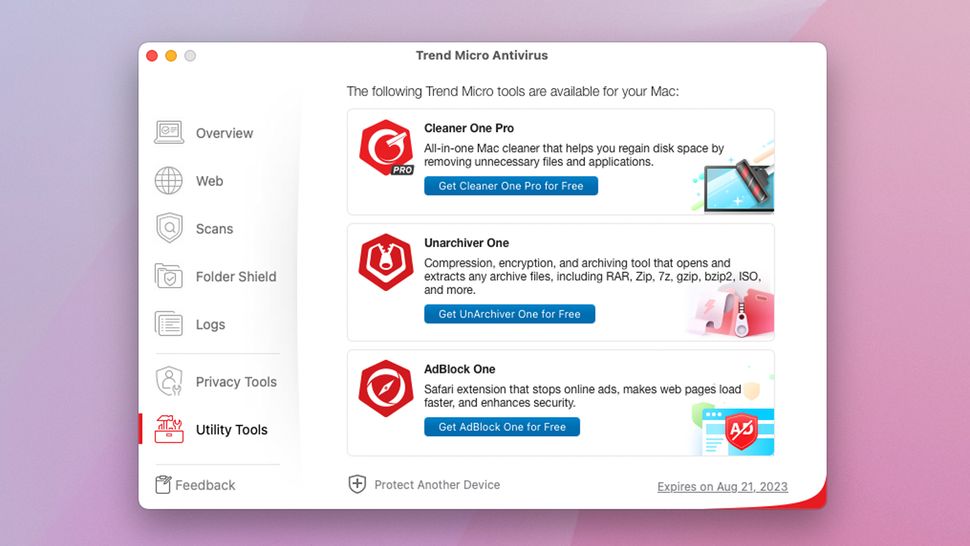 With connection points in 59 countries the VPN is a good way to stream geo-blocked content or protect communications. On the downside, it's a separate app that adds a Menu Bar item to open the VPN. It took 3.2 seconds to connect to an East Coast server that yielded a 192Mbps connection from my nominally 200Mbps broadband service.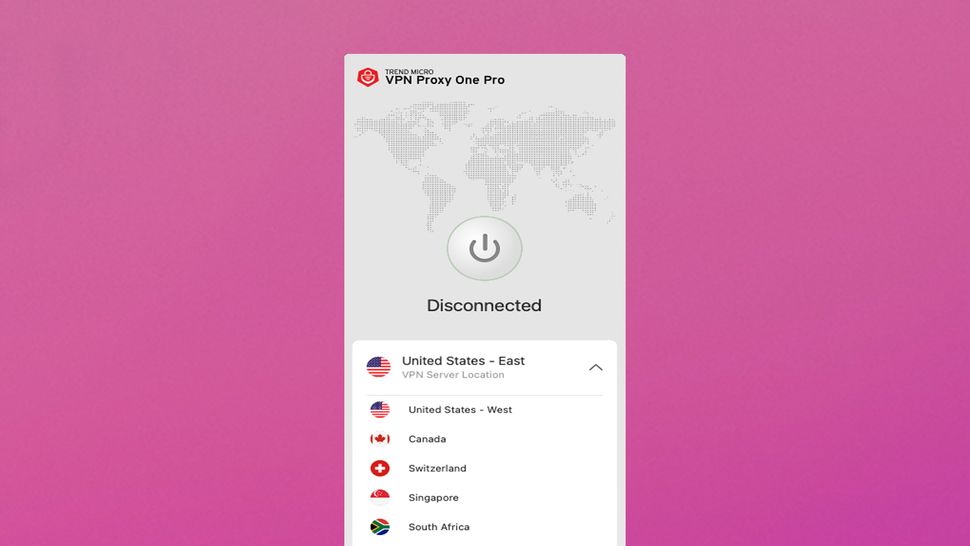 It's easy to protect a new machine. I tapped the Overview's Protect Another Device area with the "+" sign and picked my new system's operating system.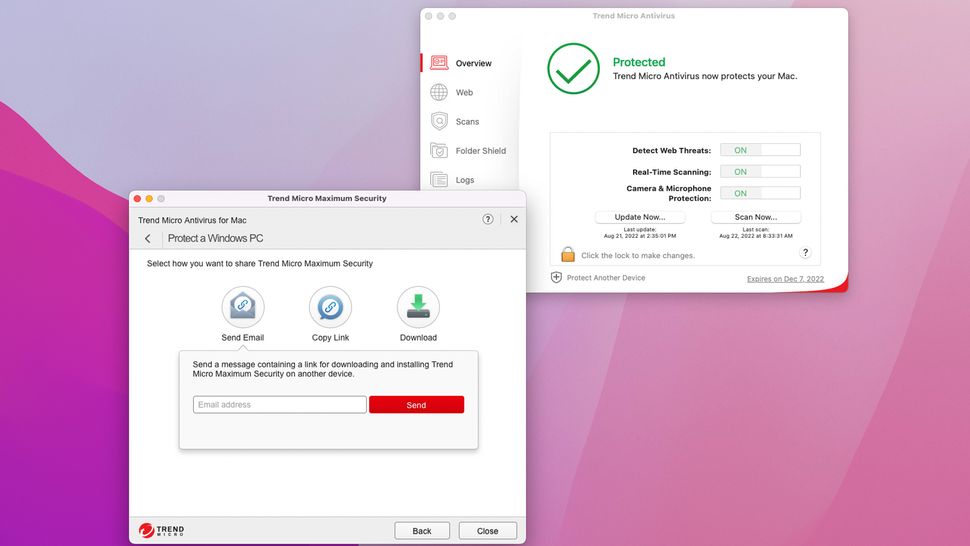 At that point, I was able to protect that machine by sending an email or using a download link.
Trend Micro Premium Security for Mac review: Installation and support
Trend Micro's software was easy to get and load but took nearly 19 minutes to protect a Mac. It all started with getting and running the 93.9MB installer and allowing it to scan the system for compatibility.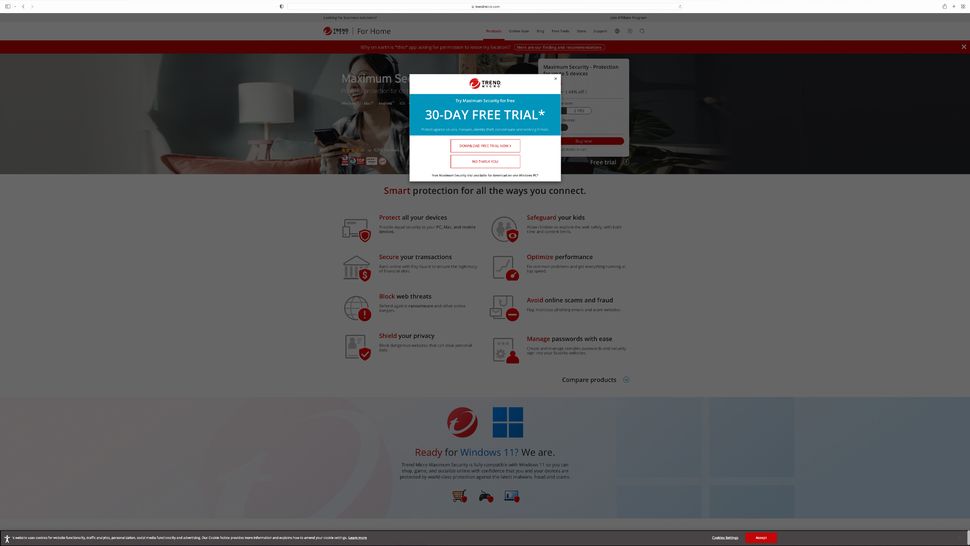 After agreeing to the license and allowing the company to collect data from my system, a further 71.2MB download started. The installation ran without problems and I needed to allow the program disk access to install several apps. Finally, I signed up for a Trend Micro account, allowed the program to add the company's browser extensions and the program restarted the system.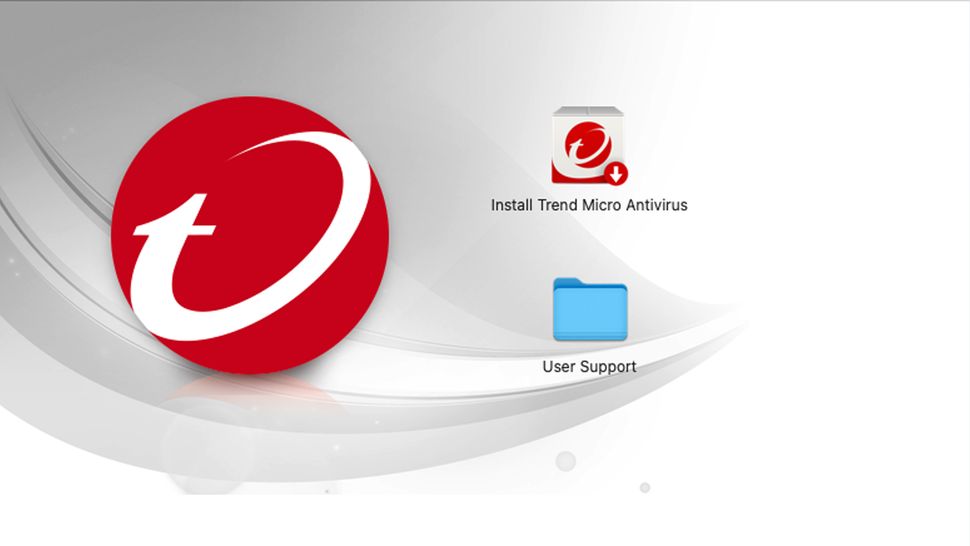 However, I wasn't done. I still needed to set up my Ransomware Shield folders and turn on the ability to block Web Threats, the Real-Time scanning and webcam and microphone protection. Later I installed the VPN app, but all of these things should have been set to protect by default. The last thing I needed to do was verify my existence with an email.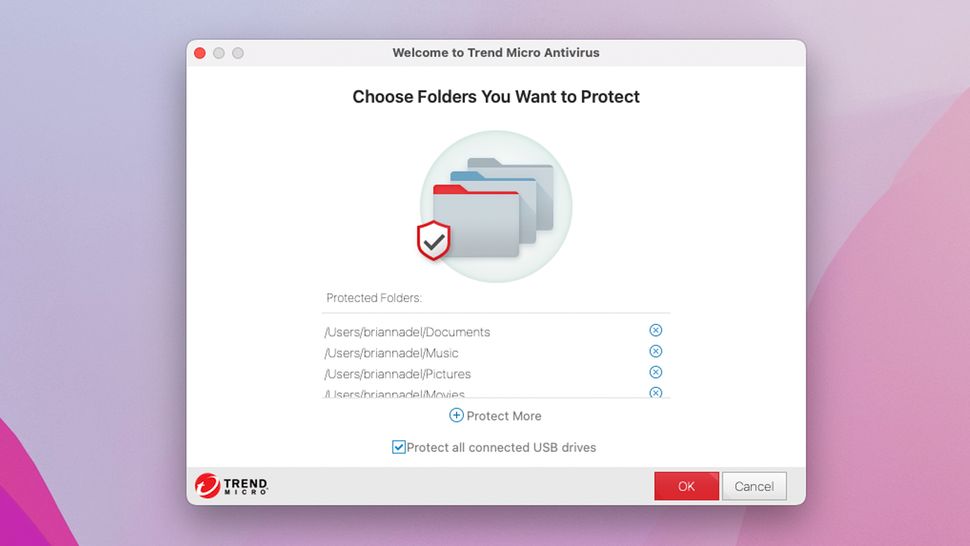 Trend Micro offers a comprehensive set of DIY items to help users install it, navigate its interface and get the most out of it. They return emails, answer the phone and offer live chat but only Premium Security customers get 24/7 service. Other Trend Micro users need to call from 5AM to 5PM PT.
Trend Micro's online portal left me wanting more though. It can help organize licenses and apply them to new systems but lacks anything else.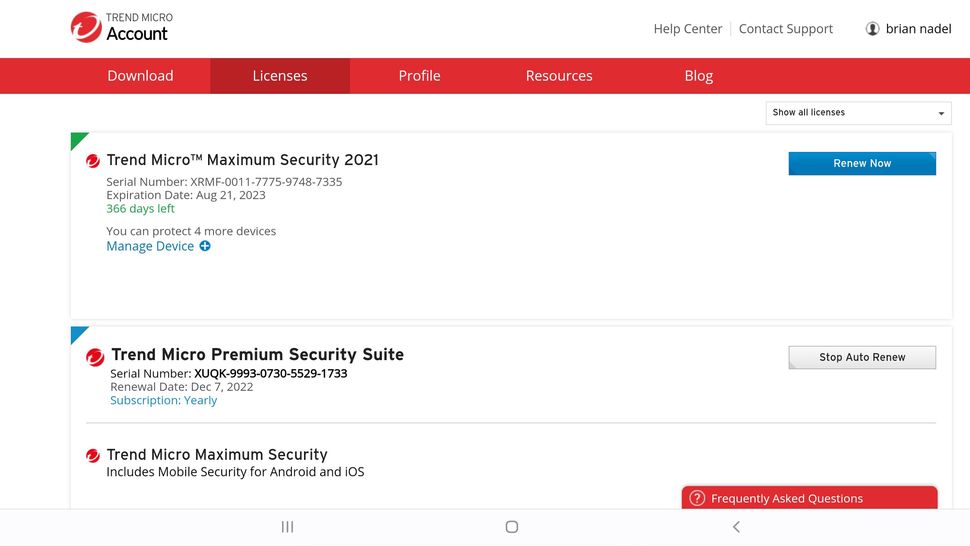 Others, notably Sophos, include the ability to remotely scan and configure the protection.
Trend Micro Premium Security for Mac review: Bottom line
By pairing good malware protection with a low system impact, Trend Micro's Premium Security is not only inexpensive but comes with lots of things others lack, like a useful diagnostic routine. On the downside, its online portal is rudimentary and many aspects of the program – including the VPN – remain separate and unintegrated. In other words, it has a lot to offer but you need to hunt and peck to find and use it all. If you don't need an unlimited VPN, Mcafee Total Protection for Mac may be a better choice though.