Zoma Boost mattress review in brief
US-based bed brand Zoma specializes in mattresses for athletes and those who live an active lifestyle. The Zoma Boost – released February 2023 – is another example. This luxurious, premium-priced mattress aims to be the best mattress for those looking for a sleep solution that helps maximize their performance.
Zoma Boost specs
Type: Hybrid
Materials: Memory foam, other foams, coils
Firmness: 6/10 (medium / medium firm)
Depth: 15 inches
Trial period: 100 nights
Guarantee: 10 years
Queen size price: MSRP $1749
We tested out the full size Zoma Boost for three weeks to assess the motion transfer, comfort levels, temperature regulation, edge support, pressure relief and to see whether the mattress lives up to its claims.
The deep, 15-inch tall hybrid mattress is made from six layers, which work hard during the night so you don't have to. Keeping you cool is one area in which the Zoma Boost excels, thanks to a special cooling cover and graphite-infused memory foam designed to wick away heat. While the Reactiv Foam layer aims to dispel motion in the bed. A layer of coils, with built-in edge support, promotes proper spine alignment no matter whether you sleep on your front, back or side.
The Zoma Boost comes with an average 100-night trial and it scores a 6 on the firmness scale, making it a medium / medium-firm mattress. It has a definite contouring hug-in-a-mattress feel, but the responsive foam means you won't get stuck in a position or feel like you are being swallowed whole. Most sleep styles will be comfortable with this medium mattress, even those sleeping on their front. However it might be slightly too soft for heavier people.
Like many bed brands, Zoma runs very regular sales, so you shouldn't have to pay full MSRP. However, even with the typical discounts, the Boost sits in the premium price bracket. While we were impressed with this mattress, it's a busy market, with plenty more affordable alternatives offering stiff competition for those looking to maximize their investment.
To see whether the Boost and see whether it's worth investing in, we tested it out for cooling and pressure relief, and rated it on edge support and comfort. To find out everything there is to know, keep scrolling for our full Zoma Boost mattress review.
Zoma Boost mattress review: Price
The brand's most expensive mattress
Regular sales take the price of a queen down to around $1,599
The Zoma Boost is the brand's most expensive mattress. In the wider market it sits in the premium price bracket, with a queen costing $1,749 at MSRP. However, like many other bed brands, Zoma seems to have a permanent sale running, which knocks nearly $200 off (even with this discount, it's still a premium product).
Here's a closer look at the MSRP for each size of the Zoma Boost, alongside the prices you can expect to actually pay:
Twin size: MSRP $1,349 (normally sells for $1,199)
Twin XL size: MSRP $1,449 (normally sells for $1,299)
Full size: MSRP $1,399 (normally sells for $1,549)
Queen size: MSRP $1,749 (normally sells for $1,599)
King size: MSRP $1,949 (normally sells for $1,799)
California king size: MSRP $1,949 (normally sells for $1,799)
Split king size: MSRP $2,748 (normally sells for $2,598)
Shipping is free with this mattress and you can expect it to be delivered within 3-7 days. If you opt for white glove delivery, that costs an additional $125. At the time of writing this, Zoma wasn't offering any bundles but the brand does usually have some deals available. If you are considering investing in this mattress, keep an eye on our mattress sales roundup to see how these discounts compare to the wider market.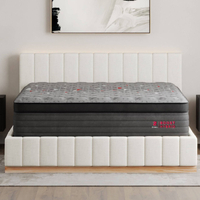 See the Zoma Boost from $1199 at Zoma
Do you sleep hot? Or struggle to feel well rested after your sleep? The hybrid bed-in-a-box recharges your batteries by gently contouring to your body, cradling your joints and keeping your spine properly aligned. You can enjoy a 100 night trial period and a 10 year guarantee.
Zoma Boost mattress review: Support and comfort
A medium / medium-firm mattress with a 6 out of 10 rating
Top foam layer has a contouring hug feel
Still responsive enough to move about on easily
This mattress is rated by Zoma as a 6 out of 10 on the firmness scale, making it a medium / medium-firm sleep solution. We'd agree with this firmness assessment. When you lie on the memory foam surface, it has a contouring feel that molds to your body shape, creating a hugging sensation without making you feel like you are sinking into the mattress or being swallowed by it. This is thanks to the Reactiv Foam layer, which responds as you move, stopping you from getting trapped in one sleep position. During our test period, we found this contouring feel helped to relieve pressure off hip and shoulder joints, support our tester's lower back and promote better spinal alignment no matter whether they slept on their front, back or side. There was no pressure felt at all around the hips, shoulders or knees.
However, this mattress might not be the best choice for heavier bodies or some stomach sleepers. That's because the medium / medium-firm mattress might not provide enough support to keep your spine in neutral alignment when you're sleeping on your stomach or prevent your hips from dipping too low.
To conduct an objective test to help re-enact the feel of a person's body dipping into the mattress, we placed an 8kg kettlebell weight in the middle of the mattress. The memory foam hugged around the weight and sank 1.5 inches in total.
It's important to highlight that the comfort and sleep feel of a mattress is subjective, and will be heavily affected by personal preferences and what you're used to. Our primary tester, who is 5ft 5, weighs around 130lbs and is used to sleeping on a firm spring mattress, found the sleep surface softer than they would have initially liked. However, after a few night's of getting used to the softer feel, she woke up feeling refreshed, recharged and her joints were very pleasantly supported. Our secondary tester, who is 6ft tall and weighs around 165 lbs, also initially found the mattress a little too soft. Once his body had adapted to the softer hybrid construction, he too enjoyed a comfortable night's sleep and woke up feeling well rested.
Zoma Boost mattress review: Performance
More motion transfer than expected
First-class temperature regulation
Edge support is great
We reviewed the queen size Zoma Boost and slept on it for 21 nights. Over this time we tested it out in all major areas of performance, rating it on motion isolation, edge support, and cooling. Read on for a closer look at these areas, all of which are important to factor in when choosing your new mattress.
Motion isolation
For some people, motion transfer can be the difference between a good night's sleep and a great night's sleep. If you are a light sleeper or sleep next to a partner who twists and turns, you'll want to make sure you sleep on a mattress that absorbs motion effectively.
The Zoma Boost has the Reactiv Foam layer which is designed to help isolate motion in the bed. However, on some nights, our primary tester could feel her partner moving in the bed. To really get an objective view and see what the motion is like in the mattress, we placed an empty wine glass in the center of the mattress and dropped an 8kg kettlebell onto the mattress at 4, 10 and 25 inches away from it. This test is designed to measure motion transfer, as if someone was moving position and getting in and out of bed. When the kettlebell was dropped from 4 inches away the glass toppled over. When it was dropped 10 inches away, the glass wobbled slightly and at 25 inches the glass remained upright.
Although not terrible, compared to other mattresses we have tested, we think the Boost has slightly higher than average levels of motion transfer. There are better mattresses out there for co-sleepers and those who are easily woken up by movement.
Score: 3.5 out of 5
Temperature regulation
Being too warm to sleep is a major sleep disruptor and some mattress materials are better at dispersing heat than others. We think the Zoma Boost is a brilliant example of a mattress that can regulate temperature well, with multiple design features geared towards keeping you cool.
First up, it's kitted out with a cooling cover made from something called 'Triangulex', which features triangular cutouts designed to help the mattress to flex closely to your body shape, while retaining breathability and helping to wick away body heat. We haven't come across this fabric before – the standard cover material found in many of today's best cooling mattresses is GlacioTex. While that's still probably your best bet if you sleep really hot, we were very impressed with this new fabric. Our main tester felt that it stayed actively cool overnight instead of heating up and warming to body temperature.
The Boost also features graphite-infused memory foam designed to wick away heat. According to the brand, this layer will also improve airflow between the other foam layers and help prevent heat from getting trapped in the mattress. It's worth approaching these claims with a healthy skepticism – as with all foam infusions (gel, for example), the actual cooling effect of the graphite is likely to be tiny. That said, we didn't have any issues with the foam trapping body heat, which is the main thing.
A final feature that will help boost breathability is the inclusion of the tall coil layer. Coils help to create space for air to circulate within the mattress, which is why hybrid mattresses almost always sleep cooler than all-foam options.
Night after night, this mattress stayed cool which can be unheard of when you're sleeping on memory foam. To help add some context, we tested this mattress out in April, when temperatures were around 57 degrees fahrenheit. Our tester used cotton sheets, a cotton duvet cover, a silk pillowcase and slept in cotton pajamas.
Score: 5 out of 5
Edge support
Edge support is another important factor to bear in mind with any mattress. Great edge support helps you get in and out of bed, it enables you to sit on the edge and it therefore increases the sleep surface, along with preventing premature sagging around the perimeters. In all of these areas, the Zoma Boost scores top marks.
The Zoma Boost has 'zoned edge coil support', and while it isn't fully explained what this means, from the diagram it looks like the coils are sturdier along the side edges of the mattress (although note the top and bottom edges don't appear to be reinforced). We were able to confidently sit on the edge of the bed without slipping off, and sleep right up to the edges of the bed. The Reactiv Foam also helps make this a mattress you can change position on pretty easily.
To see how much sinkage the edges had, we placed a 8kg kettlebell weight at each side of the bed and at the bottom and measured it with a tape measure. The results showed the edges sunk around 1.5 inches. For good edge support, you're wanting a reading that's slightly lower than the sinkage in the center, which is the case here (center sinkage was 1.8 inches).
Score: 5 out of 5
Zoma Boost mattress review: Delivery and setup
Mattress delivered vacuum-packed, rolled and boxed
Free for standard delivery, $125 charge for white glove delivery
Our review model had a strong off-gassing smell
The Zoma Boost came wrapped in plastic packaging and rolled into a box. When you invest in this mattress, you can enjoy free shipping and once the bed has been shipped (this can take between 3-7 days) you're able to use the FedEx Delivery Manager to schedule your preferred delivery day. You can also track your parcel to make sure you're home in time for its arrival. If you desire a white glove delivery option, this will set you back $125. Some premium mattress brands – namely Saatva – include this for free, but others won't offer any delivery upgrade options at all. Note: our review model was shipped overseas, so the box is likely a bit more bashed up than usual.
The Zoma Boost is a heavy mattress. The full size weighs 112 pounds and the queen size weighs 130 pounds. So if you are able to unbox this with two people, your back will be thankful. Once you get the mattress out of the box and unleash it from its plastic packaging, the hybrid mattress will start expanding immediately. Within minutes, the bed had inflated and it looked ready to sleep on. Zoma states you can lay on your mattress straight away, but it could take up to 8 hours to expand fully.
An off gassing smell is to be expected with most bed-in-a-box mattresses. And there was a definite off gassing smell to this mattress. In total this 'new mattress' smell took around four days to fully dissipate. Note: reports of off-gassing levels can vary hugely even within the same mattress model, so your experience may be very different to ours.
The Zoma Boost comes with a 100-night trial period, which is the minimum you see from most big mattress brands. Nowadays a 200-night trial period is more common, and only a handful of brands offer a 365-night testing period. However, considering this is a premium model, we would have expected the latter.
If you decide to return your mattress, you can do so for free 31 days after delivery. Any mattresses returned before this period will be charged a $99 early processing fee. But the mattress won't go to waste — the brand partners with charities to repurpose the returned mattress within the community.
Score: 3. 5
Zoma Boost mattress review: Customer reviews
5 out of 5 stars from 6 reviews (as of May 2023) on the brand website
Praise for temperature regulation, comfort and quality
The Zoma Boost is only available on the brand's own website, and that's the only place you'll find customer reviews anywhere else. At the time of writing this review, the Zoma Boost has a perfect 5 star average… but only over six customer reviews.
Within this, admittedly very limited pool, customers praised the brilliant temperature regulating capabilities of the mattress, and commented on how well rested they felt after sleeping on this mattress. Another customer highlighted that the mattress has a soft, comfortable feel meaning your joints and whole body feels supported and recharged when you wake up in the morning.
Despite what we thought about the motion isolation, a handful of customers praised the Boost for its stable nature and its ability to isolate any movement. Many reviewers who were sleeping with a partner said they were unable to feel when their co-sleeper got in and out of bed. There were no negative remarks about the mattress, but we'll update this section when the mattress has more reviews available.
Should you buy the Zoma Boost mattress?
We consistently woke up feeling super refreshed after sleeping on this luxurious feeling mattress. It performed especially well in terms of temperature regulation, keeping our testers noticeably cooler during our review period.
We also felt it delivered excellent support, cradling our testers' joints effectively and promoting good spinal alignment in all sleep positions. The foams deliver plenty of cushioning but also are responsive enough that you won't feel stuck in one position. If your preference is for a medium feel mattress that contours to your body, the Boost is worth its weight in gold. However, do note that it'll be too soft for some tastes. A medium feel is best suited to those of average or lighter body weights – heavier bodies should opt for something firmer to get the support they need, and some stomach sleepers might also prefer a firmer sleep surface.
One area where it performed slightly below par was on motion isolation. This mattress had a bit more movement in it than we would have liked, which could cause disturbed sleep for light sleepers or anyone sharing a bed with a restless partner.
There's also the price tag to consider. This is a luxurious, and chunky, mattress, and it comes with a fairly luxe price tag. While it'll be worth it for some people, there is plenty of competition at this end of the market, and possibly cheaper options that might deliver a sleep experience that's similar. However, if it's within your budget, we have no complaints about this bed's performance. If you're looking for a bed that offers a mixture of great temperature regulation, good spinal alignment and pressure relief then the Boost won't disappoint.
Zoma Boost mattress review: Alternatives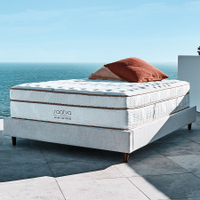 Saatva Classic mattress
The Saatva Classic is another luxurious innerspring hybrid, but it's mostly springs, with very little memory foam. That means you won't get the same joint-cradling feel as you will with the Boost, although the pillow-top still provides plenty of cushioning. Deal-depending, it's roughly the same price as the Boost, but comes with some added perks – you can choose from three firmness levels and two heights, there's free white glove delivery and old mattress removal, and a full year's trial period. In our tests we found the Saatva delivered excellent comfort, cushioning and temperature regulation. Read more in our Saatva Classic mattress review.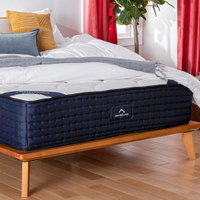 DreamCloud Luxury Hybrid Mattress
If you're on a tighter budget, check out the DreamCloud. This model tops our best hybrid mattress guide and delivers a surprisingly luxurious feel for its mid-range price. For that lower price tag (a queen size will typically cost you around $900, compared to $1,600 for the Boost) you're getting a less advanced design, but in our tests we still found it delivered good temperature regulation and excellent support. It's firmer than the Boost (around 8/10), so a better choice for heavier people and anyone who prefers a sturdier sleep surface. Read more in our DreamCloud Mattress review.