Bitdefender Total Security: Specs
Malware protection: Adequate
System impact, background: Miniscule
System impact, scans: High
macOS compatibility: 10.12
Browser extensions: Yes
Firewall: No
Hardened/secure browser: No
Blocks Potentially Unwanted Apps: Yes
Parental controls: No
Ransomware rollback of encrypted files: No
Password manager: No
Scan scheduling: Yes
Webcam protection: No
System Optimizer: No
VPN: Yes
Backup: No
Support options: Phone, email, live chat
Email: Yes
Phone: Yes (9AM to 3PM: ET)
Chat window: Yes 4AM to 6:30PM; ET)
With a focus firmly on the basics of Mac malware eradication and online identity security, Malware Premium + Privacy for Mac eschews the popular concept of a comprehensive security suite for a more discerning approach to defense.
While the program combines ultrafast scanning with a global VPN that five users can use to anonymously connect to the online world, Malwarebytes Premium + Privacy does without a password manager, parental controls and a firewall. Further, the effectiveness of Malwarebytes protection is questionable because the software examines only a small portion of your computer's files and it has not been subjected to third-party evaluation.
Our Malwarebytes Premium + Privacy review will help you decide if it's one of the best Mac antivirus software solutions available or not quite enough to protect you online.
Malwarebytes Premium + Privacy review: Costs and what's covered
The Malwarebytes Free program starts out with lots of extras that others reserve for paid packages. There's a big drawback, though, because it's a trial that limits the use of its major components (like the Browser Guard browser extension for blocking potentially dangerous sites) to 30 days. This leaves the free malware scanner as the only tool with lasting impact on security.
To keep using the full package, you need to step up to the company's Premium plan for $45 for a single Mac or $80 a year to cover five systems. Fully cross platform, it has software for Windows, Mac, iOS, Android and Chrome OS. It uses the same scanning engine as the free version.
The Premium + Privacy plan adds the company's VPN for using the web under the radar. It costs $100 for five or $45 for a single system. With the VPN on its own costing $40 a year. That puts the Malwarebytes software at the high end of the pricing spectrum at $20 per seat, just below Norton's $21 per user and a bargain compared to Intego's nearly $30 a system. Neither can touch the $6 a user that Sophos charges in a 10 pack.
Its marketing department takes a different approach. The company doesn't discount the first year of its plans but also lacks an annual discount versus the monthly price. You pay more upfront, but there's no surprises on the first anniversary.
The Malwarebytes Mac software requires macOS 10.12 (Sierra), though its PC version needs Windows 7.0 (with SP1) through Windows 11. Its mobile apps require iOS 11 but due to Apple restrictions, can't scan for malware. An Android phone or tablet needs version 7 or higher.
Malwarebytes Premium + Privacy review: Antivirus protection
Each Malwarebytes security product for Mac starts with the company's virus scanning engine and extensive database of known threats. This is supplemented with real-time behavioral analysis of system operations that looks for the early signs of an infection.
While others expand their threat analysis by uploading suspect code from users' systems for forensic investigation, Malwarebytes does not do this but it does examine exploits found during tech support infection investigations. Instead, the company has an extensive intelligence community spread across the Internet that acts like an early warning system for exposing new attack vectors. Security updates for the latest exploits are sent to the company's five million active users as needed, sometimes several times a day.
Those looking for feedback about their protection can consult the Malwarebytes Security Advisor. In addition to showing the status of the main program elements, it provides suggestions on online hygiene and how to improve your protection. It also displays the results of the latest scans and when the next one is scheduled. It didn't nudge me to install the VPN, however.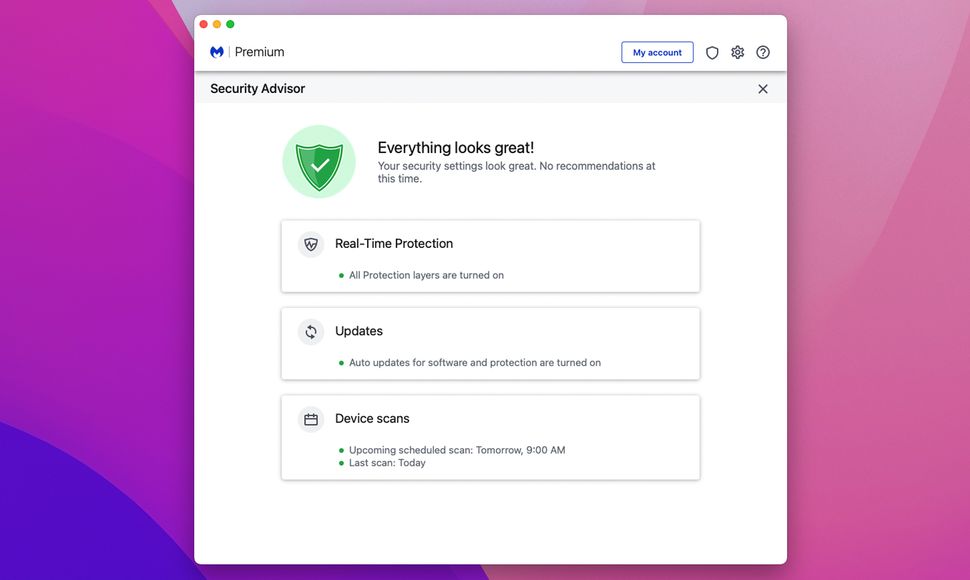 The Malwarebytes security philosophy thinks differently with its scanner working at the folder – not file – level for greater completeness in removing malware. It also doesn't offer the choice between quick and full scans – just a single Scan selection. Instead of looking at everything for the signs of infection, Malwarebytes only examines those items it thinks are likely to be infected by the current array of threats. This mix of files changes frequently as the dangers do.
This approach pays off handsomely with scanning that's lightning fast and on my Mac Mini, Malwarebytes only looked at about 25,000 items versus several million from others. Malwarebytes is looking into adding a more comprehensive full system scan option in the future.
Scheduling scans is easy to set up, and it goes beyond the abilities of security programs like Bitdefender that don't offer scan scheduling on Mac. There're more timing options available that surpass the expected nightly, weekly or monthly examinations. It has the ability to schedule scans that are started every two, four, six or 12 hours as well as every other day.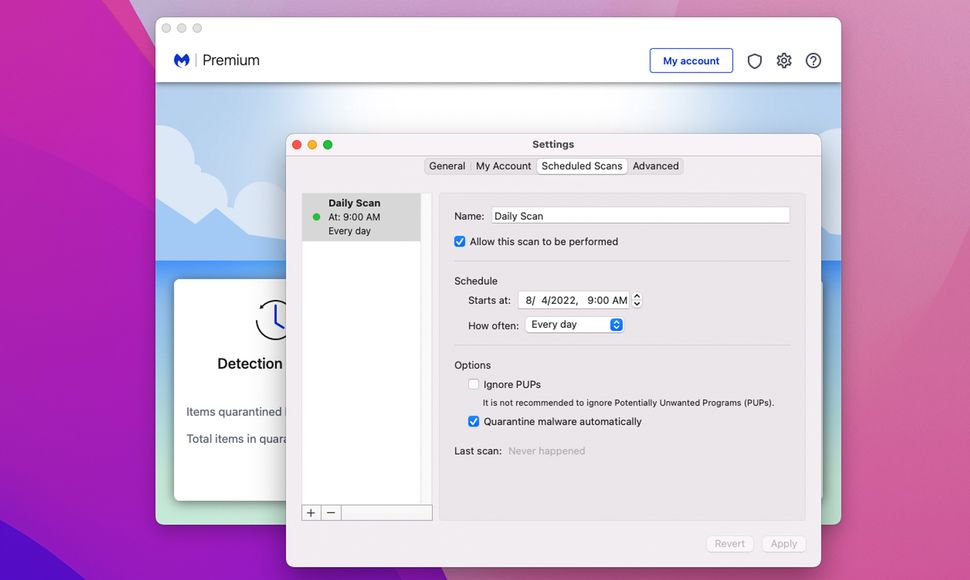 Its protection comes up short compared to competitors and the Windows version of the suite. In addition to the Mac-based Premium + Privacy package not being able to stop brute force intrusions, it ignores Windows-based malware. Should a ransomware attack slip through, Premium + Privacy can't rollback encrypted files. Finally, unlike Intego X9, the Malwarebytes software can't scan an iPhone or iPad when it's connected to the Mac by a USB cable.
Malwarebytes Premium + Privacy review: Antivirus performance
As is the case with McAfee Security Premium and Sophos Home, Malwarebytes for the Mac doesn't participate in any of the third-party malware effectiveness testing we use. While its Windows version does well on these tests, we have no information about the program's effectiveness at protecting against an onslaught of Mac viruses.
Lacking data from AV-Test and AV Comparatives means that the ability of Malwarebytes to find and eradicate viruses remains open to debate. That said, during two weeks of use, no infections were found.
Malwarebytes Premium + Privacy review: Security and privacy features
The first layer of online security and privacy protection are the Malwarebytes Browser Guard browser extensions. Available for Chrome, Firefox, Edge and Safari, they need to be manually downloaded, installed and turned on.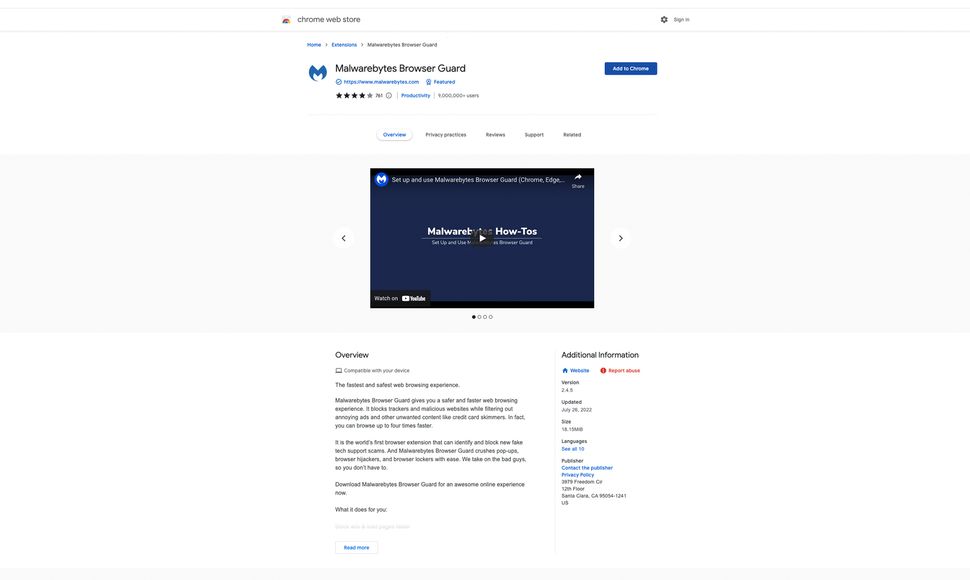 In addition to defending against phishing attempts, the Browser Guard extensions can block trackers and stop ads from being loaded. They can prevent sites with a reputation of distributing malware from loading and the extensions go the extra mile to block website hijackers and stop tech support scams before they do any damage. Malwarebytes claims that the extensions even speed up the loading of webpages, although I didn't notice any indication of that after using the extensions on different browsers for two weeks.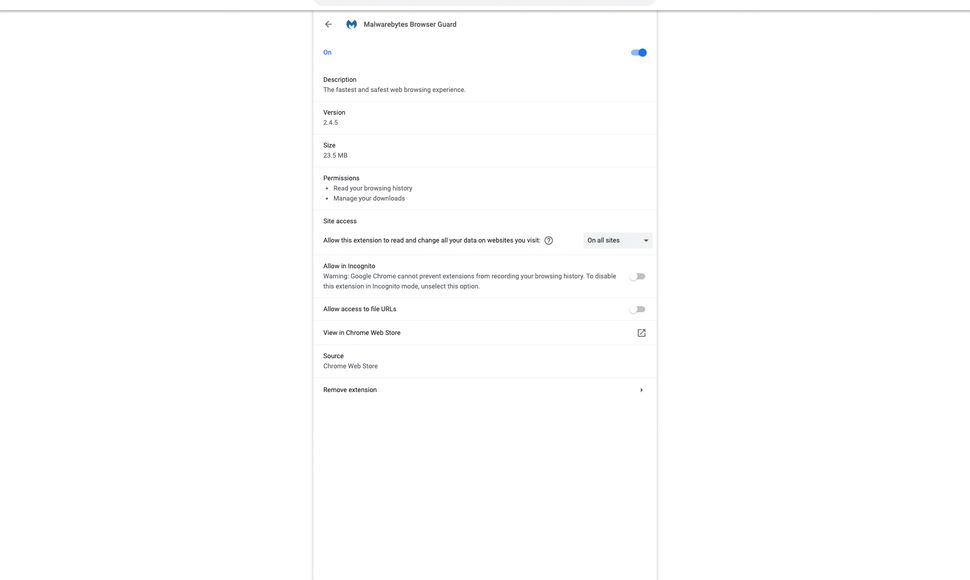 Although it's a tongue-twister, the Premium + Privacy's Privacy VPN is a winner for personal security and online confidentiality. With connection points in 36 countries and 15 U.S. locations, the plan allows five users to connect to the VPN for securing data communications or streaming geo-blocked content. The VPN uses encryption to create a secure tunnel for your data to travel through and shows where you're connected and your IP address. Malwarebytes also doesn't keep any connection logs.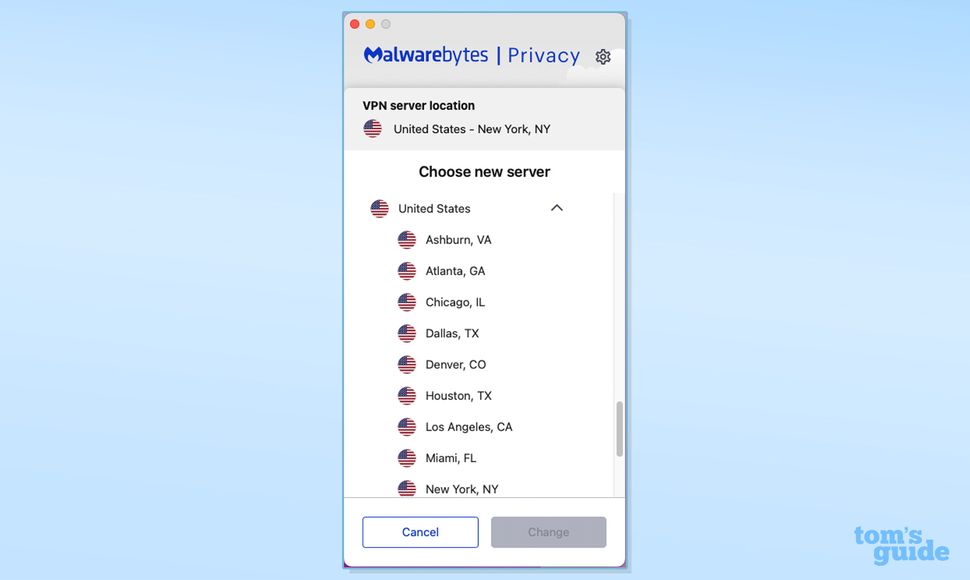 On the downside, like Avast SecureLine VPN, the Privacy VPN is a separate app that requires its own download, installation and loading when needed. It has a different look and feel and operates on its own compared to Bitdefender's more integrated approach. Malwarebytes is working on an integrated program though. It took 3.0 seconds to log onto a server in New York City for a connection that yielded 211Mbps, slightly below an unprotected session.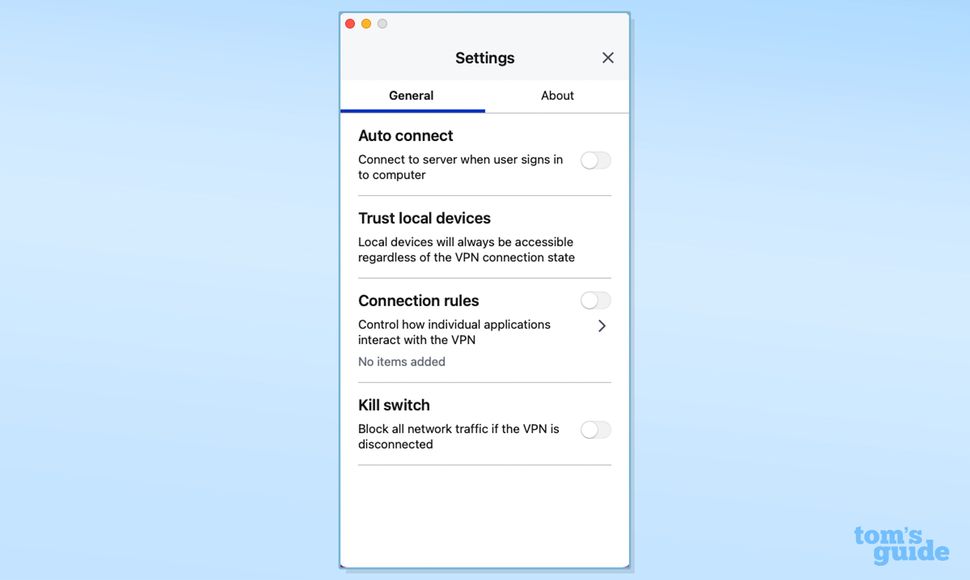 Overall, the Malwarebytes Premium + Privacy defenses are rudimentary in approach. They do without a phalanx of things that others in the space have, from a password manager to parental controls to a firewall.
Malwarebytes Premium + Privacy review: Performance and system impact
To measure the performance impact of Malwarebytes Premium + Privacy and compare it to other Mac malware programs, we used the GeekBench 5 Compute benchmark to assess its performance potential at critical points. This software gauges the overall performance of a system with an emphasis on gaming, video editing and other high-end operations. Our test system was a Mac Mini with a 3.2GHz M1 processor, 8GB of RAM and 256GB of storage (with 223GB unused).
Our unprotected Mac Mini system recorded a GeekBench 5 Compute benchmark baseline score of 19,636. After Premium + Privacy was loaded, but before any scanning took place, the system recorded a Compute score of 19,582, a drop in performance potential of only 0.2 percent – the best in the Mac world. This means that Malwarebytes Premium + Privacy has very low overhead and there's no chance that a user will even notice it's running in the background.
Its scanning engine is a different story, however. Without differentiation between full and quick scans, the program had a 18,713 Compute result with a scan running. That's a drop in available system resources of 4.7 percent and just about perceivable by a user. It's not as bad as Intego X9's 6.3 percent and roughly equivalent to McAfee total Security's 4.8 percent drop. It can't hold a candle to Bitdefender's 1 percent drop in performance while scanning.
Timing is everything in security software with some scanners taking hours to run through a system's files in an effort to evaluate everything. By contrast Malwarebytes Premium + Privacy valued speed over thoroughness with a 6 second initial scan that looked at 25,370 items versus more than 4 million items for Trend Micro. After that, its scans were as fast as 1.2 seconds – faster even than the 2.1 second quick scan from Intego X9. It leaves more thorough scanners in the digital dust and shows that Malwarebytes doesn't need a quick scan option.
Malwarebytes Premium + Privacy review: Interface
Easily the simplest and most straightforward interface of the Mac security crowd, Malwarebytes makes a virtue of minimalism. Its main window has a sky-blue cloud pattern with the optimistic affirmation, "Awesome! Your computer is protected." It is the rare security interface that allows windows to run full screen when they demand your entire attention or resized to fill any section of the desktop.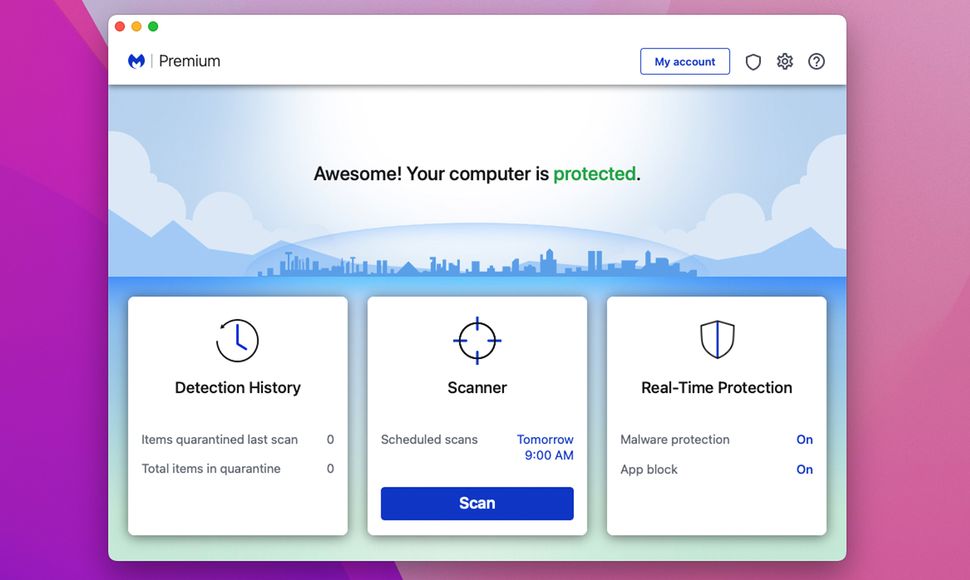 The instant scan button is front and center, with the next scheduled scan listed below. Click the Scan bar and unlike others, the scan starts immediately. This makes it the quickest way to get a malware check started. There's neither full or quick scan options or the ability to look at a single file or folder.
The software also has a box for Detection History on the left that shows previous scan results and the quarantine folder's contents. The box on the right shows Real-Time Protection status. Happily, there are places to turn on or off the malware protection and App block that stops apps from disreputable developers from being executed on the system.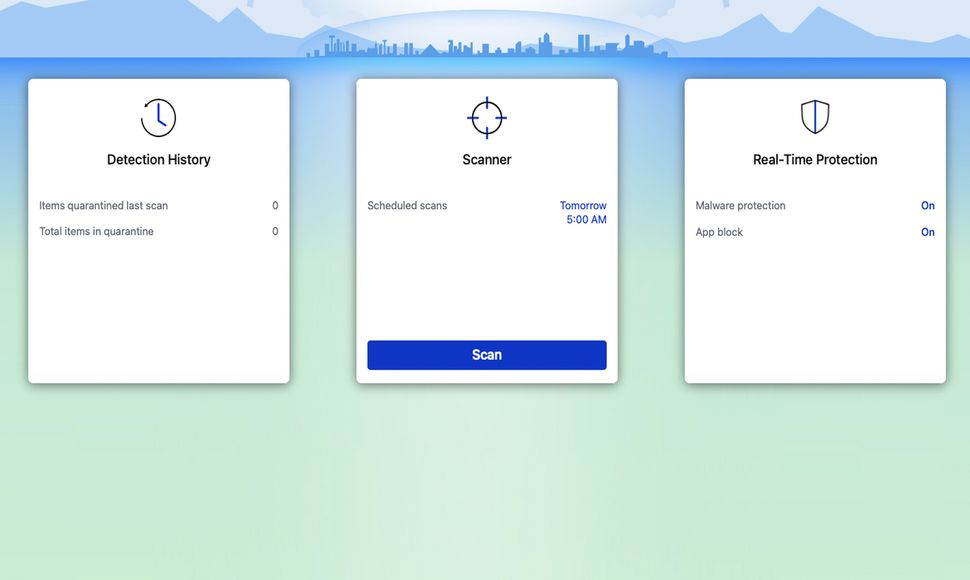 Its Settings gear logo leads to the most potent part of the program for tweakers. The page's four tabs start with General. It has adjustments for getting automatic updates and whether you want to send usage data to Malwarebytes. There's even a place to allow Malwarebytes to send you beta software to try out.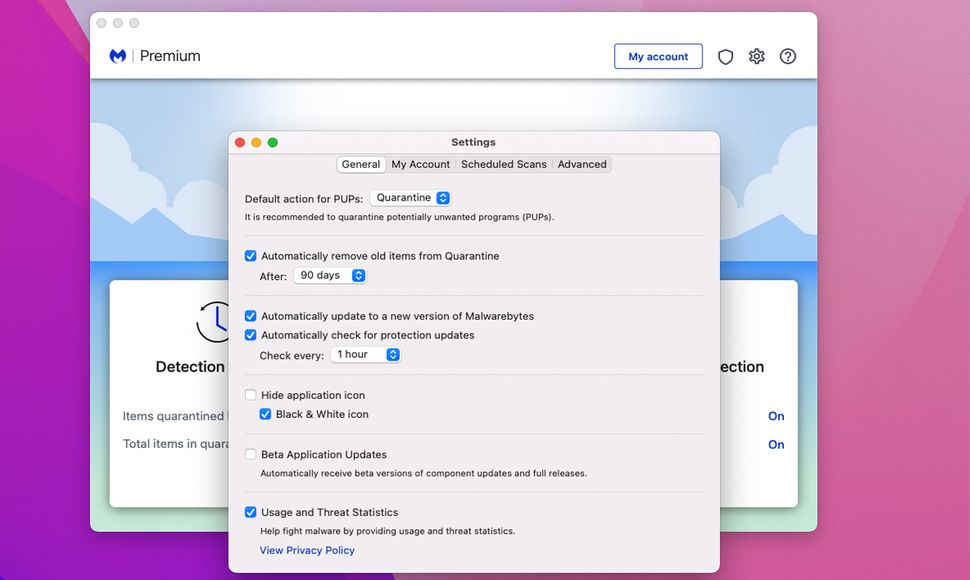 The My Account portion has the program's license code and when it expires. Meanwhile, Scheduled Scans is for setting up periodic system assessments. If you want to, there's a place to turn off the monitoring for potentially unwanted apps being loaded.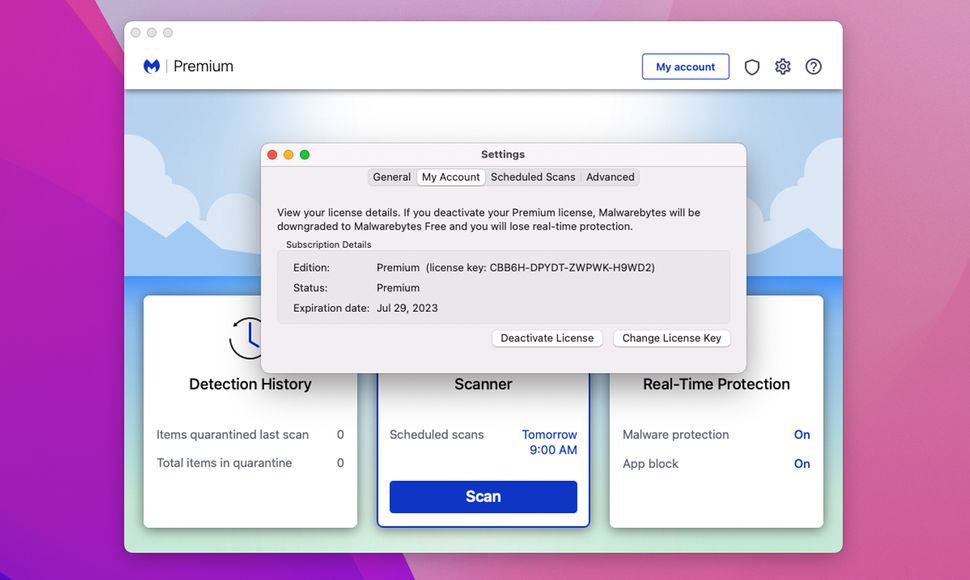 Finally, the Advanced Settings category is a gold mine for those that like to see what effect changing settings has on their system's performance. The CPU meter shows the program's impact on the computer. It offers the choice between Low, Medium and High scan settings, although no way to automate this in response to the current threat landscape.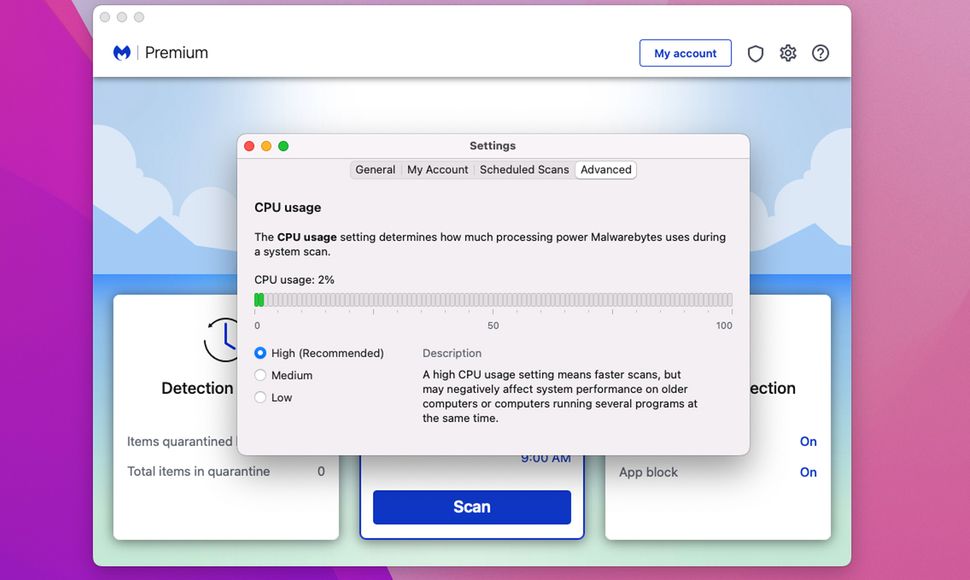 The question mark logo up top leads to the Malwarebytes online support portal. A big surprise is the program's excellent manual.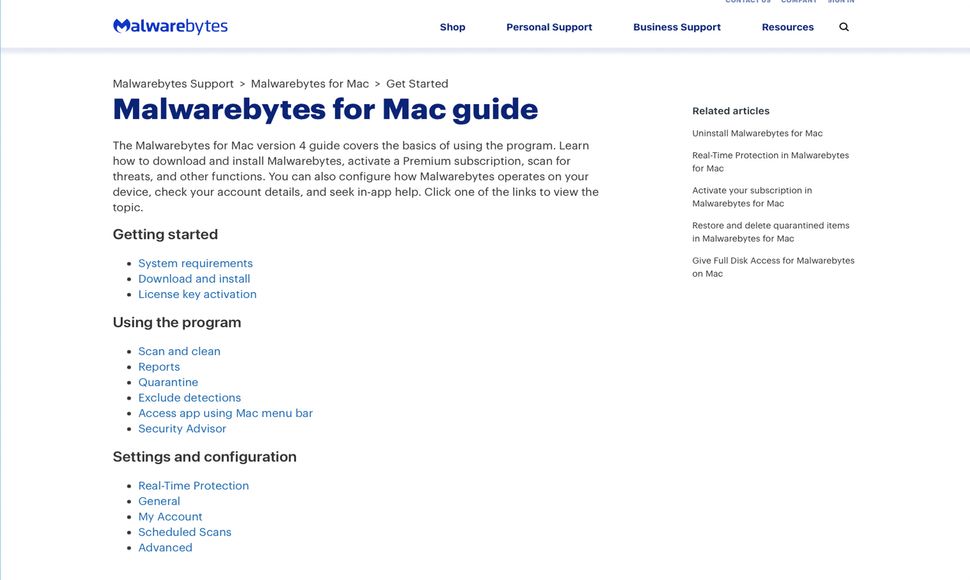 Others lack this simple but effective way to show a user – new or old – the ins and outs of a program.
Malwarebytes Premium + Privacy review: Installation and support
Protecting my Mac Mini with Malwarebytes Premium + Privacy started at the company's website. After picking the Premium + Privacy plan, I needed to fill in my personal information and pay with a credit card or PayPal.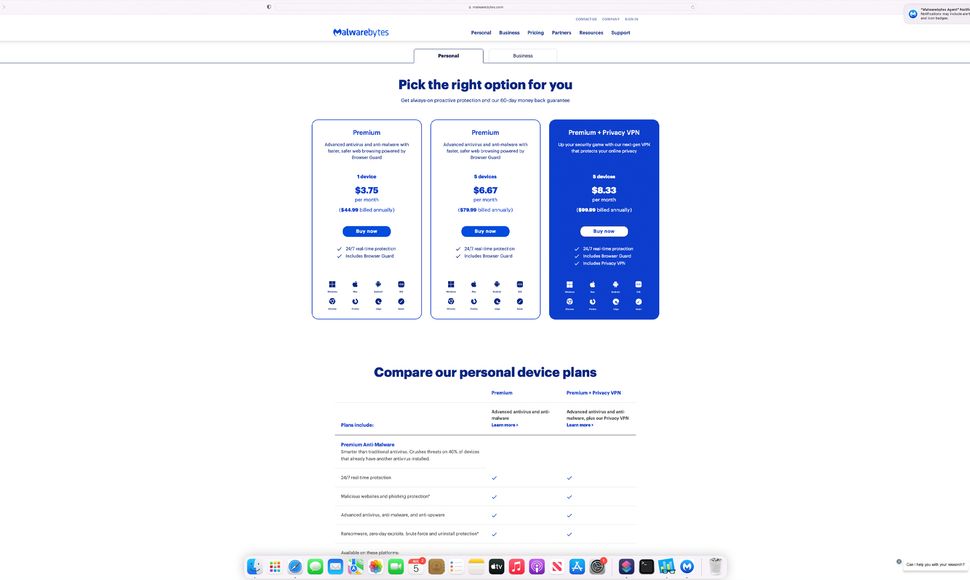 Next, I ran the 42.7MB installation program and agreed to the company's license. I entered my computer's password to allow the installation. Happily, I didn't need to create an online account, but it can help with using the licenses across several systems.
Even though I signed up for the Premium + Privacy plan, which includes the VPN, I still needed to find, download and install the app separately. After a quick activation and allowing Malwarebytes full disk access, the system was protected without a restart. All told, it took only a little more than four minutes, half the time of others.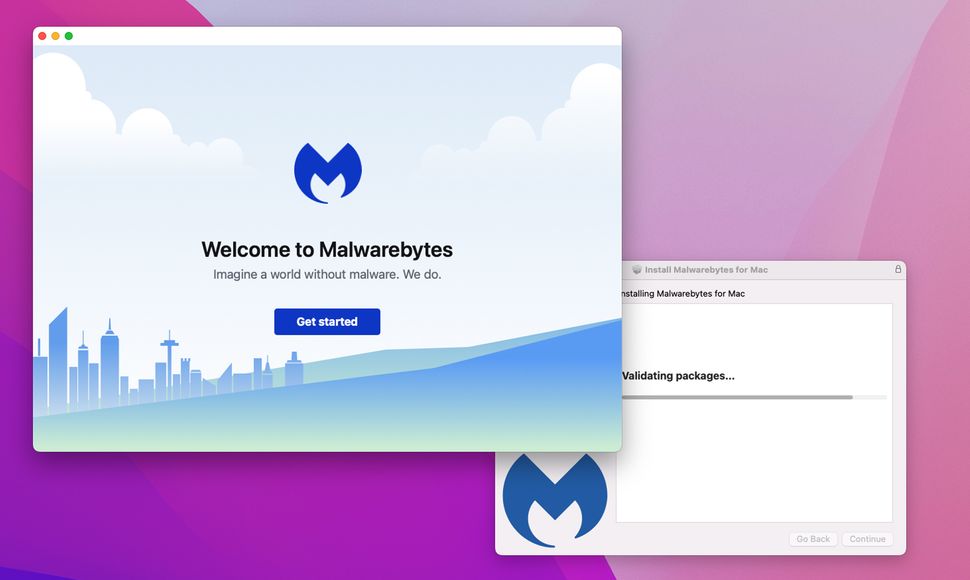 Rather than 24/7 help, users can call Malwarebytes' technicians between 9AM and 3PM (ET) or type questions in the online chat window from 4AM to 6:30PM (ET). Emails are replied to day and night.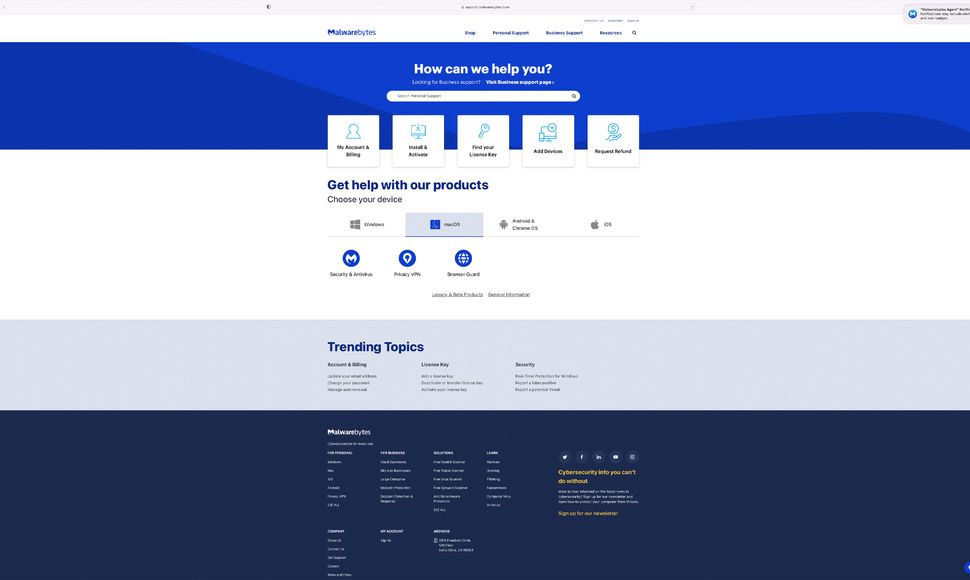 The site promises assistance with installations, activating the software and adding devices.
Malwarebytes Premium + Privacy review: Bottom line
It may currently be the fastest Mac system scanner around but Malwarebytes Premium + Privacy is among the least thorough at hitting a computer's nooks and crannies to find dangers. By looking at a small fraction of the items compared to competitors, it runs the risk of missing some here and there. That said, the Malwarebytes scanner is among the hungriest when it comes to taking up system resources that might be better used for, well, computing.
Its simple interface should come as a welcome change from other Mac security programs, but it provides the basics and not much more. There's no full scan option, password manager, firewall or parental controls. While I like its low pricing and policy of not discounting the program in the first year, Malwarebytes does not submit its Mac products to the rigors of third-party testing. This makes its ability to thwart the dangers of everyday computing a big unknown. Still, it's a speed demon and is ideal who can't wait for a scan to finish.