Google Play Protect: Specs
URL protection: Yes
PUA and malware scanning: Yes
Ad blocking: Yes
Remote data wipe: Yes
SIM card lock: Yes
VPN/Unlimited use: No
Anti-theft: Yes
Lost phone locator: Yes
PW manager: Yes
Wi-Fi Scanner: No
Call blocking: Yes
Text blocking: Yes
Guest mode: Yes
App advisor for app stores: Yes
App locking: No
Photo vault for sensitive images: Yes
Compatibility: Android version/Chromebooks/WearOS
Free version/Cost: Free with Android
Google's Play Protect security app is a tale of two apps. It's fast, built-in and requires no work whatsoever to defend a phone or tablet with minimal impact on the system's performance.
While Play Protect is restrained in its approach, the Android operating system provides lots of security-minded goodies, like a password manager and some of the best anti-theft features. That said, Play Protect falls short on protecting against dangerous attacks and the latest exploits while lacking access to a VPN and other extras found in the best Android antivirus apps.
Our Google Play Protect review will help you decide if this free security app does the job or if you're better off with a paid app instead.
Google Play Protect review: Costs and what's covered
Google Play Protect attempts to do for Android systems what Microsoft Defender does for Windows computers. It comes preloaded and activated on new devices, so there's absolutely nothing to do or pay for. Play Protect taps into several operating system-based tasks that are standard on all Android devices, so these features remain active even with a third-party security app installed. They include anti-theft features, a password manager as well as call and text blocking.
The software works with devices running Android 4.1-12.1and this will likely continue as each new version comes out. The app can also help protect a Chromebook or WearOS watch from being compromised.
Google Play Protect review: Malware protection
At the center of every Android device, Google Play Protect defends against malware attacks. It not only periodically scans the entire system for rogue viruses but also all the installed apps.
The app uses a combination of local scanning for viral signatures, heuristic behavioral monitoring as well cloud analysis of previously unobserved items to tag them as safe or potentially dangerous. When not connected to the Internet, the scanning is purely local.
The scanning can be turned on and off in the Biometrics and Security section of an Android device's Settings. There's a place to start a manual scan of the system but the software continually looks for real-time attacks. It checks that you have the most up-to-date software and it's easy to manually do an update.
In addition to code that can potentially compromise the integrity of a phone, enable remote operations or allow the exfiltration of personal data, Play Protect seeks to stop malware that attempts to gain control over a device. The software also looks for attacks that are scams or are used to send out spam.
Google Play Protect can warn of apps that haven't been used in a while as well as block undesired apps from being loaded. Google maintains a website for submitting harmful apps for it to investigate. Unlike some of its peers, there's no way to schedule a malware scan.
The software rates apps as safe, dangerous or new, adding a level of safety to the Play Store. It can even warn that installed apps are no longer approved by Google. The company's App Defense Alliance strives to rid Android apps and the Play Store of malware, spyware and scams. In addition to Play Protect, Lookout, ESET and Zimperium participate by sharing virus intelligence although they maintain separate scanning infrastructure.
Google Play Protect review: Malware detection
Like Avast Mobile Security and Bitdefender Mobile Security, Play Protect participates in periodic malware tests run by AV-Test and AV Comparatives. The software's effectiveness at catching viruses is consistently a step or two behind the best in the business, but to Google's credit, Play Protect's defenses are rapidly improving.
For instance, on the January 2022 AV-Test survey, Play Protect found and eliminated only 80.7 percent of the 2,896 real-time threats that were thrown at it.
The app also scored a 90 percent on the widespread malware test of 2,964 live viruses. While that doesn't sound particularly encouraging, it's a big step up for Play Protect compared to July 2019, where the app hit a low of 44.1 and 54.7 percent success rate on AV-Test's survey.
By contrast, Avast, Bitdefender and Norton 360 all scored perfect 100 percent scores on these two malware tests in January 2022. It's worth noting that none of them as well as Google Play Protect had any false positives.
Play Protect scored a gloomy 81.7 percent result on AV Comparatives' July 2021 Mobile Security Review. Compared to Bitdefender's 100 percent score, Avast's 99.6 score and Malwarebytes's 98.1 percent, it is as grim as its recent AV-Test showing.
During the testing, Avast and Malwarebytes each had a single false positive while Bitdefender had none. By contrast, Google Play Protect had 12 false positives which might cause users to ignore its warnings.
While the trend is towards better protection, the results remain discouraging. To fully protect your phone or tablet, I recommend using a third-party security app along with Play Protect, like Norton 360: Mobile Security or Bitdefender Mobile Security.
That said, Lookout and McAfee didn't participate in any recent third-party malware effectiveness tests.
Google Play Protect review: Security features and tools
At first glance, Google Play Protect doesn't match the array of defenses from the competition. Look deeper though and you'll see that it does surprisingly well because many of its features are part of Android itself.
For instance, Play Protect has a nice Find My Phone array of anti-theft services. Alongside the ability to remotely lock or wipe a lost or stolen phone, it's easy to see its last location on a map. It can also remotely play your ringtone continuously at full volume to annoy a thief. It can't, however, snap a photo of who's holding it, something others can do. On the downside, all Android phones come equipped with Find My Phone and other remote management tools with or without third-party security software.
In addition to encrypted cloud storage for photos (in Google Photos), Android provides text and call blocking. The included password manager can not only consolidate login credentials but can warn about passwords for apps that it doesn't control.
The Safe Browsing extension meanwhile warns users about millions of potentially dangerous sites every day. It comes pre-installed and enabled by default. It can steer you away from risky online territory when using Google Chrome.
In a rare bid towards customization, it can be disabled or set to either Standard Protection or Enhanced Protection. It blocked the three nasty sites I tried.
Android also has SafeSearch. It blocks explicit language or content but can be turned off in the Google Settings section.
Google Play Protect review: System impact
To gauge the impact using Google Play Protect has on performance, I set up a series of tests using a Samsung Galaxy Note 20 running Android 12. With the phone plugged in before Google Play Protect was turned on, I ran the GeekBench 5 Compute benchmark to provide a performance baseline of an average of 3,648.
Once turned on, the benchmark score fell by 1.8 percent to 3,582. This passive performance drain is roughly what Lookout experienced but was better than Norton 360: Mobile Security's 3.2 percent.
With Play Protect scanning for malware, the GeekBench 5 Compute score dropped to 3,591. This fall was negligible and likely to be a difference that nobody will notice. By contrast, Lookout's score fell by 3.1 percent.
The phone took 5.2 seconds to run a full scan of the device, slightly shorter than McAfee Mobile Security's 8.2 seconds, yet much better than any of the others, like Malwarebytes Premium + Privacy's 51 seconds. The good news is that while Malwarebytes Premium + Privacy and McAfee Mobile Security both needed a slower first scan (at 4:41 and 2:19), Play Protect was fast from the first scan on.
Google Play Protect review: Setup and support
The best part about Google Play Protect is that all you do is, well, nothing. It is included on every Android phone and tablet, already set up and turned on.
While third party security app providers generally deliver a good level of support for their paying customers, Google leaves providing help for its software to device manufacturers. Google does provide some minimal help for checking your phone's certification and instructions on turning Play Protect on or off. Beyond that, you're on your own.
Google Play Protect review: Interface
With its code embedded in the operating system, Google Play Protect doesn't have much of an interface of its own. One of the few things you can do with Play Protect is turn it on or off.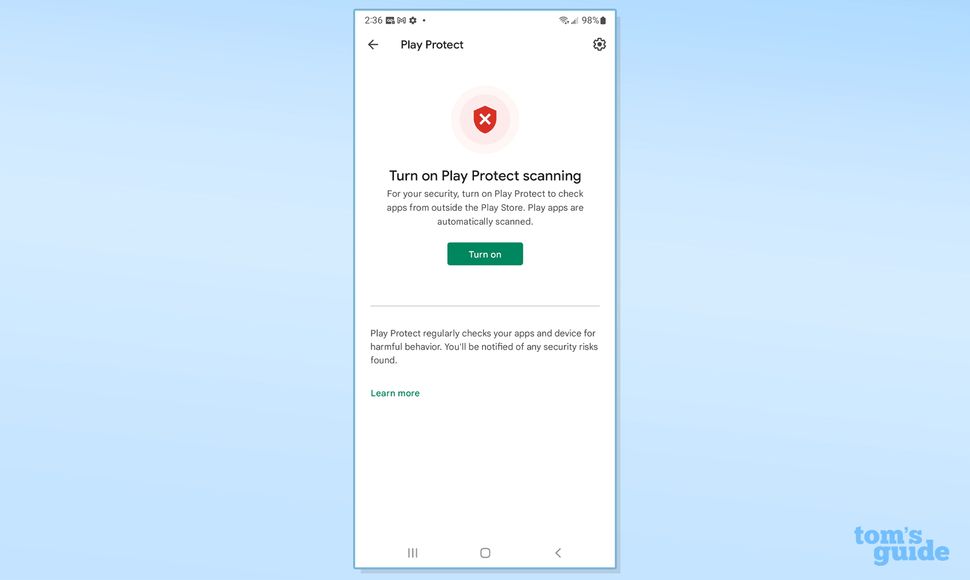 The entry point for Play Protect is the phone's Settings page. In the Biometrics and Security category, there's a section for Play Protect. Here, you can see the results of the last scan and when it took place. In the middle is a Scan button to get an examination of the system started.
The green shield and checkmark show that everything is safe. If Play Protect detects harmful code, it changes the shield to a red "X" and adds an Uninstall button.
Meanwhile, the Security Update section checks for new virus software and these updates will be distributed behind the scenes without the user ever knowing about them. The page shows the current version as well as the patch level of the operating system.
On the other hand, the Find My Device interface is incredibly effective and world class. It's in the Setting's Google section; there's a separate Find My Device app or the details can be seen online.
Next to a map of the last location for the device is a place to do some remote phone activity. In addition to getting the phone to play its ringtone, I was able to lock the screen or wipe all data from the phone. Be warned, it might take a few minutes for this to actually start but it can be turned off quickly.
What's missing is a single coherent place that integrates all the security aspects of the phone, regardless of whether they are part of the operating system or Play Protect. With that, protecting a phone would become easier and more comprehensible.
Google Play Protect review: Bottom line
Google Play Protect may be the cheapest and easiest Android security app to use as well as the one with the least impact on system performance but that's where it stops. Play Protect falls short of the mark with disappointing third-party malware detection results. The good news is that its ability to find and remove dangerous code is improving.
Google should steal a page from Microsoft's playbook by throwing extra resources and talent at Play Protect to make it a world class security app that just happens to be free. Over the last three years, Microsoft transformed its Defender malware product from a joke into one of the best ways to protect devices.
In the meantime, cheapskates take note: Play Protect is free but the adage that you get what you pay for has never been truer.