Norton 360: Mobile Security: Specs
URL protection: Yes
PUA and malware scanning: Yes
Ad blocking: Yes
Remote data wipe: No
SIM card lock: No
VPN/Unlimited use: Yes w/ Deluxe, Premium or Ultimate Plus plans
Anti-theft: No
Lost phone locator: No
PW manager: No
Wi-Fi Scanner: Yes
Call blocking: No
Text blocking: Yes
Guest mode: No
App advisor for app stores: Yes
App locking: No
Photo vault for sensitive images: No
Compatibility: Android version/Chromebooks/WearOS Version 8+ (Oreo)/Y/N
Free version/Cost: $30 per year
With the ability to defend a phone or tablet from all sorts of attacks while protecting your online identity, Norton 360: Mobile Security squeezes a lot into a small app. Its malware detection is matched by its fast scans and the ability to work with a wide variety of browsers. It adds warnings to potentially dangerous apps from the Play Store and can help recover from a ransomware attack.
Norton has the most extensive identity protection services as add-on menu items with three different tiers of protection and insurance. On the other hand, the anti-theft features have been stripped from the app and those who want access to a VPN will be disappointed because the company's Secure VPN is not available with the Android app by itself. The only way to get it is through the Norton 360: Deluxe, Premium or Ultimate packages.
In our Norton 360: Mobile Security review, we'll cover the features, protection and pricing of this Android antivirus app to determine whether it's still the king of the Android malware hill.
Norton 360: Mobile Security review: Costs and what's covered
If you're looking for a free version of Norton 360: Mobile security, forget about it. There is a 14-day trial though.
The Android-based Norton 360: Mobile Security app is available on the Play Store and includes malware scanning, Wi-Fi Security and website protection. However, it lacks access to the company's Secure VPN. The app costs $30 a year but doesn't have a monthly payment option.
To get access to the VPN, you need to jump to the $105 Norton 360 Deluxe plan that covers up to five systems. They can be Windows, Macs, Androids, iPhones or iPads. The plan also provides 50GB of online storage. Not enough? The $125 Premium plan ups the number of systems to 10 and the online storage to 100GB.
While the company's LifeLock identity protection service is not available with the Android only plan, it can be added to the Deluxe and Premium subscriptions. The costs add up quickly, with the LifeLock Select plan costing an extra $150 a year (for $1 million of ID insurance and $25,000 for lost funds) while Advantage ups that to $250 per year (with up to $100,000 for recovering money). At the top is the $350 Ultimate Plus plan which combines $1 million for insurance and $1 million for recovering lost funds with up to 500GB of online storage and home title monitoring. It covers an unlimited number of computers but only protects the identity of a single user.
The Norton 360: Mobile Security app needs Android version 8 (aka Oreo) or higher. While the company doesn't officially support Chromebooks, Norton 360: Mobile Security can unofficially protect a Chromebook as if it were an Android device. It won't work with WearOS devices.
The iPhone and iPad version of Norton 360: Mobile Security work with the current and previous two versions of iOS and iPadOS (15, 14 and 13). Its protection mirrors the Android version with one notable exception: Apple doesn't allow malware scanning.
Take a look at our Norton coupon codes for ways to lower the cost.
Norton 360: Mobile Security review: Malware protection
The Norton 360: Mobile Security app offers a lot of protection. Besides guarding against unwanted apps being installed, it also puts up a strong defense against ransomware. At the first sign of an attack, it stops the exploit but if an attack slips through, the app's Ransomware Recovery can help get your data back and uninstall the dangerous software. All you need to do is restart the phone.
The Safe Web browser extensions rate sites based on their reputation for providing malware. The extensions automatically load as you use them and work with a wide variety of sites as well as within Facebook, Instagram and Snapchat. It warned of the three malicious sites I tried.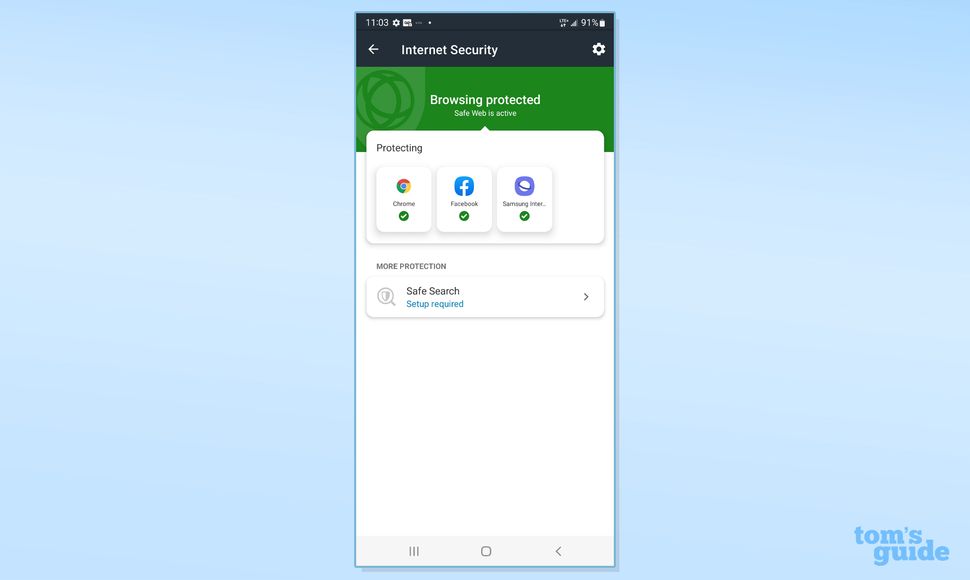 The app's Smart Scan real-time monitoring watches for malware or behavioral anomalies that might indicate a break-in has started. To activate Norton 360: Mobile Security's Smart Scan, I needed to allow the app to have complete control over my phone.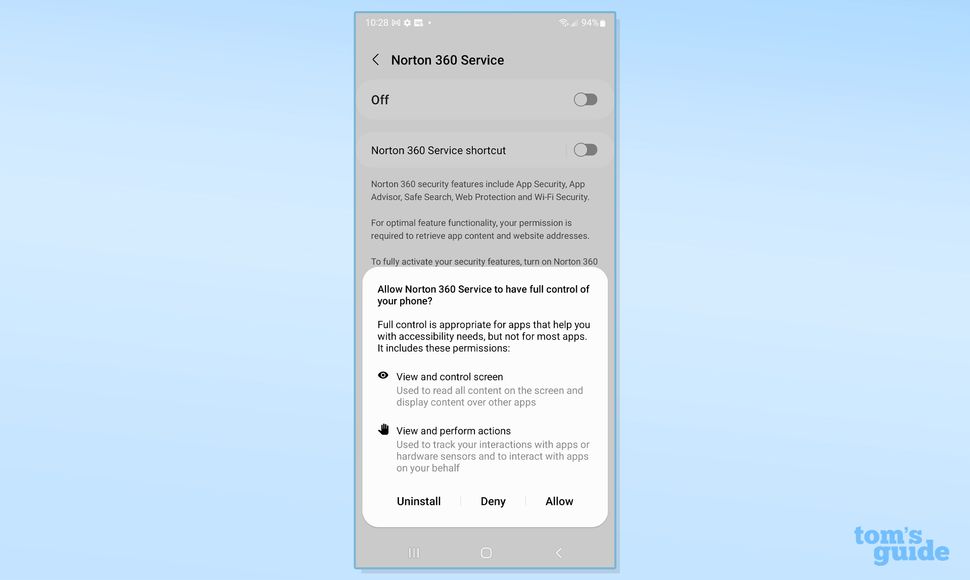 Plus, Norton's App Security can keep the apps you have free of malware. It shows which were recently installed and are being protected.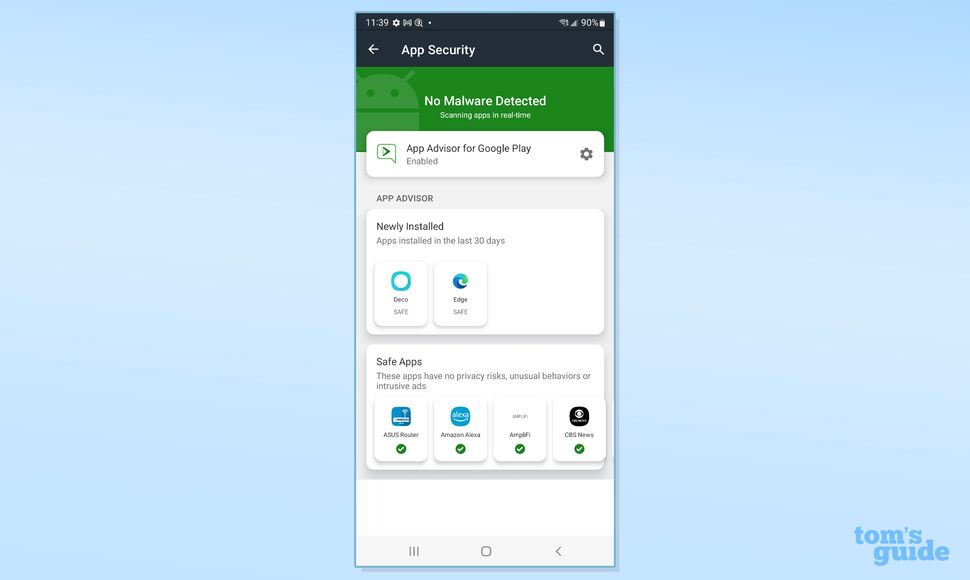 Meanwhile, the Scan System Apps looks for malware, privacy risks and odd behavior that might indicate a threat.
Norton 360: Mobile Security review: Malware detection
For the past two-and-a-half years, Norton's Android app has scored perfect 100 percent scores with AV-Test, catching everything the organization threw at the app. The January 2022 round of evaluations was no exception with Norton 360: Mobile Security getting a 100 percent score on both the new and widespread malware categories.
As testimony to the accuracy of its scanning, the app had zero false positives. This puts it in a tie with the perfect scores from Avast Mobile Security and Bitdefender Mobile Security. All had zero false positive results. Google Play Protect was further back at 80.7 percent on detecting new threats and 90.0 percent on widespread and popular exploits.
The company doesn't currently participate in AV Comparative's malware scanning tests. In the January 2019 test run, the Norton app scored a perfect 100 percent, putting it in a tie with Bitdefender and McAfee. It was ahead of Lookout's 99.6 percent. Again, Google Play Protect trailed, this time with a dismal 68.8 percent.
Norton 360: Mobile Security review: Security features and tools
Norton 360: Mobile Security offers a two-week trial with no restrictions. After that, you'll have to subscribe or try another app.
Unlike its competitors, Norton 360: Mobile Security has an App Advisor that pre-checks new software for threats. Before any app is loaded, the advisor looks for potential dangers and even excessive data use.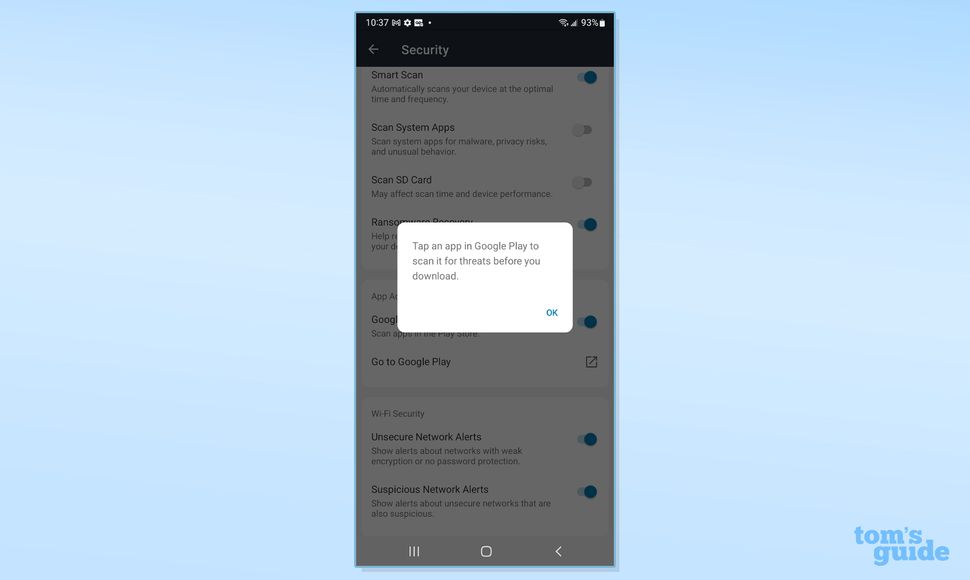 To check an app, all you do is turn on the Google Play Scan. Then, when you tap on any app there, Norton 360 proclaims it safe, dangerous or that it doesn't have info on the app.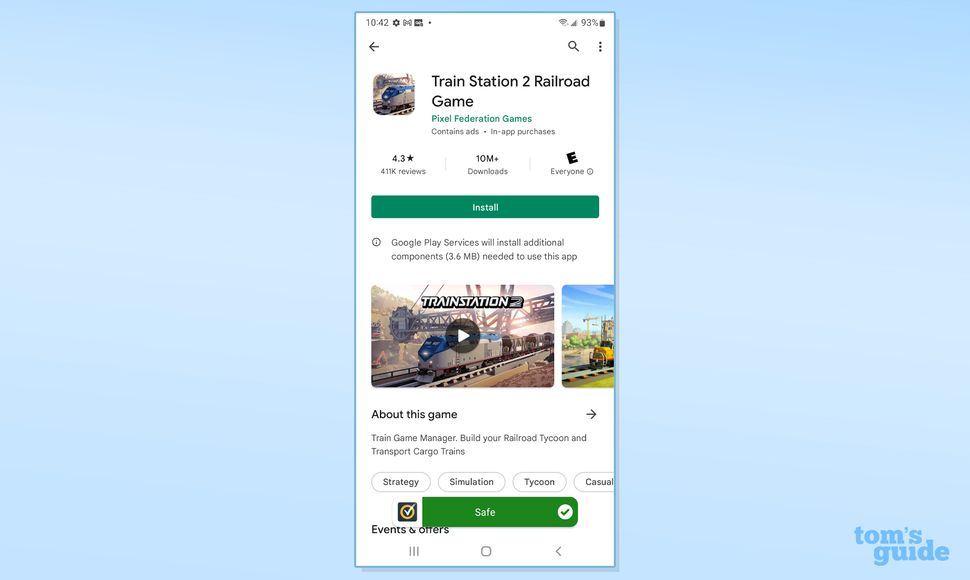 Norton 360: Mobile Security can identify phishing attempts and other dangerous links within SMS texts but requires allowing the app to look deeply into your use of the phone.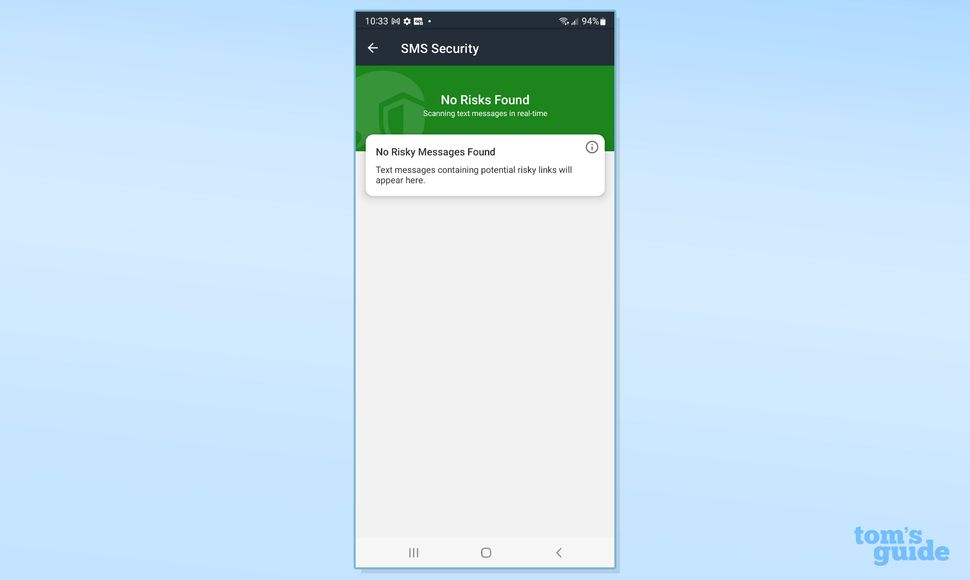 On the other hand, Norton 360: Mobile Security has been streamlined by eliminating its anti-theft features, leaving a hole compared to many of its competitors. It lacks a remote siren, ability to lock a phone when the SIM card is removed and to take a selfie of anyone looking at the phone – presumably the thief. It does without a simple phone locator that shows its last known location on a map but many of these things are available through Android's Find My Device.
The Norton 360: Mobile Security app has a powerful Wi-Fi Security feature that can ensure your online connections are secure. It runs a continuous scan for Wi-Fi networks while warning of those that are either unencrypted or pose a threat.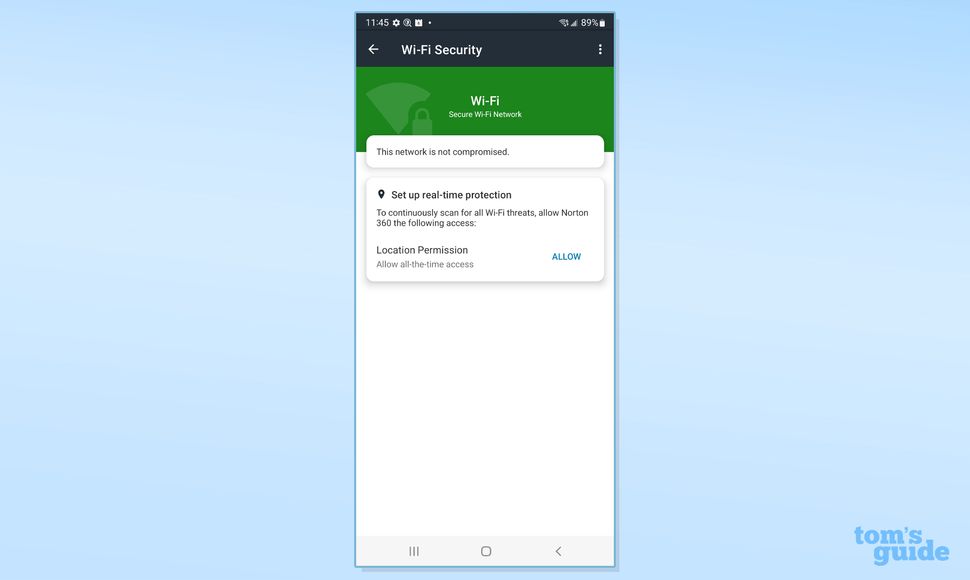 While the company has extensive infrastructure for keeping an eye out for your personal information online, you need to subscribe to the Deluxe, Premium or Ultimate Plus plan. By contrast, others, like McAfee Mobile Security include this type of forensic protection with their Android app.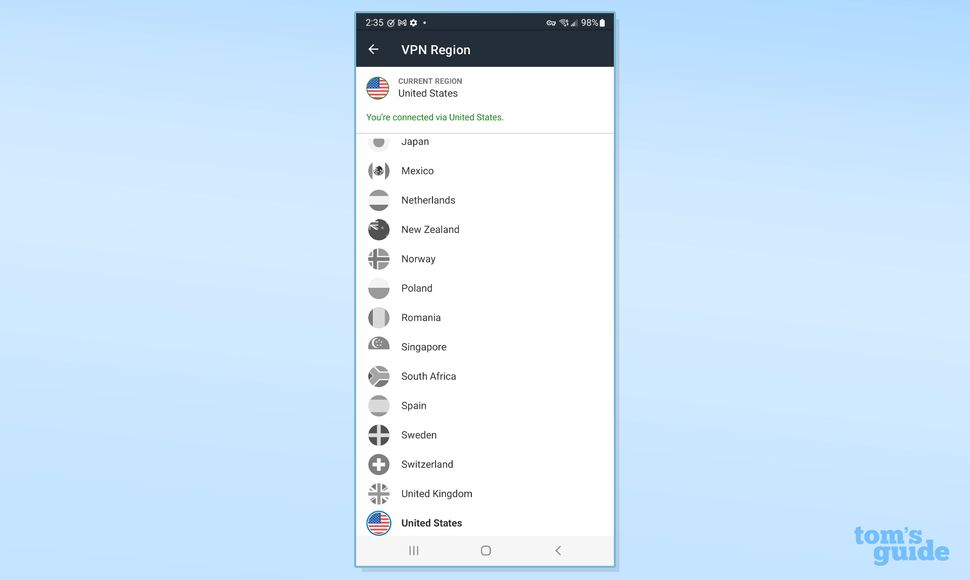 The Android only app doesn't include access to the company's VPN or offer it as an option. To get secure communications and the ability to watch geo-blocked content requires the Deluxe or Premium multi-platform plan. There are connection points in 30 countries and the VPN is well integrated into the app.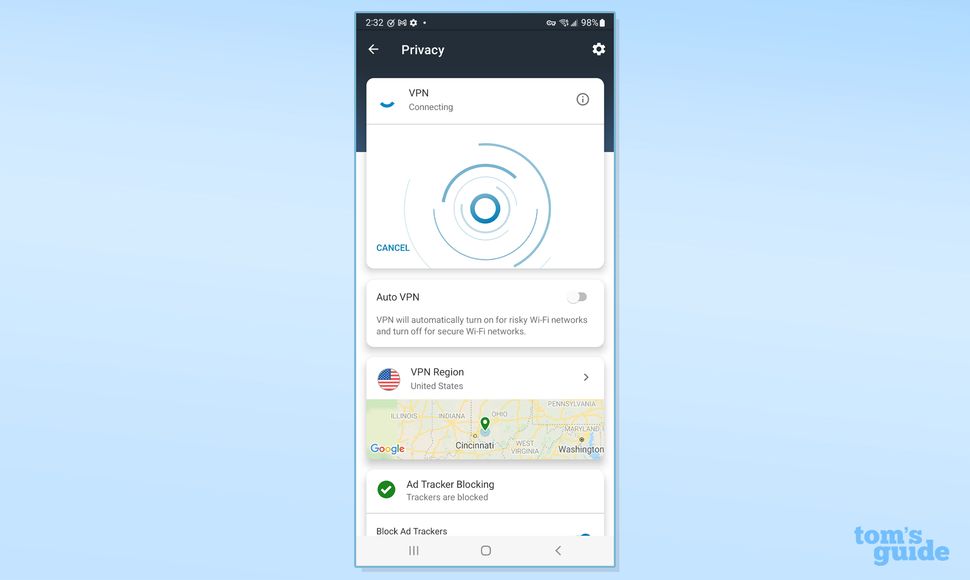 Using a Norton 360 Deluxe account, I got online with the VPN in 4.5 seconds. The connection yielded 149Mbps out of my 200Mbps connection.
Norton 360: Mobile Security review: System impact
To gauge how much of the phone's performance the app and its scanning engine took up, I set up a series of tests using my Samsung Galaxy Note 20 running Android 12. With the phone plugged in and before the Norton 360: Mobile Security app was loaded, I ran the GeekBench 5 Compute benchmark to provide a performance baseline of 3,687.
Next, I installed the app from the Play Store and ran the benchmark again. It yielded a score of 3,566 representing a passive performance loss of 3.2 percent. That makes Norton 360: Mobile Security among the hungriest security apps for Android.
While scanning, the benchmark declined by another 1.1 percent to 3,524. In other words, the program's background was more of a resource drain than the scanning engine. Still, Norton 360: Mobile Security was in the middle of the pack when it came to how hungry the scanner was for resources. It was behind Google Play Protect (down 0.3%) and Avast Mobile Security (down 0.3%) while being more efficient than Lookout Mobile Security (3.1%).
It took only 9.2 seconds for Norton 360: Mobile Security to scan the whole phone. Google Play Protect led here with a 5.2 second scan time.
Norton 360: Mobile Security review: Setup and support
Protecting an Android device started at the Play Store and choosing a plan; the company takes credit cards and PayPal. If you have a license code, there's a place to enter it.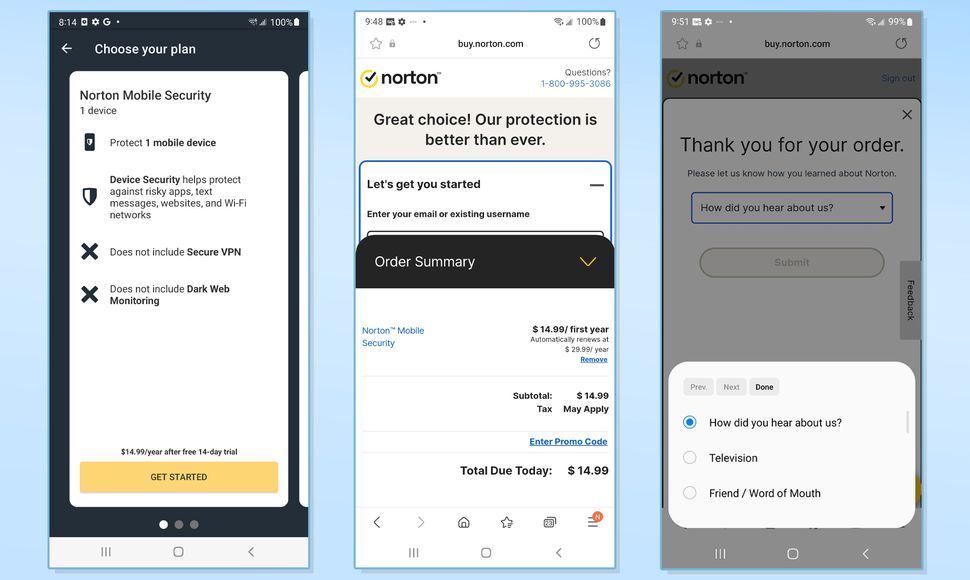 After agreeing to the license, I thought I was home free, but the app wanted me to answer an unavoidable marketing question. It then downloaded the needed code and started the automatic process, followed by activation and initialization. Start to finish, it took about 8 minutes to get and load the app.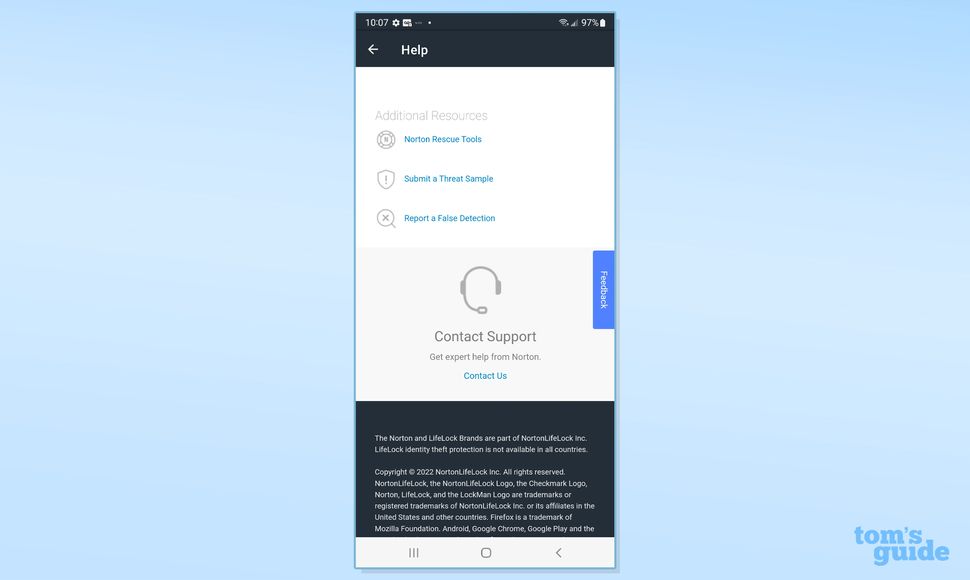 The tech support you get with all Norton products is world-class with 24-hour service. It's easy to call, use the online chat window or email them. The app has lots of resources, including a direct link to the support staff.
Norton 360: Mobile Security review: Interface
The Norton 360 interface does a good job balancing access to a multitude of tasks without being overwhelming. It can only run in portrait mode and is more complicated than the simplified McAfee Mobile Security app but allows for a lot of customization.
The main screen shows the basics, although the moving rings in the background can be disconcerting. In addition to whether you need to intervene, it has places to learn more about the program's details and warnings. In addition to App Security (real-time malware protection) and Safe Web browser protection (extensions for blocking dangerous sites), there's Wi-Fi Security (a scan of the local networks for safety) and Device Security (monitoring for everything from rootkits to the trusted certificates in use). There's also SMS Security that can block unsavory texts.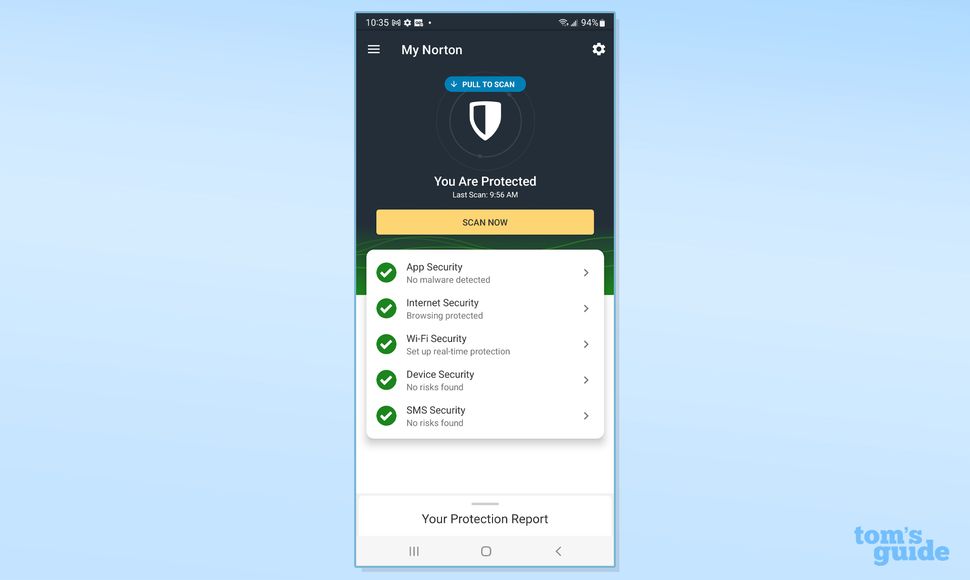 There's a large scan bar in the middle that, unlike Avast, goes right to an examination of the system. A hidden gem is at the bottom: slide "Your Protection Report" up to reveal an up-to-date account of the security of your device. It shows things like ransomware, malware and risky apps and really comes into its own after running for a month.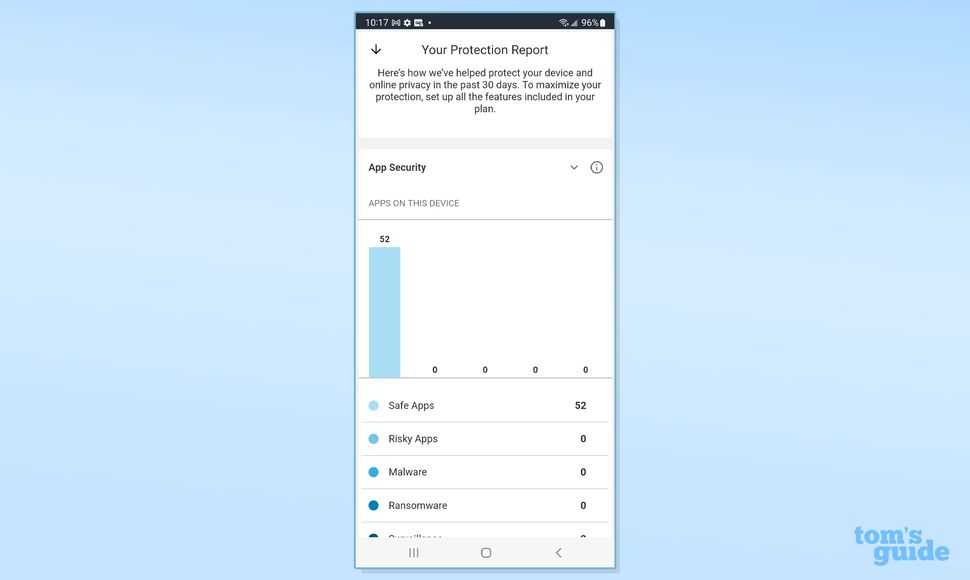 The three-line hamburger link in the upper left leads to items like the subscription status, a link to the Password Manager and Settings. Finally, there's a Help link.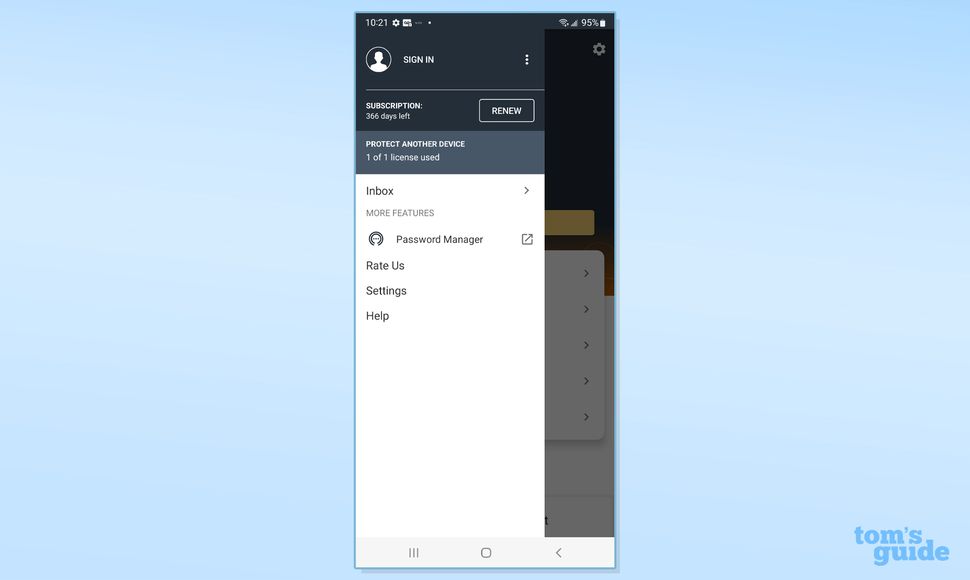 In the upper right is a traditional Settings gear icon. It leads to a similar set of items as the hamburger menu.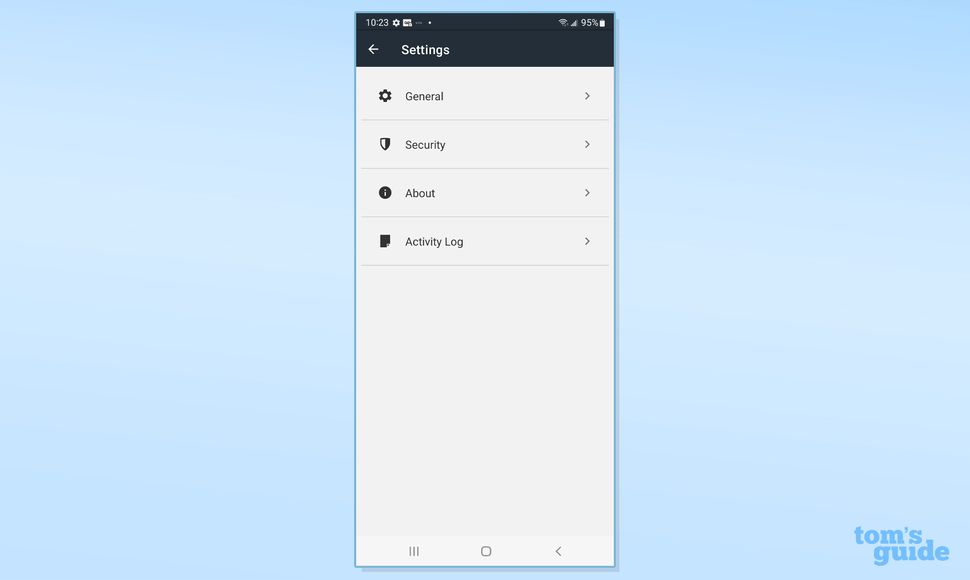 Unfortunately, the Activity Log section only has when a scan took place but not the details.
Norton 360: Mobile Security review: Bottom line
With everything from malware scanning and web protection to identity insurance and dark web monitoring, Norton 360: Mobile Security is a one-stop shop for securing an Android device. Unfortunately, its pricing adds up quickly and the VPN is not available with Android only accounts. While the price may make it a difficult sell, the consistency and reliability of Norton Mobile Security should earn it a place on your shortlist. Every feature simply works, and Norton's malware detection has been unwaveringly flawless for years, but it does without anti-theft features.
While they're close, Bitdefender Mobile Security has caught up and surpassed Norton 360: Mobile Security and is now our choice as the best way to protect your phone.