Your next Netflix binge-watch is here! And it's a show that's been around for years. Suits is best known as the last acting gig for Meghan Markle, the Duchess of Sussex, before her marriage to Prince Harry. Yet, it deserves to stand on its own as a snappy legal drama with great characters and engrossing plots.
Netflix recently added eight of nine total seasons of Suits on June 17 — coincidentally (or not) the same day as King Charles III's first Trooping the Colour event. And in just a matter of days, it's risen up the ranks of Netflix's Top 10 shows list to sit just behind the new installment of Black Mirror. Pretty good for a show that first premiered a dozen years ago.
Forget the royal drama and celebrity rubbernecking, as Suits is a fantastic show. Years ago, I binged the first three seasons on the way to a set visit, became a fan and tuned into the rest of the five seasons as they aired.
And yeah, Meghan Markle happens to be in it. That's far down the list of reasons you should watch Suits.
What is Suits about?
Suits, created by Aaron Korsh, follows two protagonists in the legal world of New York City. Mike Ross (Patrick J. Adams) is a college dropout with a photographic memory who makes money by taking the LSAT and bar exams for others. He stumbles into a job interview with Harvey Specter (Gabriel Macht), a partner at the prestigious firm Pearson Hardman.
Impressed by Mike's skills, Harvey hires him, despite his lack of credentials. They work as a team on various cases, with assistance from Harvey's secretary Donna Paulsen (Sarah Rafferty).
But they must keep Mike's secret from everyone else at the firm, including managing partner Jessica Pearson (Gina Torres) and financial law expert Louis Litt (Rick Hoffman). Mike's situation becomes even more complicated when he falls for paralegal Rachel Zane (Markle).
Over the course of the series, Harvey and Mike engage in corporate litigation on everything from mergers to fraud to malpractice. They must also navigate intra-firm politics, cutthroat rivals, ethical quandaries and personal relationships in the pursuit of coming out on top (and avoiding prison themselves).
Suits has a great cast (including Meghan Markle)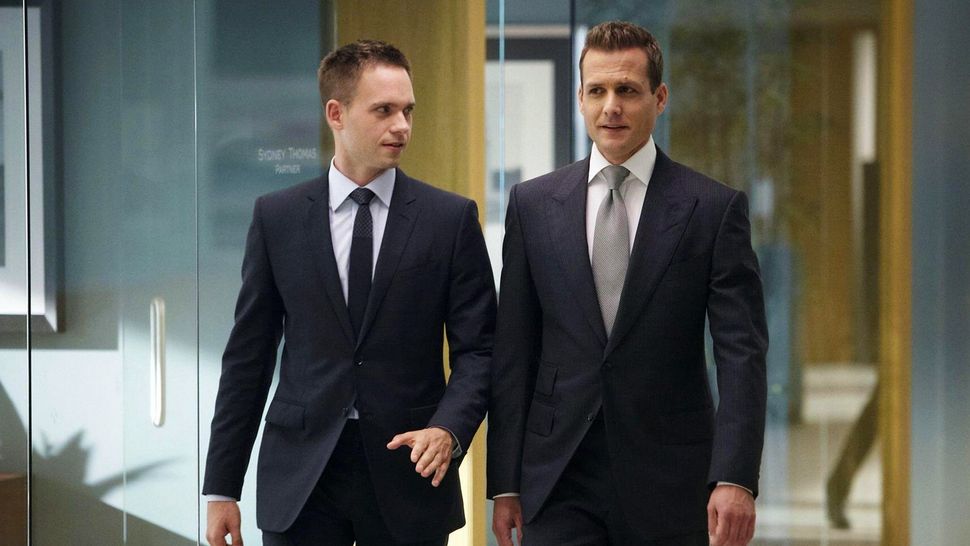 At its core, Suits isn't too different from the legal dramas that have been a staple of television since the beginning. It mixes "cases of the week" with longer arcs about machinations among the lawyers. In that, Suits feels similar to The Good Wife, The Good Fight, The Practice, Ally McBeal, Boston Legal, L.A. Law and How to Get Away With Murder.
But not all legal dramas are created equal. The ones that stand out feature well-written, three-dimensional characters portrayed by top-notch actors. Suits falls into this category, thanks to principal cast members Adams, Macht, Markle, Torres, Rafferty and Hoffman.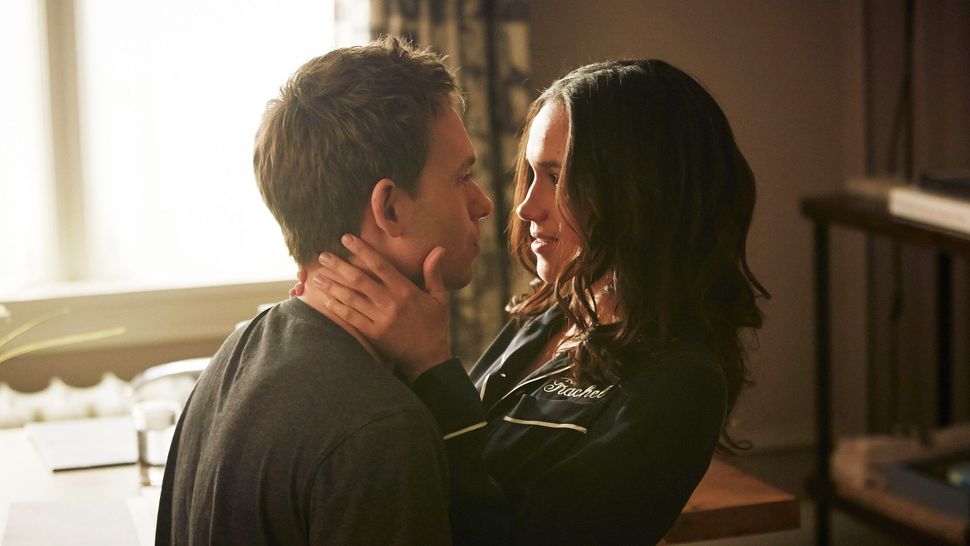 Their different configurations are all enjoyable. Mike and Harvey share a lightning-quick, smart-alecky banter, while Louis' quirks provide a welcome dose of comedy. Harvey and Donna's "will they/won't they" chemistry sizzles, in contrast to Mike and Rachel's romance is more conventionally straight-forward and steamy (but not too much, Suits was on basic cable after all).
Then, there's a tremendous revolving door of supporting players, who've come in and out over the course of the series and sometimes been elevated to series regulars. They include Katherine Heigl as a brash new partner; Wendell Pierce as a well-known attorney and Rachel's father; Gary Cole as a Manhattan district attorney; Abigail Spencer as Harvey's legal rival/love interest Scottie; and Željko Ivanek as an U.S. Attorney.
Outlook: Make Suits your summer binge
Now that (most of) Suits is streaming now on Netflix, it's the perfect show to binge-watch over the summer.
Eight of the nine seasons have hit the service (season 9 is on Prime Video; the entire series is on Peacock). That adds up to 124 episodes, or nearly 94 hours of viewing. You could watch an episode every night, plus a few on the weekend, and get through the entire thing by Labor Day.
Suits goes down like a fine wine — smooth, luxurious, delightful. It strikes the right balance between serious and frivolous. And I think you'll find that any curiosity about a certain member of the British royal family will be overshadowed by the simple pleasures of a well-made TV show.
More from Tom's Guide