If you've been looking for the next binge-worthy South Korean TV series to sink your teeth into, Netflix's new crime drama Bloodhounds just might make the wait for Squid Game: Season 2 a little more bearable.
But while Squid Game quickly became a global sensation, going on to become the most watched Netflix show ever, Bloodhounds remains something of a hidden gem on the service, having only generated a small (but fervent) audience since its June 9 release.
Although there aren't enough reviews of Bloodhounds on Rotten Tomatoes for it to receive a Tomatometer score (only three 'Fresh' reviews are listed so far), the show's Audience Score currently sits at an impressive 89%.
What is Bloodhounds about?
A live-action adaptation of a cult webcomic on Webtoon by Jeong Chan, Bloodhounds primarily follows Geon-woo (Woo Do-Hwan) and Woo-jin (Sang-yi Lee) — two boxers who become best friends almost immediately after their first match.
Diligent and polite to a fault, Geon-woo is a dutiful son who boxes in order to help pay the rent for his mother's cafe, which was hit hard due to Covid.
Woo-jin, while slightly less commendable due to his shady past as a debt-collector, has a good heart nevertheless.
Bonding over their past service in the Marines and their shared love of food, Geon-woo and Woo-jin instantly become the kind of friends who would do anything for each other, and this friendship is exceptionally endearing to watch.
However, things take a dark turn when Geon-woo's mother (Yoon Yoo-sun) is conned into incredible debt by corrupt money lender and Smile Capital CEO Myung-gil (Park Sung-woong), whose goons trash her cafe.
Geon-woo attempts to stop them in the show's first major brawl, but is eventually overpowered and left with a huge gash across his cheek.
Rather than attempt a futile retaliation, Geon-woo and Woo-jing seek to pay back the debt by protecting Hyeon-joo (Kim Sae-ron) for Choi (Joon-ho Huh), a wealthy money lender who gives out interest-free loans to people in need.
Little do they know, Hyeon-joo is on her own mission to take down loan sharks who prey on the weak, putting Geon-woo and Woo-jing back on a collision course with Smile Capital again.
Apart from the show's exceedingly likeable leads and compelling story, Bloodhounds delivers brilliant fight sequences which emphasize the boxing skills of its protagonists.
Instead of the usual ballet of flashy martial arts kicks, Geon-woo and Woo-jing mostly use their fists, leading to some truly fresh and exciting fight scenes where the pair must duck and weave through large groups of bat-wielding thugs — you can check out one of the show's most exhilarating dust-ups below.
Bloodhounds reviews: What critics and audiences say
At present, Bloodhounds only has a small handful of reviews from professional critics, but it's worth noting that each review listed on Rotten Tomatoes is a positive one.
Pete Volk of Polygon says "The boxing-tinged crime series delivers on what it promises from the beginning: cute boys punching… for justice."
Johnny Loftus of Decider says "Bloodhounds might run a little thin across its episodic run, but that doesn't mean its action moments won't pack a serious punch."
And finally, Pierce Conran of the South China Morning Post describes Bloodhounds as "a series filled with the kind of white-knuckle tension that will have you standing up in front of your TV, as though you were ringside at a prize fight."
As we mentioned earlier, Bloodhounds doesn't have enough reviews for an official Tomatometer score (though 100% of the reviews it does have are 'Fresh'). That said, its 89% Audience Score suggests that viewers are thoroughly enjoying the show.
Additionally, Bloodhounds has achieved an admirable rating of 8.1 on IMDb based on over 2,300 user ratings, and has received a number of highly positive user reviews on the site.
Watch Bloodhounds if you like...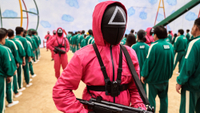 Squid Game
Netflix's most watched series to date sees cash-strapped people accept an invitation to compete in high-stakes children's games with an enormous cash prize. What the contestant didn't know before accepting is that failure in these games will result in their immediate execution.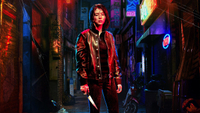 My Name
In this hard-hitting South Korean crime drama, Yoon Ji-woo (Han So-hee) joins an organized crime syndicate and then infiltrates the police department as a mole in order to uncover the truth about her father's murder.
More from Tom's Guide