Netflix understands romantic comedies are possibly the most beloved film genre. That's why their streaming library is full of old and new classics, and why they produce their own originals regularly.
Their catalog has rom-coms about older couples, teen love stories, remakes of past faves, adaptations of romance novels, ones with supernatural elements, and so many set during Christmas time.
Below is a list of some personal faves to consider next time you open Netflix with your one true love, whether that's a significant other or a pint of Rocky Road.
To All the Boys I've Loved Before
Without question, this is Netflix's best original romantic comedy. Lana Condor is cute as heck and stars as Lara Jean, who is mortified when all of her secret crushes find out she has feelings for them. Her most recent crush is also her sister's ex! In order to spare her sis, she starts pretend-dating Peter (Noah Centineo), who himself wants to make his on/off girlfriend jealous.
Condor is fantastic in the role, and she and Centineo have amazing chemistry. He is basically a baby Mark Ruffalo clone. It's uncanny. Between this and the fun, flirty vibes and bright colors, To All the Boys I've Loved Before makes a great double feature with 13 Going on 30. The film is super popular, so much so it spawned two sequels and a spinoff series.
Watch now on Netflix
Sleepless in Seattle
The second installment in Nora Ephron's "Meg Ryan Trilogy," Sleepless in Seattle makes you want to willingly schlep to the top of the Empire State Building and believe in true love. Ryan stars as a reporter who falls for a widower she heard speaking on talk radio, played by everybody's favorite everyman, Tom Hanks.
Fate, and a little interference from a precious boy looking for a new mother, brings them together atop New York's most romantic skyscraper. There, they begin their happily ever after. Also, the movie is stacked with great character actors in supporting roles, including Hanks' real-life love, Rita Wilson, as well as Victor Garber and Bill Pullman.
Everyone's seen this movie, probably multiple times, and it's so good. If somehow you missed it, fire it up right now, then follow it up with You've Got Mail, which reunited Ephron, Ryan, and Hanks.
Watch now on Netflix
Pride and Prejudice
In this adaptation of the Jane Austen novel, Keira Knightley is the headstrong Elizabeth Bennet, while Matthew Macfadyen plays the seemingly insufferable and snobby Mr. Darcy. She loathes him, yet he falls in love with her. It's complicated.
It is the most dramatic of the romcoms on this list, and also the swooniest. The humor largely comes from the comedy of errors while our characters try to find marriage partners, as well as cringey social interactions. Elizabeth's sisters and cousins often make spectacles of themselves in public, and Darcy's best friend becomes quite bumbling and awkward around his crush. (So does Darcy, although he'd probably not admit it!)
There have been many on-screen iterations of Pride and Prejudice, but nothing surpasses Joe Wright's 2005 stunner. It's also peak "corset era" Knightley and she even earned her first Academy Award nomination for the role. Despite being nearly two decades old, the period piece never feels tired, and is a frequent rewatch.
Watch now on Netflix
Single All the Way
Netflix has been making Christmas rom-com guilty pleasures alongside Hallmark and Lifetime for years now. 2021's Single All the Way was its first with a same-sex love triangle. Peter (Michael Urie) decides to bring his platonic bestie home for the holidays to pretend to be his boyfriend, so his mom won't hassle him for being single. However, since mama knows her son, she's already fixed him up with the hot new gay in town (Luke Macfarlane). To Peter's surprise, he thinks he's met the perfect guy, but has the best man already been by his side?
This movie is charming, and has a bunch of fun millennial references— including a fabulous number choreographed to the Britney Spears Christmas song, "My Only Wish (This Year)." Comedic icons Jennifer Coolidge and Kathy Najimy star as Peter's aunt and mom, respectively. It's a must-see!
Watch now on Netflix
Holidate
Holidate stars Emma Roberts, niece of the Pretty Woman herself, Julia Roberts. She plays Sloane, who teams up to fake-date Jackson (Luke Bracey) throughout the year during holidays only, so neither gets lonely or hounded by relatives for being single. Soon, their feelings morph into something more, and they need to decide if they're ready for a relationship that's real.
For a romantic comedy about two jaded characters, this movie is surprisingly sweet. While it's based on a tropey premise, the fake relationship, it takes a refreshing and more adult approach. It also has several laugh out loud moments, and Roberts and Bracey make a solid team.
Watch now on Netflix
Begin Again
Begin Again is a more bittersweet romantic comedy. Greta (Keira Knightley) is an unassuming songwriter whose long-term relationship ends when her boyfriend becomes a rock star and jerk overnight (Adam Levine is perfectly cast in the role). Dan (Mark Ruffalo) is a music producer who tanked his career after his wife left him, and thinks Greta is just the talent to get him back on top. When he convinces her to make an album together, their shared experiences create a strong bond, and create an experimental album that could change their lives.
The movie has a phenomenal soundtrack made up of original songs, including the Oscar-nominated, "Lost Stars." Director John Carney is no novice to making compelling musical dramedies, having also produced films about bands with Once and Sing Street.
Watch now on Netflix
Your Place or Mine
Reese Witherspoon and Ashton Kutcher spent a lot of the aughts starring in rom-coms, but somehow never ended up in one together. This movie rectifies that while serving tons of '00s nostalgia!
They star as Debbie and Peter, college BFFs who now live very different lives. He's a businessman with a swanky NYC apartment, and she's a divorced mom with an unfulfilling job in L.A. After she gets a great opportunity to take a career-improvement course in his city, they agree to swap homes, while he also provides childcare.
When she gets to the Big Apple, her dream job and dream guy materialize. Meanwhile, Peter realizes he has romantic feelings for her, and they both begin to wonder if it was a mistake to friendzone the other back in the day.
The premise is similar to the modern classic, The Holiday, by legendary romantic comedy director Nancy Meyers, with the house-switching— but if Cameron Diaz and Kate Winslet hooked up together instead. Because Debbie and Peter spend so much time apart, their interactions often happen over the phone or via split-screen. This is a callback to the iconic Rock Hudson-Doris Day starrer, Pillow Talk. Plus, there's Steve Zahn, Jesse Williams, and Shiri Appleby in fun supporting roles. Your Place or Mine definitely feels like a romcom made by fans of the genre.
Watch now on Netflix
Always Be My Maybe
This delightful romantic comedy stars Asian American leads, and that's something that's far too rare in Hollywood. Comedian Ali Wong and veteran actor Randall Park play childhood best friends — she's literally the girl next door — who grow apart after an awkward sexual encounter as teens.
When they meet again years later, she's a celebrity chef and he's still living at home, and they both have significant others. They still connect over their shared history and their chemistry is undeniable (even with Keanu Reeves in the picture). - Kelly Woo
Stream on Netflix
The Lovebirds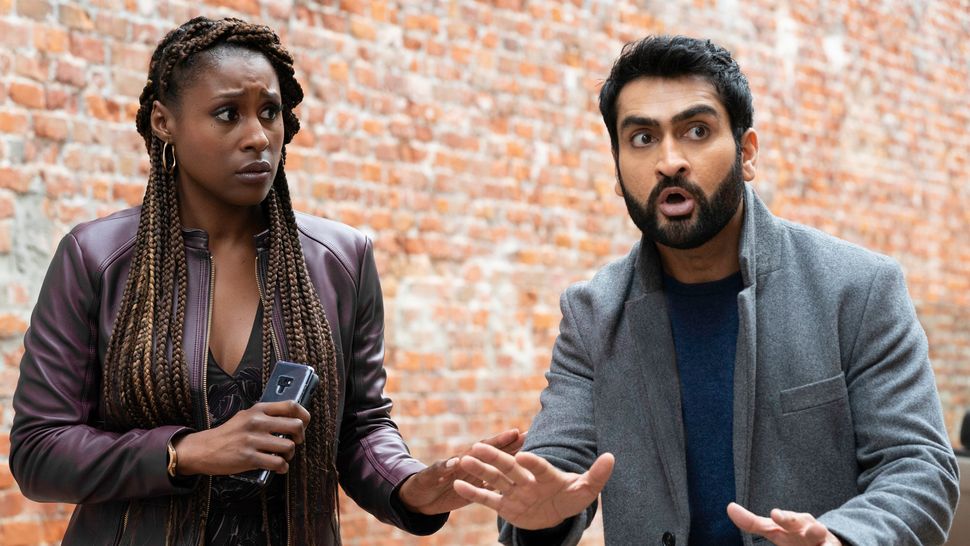 Two of our favorite funny people, Issa Rae and Kumail Nanjiani, team up in this seriously charming rom-com/thriller. They play a couple who argue constantly and are on the verge of a break-up when they witness a murder.
They flee the scene, knowing that people of color tend to be cops' prime suspects, and start investigating the crime themselves. Preposterous hijinks ensue (including the couple ending up at an orgy). Through it all, they bicker and banter, but also rediscover why they fell in loves in the first place. — KW
More from Tom's Guide