I review and own a wide variety of electronics, which means I'm constantly charging one, two or more devices at any given time. As you could imagine, that's a lot of wires and power bricks to manage — not to mention a bunch of sockets being used up on my surge protector. Thank goodness for USB wall chargers.
I admittedly didn't start using USB wall chargers until recently. I've purchased several from Anker and they've allowed me to charge multiple devices via a single power brick. And while Anker's products are fantastic, I've recently grown fond of Ugreen's GaN chargers.
Below, I'll detail why I'm now a huge fan of GaN chargers and why I'll recommend them to anyone within earshot. And though I'm spotlighting Ugreen's products in particular, this article is really about GaN chargers in general. Read on to find out why GaN chargers are awesome and how they've been a game-changer for me.
What the heck are GaN chargers?
Before continuing, I think it's essential to briefly explain what GaN chargers are and how they differ from traditional chargers.
Where standard power bricks are silicon-based, GaN chargers use gallium nitride — hence, GaN — which is a semiconductor that runs cooler than standard charger components like silicon. Since they're very efficient at conducting electricity, you can squeeze more power from a smaller charger. GaN chargers can pack many ports in close proximity to one another, and distribute power to them more efficiently.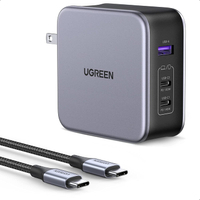 Ugreen Nexode 140W USB-C charger: $119 @ Amazon
The Ugreen Nexode 140W is a powerful GaN charger that can power devices like the 16-inch MacBook Pro along with other gadgets. If you need to power multiple devices fast, this is an excellent GaN charger to get.
They also generate less heat because their energy loss is lower. This also contributes to GaN chargers' relatively smaller size — they don't need big heatsinks like those typically found in silicon chargers.
In short, GaN chargers are smaller than standard silicon chargers but are capable of distributing more power to more devices while generating less heat. They're a nearly perfect product for their intended purpose.
GaN chargers helped me declutter
To ensure I can always keep my devices powered up, I have a USB-C cable, Lighting cable, and micro USB cable at the ready. I could probably ditch the micro USB cable since almost all of my electronics charge via USB-C nowadays, but I feel better having it on standby, on the off-chance I'll actually need it.
I used to have these cables connected to three separate power bricks, each taking up space on my surge protector. It took me an embarrassingly long time to get wise and finally buy USB chargers with multiple ports.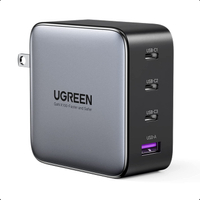 Ugreen Nexode 100W USB-C charger: $79 @ Amazon
The Ugreen Nexode 100W has three USB ports for charging your electronic devices, including tablets, smartphones and even laptops. This is a great product for anyone who owns multiple electronics.
I started with a couple of small Anker chargers before trying out Ugreen's. To be specific, the Ugreen Nexode 100W USB-C charger, has become a mainstay of my desk setup. Because of this handy peripheral, I no longer have to contend with multiple cables jutting out of several power bricks connected to a power strip. I can keep them all connected to a single source, as you can see in the picture below.
Let's talk about power distribution for a minute. If you're charging a single device on the Nexode 100W, the top two USB-C ports deliver a maximum of 100W each, while the third USB-C port and the single USB-A port deliver 22.5 each. If you're using all four ports, the top USB-C port delivers 45W while the second one pumps out 30W. The third USB-C port and the USB-A port dole out 10.5W max each.
Thanks to all of those ports, I'm able to simultaneously charge my iPhone 13 Pro, iPad Air 5, Apple Airpods Pro and Apple Watch SE. But obviously, I can charge anything, not just products in the Apple ecosystem. Regardless, my work and personal space are now much tidier thanks to this Ugreen GaN charger.
Less stuff to carry around in my bag
I take the Nexode 140W USB-C charger with me when I travel. I use it to keep the MacBook Pro 16-inch and some of the other aforementioned devices charged if I'm somewhere with a wall plug. As you can imagine, this is preferable to carrying the laptop's big 140W charger, along with the other power bricks for each of my devices.
And if anyone I'm with needs to charge their devices, I bring the Nexode 65W USB-C charger, which has two USB-C ports and a lone USB-A port. The 45W charger is good too, but I like bringing the 65W with me since it pumps out more power and has three ports instead of two.
Super fast charging
According to Ugreen, the Nexode 140W USB-C charger can charge the MacBook Pro 16-inch up to 56% in 30 minutes. I haven't done a proper benchmark to verify that claim, but this GaN charger does indeed power up Apple's huge laptop pretty fast. The same applies to whatever else I'm charging.
Even if I'm using one of the ports that delivers less power, or if I have multiple devices plugged in, all my electronics charge relatively fast overall.
GaN chargers are game changers
Regardless if they're from Ugreen, Anker or other reputable manufacturers, you need GaN chargers in your life. Not only are these products extremely useful, but they're also relatively affordable. The Nexode 140W, for example, currently costs $89 on Amazon, while the 100W charger is currently $79. Considering their utility, those prices are practically a steal.
If you own multiple electronic devices and have limited space to connect them all, you should definitely consider getting a GaN charger or two. It might change your life.