Many of the best wireless earbuds cost between $200 and $300. For today's budget-conscious tech fans, that's a pretty hefty sum. But with new models from Google, Samsung, Bose, and Apple each launching wireless active noise-cancelation (ANC) earbud designs last year in that price range, it's easy to see why many buyers think they need to spend big to get quality sound and features.
With a lack of entry-level alternatives to introduce budget-conscious buyers to the best earbud makers, how do you get a big-brand experience without paying top dollar?
Few headphone brands span the market as comprehensively as Sony, although I admit that in terms of earbuds, the Japanese tech giant is perhaps better known for its flagship WF-1000XM4 ANC model. They rank highly in several of our buying guides right now, including the best noise-canceling earbuds. But if the WF-1000XM4's $279 flagship price feels a bit too steep, Sony has an entry-level alternative that offers a strong brand experience for a faction of the cost.
We reviewed the Sony WF-C500 last year, and they continue to rank first in our best wireless earbuds under $100. Meanwhile, the AirPods 3rd gen have a retail price of $179, and the Sony is arguably a better value at $80 less.
Sony WF-C500: Top sound without a top dollar price
Sony's WF-C500 earbuds may not wow you with their looks, but these are the best wireless earbuds I've heard for less than $100. Despite being a budget-friendly option, they come with some serious functionality, including 360 Reality Audio (Sony's immersive sound format for music), Digital Sound Enhancement Engine (DSEE) Extreme, and Sony Headphones Connect app support.
Not all of Sony's luxury features make the cut, though. There's no noise canceling, LDAC codec support, and smart controls are all MIA on the WF-C500. Battery life is respectable and runs to 10 hours for the earbuds; users can get up to two additional full charges from the charging case, which isn't the strongest but shouldn't be a deal breaker. Nevertheless, the overall package is great value and too good to pass up.
Music sounds punchy with earbuds fresh out of the box, and they're able to handle complex bass-filled tracks better than many other models I've heard at a similar price. The sound profile might not be as depth-filled as the WH-1000XM4, but you can expect powerful lows and crisp highs, along with slightly under-emphasized mids that give them a sense of warmth.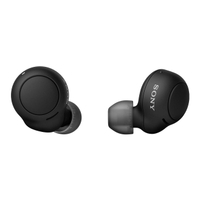 Sony WF-C500: was $99 now $68 @ Amazon
The Sony WF-C500 are the best wireless earbuds under $100 in 2023, and even more of a bargain discounted to just $68 right now. Music sounds punchy, and although they might not be as depth-filled as other Sony models, you can expect powerful lows and crisp highs. Battery life runs to 10 hours, or 20 hours with the charging case. Best Buy and Walmart are running similar deals.
Should you want to tweak the sound at all, the Sony Headphones Connect app will let you personalize the audio experience. There's a selection of preset EQ options including: Bright, Excited, Mellow, Relaxed, Vocal, Treble Boost, Bass Boost, and Speech, as well as manual and custom options where you can tailor a six-band equalizer to your own exacting tastes.
Sony's well-regarded DSEE tech effectively enhances compressed audio files to make them sound better, and I'm impressed that Sony managed to make these entry-level buds compatible with their 360 Reality Audio spatial audio platform. I would say that the experience is better executed on the WH-1000XM4, but it gives a taste of what to expect from more powerful models. The Sony WF-C500 don't have active noise cancellation (ANC), but that's really not the end of the world.
Do I really need ANC?
Although ANC has been popularized by every new flagship set of earbuds or pair of headphones, I've never felt that it's a must-have feature. I would much rather spend my money on a better-sounding pair of earbuds than one with ANC that has some kind of influence on the sound of the music I'm listening to.
Of course, if you intend to wear your earbuds in a very noisy environment, then you'll most likely benefit from noise-canceling tech to help eradicate background noise. The thing I like about in-ears, though, is that they have a degree of passive noise isolation as they fit into the ear canal, which naturally prevents external high-level sounds from reaching the ear drum.
The WF-C500 did a satisfactory job of isolating ambient sounds. Although some still made their way into the soundscape, they were never distracting enough to pull me away from the music or the WF-C500's great sound.
Sony WF-C500: The best wireless earbuds under $100
Reacquainting myself with the Sony WF-C500 earbuds only reconfirms their position at the top of our best wireless earbuds under $100 buying guide. The brand experience Sony brings to these budget earbuds is anything but entry-level, and only the slightly low rent charging case gives any clue as to the WF-C500's bargain price tag.
They're a great choice at their $99 MSRP, but right now they're discounted to less than $69 in similar deals running at Amazon, Best Buy and Walmart. Don't forget to bookmark our best headphones deals page to keep track of the latest discounts.
More from Tom's Guide