The best tablets are great devices for watching videos, surfing the web and reading digital books and comics. You can even turn some of them into pseudo laptops with a detachable keyboard. Because of their versatility, it's no wonder tablets are so popular among a wide range of users — including kids, college students and professionals. Tablets provide a good middle ground between smartphones and laptops for those who want a portable computing device.
I've reviewed many tablets for Tom's Guide so I know exactly what I want in a slate I'd purchase for myself. Of all the tablets I've tested so far, my favorites are the iPad Air 5 and iPad Pro 2022. And while the latter has a large 12.9-inch display and packs the powerful Apple M2 chip, the humble iPad Air 5 was my favorite tablet of 2022 and is still the one I'd get for myself. It's also the tablet I'd recommend to most people. I'll explain why below.
Ideal size and great display quality
Bigger isn't always better when it comes to tablets. If you plan to use a slate primarily to watch videos or to use as a laptop replacement, then yes, going for a large-sized tablet like the Samsung Galaxy Tab S8 Ultra or iPad Pro makes sense. But if you want to comfortably read books or comics for extended periods, big tablets aren't ideal.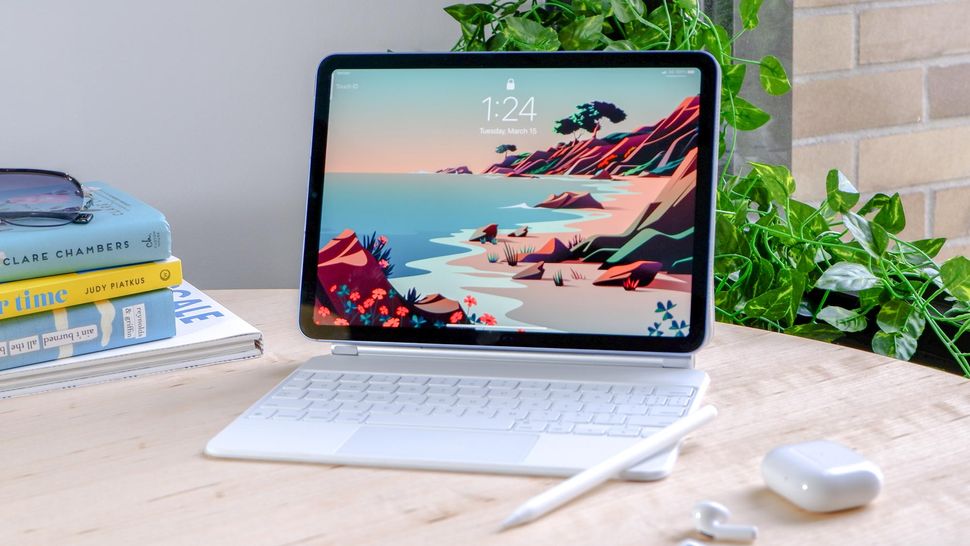 At 9.7 x 7 x 0.24 inches and 1 pound, the iPad Air is small and lightweight enough to read for long stretches. And thanks to its 10.9-inch (2,360 x 1,640 pixels) Liquid Retina display, the bright and colorful display is large to let you see every detail in whatever video you're watching.
Swipe to scroll horizontally
| Header Cell - Column 0 | iPad Air 5 | iPad 10th gen | iPad Pro 2022 |
| --- | --- | --- | --- |
| Nits (brightness) | 484 | 504 | 586 |
| sRGB | 111.8% | 101.2% | 117.1% |
| DCI-P3 | 79.2% | 71.7% | 82.4% |
| Delta-E | 0.29 | 0.21 | 0.3 |
Our lab tests confirm my anecdotal experience. The iPad Air 5 tops out at 484 nits with adaptive brightness off. This is lower than the iPad 10th gen (504) and the iPad Pro 2022 (586 nits). However, the iPad Air is brighter than its last-gen counterpart which topped out at 440 nits of brightness.
In terms of color accuracy, the iPad Air 5's display covered a very good 111.8% of the sRGB color gamut and 79.2% of the DCI-P3 color space. The color accuracy is superb with a Delta-E score of 0.29, where 0 is perfect. The iPad 10 (101.2% / 71.7% / 0.21) and iPad Pro 2022 (117.1% / 82.4% / 0.3) are relatively within this range, which shows you aren't getting diminished picture quality with the iPad Air.
In short, the iPad Air 5's size, weight and display quality hit that sweet spot for my uses.
Great performance
Since I don't do much with tablets outside of watching videos and reading, I don't need extraordinary performance. In truth, I'd be just as well off with the iPad Air 4. But I'm a tech nerd and I like knowing the hardware inside the devices I own isn't too many generations behind. The iPad Air 5 may not have an M2 processor, but its M1 chip makes it the most powerful iPad Air currently available.
Swipe to scroll horizontally
Geekbench 5 results

| Header Cell - Column 0 | iPad Air 5 | iPad 10th gen | iPad Pro 2022 |
| --- | --- | --- | --- |
| Single-core | 1,707 | 1,580 | 1,862 |
| Multi-core | 7,151 | 4,400 | 8,500 |
On Geekbench 5, the iPad Air 5 earned an impressive 7,151 on the multi-core portion of the CPU benchmark test. That demolishes both the iPad Air 4 (4,262) and iPad 10th gen (4,400) in their respective multi-core results. The M2-driven iPad Pro 2022 naturally scored better (8,500) but it's clear the iPad Air 5 packs serious power. You could even argue that the M1 inside the tablet is overkill, but having more computational headroom isn't a bad thing.
The right price
The iPad Air 5 starts at $599, though we occasionally see price drops on places like Amazon. This configuration packs 64GB of storage, Wi-Fi 6 connectivity and an M1 chip. You can even get the tablet engraved for free! For color options, you can choose between Space Gray, Blue, Pink, Purple or Starlight.
For the sake of comparison, the 11-inch iPad Pro, the iPad Mini and the iPad 10th gen cost $799, $499 and $449 (respectively). That's not bad, but the iPad Pro has more power than I need for that price while the A14 Bionic-driven iPad 10th gen is too last gen for my tastes. As for the iPad Mini, its 8.3-inch display isn't to my liking.
Lastly, I don't mind the iPad Air's 64GB of storage since I don't store large files or download games to tablets. If I want to play a video game, the best gaming PCs and best gaming laptops — not to mention my PS5 — give me the modern gaming experiences I prefer. Sorry, mobile gaming!
Bottom line
Of all the tablets I've reviewed, the iPad Air 5 is still my current favorite due to its portability, ease of use, performance and overall svelte design. That's not to say slates like the Samsung Galaxy Tab S8 or iPad Pro are bad. Far from it. But for my specific uses and needs, the iPad Air 5 ticks all the right boxes. It's the tablet I'd recommend for most people, especially if they're already invested in the Apple ecosystem.
More from Tom's Guide