Have you ever seen a pair of expensive wireless headphones and said, "man, I wish I could afford those?" I'm willing to bet that you've said this many times when gazing upon the high-priced $549 AirPods Max on the way out of the Apple Store. These are some of the more advanced headphones on the market. There are also many other luxury alternatives that boast better active noise cancelation, superior sound, and stunning designs crafted from the most premium materials.
If we're judging based on their steep MSRPs, these models should come loaded with distinctive, compelling features unavailable on most competitors. The sad truth is they don't. Most luxury headphones carry the same feature set and specs as many mid-range selections. In some cases, they don't offer basics like a companion app, customizable EQ, or even touch controls.
If you're breaking the bank to buy a pair of headphones, you deserve the most for your dollar. By that, I mean practical and unique features found on some of the market's best headphones. From adaptive sound settings to productivity tools to stronger protection, these are the 7 features I'd like to see every luxury audio maker add to their wireless headphones.
1. Wireless charging
How has this not become a standard for modern wireless headphones? It makes total sense considering the popularity of headphone stands with built-in wireless charging. The Marshall Major IV are the only recognized headphones to support this feature, and it's an awesome perk that adds value to these excellent-sounding cans.
Upscale audio manufacturers like Master & Dynamic have wasted money producing wireless charging pads for their beautiful wireless earbuds. In theory, they could just add the technology into their headphones and make them compatible with the accessory. It's one way to incentivize an add-on purchase with brand enthusiasts.
2. A built-in DAC
I believe every headphone priced at $500 or more should have an audiophile DAC (digital-to-analogue converter) onboard capable of handling lossless music and hi-res up to 24-bit/96kHz or /192kHz playback. I recently reviewed the Focal Bathys, (currently discounted to $699 at Amazon) and found the DAC mode to be a revelation with Tidal music streams. It's no surprise, considering the French brand's prestige reputation for high-end speakers and audio components.
No one's expecting Apple to update the AirPods Max with a new hi-res DAC or to include one on the rumored AirPods Max 2, and I'm not holding my breath for Bose and Sony to do the same with their next-gen flagship wireless headphone models either. However, more prestigious audio brands that charge high-end prices for what can sometimes look like pretty ordinary noise-canceling headphones could do with reevaluating their spec sheets to move their products forward.
3. Safe volume settings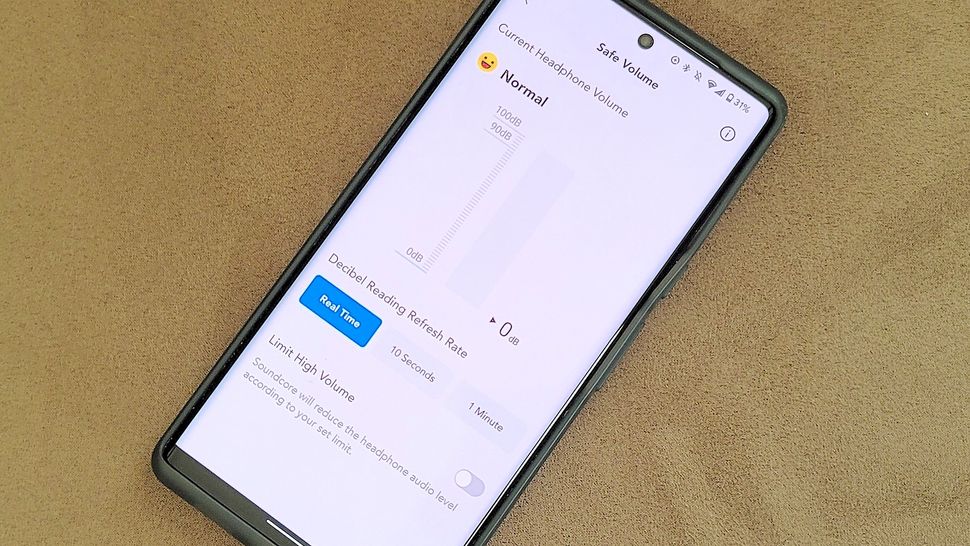 Headphone makers are engineering sound at safe decibel levels, which has led to complaints about certain models sounding low at max volume. Experts recommend keeping sound levels at somewhere between 60 and 85 decibels to minimize the damage your ears are exposed to for our ear health. There's no way to determine decibel levels when listening to music, and many of us actually end up dangerously increasing the level over time. That's why more headphone models need a safe volume setting.
Apple has a setting (Headphone Audio Levels) to inform listeners of when they're listening to music too loudly on all AirPods, including the AirPods Max. Anker has their own version featured on the Soundcore Space Q45 to detect volume output in real-time. If high-end headphones like the $699 Bowers & Wilkins PX8 and similarly priced Focal Bathys can include advanced features like aptX Adaptive and built-in DACs, respectively, they can find ways to better preserve your hearing.
4. Waterproof protection
A carrying case is one way to keep your headphones intact, but it doesn't safeguard them from the wear and tear they endure over time. Luxury headphones need better protection. Sweat and water resistance is one option. Another is making them fully waterproof. The use of moisture-absorbing materials may compromise the fancy appearance of some models, which often use leather that can resist water penetration, but isn't fully protected from water damage. At the same time, you have flagship headphones like the Sony WF-1000XM5 that are completely built from eco-friendly plastic, a material that is most known for its waterproof properties.
The only sweat/water-resistant headphones we know of are sports models. JBL's Under Armour collabs like the Sport Wireless Train and Project Rock Over-Ear Training are the most popular. They're also discontinued. Oddly, the Project Rock version looks more premium than Sony's top biller. The only fully waterproof headphones we know of are the Shokz OpenSwim, which are among the best bone conduction headphones, but these offer an entirely different listening experience altogether.
5. Stronger audio format support
Although you don't need special headphones to listen to spatial audio content, brands like Apple and Sony have headphones designed to maximize the format when it comes to delivering the most convincing 3D sound. Yamaha has also done a fantastic job of incorporating playback of spatial audio into its headphones, and I strongly recommend you give Yamaha YH-L700A a listen.
Meanwhile, competitors such as the $599 Master & Dynamic MW75 aren't designed to maximize 3D audio formats, nor do they come with support to get the most out of Bluetooth connectivity through aptX Lossless Audio and LDAC codecs.
If wireless headphone brands are marketing designs based on the connection listeners will experience when listening to their favorite music, they owe it to buyers to make sure they support the highest quality wireless audio and all the audio formats available.
6. Desktop widget
One of the more underrated features on the AirPods Max is desktop functionality. Being able to customize controls and manage listening modes (e.g., ANC, Transparency) from the macOS menu bar is convenient. All other wireless headphones force you to go through a mobile app to make headphone adjustments.
A desktop widget would solve this problem. If not that, a Google Chrome extension offering most features in the iOS/Android app would suffice.
7. Microsoft 365 integration
Anyone who owns the Microsoft Surface Headphones 2 knows the advantages of having Microsoft's office suite at the command of their voice. Creating captions and subtitles for PowerPoint presentations and dictating Word documents are the true meaning of productive. On top of that, you can play, reply, and send out emails on the headphones via Outlook mobile app.
Microsoft is keen on keeping this feature exclusive to their devices, but since it's barely known or marketed, the smarter move is to license it out and generate more interest from business users. This could also be a major selling point for pricey noise-cancelers and traveling favorites such as the Bose 700 and Sony WH-1000XM5.
More from Tom's Guide