Gaming laptops had a big showing at CES 2023, with devices from notable vendors such as Asus, Dell, MSI, Razer and more. As a tech writer and gaming enthusiast, these were the laptops that piqued my interest both professionally and personally. We mostly saw a lot of refreshed laptops, but the fact that they almost all had the latest Intel, AMD and Nvidia components was enough to get me excited.
So which gaming laptops am I looking forward to most in 2023? Which do I think will end up on our best gaming laptops list? It's hard to say given the abundance of impressive machines arriving this year. But there were a few notable gaming laptops I'm looking forward to reviewing and playing the best PC games on.
These are the 5 gaming laptops I can't wait to test in 2023.
Alienware m18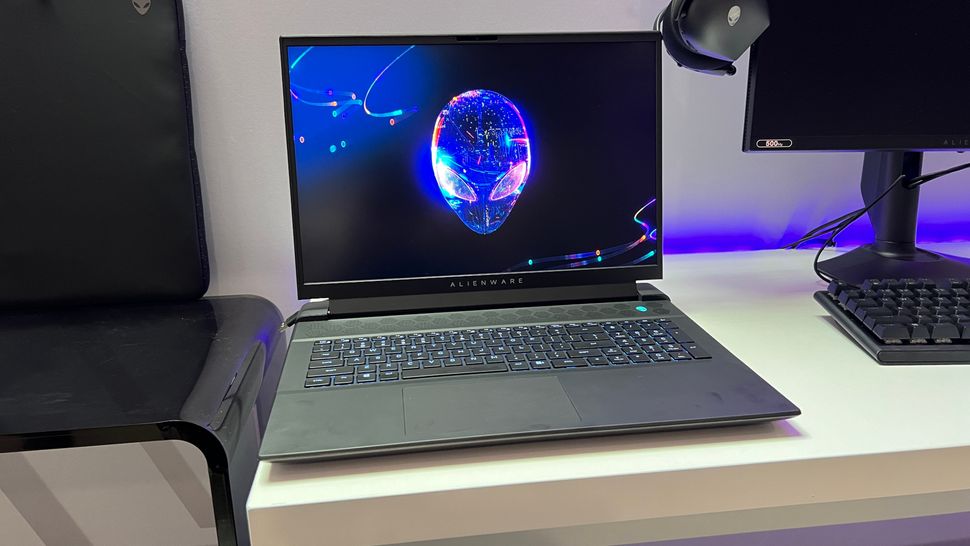 The Alienware m18 is one of several big-ass laptops unveiled during CES 2023. I went hands-on with this monstrous notebook during a Dell CES 2023 preview event and it left an indelible impression on me. It's been years since I've seen a laptop this big, after all. And while the laptop's size demands attention, it has a decidedly subdued design compared to the ostentatious products Alienware is known for. This is something I appreciate.
Spec-wise, this ginormous gaming laptop packs a 13th gen Intel Core CPU and an Nvidia RTX 40-series GPU, along with up to 64GB of RAM and up to 9TB of storage. This is generally in line with the other laptops on this list, which is great since it means you're getting a machine with the latest (and most powerful) components.
The only potential drawback with this and the other 18-inch laptops announced at CES 2023 is that it's not exactly portable. As I said in my preview, I'm fairly strong and even I had a hard time holding this with two hands. I also wouldn't try placing this on my lap for extended periods. But to be fair, the Alienware m18 is meant to be kept on a desk. As a Dell PR told me, the Alienware m18 is effectively a desktop replacement and you're not necessarily meant to carry it around.
Razer Blade 18
The aforementioned Razer Blade 18 is another gaming laptop I look forward to testing. I think Razer's laptops are among the most stylish out there. Because of that, I want to check out what is effectively a bigger version of something like the Razer Blade 17.
All configurations come with a 13th gen Intel Core i9-13950HX processor, but there are a handful of different discrete graphic card options. This includes mobile versions of the Nvidia RTX 40-series GPU: the RTX 4060, RTX 4070, RTX 4080 and RTX 4080 Ti GPUs. The entry-level laptop packing an RTX 4060 has 16GB of RAM, while the other configurations come with 32GB. You can upgrade all models to 64GB of RAM. All configurations have 1TB of SSD storage but you can upgrade to 4TB via the two expansion slots.
Like the Alienware m18, the Razer Blade 18 has an understated design, especially for a Razer product. Aside from the green Razer logo etched on the lid, the laptop is entirely black. The backlit keyboard features RGB lighting, but that's about as colorful as this machine gets. Yes, it's huge, but it wouldn't look entirely out of place in an office or at a cafe. This is a style choice I prefer so I'm all for it. But if I want to get fancy, I can always program the RGB keyboard to display some cool lighting patterns.
Asus ROG Strix Scar 16
Not to be outdone but its competitors, Asus also unveiled its own 18-inch laptop, the Asus ROG Strix Scar 18. While I'm totally looking forward to checking that beast out, I wanted to spotlight its smaller variant, the Asus ROG Strix Scar 16.
Like its giant counterpart, the ROG Strix Scar 16 packs current-gen components. The entry-level model features an Intel Core i9-13980HX CPU and an RTX 4080 GPU. It also has up to 64GB of RAM and up to 4TB of SSD storage.
According to Asus, the ROG Strix Scar 16 and 18 have a new Intelligent Cooling suite, which features the company's Tri-Fan technology introduced in the 2022 Flow X 16. Asus took the full-width heatsink from the Flow X 16 and enlarged it for the new Strix laptops (G-series included). The company says this larger heatsink increases surface area for heat dissipation by up to 92.23% compared to 2022 models. This improved cooling technology should provide overall performance.
As befitting a gaming laptop, the ROG Strix Scar 16 has RGB lighting across its chassis, including an all-new full-width light bar along the vents on the back. You can program the laptop's lighting via the Aura Sync app. The Strix Scar 16 also has a semi-translucent keyboard deck to add another dash of flair.
Lenovo Legion Pro 7i
The Lenovo Legion Pro 7i might be a refreshed model but it sports the company's new Lenovo LA AI chip, which the company claims is the world's first dedicated AI chip on a gaming laptop. The refreshed Lenovo Legion Pro 7, Legion Pro 5 and Legion Pro 5i also feature this technology.
According to Lenovo, this AI tech deploys a software machine-learning algorithm that optimizes system performance. The chip uses software machine learning to monitor in-game frames per second (FPS) and dynamically adjusts to the highest possible performance output. Lenovo says this technology allows for better performance compared to previous generations.
The Legion Pro 7i comes with an RTX 40-series GPU and either an Intel Core i9 or i7 processor. It also has up to 32GB of RAM and up to 2TB of SSD storage. Display-wise, it packs a 16-inch WQXGA (2560 x 1600) 16:10 panel with a 240Hz refresh rate.
The Legion Pro 7i's specs aren't dissimilar from some of the other powerful laptops announced at CES. With that said, its AI chip could be a, pardon the pun, game changer. Of course, I'd need to go hands-on with this laptop to see if this technology makes a significant or even noticeable difference when playing games.
MSI Cyborg 15
The MSI Cyborg 15 is an entry-level gaming laptop for those who might be new to PC gaming. This machine isn't as powerful as the other laptops listed here, but it makes up for that by being the most stylish.
The Cyborg 15 has a translucent chassis and keyboard, allowing you to see some of its inner components. I normally think tech with translucent casings look a bit silly (I blame old MadCatz peripherals for this), but the Cyborg 15 somehow makes it work. The laptop really does look futuristic and will likely be one of the most eye-catching devices of the year.
Spec-wise, the Cyborg 15 packs a 12th Intel Core i7-1250H CPU, an Nvidia RTX 4050 or RTX 4060 GPU, up to 64GB of RAM and up to 2TB of SSD storage. It also has a 15.5-inch 16:10 display with a resolution of 1920 x 1080 and 144Hz refresh rate. Those specs seem decent for an entry-level machine.
A Raptor Lake CPU would have been preferable to a last-gen Alder Lake processor, but given how this is a $999 laptop, it's understandable. Plus, it's not like 12th gen Intel Core CPUs suddenly became worthless with the release of Raptor Lake. The Cyborg 15 should be plenty powerful for most folks new to PC gaming.
Of course, we'll have to wait a bit to get our hands on these, as some aren't due to hit the market for months yet. Stay tuned for our full reviews!