With Samsung updating its midrange Galaxy A lineup, a Samsung Galaxy A54 vs. Galaxy S23 comparison is as timely as ever. Figuring out how the phones compare can help you decide which of the best Samsung phones you should consider.
On paper, you would think the Samsung Galaxy S23 has a big edge. It's the most affordable model in Samsung's flagship family, with a powerful processor, excellent cameras and bright display. But it's also much more expensive than the Samsung Galaxy A54. And as our Galaxy A54 hands-on reveals, Samsung managed to include some impressive specs in its new midrange phone.
In fact, the Galaxy S23 and Galaxy A54 share a lot of characteristics, even if there are some pretty sharp differences between the two. If you're looking for a new Samsung device it's important to know what they are, and why the A54 is so much cheaper.
To make that decision easier for you, our Samsung Galaxy A54 vs. Galaxy S23 comparison can tell you what makes these phones similar similar and what sets them apart. Because even the smallest thing could make or break what you wind up buying.
Samsung Galaxy A54 vs Galaxy S23: Specs
Swipe to scroll horizontally
| | | |
| --- | --- | --- |
| | Galaxy A54 | Galaxy 23 |
| Starting price | $449 / £449 | $799 / £849 |
| Display | 6.4-inch FHD AMOLED | 6.1-inch FHD AMOLED |
| Refresh rate | 120Hz (static) | 48 - 120Hz (adaptive) |
| Chipset | Exynos 1380 | Snapdragon 8 Gen 2 for Galaxy |
| RAM | 6GB, 8GB | 8GB |
| Storage | 128GB, 256GB | 128GB, 256GB |
| Expandable? | Yes, up to 1TB via microSD | No |
| Rear cameras | 50MP main (f/1.8), 12MP ultrawide (f/2.2), 5MP macro (f/2.4) | 50MP main (f/1.8), 12MP ultrawide (f/2.2), 10MP telephoto (f/2.4, 3x optical zoom) |
| Front camera | 32MP (f/2.2) | 12MP (f/2.2) |
| Battery | 5,000 mAh | 3,900 mAh |
| Charging | 25W wired | 25W wired, 15W wireless, 4.5W reverse wireless |
| Size | 6.2 x 3.0 x 0.32 inches | 2.79 x 5.76 x 0.3 inches |
| Weight | 7.1 ounces (202 grams) | 5.93 ounces |
| Colors | Awesome Graphite, Awesome White, Awesome Lime, Awesome Violet | Phantom Black, Cream, Green, Lavender |
Samsung Galaxy A54 vs Galaxy S23: Price and availability
The Samsung Galaxy S23 arrived in February, with prices starting at $799 / £849. That buys you a base model with 128GB of storage and 8GB of RAM. A 256GB model is also available for $859 / £899.
As for the Galaxy A54, you can pre-order the phone starting March 30, ahead of an April 6 release date. Prices start at $449 for a model with 6GB of RAM and 128GB of storage in the U.S. or £449 for a 128GB model with 8GB of RAM in the U.K. A 256GB model is also available for £499. Presumably both 8GB models will be available in the U.S., but it's currently unclear how much they will cost.
In any case that's a pretty significant price difference — $350 for U.S. shoppers and £400 in the U.K. Those kind of savings are very tempting, if the Galaxy A54 doesn't force you to sacrifice too much in the way of features.
Samsung Galaxy A54 vs Galaxy S23: Design & Display
The Galaxy S23 comes with a 6.1-inch FHD AMOLED display, complete with an adaptive refresh rate that can move between 48Hz and 120Hz. The 6.1-inch panel allows the phone to come in at a very compact 5.75 x 2.79 x 0.29 inches. The Galaxy S23 is fairly lightweight, too, at 5.8 ounces.
The Galaxy A54 is larger by contrast, with a 6.4-inch FHD AMOLED display. Its display rate can hit 120Hz, but you've got to adjust that manually during times when you want smoother scrolling or more immersive graphics. As you might expect, the Galaxy A54 is also larger than the S23, at 6.2 x 3.0 x 0.32 inches. It's more than an ounce heavier, weighing in at 7.1 ounces.
If you value a larger screen then the A54 has an obvious advantage, especially considering Samsung hasn't scrimped on resolution or the super-smooth 120Hz refresh rate. Of course the fixed nature of that refresh rate means the A54 won't get any of the energy-saving benefits afforded to the S23's adaptive display, which can scale down automatically when the action on the screen is more static.
In terms of design, you won't spot many visual differences between the two phones. The Galaxy S23 offers three rear camera lenses, all separately protruding from the back of the phone, rather than a more unified camera block seen on previous devices. The Galaxy A54 takes the same approach with its rear cameras. Both phones feature hole-punch designs for their front camera, too.
It's in the materials where you'll find the biggest design differences. The Galaxy S23 features the new super-strong Gorilla Glass Victus 2 on the front and back panels, with a frame made of aluminum. In contrast, the Galaxy A54 uses Gorilla Glass 5 panels, an older and slightly less durable material. That means the mid-range phone will be more prone to scratching and damage.
The Galaxy S23 is available in Phantom Black, Cream, Green or Lavender, while the Galaxy A54 is available in Awesome Graphite (gray), Lime, Violet and White hues.
Samsung Galaxy A54 vs Galaxy S23: Cameras
The Galaxy S23 definitely has a notable advantage in the camera department. The phone rocks a triple-lens camera consisting of a 50MP main sensor (f/1.8), 12MP ultrawide lens (f/2.2) and a 10MP telephoto lens (f/2.4) complete with a 3x optical zoom. That's accompanied by a 12MP selfie camera (f/2.2).
The Galaxy A54 also has a triple lens camera, but the layout is a little different. It has a 50MP (f/1.8) main and 12MP (f/2.2) ultrawide angle cameras, but it lacks a telephoto lens. Instead Samsung has included a 5MP macro sensor (f/2.4). The selfie camera also has a boosted resolution of 32MP (f/2.2).
There may not be a telephoto lens on the A54, but the camera gap may not be as big as you would imagine. Samsung has said the main camera sensor on the Galaxy A54 is the same one that the Galaxy S23 uses, so the midrange phone should see a benefit from the bigger sensor size and wider aperture. It's the other cameras where the S23 is likely to enjoy an advantage, particularly when it comes to zooming in on subjects.
Samsung Galaxy A54 vs Galaxy S23: Performance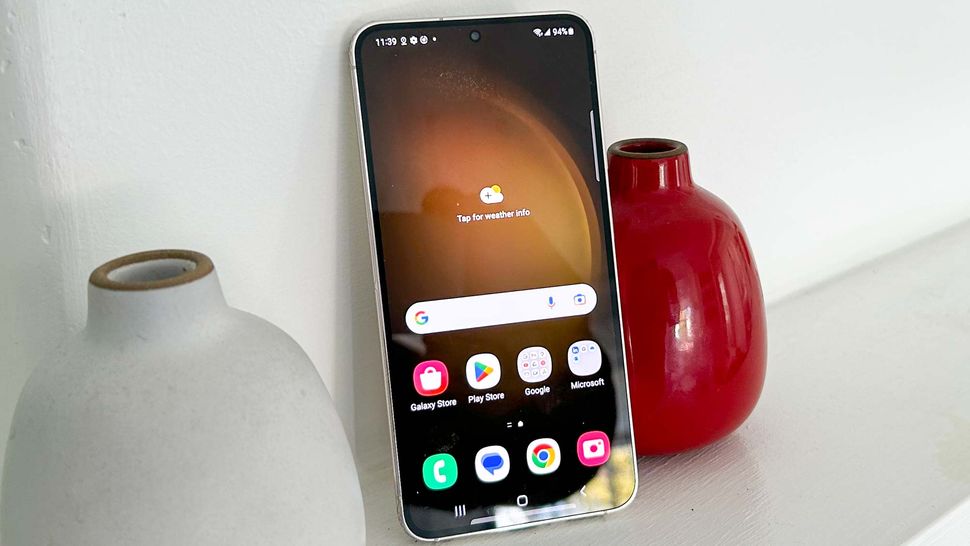 Other than the lack of a telephoto lens on the Galaxy A54, this may be the one area where Samsung's flagship will be miles ahead of its midrange model. The Galaxy S23 runs on the Snapdragon 8 Gen 2 for Galaxy chipset, a custom overclocked version of the regular Snapdragon 8 Gen 2.
Benchmarks have already proven that the Snapdragon 8 Gen 2 for Galaxy can outmatch its off-the-shelf counterpart, making it the highest performance chipset available on an Android phone. The Galaxy S23 even gives the A17 Bionic-powered iPhone 14 Pro a run for its money in graphics bencmarks.
You don't need to do any benchmarking to know that the Galaxy A54's Exynos 1380 isn't going to be anywhere near the same level. The only question is how much less powerful is it going to be? We haven't run any benchmarking tests yet, so we don't know for sure what the exact difference in performance will be.
The cheapest A54 on sale in the U.S. only offers 6GB of RAM, which would put it at a disadvantage compared to the Galaxy S23's 8GB. While 8GB A54 models are going on sale in the U.K., it's not clear what U.S. availability will be like. In any case it puts the cheapest A54 model at a noticeable multitasking disadvantage
The choice of 128GB or 256GB of storage is the same for both devices. The S23 does offer UFS 4.0 storage on its 256GB variant, offering faster read/write speeds than the UFS 3.1 storage on the 128GB model. However it's currently unclear whether the 256GB A54 benefits from that same upgrade.

The A54 does enjoy the benefit of microSD expansion, with support for up to 1TB cards. The Galaxy S range ditched that particular feature a few years ago, meaning you're stuck with the internal storage and whatever cloud subscription you choose to pay for.
Samsung Galaxy A54 vs Galaxy S23: Battery & charging
The Galaxy S23 comes packing a 3,900 mAh battery, which ran for 10 hours and 27 minutes during our battery testing, in which we have phones surf the web over cellular until they run out of power. That's not good enough to land on our best phone battery life list — you need to hold out for 11.5 hours to do that — but the Galaxy S23 does outlast the average smartphone by nearly half-an-hour.
We haven't run battery tests on the Galaxy A54, but it comes with the same 5,000 mAh battery as last year's Galaxy A53. Unfortunately the A53 only managed to last 9 hours and 49 minutes at 120Hz, which is about average for a smartphone.
Here's hoping that Samsung can offer the A54 some of the same battery-extending magic it rolled into the Galaxy S23, though we'd guess the more power efficient Snapdragon 8 Gen 2 chipset played a big role in the S23's improved battery life over the Galaxy S22.
Sadly the A54 falters slightly where charging is concerned. Both it and the Galaxy S23 support up to 25W charging speeds, but the A54 lacks any kind of wireless charging ability. The Galaxy S23 supports 15W wireless charging — a major benefit if you prefer the convenience of pads and stands instead of cables.
Samsung Galaxy A54 vs Galaxy S23: Software
Both the Galaxy S23 and Galaxy A54 ship with OneUI 5.1 built on top of Android 13, so you're getting the latest and best version of Samsung's mobile software. The features afforded to the S23 and A54 as a result identical, and mean the midrange handset can enjoy the latest software features like Modes and Routines.
For more than a year, Samsung has offered better access to Android updates. Both the Galaxy A54 and Galaxy S23 can expect four years of full Android updates. It's not quite as long as what Apple tends to offer, but it's among the best you'll get on an Android phone.
Sadly, the Galaxy A54 only gets four years of Android security updates, while the Galaxy S23 and the rest of its ilk get five. But four years is still pretty good compared to other Android phones in premium and mid-range price points.
Samsung Galaxy A54 vs Galaxy S23: Outlook
We need to spend more time with the Galaxy A54, paying particular attention to its performance and camera capabilities. Only then will we be able to assess what kind of trade-offs you make to save all that money you'd have to spend to get the Galaxy S23. But at this early stage it certainly feels as though the Galaxy A54 has plenty to offer, especially if you don't want to pay up for premium features.
Be sure to check back later to see our more detailed comparison of Samsung's two new phones.
More from Tom's Guide