Get ready for the Samsung Galaxy A54. A little more than a month after showing off its latest flagship phones with the Galaxy S23 release, Samsung may be about to roll out new midrange phones. And we could have just gotten a peak of what's in store for the Galaxy A lineup, thanks to a timely leak from an Austrian retailer.
As this article was posted, retailer Media Mrkt still had its Samsung Galaxy A54 listing up, which included the specs and a photo of Samsung's upcoming Galaxy A series phone. Rumors had suggested that Samsung would release new midrange devices this month, and the Media Markt listing indicates that the A54 "will be available again soon," based on a German-to-English translation.
Samsung Galaxy A54 specs
Screen size: 6.4 inches (2340 x 1080)
Refresh rate: 120Hz
CPU: Exynos 1380
RAM: 6GB, 8GB
Storage: 128GB, 256GB
MicroSD card slot: Yes
Rear cameras: 50MP main; 12MP ultrawide; 5MP macro
Front camera: 32MP
Battery size: 5,000 mAh
Charging speed: 25W wired
The part of the premature Galaxy A54 listing that's bound to draw attention is the device's price — it's listed at €499. That's a slight increase from the €469 starting price for the Galaxy A53.
In the U.S., Samsung charges $449 for the Galaxy A53, the same amount that Google's Pixel 6a costs. That price, coupled with some better-than-expected features like a fast refresh rate, has helped to make the Galaxy A53 one of the best cheap phones we've seen in the past year.
While a U.S. price hike for the Galaxy A54 is far from official, the higher listed price in Europe suggests that Samsung could be looking to increase the cost of its midrange phone. It sounds like any price hike would keep the A54 under the $500 mark, though, which is a key barrier for lower-cost models. It's also worth noting that while Galaxy S23 prices went up in Europe, Samsung stuck with the same U.S. pricing it had used with the Galaxy S22 — we could see a replay of that strategy here.
Samsung Galaxy A54: What to expect
As for the features, the listed specs for the Galaxy A54 describe a handset that sounds an awful lot like last year's model. The Media Markt listing indicates the A54 has a 6.4-inch display — a slight decrease from the Galaxy A53's 6.5-inch panel. Fortunately, the 120Hz refresh rate remains, though it sounds like you'll still have to turn that feature on and off yourself — adaptive refresh rates are reserved for Samsung's Galaxy S phones.
Samsung also appears to have made a slight change to the camera setup on this model. Whereas last year's phone featured a 64MP main camera and 12MP ultrawide lens augmented by macro and depth sensors, the Galaxy A54 only lists a 5MP macro camera joining the main and ultrawide lenses. The main camera is also listed as a 50MP sensor with optical image stabilization. A previous Samsung teaser spotted by GSM Arena promised a "pro grade camera" for the Galaxy A54.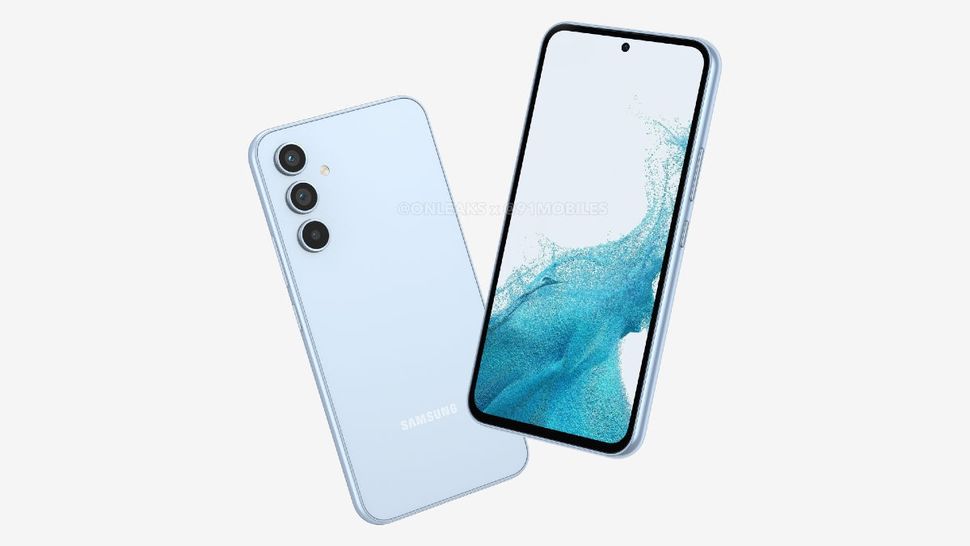 The Galaxy A54 looks to be powered by Samsung's own Exynos 1380 chipset, an upgrade from the A53's Exynos 1280 silicon. The Media Markt listing shows an entry-level model with 128GB of storage and 6GB of RAM, though the spec sheet also indicates Samsung will also offer an 8GB/256GB version. As with last year's phone, expect a 5,000 mAh battery with 25W wired charging.
The Media Markt listing shows off the Galaxy A54 in a violet color — or Awesome Violet to use the name included on the web page. In a separate report, GSM Arena says you'll also be able to choose among Awesome Lime, Awesome Graphite and Awesome White.
You'll notice a change from the Galaxy A53's look where the rear cameras were grouped together in an array in the phone's upper left corner. Now, they descend vertically, looking a lot like the Galaxy S23 design. Presumably, the new A Series phones will use cheaper materials than the glass and metal Samsung favors for its flagships. The Galaxy A54 is listed with IP67 water and dust resistance, though.
In addition to the Galaxy A54, Media Markt has also posted an early Galaxy A34 page, with that phone given a €389 starting price. The Galaxy A33 never reached the U.S. last year, so it's unclear if the Galaxy A34 is slated for markets beyond Europe and Asia.