DC Fandome recap — Batman movie trailer, The Flash teaser and much more
DC Fandome had *everything* in the DC world. Almost too much. So we broke down everything from The Batman trailer to the Peacemaker show.
By Henry T. Casey published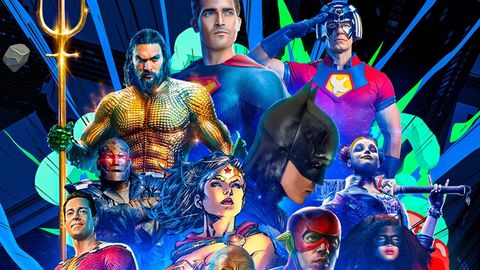 (Image: © DC/Warner Bros.)
Unlike anything we've seen in a while DC Fandome 2021 had it all. The new trailer for Matt Reeves' The Batman movie is awesome, as was the teaser of The Flash movie. Peacemaker looks like it's going to be a hoot, and Aquaman 2's behind the scenes reel was a delight.
The Harley Quinn season 3 material, though? Underwhelming, while the Suicide Squad: Kill the Justice League and Gotham Knights content was heavy on pre-render and light on gameplay.
We've got our complete live-blog of DC Fandome 2021, but a bit of a roundup first.
The Batman (2022) trailer: We finally got to see Selina Kyle in a Catwoman outfit, as well as a bit more of the crisis in Gotham that Batman's facing. It almost seems like the movie will have The Joker in jail already. We also saw our first look at Andy Serkis as Alfred.
Peacemaker: Honestly, John Cena's new HBO Max series looks like the most fun-to-make project of any of what they showed off at Fandome. Cena talked about the difficulty of being a more hateable character, but James Gunn jokingly said it actually seemed like it came easy to the former WWE champion.
The Flash: While we saw the Batman cowl, and thought we saw the Batmobile under wraps, this package didn't have a whole lot of new. Except talking about how the movie will go all across timelines.
Refresh
Fandome hasn't started yet, but we've already got some treats. New posters for The Batman movie (via Empire (opens in new tab)) bring more of the red-and-black color scheme. The first features Bats himself, but the more interesting (and terrifying) shot is the second image, which appears to be Paul Dano's The Riddler (see the ? behind his "to the Batman" card).
We think this Riddler will be some kind of full-on creepy Zodiac Killer. But time, and maybe today's trailer, will tell more.