In this Pixel 6 vs. Galaxy S21 showdown, we'll breakdown how things are shaping up. Google's Pixel 6 just got announced, and it's already generating considerable buzz. First, there's new cameras for the Pixel 6 and Pixel 6 Pro — a tantalizing prospect since Google's Pixels always rank among the best camera phones. Google is also building its own phone processors called Tensor, starting with the Pixel 6, as it looks to distinguish itself from other Android phones.
But if the Pixel 6 is going to rank among the best Android phones, it will have to challenge the Samsung Galaxy S21. Samsung's flagship phone arrives early in the year and usually sets the tone for other Android handsets. This year's version was no exception, as the Galaxy S21 lineup delivered fast-refreshing displays, a powerful telephoto lens and the best performance for an Android phone at the time.
It's a high bar for the Pixel 6 to clear. And though we'll have to wait for the new phones' reviews, we do have enough info to form some early impressions.
Our Google Pixel 6 vs. Samsung Galaxy S21 face-off looks at how these two Android powerhouses stack up. Our early verdict is that this ought to be quite a showdown among the best Android phones.
Google Pixel 6 vs. Samsung Galaxy S21 specs
Swipe to scroll horizontally
| | | | | |
| --- | --- | --- | --- | --- |
| Row 0 - Cell 0 | Pixel 6 | Pixel 6 Pro | Galaxy S21 | Galaxy S21 Plus |
| Price | $599 | $899 | $799 | $999 |
| Screen size | 6.4 inches | 6.7 inches | 6.2 inches | 6.7 inches |
| Refresh rate | 90Hz | 10-120Hz | 48-120Hz | 48-120Hz |
| CPU | Google Tensor | Google Tensor | Snapdragon 888 | Snapdragon 888 |
| Rear cameras | 50MP main, 12MP ultrawide | 50MP main, 12MP ultrawide, 48MP telephoto with 4x | 12MP main, 12MP ultrawide, 64MP telephoto | 12MP main, 12MP ultrawide, 64MP telephoto |
| Battery size | 4,614 mAh | 5,000 mAh | 4,000 mAh | 4,800 mAh |
| Android version | Android 12 | Android 12 | Android 11 | Android 11 |
Google Pixel 6 vs. Samsung Galaxy S21 price
When Google came out with the Pixel 5, it tried to distinguish itself from other flagship phones by offering a dramatically lower price — the Pixel 5 debuted at $699. It's going to be a lot harder for Google to draw that distinction with the Pixel 6, though, because Samsung went and dropped prices on its phones, too.
The Galaxy S21 debuted at $799 — a $200 drop from the Galaxy S20 that came out the previous year. Likewise, the Galaxy S21 Plus also dropped $200 from its predecessor's price to cost $999. Both those phones are still more expensive than the Pixel 5, but not by much — at least in the case of the S21.
The Pixel 5 came in a single configuration last year, but that's going to change with the Pixel 6. The regular phone starts at just $599, $100 less than its predecessor, while the Pixel 6 Pro clocks in at an $899 starting price.
Google Pixel 6 vs. Samsung Galaxy S21 design and display
Google is mixing things up from past Pixels. The spartan design we've grown accustomed to is making way for a busier look, highlighted by a horizontal strip of cameras that stretches across the upper third of the phone. There's an accent color hovering over that. The Pixel 6 Pro has a curved display, while the regular Pixel 6 has a flat one.
It's quite a contrast from the Galaxy S21's elegant look. Both the Galaxy S21 and Galaxy S21 Plus sport flat edges, making them easy to grip and cutting down on any inadvertent touches on the edge of the display. The rear camera module blends into the frame of the phone, so that the array doesn't jut out like it does on other phones (including the Pixel 6). While the Galaxy S21 Plus sports a glass back, Samsung used plastic on the S21 to help lower the cost of that phone.
The standout feature on the Galaxy S21 family is the adaptive display Samsung uses on its flagship phones. Both the 6.2-inch Galaxy S21 and 6.7-inch Galaxy S21 Plus adjust how fast their screens refresh based on your activity — more intensive tasks like scrolling and gaming happen at a fast 120Hz refresh rate for a more immersive experience.
The Pixel 5 featured a 90Hz refresh rate, though you had to head into the phone's settings to toggle between the faster rate and the more conventional 60Hz setting. Google is bumping the refresh rate up to 120Hz on the Pixel 6 Pro and keeping 90hz on the Pixel 6.
After offering a single Pixel 5, Google is going back to two different sizes for the Pixel 6. The standard phone offers a 6.4-inch display, while the screen on the larger model will hits 6.7 inches.
Google Pixel 6 vs. Samsung Galaxy S21 cameras
Google may be one of the biggest players when it comes to mobile photography, but it's the Galaxy S21 phones that have made the biggest strides in recent months. The $1,199 Galaxy S21 Ultra gets all the attention, thanks to its 108MP main camera and dual telephoto lenses, but the cameras on the S21 and S21 Plus impress as well.
We're particularly taken with the 64MP telephoto cameras on both phones, which are capable of a 3x hybrid and 30x digital zoom. (A Zoom Lock feature uses AI to steady your shoot when you zoom in that much.) Additionally, both the S21 and S21 Plus feature 12MP main and ultrawide cameras to complement that telephoto lens.
Google is a recent convert to the school of multiple lenses, adding a second camera as recently as the Pixel 4. The Pixel 5 swapped out that phone's telephoto lens for an ultrawide angle shooter, keeping the lens count at two. The Pixel 6 sticks with two cameras, a 50MP wide-angle main shooter and a 12MP ultrawide. The Pixel 6 Pro adds a third camera, a 48MP telephoto with 4x optical zoom.
While the new hardware will be interesting to see on the Pixel 6, it's usually the software that sets Google's camera phones apart. Google has introduced a host of new photography features, like Magic Eraser, Face Deblur, and many more. However, the AI and machine learning power of the new Tensor chip could blow other Android phones out of the water when it comes to computational photography. We're still evaluating the Pixel 6 and Pixel 6 Pro to make this determination.
Google Pixel 6 vs. Samsung Galaxy S21 performance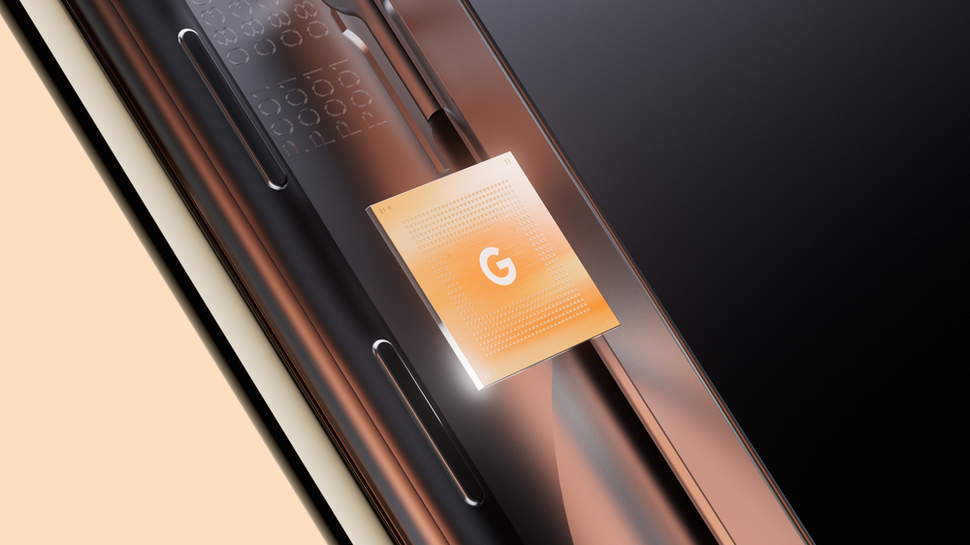 Samsung usually gets a head start on other phones by virtue of launching the latest Galaxy S models early each year. That allows Samsung to be the first phone maker to feature the latest Snapdragon silicon in its phones. In the case of the Galaxy S21, that turned out to be the Snapdragon 888 system-on-chip, the best performing Qualcomm chipset we've yet tested.
Other Snapdragon 888-based Android phones have come along that have bested the Galaxy S21's benchmark results, usually by optimizing the chip for performance or by packing in extra memory. But the S21's results — a 3,302 multicore result in Geekbench 5, for example — bested last year's top Android phones and narrowed the gap with the iPhone 12. Both the Galaxy S21 and S21 Plus feature the Snapdragon 888, flanked by 8GB of RAM.
So how does Google respond, especially since last year's Pixel 5 used a chip from the Snapdragon 7 series as a cost-cutting measure? Google is going its own way for 2021 with the first-generation mobile Tensor processor. This system-on-chip takes everything Google knows about machine learning hardware from its data centers and brings it all down to a mobile processor.
The end result will likely mean incredible advancements in AI and machine learning tasks on a phone. That includes improvements to computational photography, the addition of computational video recording, simultaneous live transcription and translation, and much more. In fact, the new Tensor Processor Unit (TPU) that handles all of these tasks is built right into the SoC's core pipeline instead of being relegated to co-processor additions. This means that the processor can actually off-load AI tasks to the TPU, freeing up its other resources for other tasks. In short, this could mean better performance and battery life.
We don't know how the Google-built Tensor processor would compare to the Snapdragon 888 in the Galaxy S21, since we're still in the review process. But it's certainly an intriguing part of any Google Pixel 6 vs. Samsung Galaxy S21 comparison.
Google Pixel 6 vs. Samsung Galaxy S21 battery and charging
Battery life was not a strong point for Pixel 5, which rode its 4,000 mAh battery to a below-average result of 9 hours and 29 minutes on our battery test. (We have phones surf the web continuously over cellular until they run out of power.) Google is trying out bigger batteries for the Pixel 6 — a 4,614 mAh power pack for the main model and a 5,000 mAh battery in the Pixel 6 Pro.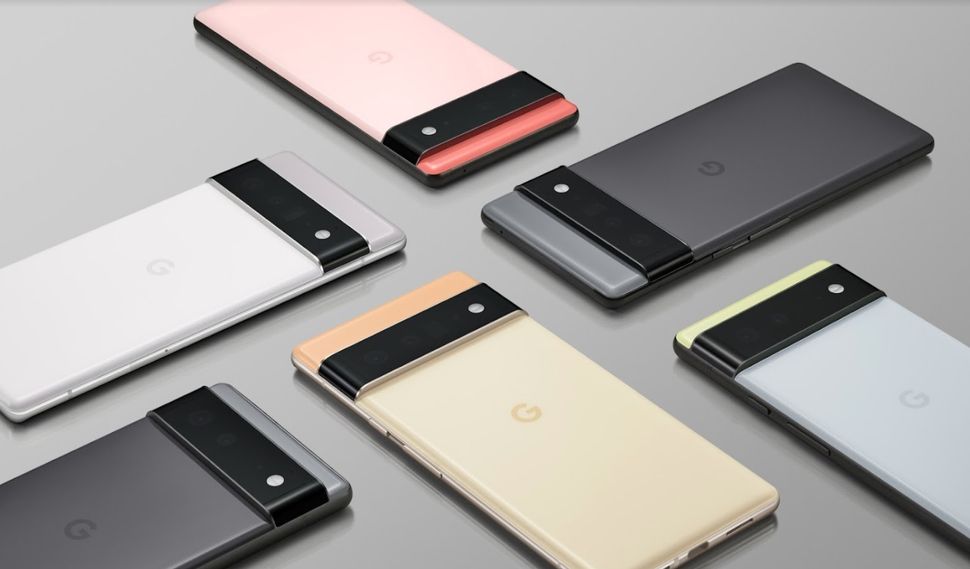 It won't take much for the Pixel 6 to leapfrog over either the Galaxy S21 or Galaxy S21 Plus in our battery test. The S21 Plus turned in a so-so result of 9 hours and 41 minutes on our test, while the S21 struggled to a 6 hour, 31 minute result. That latter number came with the S21's adaptive display feature enabled; when we set the display refresh rate at 60 minutes, the Galaxy S21 turned in a more respectable time of 9 hours and 53 minutes. But turning off the S21's marquee feature just to get average battery life seems like a really big asterisk.
The Pixel 5 charges at 18W, a bit slower than the 25W charging speeds the Galaxy S21 enjoys. The Pixel 6 and Pixel 6 Pro now charge at 30W. There's also the issue of the charger itself — Samsung doesn't include one with the Galaxy S21, following the example Apple set with the iPhone 12. The Pixel 6 phones continue with this trend.
Google Pixel 6 vs. Samsung Galaxy S21 software
Samsung's trying to do better for its users on the software front. The Galaxy S21 is supposed to get three years of Android updates, along with four years of security updates. That means the Galaxy S21 family, which shipped with Android 11 installed should make it to Android 14 in 2023, with security patches available for another 12 months.
That previously put Samsung on level terms with Google, at least when it comes to software updates, as Pixel owners get three years of updates as well. However, the Pixel 6 will still enjoy a slight edge over Samsung. It's likely to ship after Android 12 comes out, so it will debut with Google's latest OS already installed. The Galaxy S21 likely won't get the new version of Android until the end of the year at the earliest.
But with Google controlling Tensor, it's possible that the Pixel 6 will see five years of security updates. That's the longest we've ever seen an Android smartphone go for. That would set the Pixel 6 well above the Galaxy S21 in terms of longevity, and put it closer to the iPhone 13 in this regard.
Google Pixel 6 vs. Samsung Galaxy S21 outlook
The final word on any Google Pixel 6 vs. Samsung Galaxy S21 face-off will be written once we finish our reviews of Google's new phones. But at this point, it's shaping up to be an intriguing match-up, especially with Google finally adding another lens (with 4x optical zoom, no less) to the Pixel 6 Pro model.
The biggest thing going for the Pixel 6 is Tensor, Google's new system-on-chip. We have no idea how thing will perform in real life just yet, but it could be revolutionary for AI/ML applications on a smartphone and be a serious challenger to Apple's dominance with the A-series chips. Putting the Tensor-powered Pixel 6 up against the Galaxy S21 will be treat, indeed.
The Pixel 6 and Galaxy S21 figure to duke it out for Android phone supremacy. Stay tuned to see how things shake out between these two devices.