Fortnite is one of the biggest games in the world, to the extent that it's been a catalyst in the Apple vs Epic legal battle. So it's no surprise that it's an ever expanding entity.
Over the past few years Fortnite has spread across multiple platforms and grown to be more than just a battle royale game with a building angle. It's now a place for major stars to host virtual concerts. It's also a repository for various movie, TV and popular culture tie-ins and character skins.
Keeping track of all the comings and goings of Fortnite isn't easy, but we're here to help. So read on for the latest on Fortnite updates and news, and other things you need to know about Epic's epic game.
Fortnite latest updates, news and patch notes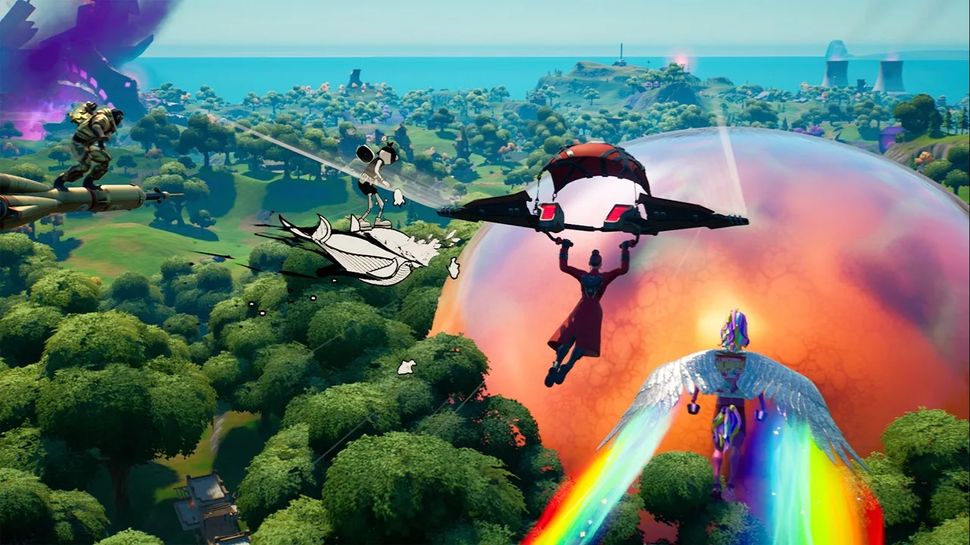 Fortnite is finally back on iPhone and iPad thanks to the power of Xbox Game Pass.
While you can't download and paly the game via Apple's App Store, you can stream it to an iOS or iPadOS devices with Xbox Cloud Gaming, as Microsoft has added Fortnite to Game Pass.
You wont even need an Xbox Game Pass Ultimate subscription, rather you just need a Microsoft account. So follow these steps to start playing Fortnite on your iPhone or iPad once again.
1. Open the Safari browser and head to xbox.com/play
2. Sign into your Microsoft account — if you need to, you can create a new account at this stage.
3. On the Game Pass webpage, hit the "Play for Free" option under the Fortnite panel.
4. From there, tap the "Get get ready to play" option, which will prompt you to add an Xbox Cloud Gaming icon to your iPhone or iPad home screen.
5. To do that, tap the bookmark button in the top right-hand side of Safari; it's the icon that looks like a box with an arrow coming out of it. Next, select "Add to Home Screen" and then tap "Add".
6. Quit Safari and head to the new Xbox Cloud gaming app-like icon on your home screen (it looks like an app but is actually a bookmark), and launch it.
7. Sign into your Microsoft account again (iOS/iPadOS may have remembered your details). At this point, you may need to create an Xbox profile, which takes a few taps.
8. Once logged in, simply tap Fortnite's "Play for Free" option again, and then "Play" on the next page, which will then launch the cloud-streamed version of Fortnite. From there you can play with touchscreen controls or a Bluetooth controller.
How to play Fortnite
The good news is finding a platform to play Fortnite on is trivially easy, as it's available on pretty much every recent console, phone and tablet.
You can download and play Fortnite for free on PC and Android; for the former, you can get Fortnite through the Epic Games Store (it's probably best to download the Epic Games launcher first if you don't have it), and on Android simply head to the Google Play Store.
Fortnite is also available on the PS5, PS4 Pro, PS4, Xbox Series X and Xbox Series S (Fortnite has been optimized for Microsoft's new games consoles), Xbox One X, Xbox One and Nintendo Switch. You can download it for free on the PlayStation Store, Microsoft Store and Nintendo eShop.
For the PlayStation consoles you'll need a PSN login. And for the Xbox consoles, you'll need to have an Xbox Live Gold membership, which is also included in Xbox Game Pass.
On the Nintendo Switch, you'll find Fortnite in the Nintendo Store. But you'll need a Nintendo Switch Online subscription, which starts at $3.99 per month.
While Fortnite was available on iPhone, iPad and Mac, the battle between Apple and Epic over app transaction policies has seen Fortnite removed from the App Store.
You can download Fortnite on macOS by getting it through the Epic Games site. But doing so means you'll need to put up with an older version of Fortnite that Epic no longer updates. And you won't be able to tap into the cross-platform gaming the latest versions of Fortnite support. So Fortnite on Mac is probably best avoided for the time being.
Once you get started with Fortnite, then you're in for a rich world of items, customization, events and more, all framed in a battle royale package. Check out our Fortnite battle royale tips to help you get started.
Fortnite deals
Fortnite useful tips and links