Amazon's new Fire TVs are here, and the rumors are true: Amazon is making its own smart TVs, dubbed the Fire TV Omni Series and 4-Series. The new TVs bring Amazon Fire Smart TVs in house pairing the Alexa powered sets with hands-free voice control and a slew of new features
The Omni Series TV is the higher-end line, starting $409 for the the 43-inch model and going up to $1,099 for 75 inches. It includes perks like Dolby Vision (65 and 75 inch), always-on mics for hands-free Alexa and two-way video calling support (later this year). The lower-end Amazon Fire TV 4-Series ranges from $369 for 43 inches up to just 55 inches at $519.
Here's everything we know about the new Omni Series and 4-Series Fire TVs so far.
Amazon Fire TV Omni: Amazon's new flagship TVs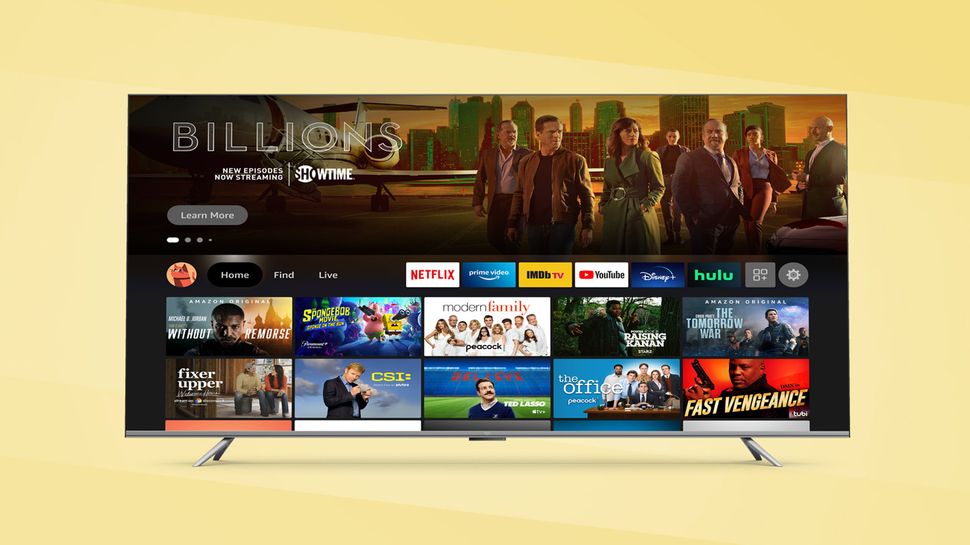 The highlight of the new announcements is the Amazon Fire TV Omni series, the first Fire TVs to carry the Amazon brand rather than another TV manufacturer.
As the new flagships for Amazon-powered smart TVs, the Fire TV Omni series updates the Fire smart TV experience with some new Alexa-centric features, like hands-free voice control, multi-room sounds through Alexa smart speakers and integrated functions for streaming services like Netflix and TikTok.
The Fire TV Omni series will be available in sizes ranging from 43 inches up to 75 inches, with the offerings split down the middle, with 43, 50, and 55-inch models available at more budget-friendly prices, and the Omni 65 and 75-inch models selling for a little more, but featuring Dolby Vision HDR, which the smaller sets won't have.
One new feature, called Alexa Home Theater, lets you pair the TV wirelessly with connected Amazon Echo devices, using the Amazon smart speakers for immersive sound, complete with Dolby Atmos. (We have yet to see whether that means you'll need to crowd multiple smart speakers into your home theater for a better sound experience, or whether it's designed to be used only with a single smart speaker in the room.)
Amazon is also touting multi-room audio, letting you pull up music on the TV and continue listening through your Amazon smart speaker in another room, a carryover feature already offered on Amazon's Echo devices, but now added to the TV.
Other new smart features include a live view picture-in-picture, which works with Ring video doorbells to show the feed from your doorbell camera without interrupting your show. And if you have additional smart cameras in your home, the Fire TV interface will now have a whole row on the home screen dedicated to your live feeds, making it easy to check out what's going on around the house.
Staying in touch with family and friends will also be easier, with Alexa Calling built into the TV. Zoom video calls can now be initiated by voice command, and a webcam plugged into the TV. Amazon says that this future will be available later this year, but only on the Fire TV Omni series.
Swipe to scroll horizontally
The Amazon Fire TV Omni will be sold through both Amazon and Best Buy, with full retail availability starting October 27th. The full Fire TV Omni series is available for pre-order now through Amazon.
Amazon Fire TV 4 Series sticks to the basics
The Amazon-branded smart TVs don't stop there. While the new Omni line is clearly the flagship of the new Amazon-made Fire TV family, Amazon is also making its own budget-friendly Fire TVs, called the Fire TV 4 Series.
These non-Omni Fire TVs hew much closer to the standard Fire TV template – low prices, basic 4K picture with plenty of smarts for streaming, both from Amazon services like Prime Video and IMDBtv, as well as the usual streaming giants, like Netflix and Disney+.
The sets feature an Alexa-enabled voice remote, with voice control for the TV and access to the massive collection of Alexa skills for use with other smart devices.
The sets feature a trio of HDMI connections, including one with eARC, and offer basic HDR support for formats like HDR10 and HLG.
Swipe to scroll horizontally
Selling in 43, 50 and 55-inch sizes, the Amazon-made Fire TV 4-Series are available for pre-order now, to be shipped October 27th.
More Fire TVs from Pioneer and Toshiba
Even with the debut of Amazon-made Fire TV models, the retail giant is still working with other companies to make affordable Fire TV models. The Amazon Fire TV 4 Series will also have sets made by Pioneer and Toshiba.
Pioneer – long absent from the TV space – will be making Fire TV 4 Series models in 43 and 50-inch sizes, selling through Amazon and Best Buy.
The Fire TVs will feature HDR10 and Dolby Vision support, offer multi-room music capability and support surround-sound with DTS Virtual X audio. An Alexa-enabled voice remote gives you voice control, but no room-listening microphones.
The Pioneer 43-inch model will begin selling this month, with the 50-inch model to begin selling in early November.
Toshiba is also making new Amazon smart TVs, continuing the excellent Best Buy-produced models we saw this year in our Toshiba C350 Fire TV Edition review.
Available in larger size formats of 55, 65 and 75 inches, the Toshiba models will feature a 4-microphone array for hands-free Alexa voice control, and the TV will offer improved HDR support with local dimming and improved motion processing.
The Toshiba Fire TV prices have not yet been announced, but won't begin selling until spring of 2022.