Whether you want to make your home look more appealing or have guests coming over, it can often be challenging to hide any ugly eyesores around the home.
Be it cable clutter, smart home devices, shoes or any other knick knacks lying around, some household things are just best kept out of sight. But when you can't always stash these away, there are some creative ways to disguise ugly items in your home. In fact, you don't have to spend a fortune (or re-decorate) — all it takes are a few savvy storage solutions.
Not only will these methods help hide unsightly items, but they also can make your space more tidy and aesthetically pleasing. So, if you want to achieve that "Instagrammable" look, here are seven creative ways to disguise ugly items in your home.
1. Conceal cable clutter
When your household has an abundance of phones, laptops, tablets, TV and audio equipment, it's easy for your cable situation to become an unsightly maze. In addition to looking untidy, this mess can also make it hard to find the right cord when you need it.
Luckily, you can conceal and reduce cable cutter with modern cable management boxes to suit your interior style. These come in different sizes and designs like this Cable Management Box 3 Pack ($31, Amazon), that ships with cable clips to stick to your console tables or desks. These also prevent trailing cables on the floor, and keep everything neat and tidy. Not only will these boxes look more sleek and visually appealing, but they'll also prevent children and pets from getting to the cables.
In addition, cable management sleeves are also simple to use. You just bundle your cables together and then wrap them with the sleeve. Expandable sleeving like this Alex Tech 10ft - 1/2 inch Cord Protector Wire Loom Tubing Cable Sleeve ($8, Amazon), are insulated and relatively cheap.
In fact, this is one of the five cable management tricks our security and networking editor uses to keep his wires tidy.
2. Hide smart home devices
The best smart home devices can also be eyesores, especially if you have a lot of them. And if you don't want your devices on display or they don't entirely fit your decor, you can conceal these behind potted houseplants or disguise these in decorative holders.
There are plenty of clever styles available online, ranging from wooden stands, resin lion, dog or hedgehog stands to quirky characters or retro clock designs. And if you're a Star Wars fan, there's also this Darth Vader Stand for Amazon Echo Dot ($39, Amazon).
These decorative holders will not only disguise your smart device, but will add character and personality to your home.
3. Invest in a shoe cabinet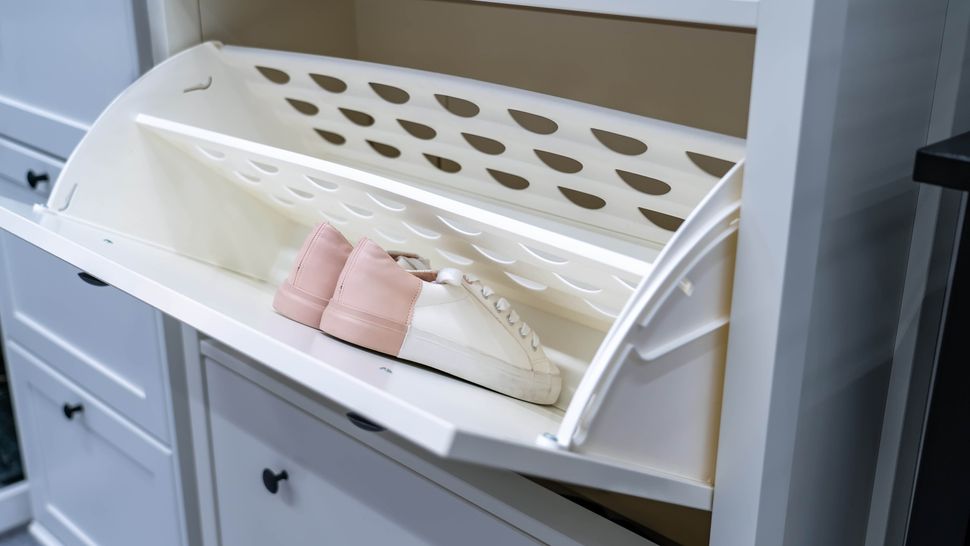 If your beautiful shoe collection has turned into an ugly heap by the front door, you'll need to hide you shoes. After all, the entryway is the first thing we see when we enter a home, and it can speak volumes about us.
There are plenty of shoe storage cabinets that can conceal and spruce up your entryway to impress guests. Cabinets are handy if you don't want your footwear on display, and kept out of sight! These are especially handy if you have a large family, and want to keep everyone's footwear organized and in their rightful place.
Depending on the style of your entryway, you can opt for modern, slimline cabinets or wooden designs to match your interiors. For instance, this Iwell Storage Cabinet ($102, Amazon), is an attractive way to store shoes, and blends in nicely with decor. Others can be placed along walls,or behind doors to hide away the clutter.
4. Get rid of packaging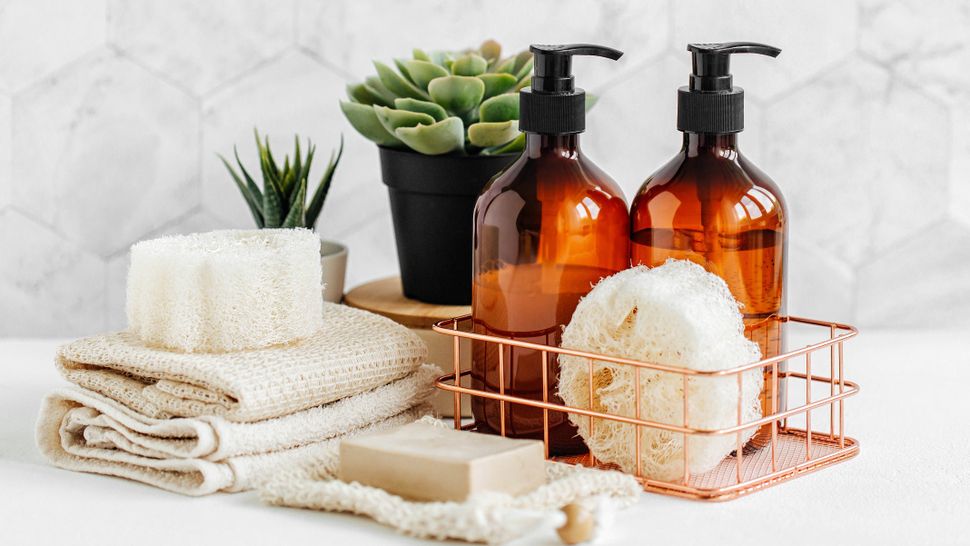 If you want to give your bathroom a luxury hotel makeover, get rid of those unsightly, plastic shower gels, shampoo bottles or other packaging cluttering up the space.
Simply empty the contents out into matching canisters, glass or transparent dispenser bottles. Some come with fancy labels on them, or you can add them yourself. Swap out boxes, for a nice soap holder or display tray, and if you want to decant your hand soap, you can invest in a stainless steel Automatic Soap Dispenser ($19, Amazon), that has a touch-free operation to avoid cross-infection.
Dispensers are a great way to instantly revamp your bathroom for less than $20, and add a stylish touch to your bathroom. The same applies for disguising laundry detergent boxes or plastic packaging. Simply empty powder into large glass jars or use liquid laundry dispensers.
5. Style your tissue boxes
Similarly, the look of tissue boxes around the home can really ruin the overall look to a room. Instead, disguise ugly boxes with a stylish tissue box cover to blend well with your decor style.
There are plenty of designs, sizes and styles to choose from, ranging from PU leather, plastic, seagrass or acacia wooden ones like this Reviaras Tissue Box Cover ($20, Amazon), for a natural look.
6. Hide clutter in multi-functional storage
Be it magazines, paperwork, throws or kids' toys, it can be easy for clutter to pile up in one corner of the room — only to be forgotten about. Invest in multi-functional storage such as ottoman benches, blanket boxes or woven baskets.
These can provide extra storage space, and hide all the clutter without looking out of place. In addition, plush ottomans can double up as extra seating or a handy footstool, and will make a stylish addition to your interiors.
7. Refresh ugly chairs
If you're embarrassed about your dated or mismatched dining chairs, have no fear! Before you throw them out, you can always buy stretchable chair slip covers to disguise any imperfections. Elasticated covers like these Joccun Chair Covers — set of 6 ($29, Amazon), are water repellent and machine washable. Plus, you can choose from a range of colors, fabrics and designs.
In addition, you can buy sofa covers that are great for covering unsightly stains or damage. Just be sure to check the dimensions and size of your sofa or armchair before buying.
These are often machine-washable, and can easily be removed and swapped out for a different color anytime you fancy a change. Plus, it saves you money on buying an expensive sofa!
More from Tom's Guide