Whether you're a casual biker or well-seasoned cyclist, the Apple Watch is a useful device filled with all sorts of biking features. From frictionless ways to launch workouts to potentially life-saving safety tools, there are lots of ways the Apple Watch can improve your cycling experience.
With bike riding part of my regular cardio routine, I've discovered quite a few biking features built into the Apple Watch. Some might seem pretty obvious, but others are definitely lesser-known. There are also some excellent third-party Apple Watch apps dedicated to biking that can further enhance your rides.
If this sounds like tips you've been looking for, check out the best Apple Watch biking features below. All apply to the Apple Watch SE, the Apple Watch Series 8 and the Apple Watch Ultra, as well as any Apple Watch device with watchOS 9 installed.
Turn on Start Workout Reminder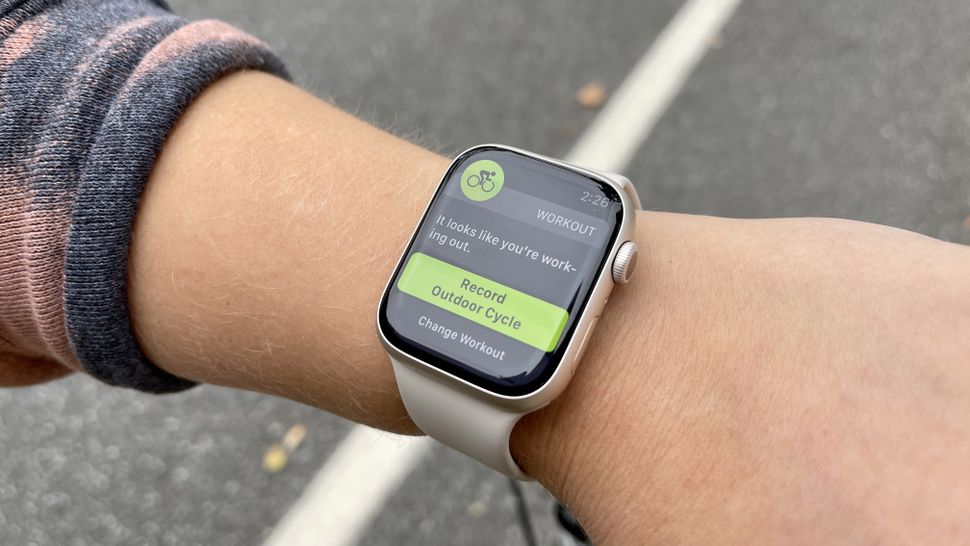 Say you've started your bike ride, but forgot to launch a cycling workout to track your activity and close your Apple Watch rings. Attempting to launch the workout while you're already moving can be difficult, not to mention dangerous. While you can try to trigger Siri and ask the voice assistant to start your workout, it might be better to let your Apple Watch pick up on the fact that you're riding. Here's how to set it up:
Open Settings on your Apple Watch
Scroll down to Workout and open Workout settings
Enable 'Start Workout Reminder'
The Apple Watch can automatically detect a handful of workout types, which is why this is also one of the best Apple Watch running tips. For bike rides, I usually receive a buzz and a prompt asking me if I want to record an outdoor cycle in under 5 minutes and in less than half a mile traveled.
Enable Auto-Pause
As most bikers know, the chances of going for a non-stop ride are slim. Between traffic lights, pedestrians and photo-worthy stops, you could take a quick break from moving multiple times throughout your trip. That's why you'll want to enable Auto-Pause for your Apple Watch workouts, which detects when you stop traveling to provide more accurate pace data. Here's how it works:
Open Settings on your Apple Watch
Scroll down to Workout and open Workout settings
Click on 'Auto-Pause'
Enable 'Auto-Pause' for Outdoor Cycling
When you start moving again, your Apple Watch workout will automatically resume, ensuring you get credit for your progress and a true reflection of your time-to-distance metrics.
Set up Fall Detection
No matter your usual bike route, it's a smart idea to set up Fall Detection on your Apple Watch. If you take a hard fall during your ride, your Apple Watch will monitor your movement and responses to determine if you need emergency services. If you don't respond to the alert and remain immobile for a minute, your watch will call for help and alert your emergency contacts. Here's how to turn on fall detection:
Open Settings on your Apple Watch
Click on 'SOS' settings
Select 'Fall Detection'
Enable 'Fall Detection'
You can opt to only use Fall Detection during workouts, if you're not concerned about the alerts for regular use. That said, there have been multiple reports about Fall Detection enabling people to get the help they need, so it's a good feature to use.
Create a Custom Workout
While it's easy to start an open biking workout, you can customize your workout to follow a training plan. If you're preparing for a big race or have a cycling goal in mind, using warmup, work, recovery, and cooldown intervals could help with your progress. Here's how to set up a custom workout:
Open the workout app on your Apple Watch
Click on the three dots in the upper right corner of the Outdoor Cycle option
Scroll down to the bottom, then select 'Create Workout'
Tap 'Custom' to create your workout based on your desired including a warm-up, work and recovery intervals, then a cooldown.
Each interval can be measured by Time or Distance, based on your ride preferences. You can also set pace alerts, if your goal is to ride at a certain speed. Either way, creating a custom workout on Apple Watch for your outdoor cycle can take your ride to the next level.
Track your Heart Rate Zones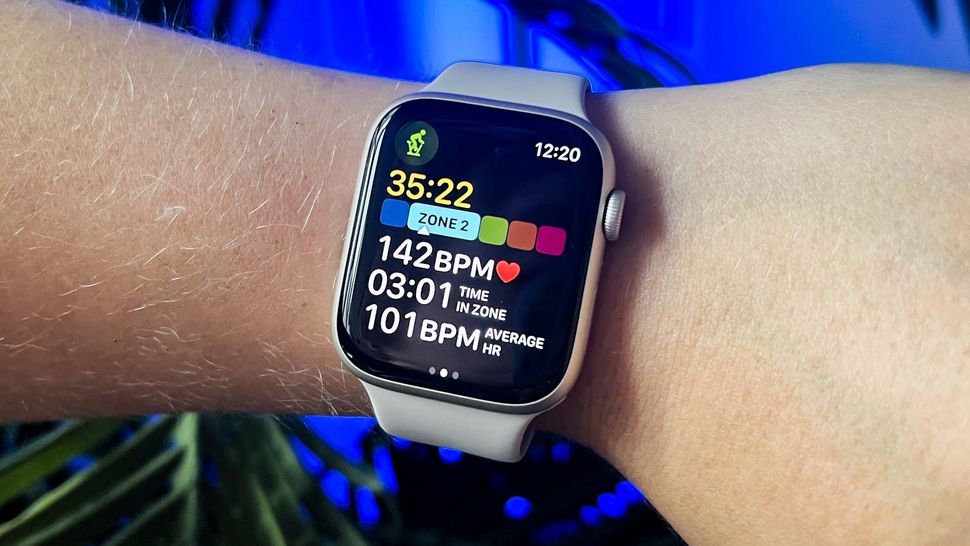 If you're bike riding as a form of cardio, it could be a good idea to track your heart rate zones throughout your workout. Any Apple Watch with watchOS 9 translates your effort and heart rate into zones that help visualize how hard you're working. Depending on your performance level or exercise needs, paying attention to your heart rate zones can help you find sustainable effort levels.
While you're in a biking workout, swipe up on the workout display to see your heart rate zones. The zones are automatically calculated based on your cumulative workout metrics, but you can manually change them in the Workout section of Settings app, if you prefer.
Use Precision Start
More of a lesser-known feature, Precision Start is an optional setting that eliminates the countdown when you start a workout. The countdown comes enabled by default, so you might not know that you can turn it off. Here's how:
Open Settings on your Apple Watch
Scroll down to Workout and open Workout settings
Enable 'Precision Start'
If you tend to immediately start peddling after launching your Outdoor Cycle workout, the delay could slightly skew your data. It's only a slight hesitation, but one you might want to try ditching for your next ride.
Explore third-party apps
While the native Outdoor Cycle workout program on Apple Watch lets you track your ride and offers a good overview of your trip afterwards, some of the best Apple Watch apps for biking could further enhance your experience.
One of our favorite biking apps for Apple Watch is Komoot. Komoot is all about adventure, with specific modes for mountain biking and gravel riding, in addition to road biking. The app lets you create your own trails or follow community-made ones, making it easy to explore new trails. The community element of the app is a another big perk, allowing you to connect with fellow enthusiasts.
Strava, one of the best workout apps and best running apps, also has a bike ride-tracking feature. Not only does Strava recommend routes based on your taste, but it has built-in safety features for notifying trusted contacts of your whereabouts.
Try riding an e-bike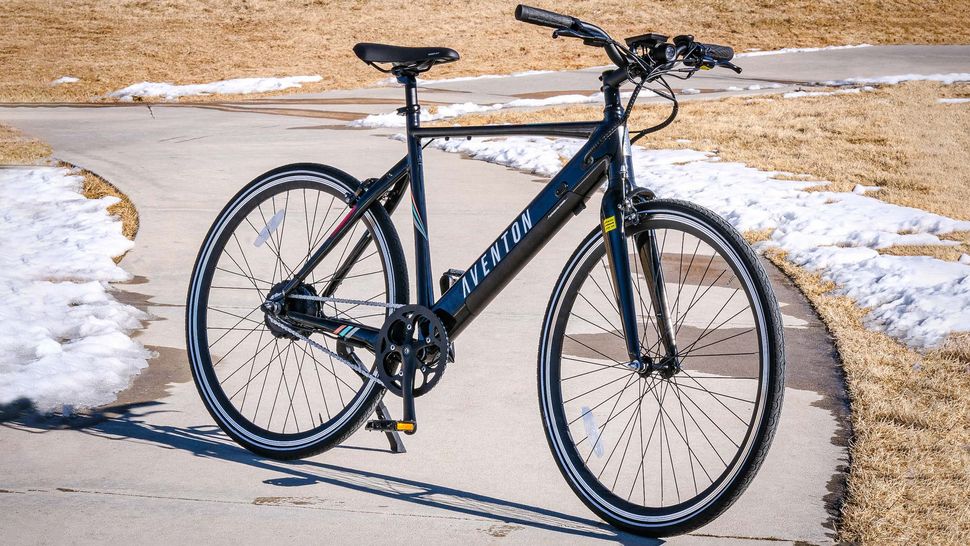 Whether you have bought one of the best electric bikes, or have the chance to try out an e-bike on vacation or from a city rental, don't forget to track your ride on your Apple Watch. The Apple Watch's exercise-tracking algorithm can identify if you're riding an electric bike or a standard bike based on your heart rate and speed.
That way, you still get credit for your movement, but you're not over-credited for the effort eased by an e-bike. What's more, e-bikes are a great way to get some activity if you're intimidated by the challenges of regular cycling. Plus, a bike like the VanMoof S3 has a compatible Apple Watch apps that lets you lock and unlock the bike using your smartwatch.
Earn badges
One of the best parts of working out with my Apple Watch is earning badges. In fact, badges are my favorite Apple Watch fitness feature you're probably not using. There are a number of cycling-specific badges available in the Fitness app that use a bit of gamification for motivation.
You can check out badges, both ones you've earned and have to earn, in the Fitness app on your iPhone. Scroll down to 'Awards' in the 'Summary' tab and select 'Show More'. There, you'll see all the different badge types, from Limited Edition Challenges to Workout-specific achievements and even badges specifically aligned with Apple Fitness Plus classes. Currently there are audio-based Fitness Plus workouts for outdoor running and walking, but you could try an indoor cycling workout if you have access to one of the best exercise bikes.
Take on a triathlon
If you're really ready to take your cycling to the next level, you could introduct swimming and running as part of triathlon training. There are a variety of triathlon distances based on the race, but thanks to the Multisport option in the Apple Watch, you can track all three activities in a single workout based on your own goals.
The Multisport workout lets you combine Outdoor Cycle, Outdoor Run and Open Water swim tracking (you can even choose two of the three). You can set goals for each segment, and get alerted when it's time to start the next leg. Your Apple Watch will automatically detect when you've transitioned between workout types, giving you one less thing to worry about.
More from Tom's Guide