The Google Pixel Fold offers a comfortable front display, smart multitasking software and strong cameras. The price is high and the bezels too big, but overall this is a strong competitor to the Galaxy Z Fold.
For
Wide front display
Intuitive multitasking
Strong cameras
Against
Large bezels
Performance trails other flagships
The Galaxy Z Fold 4 makes multitasking easier with its taskbar. The cameras are better than before and the main screen is bright, though Google offers the superior cover display and and an easier-to-carry device.
For
Taskbar improves multitasking
Brighter main display
Upgraded 50MP camera
Against
Under-display camera underperforms
Thick and heavy
Samsung has dominated the foldable game for the last several years, unchallenged by any opponent, but a Google Pixel Fold vs. Samsung Galaxy Z Fold 4 hints that the race for the best foldable phone is about to get more heated.
The well-established Galaxy Z Fold 4 may be costly to own, but it's proved that foldables are the future, thanks to a mesmerizing folding display, superb cameras, and productivity tools that give even some of the best laptops a run for their money.
With the release of the Google Pixel Fold, however, we finally have a contender worthy of challenging the crown that Samsung has long held onto. While the two phones share similarities when it comes to their form factors, they couldn't be any more different the closer you look at them.
There's no denying that the bar has been set high, rightfully so, given how Samsung has four generations of the Galaxy Fold to its name. After spending time with both the Google Pixel Fold and Samsung Galaxy Z Fold 4, I have a better sense of how these two devices compare and what makes one stand out from the other.
Google Pixel Fold vs. Samsung Galaxy Z Fold 4: Specs
Swipe to scroll horizontally
| | | |
| --- | --- | --- |
| | Google Pixel Fold | Samsung Galaxy Z Fold 4 |
| Price | $1,799 | $1,799 |
| External display | 5.8-inch OLED (FHD+; 120Hz) | 6.2 inches AMOLED (2316 x 904; 120Hz) |
| Internal display | 7.6-inch OLED (2208 x 1840; 120Hz) | 7.6 inches AMOLED (2176 x 1812, 120Hz) |
| CPU | Tensor G2 | Snapdragon 8 Plus Gen 1 |
| RAM | 12GB | 12GB |
| Storage | 256GB, 512GB | 256GB, 512GB, 1TB |
| Rear cameras | 48MP main, 10.8MP ultrawide, 10.8MP telephoto with 5x zoom | 50MP main, 12MP ultrawide, 10MP telephoto with 3x optical zoom |
| Front cameras | Outer: 9.5MP, Inner: 8MP | Cover: 10MP, Under-display: 4MP |
| Battery size | 4,727 mAh | 4,400 mAh |
| Size open | 6 x 5.1 x 0.24 inches | 6.1 x 5.1 x 0.21 inches |
| Size closed | 6 x 2.6 x 0.5 inches | 6.1 x 2.6 x 0.55-0.62 inches |
| Weight | 10 ounces | 9.28 ounces |
| Colors | Porcelain, Obsidian | Graygreen, Phantom Black, Beige, Burgundy (Samsung.com only) |
Google Pixel Fold vs Samsung Galaxy Z Fold 4: Design and durability
Aesthetically, these two foldables couldn't be any more different from one another. If you take a peek at the specs sheet above, you'll see how the Pixel Fold is the slimmer of the two — both closed and fully opened.
While the Galaxy Z Fold 4 is narrower in its closed position, its odd 21.6:18 aspect ratio makes the phone longer, which makes it tougher to reach all four corners of its external display. The Pixel Fold's 17.5:9 aspect ratio when closed is also unusual for a phone, but it's much easier to handle one-handed.
Thankfully, both phones have impressive build qualities, including their respective hinge mechanisms. I've been using the Samsung Galaxy Z Fold 4 since its release in August 2022, and it still has that satisfying feeling whenever I open it up. Although, it doesn't quite feel as tight as the mechanism on the Pixel Fold, I'd contribute that to normal wear and tear. Additionally, both devices have an IPX8 rating, which surprisingly should handle submersion under water.
Opening up the two to reveal their main displays, the Pixel Fold and Galaxy Z Fold 4 occupy pretty much the same amount of space. What's apparent are the creases that go down the middle of their respective displays. Understandably so, it's more pronounced on the Galaxy Z Fold 4, but I didn't find these creases distracting enough to get in the way of using either phone's screen for everyday things.
It's worth pointing out the camera bumps on each phone. The bump juts out a little more with the Pixel Fold, which makes sense as it's rocking a longer optical telephoto lens. Due to how the cameras are arranged vertically down the back of the Galaxy Z Fold 4, I found it annoying how the phone would wobble whenever I used the keyboard or touched something along the lower right corner of the screen.
These two phones showcase the evolution of foldable phone designs, which are accompanied by premium materials and solid constructions. If I had to pick, I prefer the more ergonomic feel of the Google Pixel Fold.
Winner: Google Pixel Fold
Google Pixel Fold vs Samsung Galaxy Z Fold 4: Displays
One of the perks about owning a foldable is knowing you have a mini tablet at your disposal. Opened up, the Pixel Fold greets me with a 7.6-inch 2208 x 1840 OLED screen, while the Galaxy Z Fold 4 sizes up nicely with its 7.6-inch 2176 x 1812 AMOLED panel.
Crunching the numbers reveals a 378 ppi (pixels per inch) pixel density win for the Pixel Fold, but the Galaxy Z Fold 4 wasn't too far behind at 373 ppi. I couldn't even tell which of them was superior, since both looked sharp and detailed when I watched videos from a distance. They share other commonalities, like their wide viewing angles and punchy color tones.
When it comes to usability, I can't complain about either inner display because there's so much real estate to work with. They're bright enough to see in sunny conditions outdoors, but the Pixel Fold has the slight advantage with a peak brightness of 1,172 nits. The Galaxy Z Fold 4 isn't too far behind at a respectable 905 nits.
Moving over to the phones' respective outer displays, there's a 5.8-inch FHD+ OLED panel with a 120Hz refresh rate on the Pixel Fold. It's smaller than the Galaxy Z Fold 4's 6.2-inch 2316 x 904 AMOLED cover screen, which also has a 120Hz refresh rate. But I actually prefer how the Pixel Fold's outer display is more conventional looking. It's not obnoxiously elongated like its rival. And the Pixel Fold edges out its rival in terms of outer screen visibility with its 1,000 nits of brightness.
I did uncover an odd trait with the Pixel Fold's outer display. Even though it was visible under direct sunlight, the brightness would sort of do this "breathing" routine — going from very potent, back down to a dimmer setting. It wasn't constant, but it was noticeable enough as I watched videos on the Pixel Fold. The Galaxy Z Fold 4, on the other hand, didn't exhibit any such behavior.
Swipe to scroll horizontally
| | | |
| --- | --- | --- |
| | Pixel Fold | Galaxy Z Fold 4 |
| Brightness (Inner/Outer display) | 1,000 / 1,172 nits | 905 / 870 nits |
| DCI P3 color (Inner/Outer display) | 90.1% / 88.4% | 158.7% / 146.7% |
| Delta-E color accuracy (Inner/Outer display) | .05 / .05 | 0.34 / 0.33 |
What's hard to overlook about each main display are the bezels surrounding them, along with their embedded cameras. I prefer the skinnier bezels of the Galaxy Z Fold 4, which makes for a more seamless look, whereas the Pixel Fold's inner display is surrounded by bezels as thick as ¼-inches. I'm not terribly distracted by it, but it surely does stand out when you have both phones side-by-side.
This thicker bezel on the Pixel Fold is the unintended consequence of housing its front camera right on the bezel. The Galaxy Z Fold 4 has a skinnier bezel because it leverages an under display camera.
Their foldable displays are indeed head turners, but I'm inclined to say that the Google Pixel Fold wins in this department. It's not a runaway though.
Winner: Google Pixel Fold
Google Pixel Fold vs Samsung Galaxy Z Fold 4: Software and multitasking
I know Samsung has toned down its custom Android experience over the years, bridging the gap between how its phones look and feel when compared to stock Android. I actually was surprised by how evident it was with the latest version of One UI (version 5.1) on the Galaxy Z Fold 4. Using the same wallpapers and three-button menu system, it was almost hard to tell the difference from unadorned Android.
Plenty of people love vanilla Android, which is what you get with Android 13 on the Pixel Fold, but I still like how Samsung throws in extra goodies that I found helpful. For example, how I access an app quickly using Edge Panels, rather than going back to the home screen and then to the apps panel. Small touches like this adds to the Galaxy Fold 4's utility, but it's even more profound when you try multitasking.
First and foremost, both phones can easily run two apps in split mode with their larger, inner displays. I found this perfect for watching videos while sending out emails with Gmail. Plus, I do like how I'm able to resize apps — to allow one app to take more room than the other. There's even the ability to drag content from one screen to the other, like taking a photo in the gallery and dragging it to Gmail for a quick and easy attachment.
However, the Galaxy Z Fold 4 gives you the ability to add an additional app into the multitasking fold. Although I rarely ever use three-app multitasking, especially when two apps are squished down to basically a quarter of the screen, I can see how this option could be useful for some. You don't get a third option with the Pixel Fold.
Another thing I'd like to point out is how the Pixel Fold and Galaxy Z Fold 4 handle full-screen mode with their inner displays. Most of Android's native apps, like Gmail and Google Docs, scale nicely to make full use of the screen. In order to get the "optimized" layouts on Fold 4, I had to tilt the screen to landscape orientation.
Unfortunately, there are very few third-party apps that get the same treatment with the Pixel Fold. Popular apps such as Facebook, Instagram, and OpenTable have large dead zones to the left and right, while the Galaxy Z Fold 4 uses the full length of the display. I found the discrepancy to be tremendous when I played Age of Origins, where more of the sprawling world map is shown in detail.
Perhaps Google will address this in a future update. In any event, the Galaxy Z Fold 4 proved to me it's more of a workhorse in this area.
Winner: Samsung Galaxy Z Fold 4
Google Pixel Fold vs Samsung Galaxy Z Fold 4: Cameras
Cameras are arguably one of the most important features consumers look at when buying a phone. What's great here is that these foldables offer a lot of range and utility with their triple-camera setups, but they're even better for taking selfies using the "better" rear cameras as opposed to their front facing cameras.
Being the newcomer, I will admit that I like the setup more on the Pixel Fold, which consists of a 48-megapixel main sensor, a 10.8-megapixel ultrawide shooter, and a 10.8-megapixel telephoto lens with a 5x optical zoom. The latter's tantalizing, because you can only cram so much in such a thin chassis — more so when you're dealing with foldables.
Samsung's triple camera system holds its own in the specs department, packing a 50-megapixel main camera, 12-megapixel ultrawide, and a 10-megapixel telephoto with 3x optical zoom.
When it comes to the software, the Galaxy Z Fold 4 is functionally superior with its extensive modes. Sure, you have the ability to capture portraits and panoramas on both phones, but it's telling that the Fold 4 is the camera for enthusiasts with its manual photo and videos modes, which provide options to adjust ISO, shutter speed, and exposure compensation. There's also a cinematic mode that adds that shallow depth of field effect when recording video.
The Pixel Fold 4, meanwhile, is the snap it and forget it kind of camera phone. Most people would be satisfied by this, since it captures exceptional looking photos without having to worry about the conditions.
I absolutely love how I'm able to also prop up both phones in such a way for hands-free recording with their flex modes. There's also the ability to capture better looking selfies using their rear cameras on either foldable — that's nearly impossible to do on a traditional slab. That's because of the preview I'm given on the outer displays either device whenever taking selfies, making it a cinch to have perfect framing no matter what.
Speaking of selfies, the Galaxy Z Fold 4's ultrawide angle lens has a wider field of view than the Pixel Fold. This means you'll be able to cram yourself and more of your friends into the shot, which I also prefer when vlogging.
Now comes the important question: which one performs better? I shot several test shots of the same subjects and conditions and ultimately. Honestly, it's a tie.
The main cameras on both phones worked well to capture the scene above Times Square. Details are plentiful in the shot, but the Pixel ovvdfx the better dynamic range because the red LEDs in the traffic signal light are more blown out with the Galaxy Z Fold 4. The difference is subtle, and quite frankly, I think a lot of people would agree that they're very similar.
If you're looking to capture more of the scene, the 123-degree field of view with Galaxy Z Fold 4's ultrawide lens crams more into the shot. Apart from that, the images almost look identical above with their details and colors.
Conversely, you'll want to go with the Pixel Fold if you want to get closer to your subject thanks to how it achieves a 5x optical zoom with its telephotos lens. You can discern in the photo above how the words in the sign are clearer and more defined with the Pixel Fold. The 3x optical zoom lens of the Galaxy Z Fold 4 is still nice, but even as I pushed it to match the Pixel Fold's maximum 20x digital zoom range, you can see how it's not as detailed.
Portrait mode is interesting because there are things I like about both shots . For example, the Pixel Fold does a better job of realistically applying the bokeh effect to the background, giving it that subtle out of focus effect while maintaining sharp details on my face. However, the Pixel Fold applies a crop whenever you capture portrait shots. It's only a problem if you're taking selfies.
Meanwhile, the Galaxy Z Fold 4 was too aggressive with the bokeh effect, but to its defense, you can actually tone it down by pressing the corresponding on-screen button. Furthermore, it can capture portraits without applying a crop.
And lastly, I want to talk about low-light, which I feel is the great differentiator with today's camera phones. By and large, most of today's best camera phones excel when the conditions are ideal — such as landscape during the day. When the sun goes down, or when there's minimal lighting around, that's when their performances greatly differ.
I initially thought the Pixel Fold would easily dismantle the Galaxy Z Fold 4 because of Night Sight's reputation on Pixel devices, but the results were surprising. Using their respective night modes — one that requires a steady hand to capture longer exposures — I was shocked by the better results out of the Galaxy Z Fold 4. Not only was it better exposed to make the entire shot brighter, but it also drew out more details in the shadows. You can see how some of the leaves are more defined with the Galaxy Z Fold 4, but the same area looks indistinct and muddy with the Pixel Fold.
Overall, I will have to give Samsung the win here — partly because it performs significantly better under low light and has more features for enthusiasts. Even though the Pixel Fold has the superior zoom lens, it would've been more convincing if it were closer to a 10x optical zoom.
Winner: Samsung Galaxy Z Fold 4
Google Pixel Fold vs Samsung Galaxy Z Fold 4: Performance
Synthetic benchmark tests notch a win for the Galaxy Z Fold 4, but it's not by a huge margin. That's because both phones are using last year's flagship chipsets. The Pixel Fold is powered by the same Tensor G2 chip in the Pixel 7 and Pixel 7 Pro, while the Galaxy Z Fold packs the year-old Snapdragon 8 Plus Gen 1 chip.
Swipe to scroll horizontally
| | | |
| --- | --- | --- |
| | Google Pixel Fold | Galaxy Z Fold 4 |
| Geekbench (Single/Dual-Core) | 1,390 / 3,291 | 1,366 / 3,707 |
| 3DMark (Score/Frame Rate) | 6,755 / 40.4 | 8,819 / 52.3 |
| Video Transcode (Adobe Premiere Rush) | 60 seconds | 45 |
While scores for GeekBench and 3DMark are better with the Galaxy Z Fold 4, I found the Pixel Fold to be the snappier of the two when it came to navigating around the interface. Jumping in and out of apps and scrolling in general was more responsive on the Pixel Fold. It's not to say that the Galaxy Z Fold 4 is slow, but it was only when I had the two next to one another that I noticed the subtle difference.
At the end of the day, both phones performed smoothly for all of the stuff I do on them.
Winner: Draw
Google Pixel Fold vs Samsung Galaxy Z Fold 4: Battery life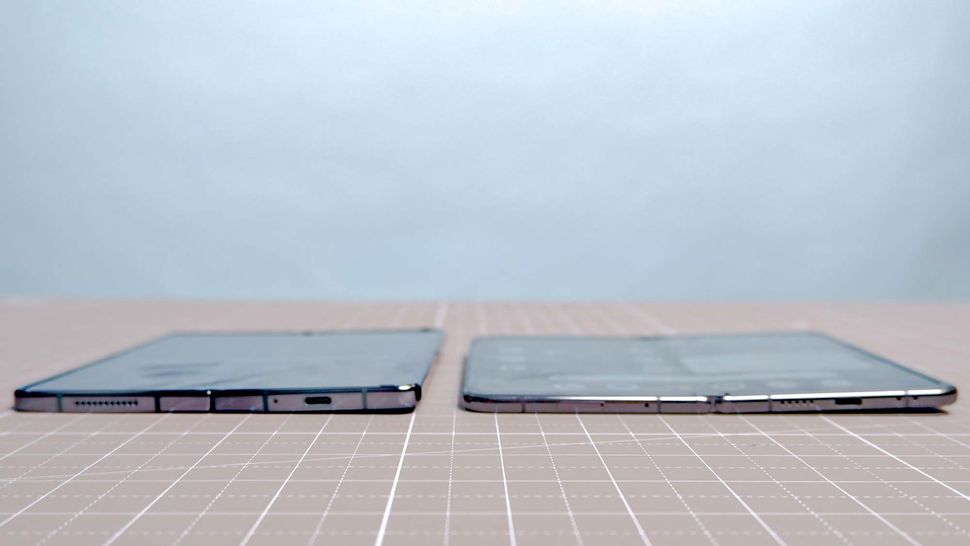 Foldables aren't typically known for their battery longevity, but I was content to get at least a day's worth of use from full batteries. In fact, the Galaxy Z Fold 4 held on at 15% capacity by bedtime, while the Pixel Fold was at 28%.
The reason why the Pixel Fold lasted longer was probably due to its larger 4,821 mAh battery, which also achieved a mark of 10 hours and 21 minutes on Tom's Guide's custom battery benchmark test. Even with a thicker chassis, Samsung was only able to cram a 4,400 mAh battery in the Galaxy Z Fold 4. It trailed its rival with a time of 9 hours and 37 minutes. Both of those results came with the refresh rate on the phones' respective displays locked at 60Hz.
The outcome for charging time was different, with the Galaxy Z Fold 4 charging faster. In fact, it got to 25% and 42% respectively after charging for 15 and 30 minutes. In the same amount of time, the Pixel Fold got to 18% and 38% using a 20W charger. However, it does support 30W charging too, which should improve charge speeds if you have the proper charger on hand.
Winner: Google Pixel Fold
Google Pixel Fold vs Samsung Galaxy Z Fold 4: Special features
Beside getting treated to the Android updates before anyone else, the Pixel Fold also has some exclusive features you won't get (that easily) on the Galaxy Z Fold 4. Most notably, there's the convenience of using its various translating features. For example, it can natively translate stuff in third party apps like WhatsApp — instead of going back and forth using a translation app. There's also the Live Translate feature that can translate spoken words in real time.
Over on the creator side of things, I love all the photo editing tools that the Pixel Fold has in its arsenal. From being able to "erase" unwanted stuff in a photo I've shot with Magic Eraser, or fixing out of focus photos with Photo Unblur in Google Photos, these tools on the Pixel Fold make it easy for anyone to improve their photos without a whole lot of photo editing experience.
You could effectively get all of the aforementioned features on the Galaxy Z Fold 4, but oftentimes they're not as intuitive to use — or sometimes the third party apps I download require a degree of expertise to use (photo editing to be exact).
If there's one exclusive feature that I love using most on the Galaxy Z Fold 4, it has to be none other than Samsung DeX. This effectively makes the Galaxy Z Fold 4 function very much like a computer by connecting an external monitor, mouse, and keyboard to it. In fact, I was able to type this article with that exact setup on my desk. Even better, I can access DeX wirelessly with a compatible smart TV.
This is important because I'm getting a desktop PC-like experience with DeX, which you won't get with the Pixel. There's the Screen Cast feature on the Pixel Fold that essentially screen shares the phone on a TV or monitor, but you don't get a different interface that's optimized for larger screens.
While the Pixel Fold's exclusive features are intuitive, I find Samsung DeX more valuable especially when you achieve the same level of functionality with those Pixel exclusives by using third party apps and services.
Paying out of pocket for it, the S Pen is yet another handy tool in the Galaxy Z Fold 4's toolbelt. As we've seen in other devices the support the stylus, the S Pen goes beyond just being another pointing tool. For creatives, its pressure sensitivity allows them to draw intricate pieces of work — where thicker strokes are applied with more pressure. This results in a more natural writing experience for those who prefer that paper to pen experience. I've also found the S Pen handy for simple things we all take for granted, like annotating and signing PDFs.
Winner: Samsung Galaxy Z Fold 4
Google Pixel Fold vs Samsung Galaxy Z Fold 4: Verdict
It's abundantly clear that after four generations, Samsung knows how to make a foldable phone. That became even more apparent when I got to spend more time using the Google Pixel Fold. I'm not even talking about the engineering challenges of designing a hinge to accommodate a foldable display, but the tools and features that make them vastly superior over traditional slates.
But to Google's credit, the Pixel Fold is refined and elegantly design, made more impressive by the fact it's the company's stab at a foldable phone. It has its own shortcomings, like its underwhelming low-light photography and inability to scale third-party apps to take up the entire inner display. Nevertheless, it's valiant effort that finally gives consumers a second option to consider.
And who doesn't like a bit of competitions, right?
Swipe to scroll horizontally
| | | |
| --- | --- | --- |
| Row 0 - Cell 0 | Google Pixel Fold | Samsung Galaxy Z Fold 4 |
| Price (10 points) | 10 | 10 |
| Design and durability(10 points) | 10 | 9 |
| Display (10 points) | 10 | 8 |
| Software and multitasking(15 points) | 12 | 14 |
| Cameras (20 points) | 16 | 17 |
| Performance (10 points) | 9 | 9 |
| Battery life and charging (15 points) | 12 | 11 |
| Special features(10 points) | 9 | 10 |
| Overall (100 points) | 88 | 88 |
Knowing that you'll have to fork over a whopping $1,799 for either of them, I feel that you're getting more utility out of the Samsung Galaxy Z Fold 4. To me, the Galaxy Z Fold 4 feels more like a tablet or mini PC. Others may prefer the design and functionality of the Pixel Fold.
There's no denying that these foldables are exciting, but with Samsung Unpacked 2023 looming in the horizon, I know I'm eager to see how Samsung will outdo itself with the Galaxy Z Fold 5. If that's not enough, the OnePlus V Fold could really simmer down the momentum that Google and Samsung has in the foldable space once it's unveiled.
More from Tom's Guide