Some years are more exciting for smartphones than others, but this past year had plenty of innovation to offer to the mobile market. While Samsung and Apple are still the big winners, Google, OnePlus, Motorola and more all raised the bar on what you can do with handsets across every budget. We saw impressive improvements to camera features, design, performance and battery life across the board.
Our Tom's Guide Awards 2023 for the best phones we've tested over the last 12 months celebrate some familiar devices, but also a few unsung heroes that deserve these esteemed smartphone honors. And while the smartphones themselves all come highly recommended, it's important to recognize our favorite carrier, too.
Be sure to see all our winners in the phone category below, as well as all the winners of the Tom's Guide Awards 2023.
Best phone
Best phone: Samsung Galaxy S23 Ultra
Since the Samsung Galaxy S23 Ultra arrived, it stands at the leading spot among our best phones rankings, and for several good reasons. Its 200MP main camera is capable of producing stunning photos; the new Snapdragon 8 Gen 2 for Galaxy chip beats all-comers on graphics performance; and with a chunky battery built-in, you'll be able to make the most of these features all day long. With all that in mind, the Galaxy S23 Ultra was the natural choice for our top smartphone award. It's a shame you have to spend a lot in order to get your hands on the S23 Ultra, but trust us, you'll find it's money well spent.
Best iPhone
Best iPhone: iPhone 14 Pro Max
There hasn't been a bad iPhone for a long time, if ever, and the iPhone 14 Pro Max is the best iPhone yet and the pinnacle of what Apple has to offer right now. Simply put it has everything you need in an iPhone, and more. Not only does this phone have the best camera performance to come out of Apple HQ thus far, the iPhone 14 Pro Max also offers some of the best battery life available in a smartphone — dwarfing the likes of Samsung, Google and even the iPhone 13 Pro Max. Then there's the A16 Bionic chipset, which offers performance Android chipsets struggle to match, and the Dynamic Island which turns the phone's pill-shaped camera cutout into something genuinely useful — whether that's for controlling music, checking Maps directions or any number of other things.
Best Android phone
Best Android phone: Google Pixel 7 Pro
Google redeemed itself in a big way with the release of the Google Pixel 7 Pro, which earned the prestigious title of being our best Android phone. Most notably, it made the process of taking photographs simple and easy — thanks largely to its upgraded camera system and software magic that gave anyone photo editing powers to anyone who wielded it. For anyone into smartphone videography, the addition of a cinematic mode with the Pixel 7 Pro was a welcomed treat that effectively gave content creators even more tools to use. Best of all, it's a Pixel. Meaning, it has access to exclusive features with Android, like real-time translation with third-party apps like WhatsApp, that you won't get in other non-Pixel devices.
Best phone under $500
Best phone under $500: Google Pixel 7a
The Google Pixel 7a may cost more than previous entries in Google's budget phone lineup, but it still managed to stay under the $500 threshold while packing in features associated with much more expensive devices. The Pixel 7a offers a fast 90Hz refresh rate and wireless charging support — two capabilities missing from its predecessors. Google also boosted the megapixels on the Pixel 7a's main camera, cementing this phone's reputation as the best camera phone you can get in this price range. But the real star of the show is the Tensor G2 chipset, which makes its way from the Pixel 7 flagships into the less expensive Pixel 7a to enable the kind of AI-powered features unique to Google's smartphones. You may wind up paying more than you would have for last year's Pixel 6a, but you'll appreciate all the capabilities that extra $50 brings you.
Best phone under $300
Best phone under $300: OnePlus Nord N30
Getting a phone on the cheap often requires you to sacrifice features, but the compromises are few and far between with the sub-$300 OnePlus Nord N30. Despite the low price tag, you can count on a big 6.7-inch display that offers a 120Hz refresh rate for more immersive experiences when you're scrolling through a web page or playing a game. The OnePlus Nord N30 also lasts a long time on a charge — it held out for 12.5 hours on our battery test, which places it among the longest-lasting phones we've tested. And when you do need to top off the battery, 50W fast charging will get you close to a 50% charge after just 15 minutes. Throw in a 108MP main camera, and you've got a pretty impressive feature set on a relatively inexpensive device.
Best camera phone
Best camera phone: Samsung Galaxy S23 Ultra
The key to the Galaxy S23 Ultra's win of the best camera phone award isn't just the headline 200MP main camera, although the detail this camera's photos offer is staggering. You've also got to consider the dual telephoto cameras that make shooting subjects at 3x or 10x magnification much easier than a single telephoto camera phone could. Factor in the phone's pro-level features like ExpertRaw photography settings, fun modes like Astral Hyperlapse and welcome refinements to elements such as portrait mode, and you have the most versatile camera system on the market, which will serve both novice and experienced photographers equally well.
Best gaming phone
Best gaming phone: Asus ROG Phone 7 Ultimate
The Asus ROG Phone 7 Ultimate goes in hard on gaming features, so there was little doubt among us that this was our best gaming phone. Its effective cooling system, top-tier chipset, huge display and long-lasting battery mean you'll get one of the best mobile gaming experiences around, as well as a phone that'll run other demanding apps with ease and for hours on end without dying. There are phones for this price with more rounded feature sets, including things like a telephoto camera, longer update schedules or stronger dust/water resistance. But if gaming is your priority, Asus has the phone for you.
Best foldable phone
Best foldable phone: Google Pixel Fold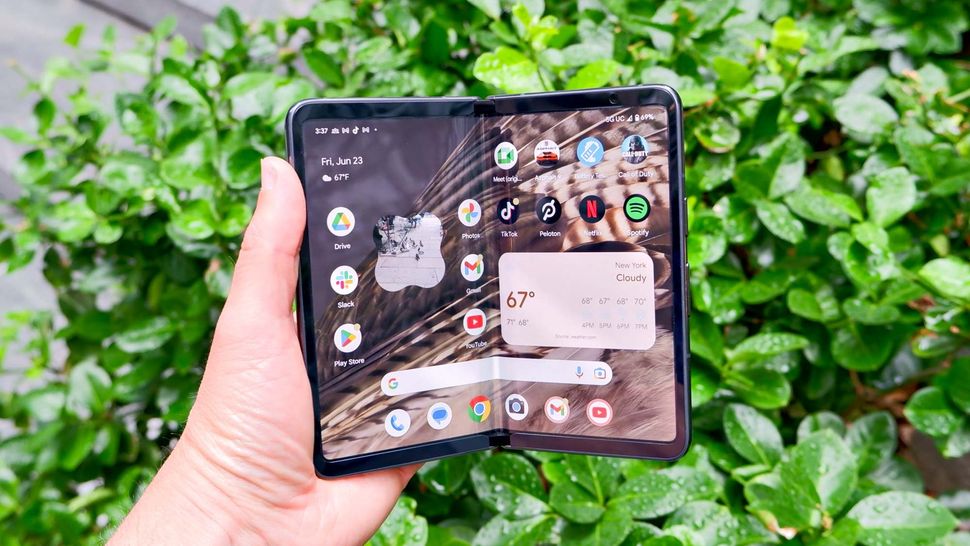 The Google Pixel Fold is Google's first foldable phone. But it's also the best foldable phone we've tested yet. And that's because the Pixel Fold sports a 5.8-inch front display that's wide and comfortable to use and a huge 7.6-inch display that makes it easy to multitask with two apps side by side with Google's intuitive software. The Pixel Fold also takes amazing photos, thanks to its 48MP main sensor, and it gets you close to the action with a 5x telephoto zoom. And it's all wrapped up in the world's thinnest foldable yet (when open) with a super fluid hinge. Yes, the crease and bezels are noticeable, but overall this premium foldable is quite an achievement.
Best phone design
Best phone design: Motorola Razr+
Motorola hit it out of the park with its latest foldable. Not only does the Motorola Razr+ have everything that today's content creators crave, like the ability to record selfies with the better rear cameras, but it's flaunting the best phone design we've seen in a long time. Yes, the foldable clamshell design is unique among a sea of flat slabs, but the company earns more recognition for polishing its design in a bigger, bolder way. From the stylish contrast of its polish frame and vegan leather backing, to how there are zero gaps in between the display when it's closed, there was extra attention paid to the design of the Razr+.
Best phone battery life
Best phone battery life: Motorola Edge Plus (2023)
Asus' ROG Phone 7 Ultimate, already honored as our favorite gaming phone, actually lasted the longest of any phone we tested in the past year, holding out for a record 18.5 hours when we forced the device to surf the web continuously until it ran out of power. That's certainly impressive, but for a long-lasting phone with a wider appeal beyond a gaming device, turn to the Motorola Edge Plus (2023). Motorola's flagship turned in a time of 15 hours and 47 minutes on our battery test with its display set to an automatic refresh rate that could ramp up to 120Hz. Even when we locked the screen at a battery-draining refresh rate of 165Hz, the Edge Plus still lasted more than 13 hours. When you do need to refuel that battery, support for 68W charging means you won't need a lot of time to recharge the Motorola Edge Plus.
Best phone carrier
Best phone carrier: Visible
At a time when other phone carriers offer increasingly complex plans, Visible keeps things simple with just two low-cost unlimited data options. You either opt for the entry-level plan costing $30 a month — reduced to $25 as part of a promotion as of this writing — or you go for the $45/month package that offers perks like faster 5G coverage and international calling and texting. Whichever plan you choose includes taxes and fees in its monthly rate. You're also getting your wireless coverage through Verizon's extensive cellular network, while paying a fraction of what unlimited data would cost you there. (Verizon is Visible's parent company.) If you want low-cost wireless coverage without a lot of complications, Visible is the phone carrier you should turn to.