There's no doubt that The Legend of Zelda: Tears of the Kingdom is set to be one of the biggest games of 2023. And if its predecessor is any indication, it's a Nintendo Switch game that will be well worth full price. So consider us pleasantly surprised to see it already on sale thanks to this epic preorder deal.
Right now, The Legend of Zelda: Tears of the Kingdom is on sale for £44 at Currys. That's a £15 discount off its full retail price of £59, and the lowest preorder price we've spotted for the game to date. Make sure you use discount code ZELDA25 at checkout to get this price.
For U.S. Zelda fans, we're unfortunately not seeing any retailer matching this pre-release discount. But Walmart is now offering a free (and exclusive) wall scroll with a preorder. And while this isn't quite as good an incentive as a cheaper price point, it's still a pretty nifty freebie.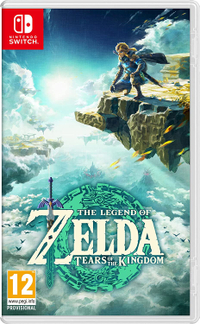 The Legend of Zelda Tears of the Kingdom: was £59 now £44 @ Currys
Zelda: Tears of the Kingdom is the upcoming sequel to Breath of the Wild, exclusively on Nintendo Switch. And while this game is shaping up to be worth full price, you can currently get a 25% discount at Currys when you use coupon code ZELDA25 at checkout.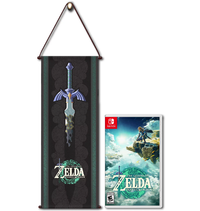 The Legend of Zelda Tears of the Kingdom + Wall Scroll: $69 at Walmart
Unfortunately, there's no Zelda: Tears of the Kingdom preorder discount at Walmart, but the retail giant is offering a pretty cool freebie. Preorder the Nintendo Switch game and you'll get an exclusive wall scroll with your purchase. Perfect for hanging in a game room.
If you've been living under a rock, Zelda: Tears of the Kingdom is the hotly anticipated sequel to Breath of the Wild. Released alongside the Nintendo Switch console in 2017, it's still widely regarded as one of the console's best games and continues to delight players with its mix of exploration, creative puzzles and tough combat encounters.
This direct sequel was confirmed back in 2019, but we've had to wait quite a while for additional details (We didn't even get a confirmed title until last year). In recent weeks we've got a slew of new information courtesy of a gameplay demonstration and a seriously thrilling new trailer. All signs are pointing to this being another masterpiece in a franchise that is already well-stocked with must-play titles.
Zelda: Tears of the Kingdom is scheduled to finally launch on May 12, and on that date, Nintendo will also launch a Collector's Edition and new Link amiibo which are proving popular with collectors. Plus, next week a limited-edition Tears of the Kingdom Nintendo Switch OLED is hitting store shelves. While most retailers are now sold out of preorders we're hoping there will be some restocks on release day. Be sure to check out our preorder hub for the latest updates.