Do you often wonder what your cat does all day, out of your sight? I wondered the same thing, which is why I strapped an action camera to my cat to see where he went — and the results were pretty awesome.
Now, you can do the same, and for less, with this Black Friday deal that cuts the price of the Insta360 Go 3 to $379 at Amazon, a savings of $20 off its regular price. It's the purrrfect camera deal for cat lovers of all stripes.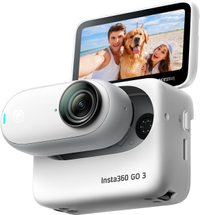 Insta360 Go 3 (64GB): was $399 now $379 @ Amazon
This tiny little action camera is no bigger than your thumb, but records remarkably crisp and clear video that's also motion-stabilized. It also comes with a housing that lets you use it more like a typical action camera, and Insta360's app lets you do a lot in post-production, too.
Price check: $379 @ Best Buy
The Insta360 Go 3 is the third generation of the company's smallest action camera, and is great if you want something small and unobtrusive. Cleverly, though, it attaches to a housing that turns it into more of a GoPro-style camera, complete with a flip-up touchscreen display, so you can frame yourself in your videos if you're a vlogger.
But what makes the Insta360 Go 3 ideal for pets is its size: at 2.5 x 1. 9 x 1.2 inches and 4.6 ounces, it's the smallest action camera around, which means it's not too clunky to place on your cat's collar.
One of the biggest improvements in the Insta360 Go 3 is that it can record video continuously until its storage runs out (the older version had a 15-minute time limit on each video). If you want a taste for what this camera can do, check out what happened with I attached the Insta360 Go 2 to my cat Mervin; it got nearly 900K views on YouTube.
The biggest tradeoff with the Insta360 Go 3's size is that it lacks removable storage; if you think the 64GB model is too limiting — in our Insta360 Go 3 review, we were able to record for just under 3 hours — the company also makes a 128GB version, which is also on sale. You can also purchase other bundles, which include such things as mini tripods and travel cases.
Regardless of the model you choose, you'll want to get a package that includes the Easy Clip, which is what you'll use to attach it to your cat's collar. This deal isn't the biggest, but it sure is fun to see what your cat drags home.
If you're looking for other savings this holiday season, be sure to check out all of our Black Friday deals, which we're updating several times per day.