Vinyl is one of those things that I swore off once I outfitted my apartment with a collection of Sonos's high-quality Wi-Fi speakers. Why would I get a record player when I had the convenience of wireless streaming throughout every room of my home? That's precisely how I felt until a record player came along that worked seamlessly with my sound system.
The Victrola Stream Onyx launched earlier this year with the ability to wirelessly transmit audio to any Sonos speakers on your Wi-Fi network. As it *turns* out, this was the only convincing I needed to hop on the vinyl train. And if the $599 price might've deterring you from joining me before, I think you'll be excited to know that the Victrola Stream Onyx is on sale on Amazon for $399 during Black Friday deals. That's the lowest price ever for this 'Works with Sonos'-branded record player.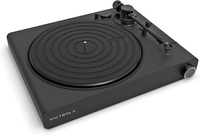 Victrola Stream Onyx: was $599 now $399 @ Amazon
The Victrola Stream Onyx is a sleek record player that meshes effortlessly with a Sonos sound system. The convenience of wireless paired with the fun of the vinyl? That's a tough combo to beat.
Price check: $399 @ Best Buy | $399 @ Victrola
Victrola Stream Onyx normally costs $599, which is towards the pricier end of the company's offerings. You can find a number of their record players on sale for Black Friday, from a portable battery-powered unit to more retro-looking models. In my opinion, the Victrola Stream Onyx is the perfect balance of modern convenience with an homage to the music format that's been around for nearly a century.
Pairing the Victrola Stream Onyx with your Sonos system is breeze. First, you'll need to set up the record player — which is surprisingly easy. Having never set up a record player before, illustrated step-by-step instructions in the companion Victrola Stream app eliminated any intimidation I felt.
Then, you use the app to sign into Sonos and allow your record player access to your Sonos system. The Victrola Stream Onyx is compatible with any Sonos speaker, including my Sonos Beam (Gen 2) soundbar, Sonos Move 2 and Sonos One.
It even works with the Sonos Era 100 and Sonos Era 300, Sonos's latest family of smart home Wi-Fi speakers. Right now, Sonos Black Friday sales are bringing the first true discounts to the new units. That said, the Victrola Stream Onyx will work with the Sonos speakers you already own.
So, whether you've inherited a decades-old vinyl collection like I have, you're looking for a more modern way to enjoy your Taylor Swift records, or you're interested in stepping into the world of vinyl for the first time all together, the Victrola Stream Onyx is the perfect place to start. Just don't wait until the Black Friday price passes, there's no telling when it'll see this big of a discount again.
Looking for more Black Friday deals? Check out Walmart's Black Friday ad and the best Black Friday streaming deals we've found.