Among the currently available Black Friday deals, there's a particularly strong Black Friday phone deal you can take advantage of right now to buy a flagship Google phone that's one of our best phones of the year and the Android phone I've personally enjoyed the most.
To cut to the chase, the Google Pixel 8 Pro is on sale for $799 at Amazon, a 20% discount on its usual price. This offer's applicable to an unlocked Pixel 8 Pro in any of its three available colors — Bay blue, Obsidian black and Pearl white). Plus you get the same $200 discount on the higher storage versions too if you want the maximum amount of room for photos, files and apps, although the cheapest 128GB model is our pick since it's the highest discount as a percentage.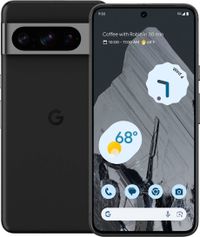 Google Pixel 8 Pro (128GB, unlocked): was $999 now $799 @ Amazon
The latest and greatest Pixel is the perfect blend of hardware and software, offering AI-enhanced productivity and editing features you won't find anywhere else alongside staple flagship phone features like a 120Hz display and triple rear cameras.
It's been available for barely a month, but the Google Pixel 8 Pro has proved an impressively capable phone already, and it's packed with features I've loved making the most of during my own time with the phone.
Google's exclusive software features help make the Pixel 8 Pro excellent for on-device photo edits. With the option to swap your expression between photos with Best Take, eliminate unwanted parts of your photos and video audio with Magic Eraser, use Photo Unblur to clear up fuzzy images or even try out some AI-generated edits with Magic Editor, you'll find it very easy to get more out of your photos without full-on editing experience.
That's not even mentioning the other software benefits that Google offers on the Pixel 8, like Call Screen or Summarize functions for defending yourself against nuisance callers or helping you to understand long passages of text. The best part however is that Google's promised seven years of software support for the Pixel 8 series, meaning you'll get plenty more to play with in the future.
But all of this belies the excellent hardware Google's also given the Pixel 8 Pro. Its 120Hz QHD Super Actua display is one of the brightest and most colorful screens on the market, while its cameras can shoot amazing photos even without using any editing features. There's even a temperature sensor on the back for checking how hot or cold nearby objects are, which you won't find on any of the Pixel's rivals.
To give a properly balanced view of the Pixel 8 Pro though, we have to bring up its weaker points. The phone's Tensor G3 chipset is great when it comes to AI functions, but its CPU and GPU can't keep up with rival phones of the same price, likely making this a worse pick for keen mobile gamers than an equivalently expensive Samsung, OnePlus or iPhone device. Also, its battery life, while much better than previous Pixel generations, is still a little on the short side, so you may want to keep a USB-C cable close to hand if you plan on using your Pixel 8 Pro heavily.
Hopefully you now know whether or not the Pixel 8 Pro at this price is the right phone for you. Either way, make sure to check back with us over the next couple of weeks for updated Black Friday deals and Black Friday phone deals so you can save even more this shopping season.