More and more Black Friday deals are dropping as we get closer to the day itself, and while our Black Friday phone deals list was already stuffed with good deals, we've just found a great one for users in need of a new handset.
That deal would be the Google Pixel 7a for £379 at Amazon U.K., an offer that comes with a 30W charger bundled in for the fastest possible refueling. It's the lowest that Amazon's sold this phone for, with the free charging brick making the deal all the sweeter.
All of the Pixel 7a's three available colors - Sea, Charcoal and Snow - are discounted the same, meaning you can choose your favorite guilt-free. And if you want a more complete package, you can plump for a bundle of the Pixel 7a, the 30W charger and a pair of Pixel Buds A-series wireless earbuds, which takes the cost up to £450, a £100 saving and also Amazon's lowest offer yet.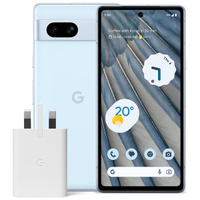 Google Pixel 7a (with 30W charger): was £449 now £379 @ Amazon U.K.
One of the best budget phones of the year is now at its cheapest, offering you Google's photography and AI smarts at the lowest possible entry price. And since there's no charger in the box, the bundled power brick is a very welcome bonus.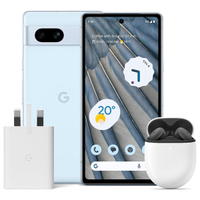 Google Pixel 7a (with Pixel Buds A-series and 30W charger): was £558 now £450 @ Amazon U.K.
If you fancy some matching wireless earbuds as well as a new phone, this bundle offers you Google's budget buds to go with its budget phone.
The Google Pixel 7a sits in second on our best cheap phones guide, and with good reason. It's got the right mix of specs for the price that would make it ideal for a buyer in need of a new phone but on a tight budget, or for a generous gift for someone in your life who could really use a phone upgrade.
At 6.1 inches, the Pixel 7a is small for a new Android phone. But within that frame, there's a bright 90Hz display, a 64MP main camera and a Tensor G2 chipset. Together these give you some of the best photography and software abilities on any smartphone, and especially in the sub-£500 price range.
The display is a bit too bezel-y for our liking, and the chipset struggles when you start playing mobile games, making the Pixel 7a noticeably warm to the touch. But unfortunately these are the kinds of sacrifices to expect when trying to take flagship-grade features and make them affordable, and definitely aren't enough to stop us from making a full-throated recommendation of this phone.
If you're considering the more expensive earbuds bundle, let's quickly look at the Pixel Buds A-series. They're a surprisingly luxurious pair of earbuds for the price thanks to high-quality materials, and as they're also a Pixel product, they work perfectly with the Pixel 7a. The sound quality isn't the best we've tried, but again you have to manage your expectations given the price, and unless you're going to splash out on a pair of Pixel Buds Pro, you won't find better integrated earbuds for the Pixel 7a anywhere else.
Keep up with all the deals as we find them in our Black Friday deals and Black Friday phone deals guides. Fingers crossed you find what you're looking for, whether it's a Pixel 7a or something else!