One of the best gaming laptops we've tested is now on sale. If you're not familiar with the Alienware x14, we called it a proper gaming laptop that's capable of running modern titles. It's an especially great machine if you prioritize style and portability over raw horsepower.
Right now, you can get the Alienware x14 w/ RTX 3050 Gaming Laptop on sale for $999 at Dell. That's $500 off and one of the best PC gaming deals we've seen this month. It's also one of the best RTX 3050 laptop deals available at Dell.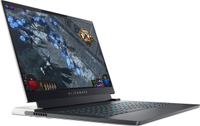 Alienware x14 Gaming Laptop: was $1,499 now $999 @ Dell
Save $500! The Alienware x14 is an ultra-thin gaming rig that packs style and substance in a travel friendly design. In our Alienware x14 review, we called it a more-than-competent portable gaming rig that delivers solid performance thanks to its RTX 30 series GPU and advanced cooling features. This config features a 14-inch 1080p LCD with 144Hz refresh rate, Core i5-12500 CPU, 16GB of RAM, 512GB SSD, and RTX 3050 GPU.
Alienware machines are known for their unique design and the x14 is no exception. It has a stylish, futuristic look and measures 12.6 x 10.3 x 0.57 inches. This ultra-thin system also weighs a travel-friendly four pounds.
Hardware-wise, it packs a 14-inch 1080p LCD with 144Hz refresh rate, Core i5-12500 CPU, 16GB of RAM, 512GB SSD, and RTX 3050 GPU. That's just enough horsepower to play modern titles comfortably. (Though if you want maximum gaming performance, we'd recommend upgrading to a beefier config).
In our Alienware x14 review, we said the x14 is a great gaming laptop that handles modern games well. While it won't necessarily destroy the competition, it won't be left in the dust either. Plus, it's a lot more portable than more powerful gaming laptops. We also like that the machine remains surprisingly cool while gaming, which is likely due to its proprietary vapor chamber cooling, smart fan control tech, and heat management features.
A few things that could be better include the laptop's battery life. In our testing, the x14 lasted 5 hours and 32 minutes, which falls short of the Zephyrus G14's impressive 11 hours, but surpassed the Razer Blade 17's 3 hours and 52 minutes. Additionally, while we found the laptop's FHD display to be great, we wish it packed a 4K OLED display instead. Otherwise, if you're all about gaming on the go and prize portability over power, the Alienware x14 is a solid choice.
Looking for more ways to save? Make sure to follow our Dell Memorial Day sales and Dell coupons pages for the latest deals.