For almost two years, getting a hold of Sony's next-gen console required diligent PS5 restock tracking. But we're pleased to report that the gaming company appears to have finally got the stock situation under control, and the console can finally be purchased without any issue.
Right now, the PS5 console is on stock for $499 at PlayStation Direct. That's right, Sony's official retail arm is offering the PS5 console at its standard retail price without bundled software. Although, if you want the God of War Ragnarök ($559) bundle that is also available to buy.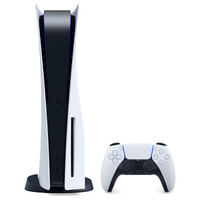 PS5: $499 @PlayStation Direct
The flagship PS5 console includes a 4K UDH Blu-ray disc drive. As a result, the design is slightly fuller than the all-digital model. It sells for $499 and includes a PS5 DualSense controller. It's currently available to all customers without the need for an invitation or a requirement to join a virtual queue.
Even better there's no longer any requirement to be invited to purchase the console, or a need to join a virtual queue. Just head over to the retailer, add to your cart and checkout. It might not sound like a big deal, but as we've been tracking PS5 restock daily for the last two years, we're thrilled to see the console finally become a commonly available item.
The harder-to-find PS5 Digital Edition console, which retailers for $399, isn't quite as straightforward to buy, which perhaps suggests that stock levels aren't at the same level the Disc Edition. But we consider the extra $100 a worthwhile investment for 4K disc drive.
Some retailers including Amazon are still requiring customers looking to purchase a PS5 to sign for an invitation that offers the chance to buy. However, PlayStation Direct appears to be confident enough in its stock level to allow anybody who wants a machine to purchase one. Hopefully, all major retailers will follow suit over the coming weeks, but either way, it's great to see one of the biggest sellers of PS5 consoles open its inventory to everybody.
Anybody who attempted to purchase a PS5 console in the two years post-launch can attest to the fact that until now getting hold of a console was practically a herculean task. What should have been a simple purchase instead required wannabe owners to constantly check retailers and even sign up for retailer-specific membership services in some instances.
At least all that effort was worth it because the PS5 is a fantastic console in just about every way. As we said in our PS5 review, "the PS5 is a true generational leap, offering incredibly fast load times and an innovative new controller that can change the way games feel." So, if you've waited until now to join the next generation of console gaming, there's no time like the present, especially as the list of best PS5 games only continues to grow with each passing month.