You don't have to spend an arm and a leg on a fancy smart home hub or the best smart lights to create your dream smart home. Simply plug your dumb appliances into one of the best smart plugs and you can control them from anywhere using an app or voice commands. From Christmas trees to coffee makers, this is an affordable way to streamline your everyday routines without breaking the bank.
Right now my favorite model, the Kasa Matter Smart Plug is on sale at Amazon for $24. That's 40% off its usual price and a steal on one of the most versatile smart plugs around.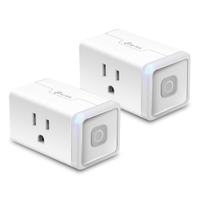 TP-Link Kasa Matter Smart Plug (2-Pack): was $40 now $24 @ Amazon
This smart plug from TP-Link is one of the best smart plugs for its small size and Matter support that works across all major smart home ecosystems. Its great Tapo app lets you schedule when the connected devices turn on and off and link it to smart assistants such as Alexa and Google Assistant. It's one of the cheapest ways to make any appliance "smart."
I use these guys every day to power on my single-serve coffee maker, Christmas tree, and several cheap floor lamps in different rooms of my townhouse. While you can use the app to power your appliances on or off with a tap, I have mine integrated into my Alexa smart home so that I can use voice commands. I like the plug's Tapo app as it offers simple scheduling functionality in addition to energy monitoring for each connected device.
These features come in handy for automatically turning on the tree as it gets dark out or waking me up to a fresh cup of coffee. Plus it helps me save money on my bills by identifying which devices guzzle up the most energy so that I can power them down more frequently. You can even connect these plugs to a motion sensor in your main smart home app to trigger actions when you walk into a room or open a door.
Matter support is a game changer since the plugs are longer tied to specific platforms. They work with all certified smart home platforms, such as Apple Home, Amazon Alexa, Google Home and Samsung SmartThings. With the ability to control all your smart home devices from a single app, you don't need for multiple apps for different devices. With that said I still keep the Tapo app on my phone because I like its interface.
Black Friday is one of the best times of the year to grab some smart home upgrades with major discounts on everything from the best security cameras to the best smart displays. Keep it locked to Tom's Guide as we bring you the best deals each day from retailers like Amazon, Best Buy, and Walmart as soon as they drop.