If you've been deliberating which is better bang for your buck, the Garmin Fenix 7 or the Garmin Fenix 7 Pro, you're probably even more eager to settle this while the Black Friday deals are here.

The Fenix 7 watches are some of the best Garmin watches on the market. They both sit on the higher end of the price scale when it comes to fitness trackers, but for a reason. If you eat, sleep breathe running and adventure, this branch of Garmin fitness trackers certainly stands out for their durability and reliable tracking and feedback.
I have been wearing the Garmin Fenix 7S Solar (a part of the 7 series) for well over a year now and have really put it through the ranks training for 10K and half marathon events, tracking my hikes up rugged Scottish mountains, and monitoring my overall health such as my sleep and exercise recovery. But now that the early Black Friday sales are trickling in, an upgrade to the Fenix 7 Pro could be on the cards.

As I am writing this, Amazon has discounted both Fenix models. The Fenix 7 currently has 31% marked off the original price, taking it down from $649.99 to $449.99. Meanwhile, the Fenix 7 Pro has a 26% discount applied to the original price, taking it from $799.99 down to $594.95.
Two deals that will save you considerable amounts of dollars, but which is more worthwhile? Stick with me as I weigh up both options...
Garmin Fenix 7 Black Friday deal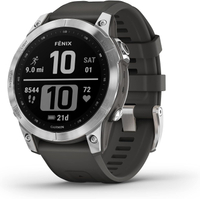 Garmin Fenix 7: was $649.99 now $449.99 @Amazon
Bag yourself a rugged water-resistant Garmin fitness tracker with great storage, long-lasting battery life, a touch screen and the opportunity to track a multitude of hobbies and adventures outside of your running training. With this 31% discount, you will save an impressive $200!
Garmin Fenix 7 Pro Black Friday deal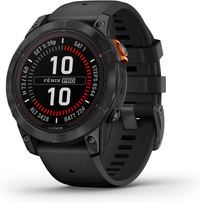 Garmin Fenix 7 Pro: was $799.99 now $594.95 @Amazon
Whether you're about to start training for a marathon or looking for a trusty watch to see you through your adventurous lifestyle, the Fenix 7 Pro is your guy and has a tempting $205 marked off right now. This watch offers an upgraded heart rate sensor which will be good news to those who find themselves wearing a chest strap for more accurate results on their runs.
Why buy the Garmin Fenix 7 this Black Friday?
First of all, don't let the cheaper face value of the Garmin Fenix 7 watch lead you to think it won't perform as well as the Pro. It's packed with many of the same features as the Pro and looks much the same when it comes to aesthetics, making it perfect for those working with a tighter budget this Black Friday.
It's important to point out that there is more than one Garmin Fenix 7 model that all vary in price and size. You can buy the standard Fenix 7, the Fenix 7S or the Fenix 7X. The standard Fenix 7 featured in the first deal above has a stainless steel bezel and reinforced glass screen, which in our opinion is more than enough for facing a multitude of elements that come with running or adventuring in extreme weather.
Like the Fenix 7 Pro, the cheaper Fenix 7 has a touchscreen, making this a running watch that you can navigate like you would with one of the best smartwatches. Your watch will automatically disable the touchscreen during sports mode and you can control your workouts using the buttons around the screen instead. Across both watches, you can benefit from using Garmin Pay on the go and downloading music to your Garmin.
Unless you are a sucker for an AMOLED screen, the display on the Fenix 7 (which uses an MIP display) is still crisp and easy to view and doesn't falter in the sunshine. The screen is made from Gorilla Glass, which isn't as strong as Power Glass that features on the Fenix 7 solar editions or the Fenix 7 Pro. Gorilla Glass is designed to be shatter-resistant, so the glass has to be softer, meaning scratches are more likely to show. Still, in my experience with Gorilla Glass Garmin screens, I haven't noticed any noticeable screen scratches. Plus, many agree that the Gorilla Glass tends to appear brighter than the Sapphire Solar screens do.
The standard Fenix 7 watch offers up to 11 days of battery life in smartwatch mode and a generous 37 hours in GPS mode. If you already own a Garmin Fenix 6 or considering whether to buy the 6 or 7 over Black Friday, it might help to know that Garmin has improved the solar capabilities of the Fenix 7 solar models (not the standard model) by increasing the surface area of the solar panels around the watch.
Why buy the Garmin Fenix 7 Pro this Black Friday?
The Fenix Pro is the newer guy on the scene, having debuted on May 31, 2023, 16 months after the standard Fenix 7 was released. Like the Fenix 7, the Fenix 7 Pro includes a series of three different sized and priced models. However, the Pro series all feature solar charging.

The Fenix 7 Pro also has a touch screen but instead of Gorilla Glass, the screen is made from Power Glass, which allows for the solar charging capabilities that you can only get with the Fenix 7 solar watches. So the Fenix Pro can last up to a mega 22 days in smartwatch mode or 73 hours in GPS mode — a big win for any ultra runners looking to upgrade their watch.
Aside from the screen, the main thing that differentiates the Fenix 7 Pro is its new heart rate sensor, boasting double the number of LEDs included in the Fenix 7. If heart rate is something you like to track meticulously in your training then you probably are used to resorting to a chest strap for gaining more accurate feedback. Garmin claims that the upgraded heart rate monitor on the Fenix 7 Pro should perform much better. Depending on how much you care for your heart rate stats, this could be a big selling point.
You also get multi-band GPS tracking with all Fenix Pro models, which is supposed to be Garmin's most accurate GPS mode and something you don't get with the standard Fenix 7. And if you live somewhere where the weather is never on your side, you may find the new weather forecast addition to the maps a better way to plan your runs.
What other extras are you getting with the Fenix 7 Pro? The 7 Pro has two new fitness tracking elements: the hill score and endurance score feedback functions. With the hill score, you can gain insight to your ability to tackle inclines according to your hill endurance, hill strength and your VO2 max. If you are city-based and do most of your running on flat roads, this feature won't be overly useful.
The endurance score measures how well you sustain effort and measures this across all sports as opposed to just your running performance. We imagine this feature will come in handy for any shorter-distance runners looking to tackle a longer race event and want to record their progress.
Finally, in the Fenix 7 series, the only model with a built-in LED flashlight is the Fenix 7X. By comparison, the full Fenix 7 Pro range offers the flashlight function, which can be used to stay safe while running in the dark or to add an element of visibility if cycling in the dark.
Garmin Fenix 7 vs Fenix 7 Pro: which should you buy this Black Friday
The Fenix 7 and the Fenix 7 Pro are both high-performing Garmin watches with lots of extra bells and whistles that you won't get with a cheap fitness trackerr. Both watches will see you through your toughest challenges, whether that's tracking your stats while scaling a mountain, training toward a marathon or tracking a more niche sport such as windsurfing or mountain biking.

If you're like me and already own an older Fenix watch, you needn't feel FOMO or pressure to buy the Fenix 7 Pro. Unless you feel like the new features such as the heart rate sensor and flashlight function are worth forking out an extra $150 this Black Friday.
However, if you are looking to graduate from training with a more beginner-friendly Garmin model such as the Forerunner 55, or ditch your Venu 2 Plus smartwatch for a more advanced running watch, now is a good time to get the full package with the Fenix 7 Pro while it's selling for under $600.