The Google Pixel Fold has many things going for it, but a cheap price isn't one of them. Fortunately, Verizon is offering a deal on Google's new foldable that lets you recoup more than half the cost of the Fold, and you don't have to jump through too many hoops to get the discount.
Buy the $1,799 Pixel Fold right now, and you can get up to $900 in bill credits when you trade in your current phone. You'll also be required to have an eligible unlimited data plan with Verizon to seal the deal.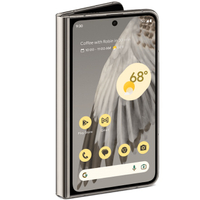 Google Pixel Fold: was $1,799 now $800 @ Verizon
Verizon is taking up to $900 off the price of the Pixel Fold when you trade-in your current phone and sign up for an eligible unlimited data plan. You pay for the phone upfront receiving your credit on your Verizon bill over the next 36 months. In addition, Verizon will give you a Pixel Watch for free — a $399 value — if you also agree to open up a line of data for your cellular-connected watch.
That's not the only pontential bonus to buying your Pixel Fold from Verizon. You're also eligible for a free Pixel Watch from the carrier, though it is a cellular-equipped version of the smartwatch, and yes, you'll have to open up a new data line for the watch to claim that freebie.
There are some caveats to be aware of with Verizon's main offer. That $900 credit is spread out on your bill over 36 months. Leave any time during those three years, and that's the end of your rebate. Eligible unlimited plans include Unlimited Plus, which is the more expenive option among Verizon's two current unlimited plans. The 5G Do More, 5G Play More, 5G Get More or One Unlimited for iPhone plans also qualify if you're a Verizon customer holding on to one of these service options.
Those aren't too very steep demands when there's a $900 credit at stake, potentially cutting the price of the Pixel Fold to as little as $800. As we discussed in our Google Pixel Fold review, Google's phone offers a wide front display that gives you ample workspace without even having to open the device up to use its 7.6-inch main screen. You get the kind of excellent cameras that you'd expect from a Google phone and the software onboard the Pixel Fold is pretty smart, too. It's no mystery why we think the Pixel Fold is the best foldable phone out there, topping even Samsung's more established Galaxy Z Fold 4.
Of course, there is a reason not to jump at Verizon's offer. The Galaxy Z Fold 5 is expected to launch next week, and Samsung has already promised that the next versions of its foldable phones will be thinner and lighter than before. If that intrigues you, it may be worth holding out until Galaxy Unpacked on July 26 to see how the new Samsung device compares to the Pixel Fold. But if you already had an eye on Google's foldable, the savings at Verizon may be too tempting to pass up.