The Steam Deck celebrated its first birthday last month, and Valve is marking the occasion by discounting the portable gaming machine for the first time ever.
For a limited time, the Steam Deck (512GB SSD) is on sale for $584 on the Steam Store. That's a $65 saving compared to its full retail price, and the cheapest it's ever been. It's not just the deluxe 512GB model that has been reduced either. All three models are 10% off right now. That drops the Steam Deck (256GB SSD) to $476, while the Steam Deck (64GB eMMC) is $359 — although we'd advise against opting for the entry-level model as it lacks enough storage space to hold more than a couple of games.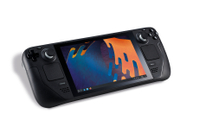 Valve Steam Deck: was $399 now $359 @ Steam Store
To mark its first birthday, Valve has discounted the Steam Deck by 10% in its first-ever sale. This portable gaming device puts the power of a PC in the palm of your hand, and we labeled it a "Nintendo Switch for adults." This discounted price is available until March 23, and comes with free shipping.
This discount is set to run until Thursday, March 23 and is available in every region where the Steam Deck is sold which includes the U.S., U.K. and much of Europe. The timing of this offer seems to be about more than just celebrating the device's first year on sale. The Steam Deck has recently slipped down the Steam sale charts after spending almost 40 weeks on top of the best-seller list. This first-time discount would appear to be Valve's attempt to reinvigorate sales.
And while the device still has a few kinks that we're hoping can be worked out via system updates and maybe even a second-generation model, there are still plenty of reasons to jump in right now. In our Steam Deck review, we said it " mostly delivers on its promise of allowing you to play PC games on the go" and were impressed with its sturdy but still lightweight construction, as well as the large 7-inch screen. We even labeled it "the Nintendo Switch for adults."
More games every day
Unfortunately, not all of the best PC games are Steam Deck compatible, but the list of games awarded the Steam Deck Verified seal of approval is growing every day and recent releases like Hogwarts Legacy are confirmed to function with the device.
If you already own a sizeable library of Steam games the odds are you'll have plenty to play on your Deck from the moment you boot it up.
Alternatively, if you're looking for a portable gaming machine in the form of a laptop, then be sure to check out this $400 saving on an MSI gaming laptop with RTX 3070 Ti graphics card at Best Buy. Of course, a well-specced gaming laptop will cost you a fair bit more than a discounted Steam Deck but either option makes a compelling case for itself.