Hogwarts Legacy review: Specs
Platforms: PC, PS5 (reviewed), Xbox Series X
Price: $70
Release Date: February 10, 2023
Genre: Adventure
Hogwarts Legacy is the first (non-mobile) game set in the Wizarding World of Harry Potter for more than 10 years. Until now, outside of rushed movie tie-ins and Lego games, the world's most popular fantasy franchise has been mostly unrepresented in gaming.
For years, Potter fans have dreamt about an open-world game that would let them live out their childhood dreams of attending the famous school of witchcraft and wizardry. And I'm pleased to report that Hogwarts Legacy successfully delivers on that fantasy.
At its best, Hogwarts Legacy is a thoroughly compelling concoction of engaging exploration and thrilling combat. When you're roaming the iconic castle, discovering hidden secrets and accruing collectibles, it's a truly spellbinding experience. And that will be doubly true for any players even slightly enamored with the Wizarding World franchise.
However, distracting blemishes do rear their head at regular intervals, and at times Hogwarts Legacy feels like a rough-around-the-edges first effort that could precede a greater, more refined sequel. Read on for our full Hogwarts Legacy review…
Hogwarts Legacy review: Gameplay
Hogwarts Legacy casts you as a late bloomer, arriving at Hogwarts in the fifth year. But before you can begin exploring the castle and learning spells in class, you must first create your own avatar via the game's surprisingly robust character creator.
Once you've settled on a look and a suitably magical name, it's time to knuckle down and begin studying. Although, it should be noted that Hogwarts Legacy is not a high school simulator in the vein of the popular Persona series. You will attend class in order to grow your repertoire of spells, but these lessons are presented as critical missions at key points in the story rather than scheduled activities that you can opt to engage with at specific times.
Your spells have two primary utilities: combat and puzzle solving. Fortunately, both these aspects hold your attention. Combat is an excellent mix of strategic spell-casting and glossy visual effects. Firing off a stunning spell and watching your enemy crumple is enjoyable even after hundreds of casts — add in spells that imbue elemental effects and things get even more hectic.
While you can just spam the basic attack spell on the easier difficulties, select the hard setting and you're forced to carefully combine your conjurings for the greatest impact possible. Although, on the highest difficulty, the cumbersome spell-switcher becomes more of an annoyance.
As noted, the other key pillar of the game is puzzle solving both in the open world and during missions. Many of the puzzles are as simple as casting a single spell on an object, but thanks to a well-placed musical jingle upon completion even the most straightforward brain teaser feels satisfying. And the rewards nearly always make spending the extra time to thoroughly search your surroundings worthwhile.
The main story quests blend these two aspects of Hogwarts Legacy and present elaborately-detailed locations to explore. You'll venture into dungeons packing puzzles that demand familiarity with your spellbook, alongside the sternest test of your combat prowess with large-scale enemy encounters and even a few memorable boss battles.
Hogwarts Legacy review: Exploration and upgrades
One of Hogwarts Legacy's biggest selling points prior to launch was the chance to wander the school corridors and potter around the charming wizarding village of Hogsmeade. And it's in this area that the game shines brightest.
Exploring Hogwarts Legacy's two main locations is nearly always a pure delight. There is a fast travel system but don't be surprised if you end up neglecting it in favor of roaming the open world on foot, or you can fly high above the clouds on a broom or Hippogriff.
Hogwarts itself is the clear star of the show, and the castle is jam-packed with secrets to discover and collectibles to acquire. From gargoyles that suck you up and transport you to hidden treasure rooms to arithmancy puzzles that must be solved using a numerical decoder, around every corner you'll find something to distract you.
The beloved fictional castle has been truly brought to life thanks to fantastic visual design that makes it feel both cozy and sprawling. Plus, you're given reason to repeatedly explore as new areas slowly unlock over the course of the game giving you access to even more collectibles and reward chests. Spending time in the village of Hogsmeade is similarly enticing as you browse the colorful shops and meet the town's many kooky inhabitants.
The larger open surrounding the castle and village doesn't always fare quite as well. There are quaint little wizarding hamlets to uncover, but the open-world map is stuffed with repetitive side content like bandit camps and puzzle trials that primarily feel like an exercise is checking an item off a long list.
You'll stumble upon numerous side quests while exploring the open world. Alongside optional activities like thrilling broomstick races and a simple, but fun, mini-game called Summoner's Court. Naturally, the side quests aren't as fleshed out as the story-critical ones, but they offer the chance to spend time with some eccentric characters and further add to the game's incredible sense of adventure.
Even if open-world objectives can get pretty repetitive, your exploration and questing are always extremely well rewarded. There are dozens of clothing items to unlock, and many of them can be further upgraded and enhanced. You'll also be periodically rewarded with cosmetic-only outfits as you complete sets of in-game challenges. Plus, there's the expected skill tree that slowly unlocks as you level up. However you choose to spend your time in Hogwarts Legacy, you'll be making tangible progress constantly.
There are also literally hundreds of collectibles scattered throughout the game's various locations. Picking these up won't make your character stronger or improve your gear, but they give snippets of lore that are sure to delight serious Potter fans. There are even a few obscure references that just might test your knowledge of the source material.
Hogwarts Legacy review: Room of Requirement
At a set point in the game's story you'll unlock the Room of Requirement This ever-changing space becomes your home base in Hogwarts, and here you can brew potions, grow useful plants and even care for a range of magical creatures.
This space is customizable. You can choose the style and size of the furniture and decorations, you can also select their placement within the room. You can even customize the lightning, ceiling and floor design. The room adds a satisfying element of player expression, and creative types will probably spend several hours tweaking the area to their liking.
Although, it should be noted the Room of Requirement feature is definitely not developed enough to be compared to the likes of Animal Crossing. You can't construct custom decorative items, and there's only a small handful of furniture styles to choose from. Being able to customize the room is certainly a fun extra but it's not meaty enough to be anything more than that.
Hogwarts Legacy review: Story
Hogwarts Legacy tells an original Wizarding World tale set roughly a century before the Boy Who Lived discovers his magical powers.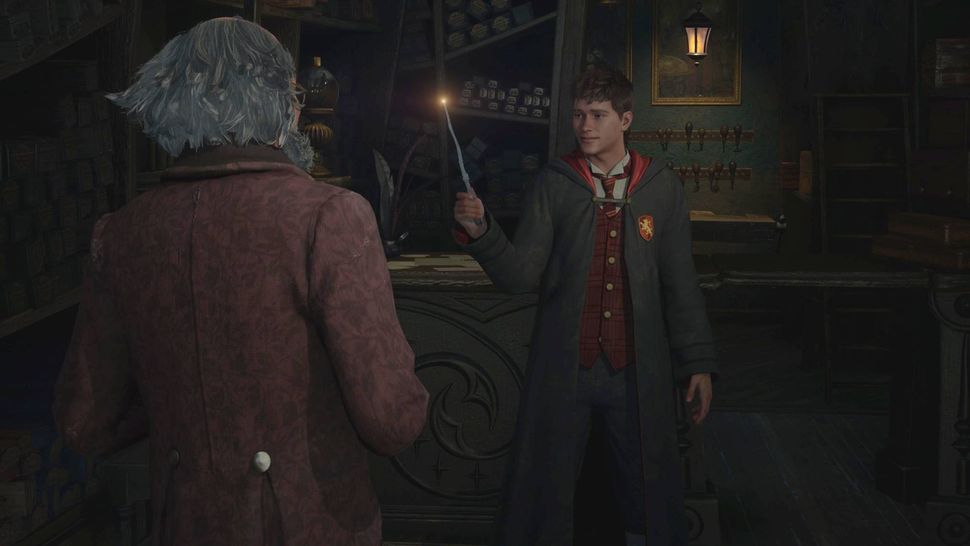 During the slick introductory sequence, it's revealed your created character is able to manipulate ancient magic and you duly set out on a quest to discover more. There's also a plot strand revolving around a Goblin rebellion led by an extremist named Ranrok who is seeking to harness this ancient magic for his own sinister plans. It's all fairly predictable stuff.
Fortunately, the strength of Hogwarts Legacy's characters manages to elevate the story beyond its formulaic core components. Your protagonist is a bit milquetoast, but the people you meet throughout your adventure certainly aren't. Personal favorites include Sebastian Sallow, a rule-breaking Slytherin student with a dark family secret, and Garreth Weasley, a Gryffindor obsessed with creating new (and often dangerous) potions.
Disappointingly, the game is pretty rigid when it comes to player choice and role-playing. There is no morality system, and most quests do not have multiple endings — apart from allowing you to refuse to hand over an item to a quest-giver after retrieving it for them. Players hoping to create a Draco Malfoy-type will be disappointed. Dialogue choices are simple and the vast majority of character interactions are extremely earnest and polite.
Hogwarts Legacy review: Visuals and sound
Hogwarts Legacy is a mixed bag when it comes to visuals. There are certainly moments where the game is capable of impressing; like the first time you stand on a ridge and can drink in the entire Hogwarts castle from a distance. Not to mention the vibrant combat effects never fail to wow, and there are some appreciated little visual touches like your cloak getting speckled with mud as you roam the countryside.
However, while much of the time Hogwarts Legacy looks great, it's not entirely uncommon for the visuals to disappoint in places. Texture pop-in is a persistent problem, and the lip-syncing is atrocious throughout. The UI is also very cluttered and the menus could do with some refinement — the map screen in particular is a chore to navigate.
At least Hogwarts Legacy mostly sounds great. The voice acting is a little spotty from some side characters, but the main cast all give performances that fit their character. And the game's score is fantastic. There are reworked versions of classic tunes from the Harry Potter movies, as well as tons of tracks created just for the game. This is one video game soundtrack you'll probably find yourself listening to even when you're not playing.
In the weeks after release, the development team at Avalanche Software have released several post-launch patches. These have addressed some of the game's most egregious bugs — including one that was preventing some players from progressing with a sidequest — but so far there's been no new content or additional quality-of-life fixes added. Perhaps these will come in future updates, but for now, it seems the focus is on the release of the upcoming PS4 and Xbox One version (May 5) with a Nintendo Switch port to follow on July 25.
Hogwarts Legacy review: Verdict
If you have any sort of appreciation for the Harry Potter franchise, Hogwarts Legacy is an easy recommendation. It's very clearly a labor of love from the development team at Avalanche Software, and their respect for the source material shines through. The chance to explore the game's remarkable recreation of Hogwarts will justify the cost of entry alone for Potter fanatics.
If you're less enthusiastic about the Wizarding World, Hogwarts Legacy still makes a reasonably solid case for itself, but you might find some of the rough edges a little harder to forgive. But at the very least you'll get your money's worth as even a rushed playthrough will take in the range of 30 hours, completionists should expect to triple that time.
Despite its flaws, Hogwarts Legacy is clearly a game made by Potter fans, for Potter fans, and for that particular audience, it's been more than worth the very long wait. Hogwarts Legacy is by no means a revolutionary gaming experience, but it's still a pretty magical one.
Editor's note: We acknowledge that you may wish to avoid Hogwarts Legacy due to its link to author J.K., Rowling, who has expressed controversial and potentially harmful views on Twitter linked to the transgender community. While we have reviewed Hogwarts Legacy as it's one of the most anticipated releases of the year and our audience deserves our critical take, Tom's Gude does not support, and soundly denounces, the stance of Rowling towards transgender people.