A second-generation Valve Steam Deck could be years away, giving on-the-fence buyers a dilemma to chew over.
In an interview with Rock, Paper, Shotgun, conducted by former Tom's Guide editor James Archer, Valve designer Lawrence Yang said a true next-gen increase in Steam Deck performance "wouldn't be for a few years."
Given the Steam Deck is just over a year old, this nugget of information comes as no surprise; especially as people keep finding more potential in the portable PC.
But for me, this news nugget is a bit tricky to chew over.
When I first saw the Steam Deck I was excited: the idea of being able to play proper PC games on the go without awkwardly balancing a heavy and hot gaming laptop literally on my lap, was a tantalizing idea. But then the Steam Deck was faced with long wait items and limited stock, somewhat putting me off the idea of a pre-order.
And given the Deck is based on AMD hardware that's arguably far from cutting-edge, I felt it was more likely to have a second-generation model sooner than later. My assumption being that Valve can move fast on things, and PC gaming hardware refreshes happen a lot faster than those in the console world.
Archer, who's a friend of mine in the real world, seemed impressed by the Steam Deck when it came out. But chatting to him, I never felt it was a device I should rush out and order, especially as I tend to treat PC gaming as a very desktop-based experience. So I decided I'd wait for a second-gen take on the Stream Deck
Building up steam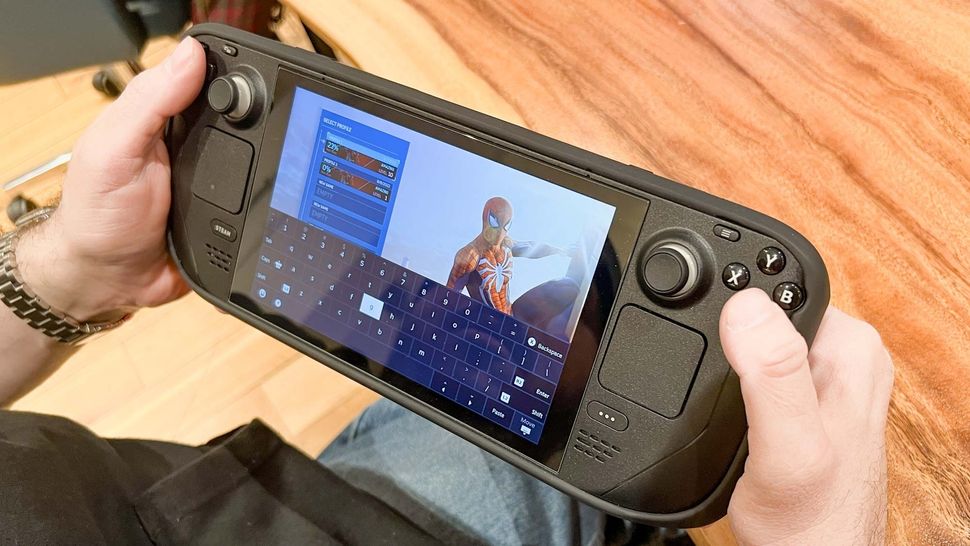 But then Archer and others, including Tom's Guide's own Tony Polanco, started digging into what the Steam Deck could do. Turns out it's a lot, with all manner of games able to run on the handheld PC. And then Archer let me try out his Deck and I started to get sucked in.
Sure, Elden Ring wasn't exactly running at screaming frame rates, but I was playing what became one of our best games of 2022 on a handheld. The Deck also felt good; it's not the most beautiful or svelte of devices, but the build quality is spot on and my hands easily embraced the machine.
Nevertheless, I managed to tamp down my temptation, telling myself I have a backlog of PS5 and Xbox Series X games to get through first before I look at new hardware or other platforms.
But this was my view of the Nintendo Switch back when it launched in 2017; I never felt it was an essential gaming purchase. Yet seeing more of Breath of the Wild in action and actually trying the Switch, I eventually relented and bought it some six months later.
Now that a Steam Deck 2 seems to be a good few years away, I'm having an awkward conversation with myself about whether I can deny the allure of the Steam Deck for much longer or if I have to bite the bullet and actually get one. It's hard to deny that it's got masses of potential and looks like a genuinely interesting machine to dig into.
And maybe to benefit from a second-generation Steam Deck when it actually arrives, I need to use the original Steam Deck… shush, let me use this tenuous excuse to treat myself.
More from Tom's Guide