When you're sending out an invitation for a birthday party or bar mitzvah, one of the best photo cards can really make your event stand out. Regardless of the event, a photo card is the first thing your guests will see, so you want to make it as inviting as possible.
We tested a number of the best photo card printing services to see which offered the greatest amount of flexibility when creating a card, which service was the easiest to use, which was the most affordable, and, of course, which service delivered the highest-quality photo card.
What are the best photo card services?
Why you can trust Tom's Guide Our expert reviewers spend hours testing and comparing products and services so you can choose the best for you. Find out more about how we test.
After testing the more popular sites, the best photo card services are Mixbook and Printique, which are in a virtual tie for first place. Both have excellent software that enables your creativity to shine while still being easy to use. And they both produce beautifully printed photo cards; this year, we thought Printique's card was slightly better, but Mixbook offers the better value when ordering in bulk. If you're having trouble deciding between the two services, check out our Mixbook vs. Printique head-to-head comparison.
If you're on a budget, the best photo card service is Costco Photo Center, at 35 cents per card, offers a good compromise between cost, software and print quality. You don't need to be a Costco member to take advantage of its service, either. However, CostCo is eliminating one of its best features; as of February 14, CostCo is going to close all of its in-store photo centers, so anything you order will have to be delivered to your home.
Before deciding on any service, though, it's worth looking to see which are offering a discount; sales happen all year long, especially around major holidays, so you'll often be able to get some good deals if you look.
To ensure that you don't lose your images, check out our picks for the best photo storage services. And be sure to check out our picks for the best photo books and best photo calendars.
Here are the best photo card printing services
Mixbook shares the top slot in photo card online print services with Printique. Mixbook's card templates are attractive and fully editable, which means you can change any of the design elements you wish, creating a fully personal card. The software not only has all the tools you can want or need for your creative editing, but they are also rich in features and yet easy to use. And our tests produced a lovely photo card with a nice feel of quality that we'd be proud to send our friends. The appealing colors and photo quality are very close to Printique's.
If you are going by price, choosing between Mixbook and Printique for your card will depend on the quality paper you want and how many cards you'll be printing. As a general rule, the more cards you order, the greater advantage Mixbook will have over Printique.
Read our full Mixbook review.
Printique ties with Mixbook for the best photo card. Printique's powerful card software does a great job of enabling creativity by making the tools and features you need or want accessible and easy to understand. The attractive templates are fully editable. And the well-organized clip art, backgrounds and frames includes the largest and most unusual variety of cutout shapes, such as heraldic shields, the letters of the alphabet and freeform shapes.
The Printique card is a professional-quality print job with nice general photo appeal. Colors, which are just slightly better than Mixbook's, have warm tones with a good balance between dark and light skintones. You won't go wrong getting your card from Printique, but check out Mixbook, too.
Read our full Printique review.
Shutterfly may be the biggest name in photo goods, and we have often been impressed with its software and printed products. However, the experience of creating a card with Shutterfly competes with Costco's for the worst in the lot, without offering Costco's price advantage. The templates are rigid designs that won't allow you to make any real changes, and the software has almost no features or tools.
Our Shutterfly photo card has general photo appeal, if you don't look too closely. But skintones are too blue, highlights and shadows are only okay, and the focus isn't great. What's more, unlike Costco, Shutterfly's photo cards offer little, if any price advantage over Mixbook or Printique. So, ignore Shutterfly for photo cards, and check out Mixbook or Printique.
Read our full Shutterfly review.
Costco Photo Center offers the lowest price for photo cards among the services in this roundup. However, the print quality is uneven, and the software is limited, offering no opportunity for personal customization. What's more, Costco's design templates are appropriate for only a handful of specific occasions. And those templates can't be edited to use them for other purposes.
If price is a more important criteria than quality and creativity, and if you can find a card template that works for you, Costco may fit the bill. But for creative, fun software and better quality cards, look for coupons for Mixbook or Printique.
Read our full Costco Photo Center review.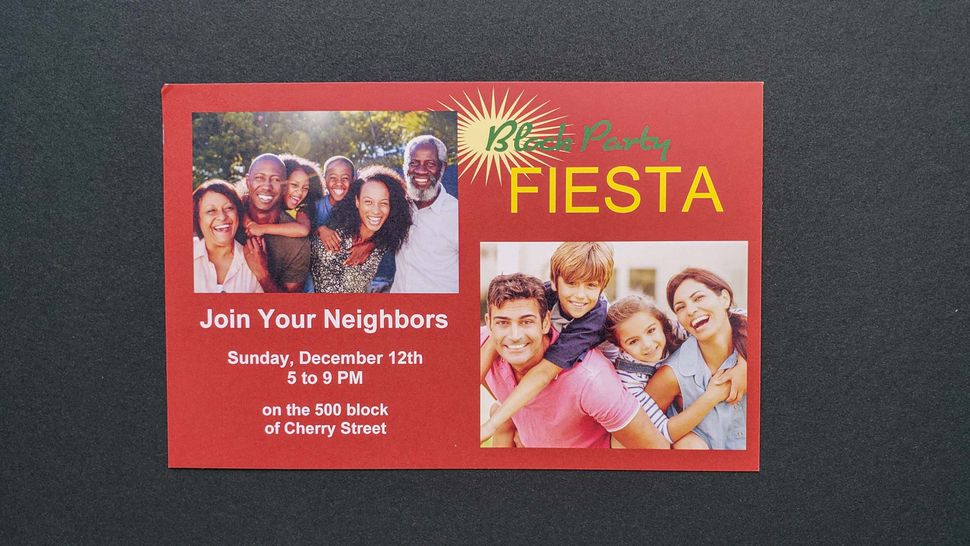 Vistaprint is an also-ran among our test photo cards. It doesn't have Printique's or Mixbook's print quality, nor Costco's bargain prices. While limited, Vistaprint's card software is more flexible and versatile than Shutterfly's or Costco's restrictive card interfaces. But it has no alternative backgrounds beyond solid colors, and no clip art other than a handful of shapes.
The photos on our Vistaprint card have an unappealing yellow-orange tinge. While the midtones and highlights have nice detail, the shadows are blocky. For quality and great software, check out Printique and Mixbook. For the lowest price, see if you can get Costco's restrictive software to work for you.
Read our full Vistaprint review.
How we tested the best photo card services
This year, we tested five different card-printing services (Mixbook, Printique, Shutterfly, Costco, and Vistaprint), and used stock photos of two families (one Caucasian and the other African-American). This tested the photo services' ability to balance various skin tones.
We designed a two-sided party invitation, which included photos and type on the front and back, with relevant clip art. We aimed to use a fireworks background and rotated photos on the front, and a panorama photo and diverse holiday clip art on the back. Our design also included rotated decorative text and drop shadows throughout. However, several of the services did not permit some, or many, of these customizations.
We didn't edit the photos, before or after inserting them into the postcards, though we tested the software's photo filters on the back photo. So, we judged photo reproduction quality only on the front photos, which had no editing variables that might skew our judging of photo print quality.
We then used each website's online software to create postcards as close as possible to the design we envisioned. Given the wide variety of paper available from the various vendors, which would make it difficult to match the cardstock in every instance, we selected the default stock.
In rating the software, we used the following criteria:
Ease of use
User interface and workflow
Creative flexibility
Quality of templates, clip art, backgrounds and effects
After our cards arrived, we assembled a jury of print and photography experts as well as everyday consumers to rate the products, based on the following criteria:
Overall appeal and quality
Photo quality
Overall appeal and quality
Photo quality
Color and skin tones
Dynamic range
Focus and clarity
Quality of the type
Quality and the feel of the paper stock
All cards were identified by numbers rather than brand names during the judging. Since the names of some vendors are printed on the back of the cards, the jury was instructed to judge based on the front only and to not look at the back until after the judging.
If a photo card exhibited obvious, unexpected flaws in print quality, we ordered a reprint to see if the errors were a one-time event.
We rated the software separately from the printed card, then averaged the two for an overall card rating. We also took cost into consideration in our overall rating. In our print ratings, we gave the greatest weight to the print quality of the service's photo postcards. That's because what matters most is the look and feel of the card you'll be sending to friends, family and associates.