While 2022 has already begun, it's not too late to order one of the best photo calendars. A personalized photo calendar filled with pictures of you and your loved ones not only makes for a great gift, but is something that you'll look at every day as you fill it with appointments, recitals, birthdays, and other reminders.
Because you'll have your photo calendar on your desk or refrigerator or kitchen wall all year long, you'll want to make sure it looks good, too. That's why we tested the top photo calendar services to see how easy it is to make a calendar just the way you want, and to see which was the best when it came to the printed product.
What are the best photo calendar services?
After testing all of the top services, Printique came out on top as the best photo calendar. Not only did its calendar have the best and most consistent photo reproduction of all the services we tested, but it also offered the greatest flexibility with its calendar-creation software. However, it was in a virtual tie with Mixbook, which has nearly as good print quality and software, but is slightly less expensive. Be sure to check out our Printique vs. Mixbook comparison to see which service is best for you.
Many of these services often offer promotions and deals for calendars and other photo products — as much as 50% off, in some cases — so be sure to compare their discounted rates before choosing one for your needs.
And be sure to check out our picks for the best photo books and best photo cards.
Here are the best photo calendar services
Printique wins the top prize for the best photo calendar. Printique's calendar interface isn't simply an add-on to its powerful, versatile, creative software. The developers put some thought into what you might want and need when customizing a calendar, which means you can do more with the grid page than usual. Like Mixbook, all of Printique's excellent editing and creating tools are available for the grid page. In addition, you can edit the grid itself.
Printique's printed calendar has excellent photo reproduction and professional print quality. While we highly recommend Printique for the very best customized photo calendar, be sure to check out our second favorite: Mixbook's calendar.
Read our full Printique review.
This year, Mixbook's calendar came in second place, after Printique. Mixbook's software gives you the versatile, flexible tools you want and need to have fun creating a calendar you'll be proud of all year. That includes being able to easily upload your own photos and graphics to use as backgrounds or clip art; Printique doesn't offer that in its interface. While Mixbook's calendar software doesn't have as many options as Printique's, you can be as creative with Mixbook's date grid pages as you can with the photo pages. Unfortunately, Mixbook's calendar software has weak event management, but then again, Printique doesn't have an event manager at all.
Mixbook's printed calendar's photos are warm, bright and lively, and the type is clean and well-formed. And because we could design both the photo pages and the date grid page, it has a polished, professional look. Still, Printique's print job is a notch above in quality compared to Mixbook's.
Read our full Mixbook review.
Shutterfly's calendar software has all the great versatility and flexibility of its photo book interface, as well as the same limitations. Add to that the workflow problems particular to creating a calendar. These include a convoluted multi-step event date box creation, and the inability to span a photo or clip art across the two pages of a calendar month's spread.
Shutterfly's printed calendar has too many flaws to make it our top pick among the best photo calendars. The photos have an orange shift that is generally more pronounced in dark skintones. While the pictures have a good balance between shadows, midtones and highlights, shadows tend to be harsh. And focus isn't great. But the final nail in its coffin is that the Shutterfly calendar is more expensive than our top winners: Printique and Mixbook.
Read our full Shutterfly review.
Costco's photo calendar is really inexpensive. However, look twice at what's being offered. Its calendar-creation software has few options and little opportunity for personal customization. It has no clip art or drop shadows, and the selection of fonts, text colors and backgrounds is miniscule. The one feature that was nicely implemented was how easy it was to create a graphic date box event.
The photo quality on our Costco calendar is uneven. Some pictures have decent color; others are too orange. But the most noticeable issues relates to inaccurate exposure in which the shadows tend to be over pronounced, which renders some colors as muddy. Any other company in this roundup offers better quality calendars.
Read our full Costco Photo Center review.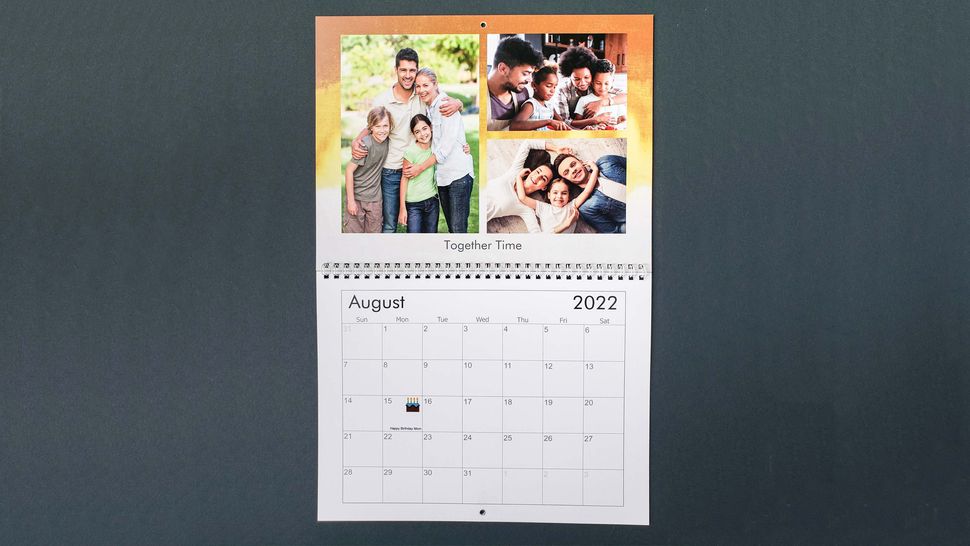 Vistaprint's calendar software is frustratingly restrictive. It has no photo edit tools, background options, clip art, masks or cutout shapes. Layouts are limited and uneditable. You can't add a photo to a date grid page, and if you want the icon you place (such as a birthday cake) to display in color, you'll have to pay extra.
On the other hand, the print quality of our Vistaprint calendar was surprisingly good with rich, lush colors, so that it came in third after Printique and Mixbook. But given that Vistaprint's calendar is priced similarly to Printique and Mixbook, and certainly doesn't have their fun, creative software, we can't imagine why you would want to choose Vistaprint for your calendar.
Read our full Vistaprint review.
Photo calendar shipping deadlines
If you want to order a photo calendar as a gift, you need to order it well in advance so it arrives in time — especially if you're ordering one around the holidays. All of the best photo calendar services provide shipping deadlines, which vary on the product you order as well as the shipping method. Below are quick links to each of the services' shipping deadlines.
How we test and rate photo calendar services
This year, we tested five photo calendar-creation services: Mixbook, Printique, Shutterfly, Costco, and Vistaprint. However, if you want to see how other services fared in years past, here are links to our older reviews:
Mpix review
Artifact Uprising review
Walmart Photo review
CVS Photo review
Snapfish review

In rating the calendar-creation software, we used the following criteria:
Ease of use
User interface & workflow
Functionality
Creative flexibility
Quality of templates, clip art, layouts and backgrounds
When we had all our printed calendars, we gathered a jury of print and photography experts as well as everyday consumers to rate the products based on the following criteria:
Overall appeal and quality of the physical calendar
Photo quality
Color and skin tones
Dynamic range and exposure
Focus and clarity
Balancing of the diverse pictures
Text quality
Paper quality
If a calendar exhibited obvious, unexpected flaws in print quality, we ordered a reprint to see if the errors were a one-time event.
To keep the jury's judging blind, each calendar was identified by a number rather than the company's name. However, some calendars had the vendors' names printed on the last page. So we discouraged the jury from looking on the back of the calendars until after the judging.
We rated the software separately from the printed calendar, then averaged the software and calendar scores for an overall book rating. We also took cost into consideration in our overall rating. In our print ratings, we gave the greatest weight to the quality of the services' photo reproduction, because that's the entire purpose of a photo calendar.