The best Nespresso machines provide the ultimate quality of coffee when it comes to capsules. While capsule machines often have a bad rep, Nespresso stands out from the crowd for its espresso. It's one of the few brands of capsule machine which can reach a high enough temperature and pressure to brew a full-bodied espresso, complete with crema. Add to that, the machines are renowned for their convenience, sleek design and ease of operation. But, with there being so many models on offer from this brand, how can you tell which one will suit your kitchen?
That's where we can help. We've done the research to find the best Nespresso machine you can buy. We considered everything each model had to offer, from functions and special features, all the way to its limitations. Aspects of the design were taken into account too — we factored in the ease of cleaning as well as its compactness for storage. Finally, we compiled our findings to form a list of the best Nespresso machines. We've got a recommendation, whether you're shopping on a budget, or need a machine which can froth milk.
The best Nespresso machines you can buy today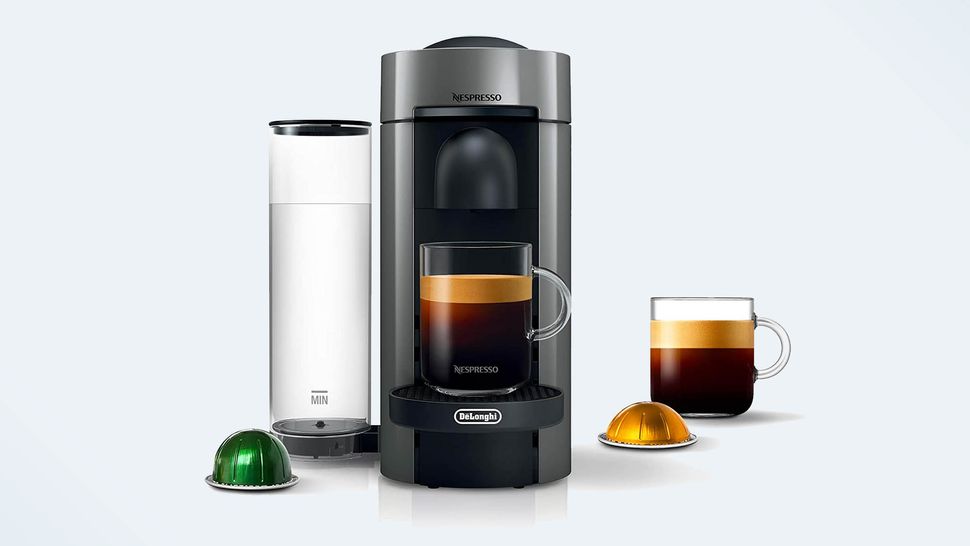 The Nespresso VertuoPlus was released as a step above the original Vertuo, but these days it not only offers a lower price tag but still brings out the best in easy to brew pod coffee.
While the only extra features are a movable water reservoir and automatically opening and closing lid, you're getting a much better value Nespresso machine here. With capacity reaching all the way up to 14oz brews, you're sorted whether you're after a quick espresso shot or a full travel mug.
Not only that, but Nespresso's centrifusion brewing technology also makes for creamy, well-balanced coffee and the automatic pod detection means your Nespresso coffee maker always knows the perfect settings for your drink of choice.
That means you're getting a strong set of additional features, excellent coffee quality, and flexibility in storing your Nespresso - all for an affordable price. It should be noted that while there is no built-in milk frother, you can often buy this machine as a bundle with a separate Nespresso milk frother included.
Read our full Nespresso Vertuo Plus review.
The Nespresso Lattissima Pro does carry a significant premium in its price tag, but for good reason. If you're looking to tinker with volumes of coffee, water and milk to make the perfect brew but still prefer the convenience of a pod coffee machine, the Lattissima Pro is the best Nespresso machine for you.
There's six preset drinks options here, (espresso, lungo, ristretto, latte, and cappuccino and hot milk) as well as a milk-frother, touchscreen control panel, 44oz water reservoir and 16 capsule drawer capacity.
That means you're getting a massive range of fully customizable drink options, with a large multi-drink reservoir, premium Nespresso brewing technology, and an easy to use suite of controls as well. The Pro is perfect for those looking to experiment with their pod coffee a little more, but is also an excellent crowd pleaser well suited to multiple coffee drinkers in the same household.
One of the best Nespresso coffee machines for those who don't want to spend more than $200, the Vertuo Next offers a set of features designed for everyday, but still high quality, coffee. You're still getting the centrifusion brewing technique here, which means creamy coffee and an even steep, as well as Nespresso's premium pod detection technology so your machine can automatically configure the best brewing settings for each drink.
Not only that, but you can still brew up to 14oz drinks here, or even go for a carafe for a more traditional drip experience. This Nespresso coffee machine is sitting towards the more affordable end of the scale, though, so there are some sacrifices to be made.
The Vertuo Next takes a little longer to warm up (up to 30 seconds), and there's no milk frother included here so you'll need to pick one up separately if you want that extra layer of luxury in your morning brew. However, with a space saving design partially made from recycled materials there's plenty to love here.
The Nespresso Essenza Mini is another more affordable option when it comes to the best Nespresso machines. At under $150, you're getting strong value not just for the Nespresso brand but also for an espresso machine in general. You're not skimping on the richness of your coffee by dropping the price or choosing the convenience of a pod system either. With 19-bar pressure, the Essenza Mini manages to pack both ease of use and quality into a low price tag.
While it's definitely a no-frills approach, with no personalization options, those looking to streamline their morning shot of energy will benefit from the simple system here.
How we tested the best Nespresso machines
Be sure to also check out:
We compiled these results through a combination of online research and hands-on testing. First, we consider those machines that have the highest ratings and reputation online, with consistent reviews and strong recommendations. We couple that with our own comparisons of the specifications, from the cup capacity to the strength settings and pod type. Any specialist features, such as centrifugal brewing are also factored in. This gives us the Nespresso machines which have the most to offer.
Those machines which we test have both the performance and design assessed through hands-on use. We consider how intuitive the model is to operate, as well as the flavor and quality of espresso it produces. The size, simplicity and versatility of the design are all taken into account. As a result of these two methods, we can confidently say that these are the best Nespresso machines.
If you're not sure which type of coffee maker to buy, be sure to check out our guide.
What are the different types of Nespresso machines?
Nespresso splits its machines into its Vertuo line and an Original line. Vertuo coffee makers will have this branding in their names, however the Original line encompasses larger and sometimes more expensive devices like the Lattissima, CitiZ, and Essenza.
The main difference between Vertuo and Original Nespresso machines is the coffee sizes you'll be able to brew from them. The Vertuo line offers everything from 1.35oz to 18oz while Originals are designed to offer smaller but stronger brews of between 0.85oz and 5oz.
You'll also need different pods for these machines, but both are made from recyclable aluminium and offer a massive range of blends and strengths.
How to find the best Nespresso machine for you
When considering which Nespresso machine would best fit you, it's important to consider the context of how you will be using your device, the space you have available, and the pods you want to use.
How you will use your Nespresso
If you need a coffee machine that can handle larger servings, either for multiple morning drinkers or for guests later on in the day, make sure you've got a fast brew, a large water reservoir, and a large pod storage drawer. You could also check out the best coffee makers for some pod-alternative options.
However, if you just need a few cups in the morning to get you going, you won't need to pay for these features and can easily get by with a much smaller device.
How much space you have
Nespresso machines can get pretty large, even though they're still only using smaller pods. Once you add milk frothers, reservoirs, and pod storage into the equation you can easily start running out of counter space. Measure not only the coffee machine you're intending to buy, but also the accessories and storage needed to make the most of it.
Pod type
Nespresso Vertuo machines use different pods to the Original line of coffee makers. These pods allow for the centrifusion brewing technique that makes Vertuo coffee so creamy and well-balanced, so it's worth checking which pod type your chosen device will take.
Price
Nespresso tends to offer more premium and expensive designs compared to other pod brands on the market. This is because these machines can actually reach a high enough temperature and pressure to produce a quality espresso, complete with a layer of crema. Some of the best Keurig coffee makers come close to offering a comparable performance, and these feature a more reasonable price. However, if you want an espresso similar to what you'd get from an espresso machine, Nespresso is your best bet.
Some Nespresso machines are more wallet-friendly than others, particularly if you opt for a smaller design which doesn't come with so many features or milk-frothing capabilities. And when you compare the price of our winner, which costs less than $200, to some of the best espresso machines, you will find there's substantial savings to be had by opting for Nespresso.
Nespresso vs Keurig
If you're searching for the best Nespresso, you've likely also come across the brand's main competitor, Keurig. The two brands offer similar pod coffee machines, but with some key differences that will fit one use case better than another.
The Nespresso range tends to offer a slightly more complex approach to brewing your coffee. Many models make the most of centrifusion brewing techniques which allow for a more well-balanced coffee flavor, and many also use smart capsule recognition to automatically set the correct brew environment for your drink of choice. If you're after a more premium brewing method, it might be worth paying the slightly higher prices for a Nespresso machine.
However, the best Keurig coffee makers can make the most of the K-Cup variety on offer. There are so many brands offering their own K-Cup coffees, from Dunkin' Donuts and Krispy Kreme to Starbucks. If you're looking for extra variety in your brews, or if you want to spend a little less, this is likely the best way to go.
Do all Nespresso machines make the same quality of coffee?
Because the same brewing process is implemented across all Nespresso machines, and because the same capsules can be used across the range, the actual quality of the coffee should stay the same. However, keep in mind that there are two types of capsule available which will affect the final product: Original and Vertuo. These go through different extraction methods as part of the brewing process, with Vertuo generally offering larger brew sizes and Original focusing on espressos.
Each machine will also have its own independent design, which affects the simplicity of the controls, the general ease of use and the performance of any additional functions, such as the milk frother. That's why we've taken the time to stop and compare what each model has to offer, so you can get the best of everything.
How much should I spend on a Nespresso machine?
While Nespresso is known to be a premium brand, its coffee machines can cost anywhere from $130 up to almost $600. So there's quite a difference in price depending on the model and features you opt for, as well as any partnering brands. For instance, a milk frother or steam wand will soon add to the price tag, while partnering brands, such as Breville, can give the machine a more premium finish, such as a stainless steel exterior. But, you don't necessarily have to pay top dollar to get the best Nespresso machine for you.
With such a range of models to choose from, it's important that you decide what you need from your Nespresso machine before you start shopping. For instance, are you likely to use a milk frother, or would a more compact design suit your space? Decide whether you want a machine which takes Original or Vertuo capsules before you begin browsing as well. In doing this, you know exactly what to look for in your Nespresso machine, preventing you from overspending on unnecessary features. It also helps to have a budget in mind as well, so you have a definite limit on your expenditure. By sticking to your needs and your budget, you won't overspend on the best Nespresso machine.
We're also rounding up all the best Cuisinart coffee makers available right now and giving you all the best tips on how to clean a coffee maker as well. You'll also find plenty of cheap coffee maker deals available right now as well.