Best Keurig Coffee Makers: Quick Menu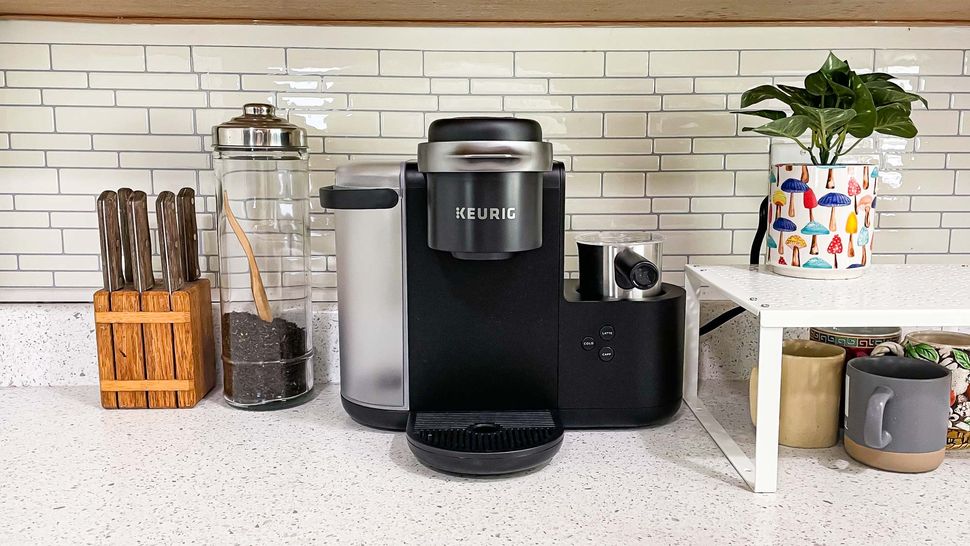 1. The list in brief
2. Best overall
3. Best budget
4. Best versatile
5. Most quiet
6. Best compact
7. How we tested
8. Keurig coffee maker FAQs
One of the best Keurig coffee makers combines quality coffee with value for money. As a brand, Keurig is renowned for its compact designs, simplicity in use and great prices. These machines typically feature single button operation, and brew coffee directly from pods. And while Keurig coffee makers aren't best known for their depth of flavor, some machines do stand out from the crowd — particularly those that offer the 'strong' brew function. But, the range of Keurig coffee makers is pretty extensive, so how can you know which to buy?
That's where we can help you out. We've tested a selection of Keurig coffee makers to find those that have the most to offer. We set each machine up at home, and brewed repeated cups of coffee to find every strength and weakness. We considered the time necessary to brew, the immediate temperature of the coffee, and its flavor and texture as well. Elements of the design were taken into account on top of this, such as the noise produced and the average energy consumed. Ease of use was an important aspect as well; was the water tank easy to remove and fill, and was operation seamless? For those with built-in milk frothers, we tested the performance here too, looking for thick and velvety results.
Finally, we compiled our results to formulate a list of the best Keurig coffee makers. There's a recommendation here whether you're tight for space, or need a machine which can brew milky drinks.
The quick list
Here's the best Keurig coffee makers you can buy right now based on our testing and reviews. Scroll on for our full in-depth reviews.
Best overall
The best overall
The Keurig K-Cafe features both 'strong' and 'shot' brew options for a more concentrated flavor. Plus, this allows for espresso-like servings. There's a built-in milk frother to open up more recipe possibilities, such as lattes and cappuccinos. There's little it can't do.
Best budget
The best budget
While affordable, the Keurig K-Slim is still fast and effective at brewing a great cup of Joe. It takes less than two minutes from start to finish, and its multistream technology promotes a rich flavor in the process. Its compact design won't clutter your counter either.
Best versatile
The best versatile
The Keurig K-Elite can produce 5 different brew sizes, ranging from 4-12 oz. It features that same 'strong' brew option to concentrate the flavor, and the large water reservoir comes in handy when catering for guests. It can also brew iced coffee and dispense hot water for tea.
The best Keurig coffee makers you can buy today
The best Keurig coffee makers available now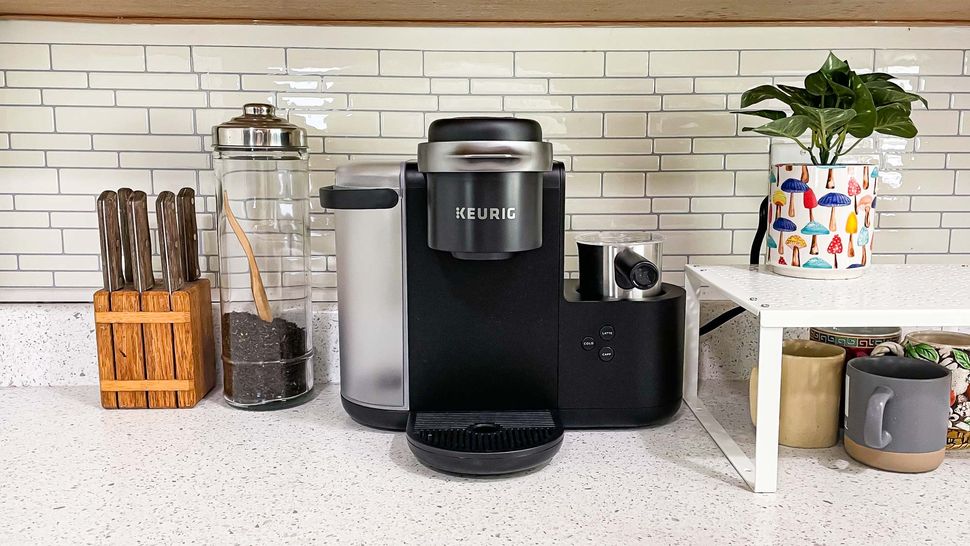 Part coffeemaker, part milk frother, the K-Cafe is the best Keurig coffee maker overall because it combines the best of both worlds between pod machines and countertop espresso appliances. During testing, we found the "strong" brew function provided a deeper, richer flavor of K-Cup coffee, while its "shot" feature, which brews a concentrated, espresso-like 2-ounce pour of coffee, is a terrific recreation of tasty espresso. Its milk frother is an added bonus, with the ability to heat and froth dairy and milk alternatives for lattes and cappuccinos––both iced and hot––at the push of a button, and in less than two minutes.
After brewing three cups of each serving size, we measured the average time it takes for the K-Cafe to brew a cup at 36 seconds, just behind the slightly faster K-Elite and K-Classic. Meanwhile, the frother is a longer process, averaging about one minute and 35 seconds per pitcher. It must be noted that the K-Cafe cannot brew and froth milk at the same time. The frother is also located on the right side of the machine, which could frustrate those who are left-handed during operation. However, this is the only model from Keurig with a built-in milk frother, which makes it arguably the most versatile offering from the brand.
Though we enjoyed the taste of the K-Cafe's coffee, we found the temperatures to be a bit lacking. All of the Keurigs we reviewed were unable to brew coffee at hot temperatures. The hottest cup of coffee we measured from the K-Cafe was only 176 degrees Fahrenheit. Those who prefer piping hot coffee may be disappointed by cooler temperatures.
The K-Cafe uses about 160 kWh of energy, the highest we recorded for a Keurig machine, but that's to be expected from a machine that can both brew and froth. We also measured 75 decibels of noise from the K-Cafe's brew cycle––the second loudest across all Keurigs––but its warm-up process averaged around a much quieter 65 decibels.
Though it's quite pricey, this premium Keurig is a superhero for those mornings when you want a barista experience with little time to spare. If you're in search of a Keurig that can replicate that coffeehouse feel at home, or you just want a bolder flavor of K-Cup in the morning, the K-Cafe is your go-to machine. Its incredibly easy-to-use functionality makes it all the better.
Read our full Keurig K-Cafe review.
Best budget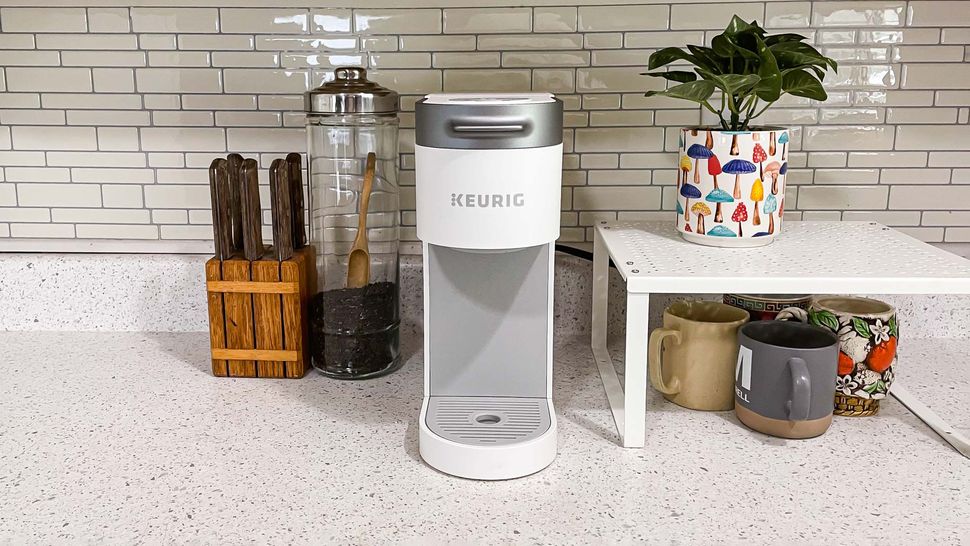 If you're looking for a baseline Keurig machine that won't hog counter space, the K-Slim is a solid easygoing entry at only 4.7-inches wide. Its slender build is the total opposite of the typical bulky design from Keurig, and maintenance is fairly lowkey thanks to the dishwasher-safe water reservoir and drip tray. Plus, its multistream technology ensures a richer cup of coffee by fully saturating its K-Cups, a taste we found during testing to be much like the bold feature seen on other Keurig machines.
Every coffee we brewed using the K-Slim produced a tasty cup, providing both depth and flavor. It lacks the hot temperature required for the best tasting coffee, however, as do all Keurigs. The hottest recorded cup was 181 degrees Fahrenheit, while 168 degrees was the lowest.
We also clocked the machine's average brew time to be 1 minute and 25 seconds, though, unlike our top contenders — the K-Cafe and K-Elite — the K-Slim's warm-up and brew cycles are combined, resulting in a longer wait. Still, like all Keurigs, the K-Slim can brew a cup in less than two minutes.
At its loudest, the K-Slim makes about 74 decibels of noise, toward the end of its brewing cycle. It also consumes about 139 kWh, which is slightly more than the K-Elite.
Its downfalls may come from its no-frills design, however. The K-Slim is capable of only brewing three serving sizes––8-, 10-, and 12-ounces––and the water reservoir's location at the rear of the machine may be slightly annoying to fill as you'll have to pivot the machine to reach it. Having said that, if you're looking for a barebones machine, the K-Slim makes the best flavor of K-Cup coffee at the lowest price, and it comes in plenty of colors including red, mint, gray, and white. That's why it makes the list as one of the best Keurig coffee makers.
Read our full Keurig K-Slim review.
Best versatile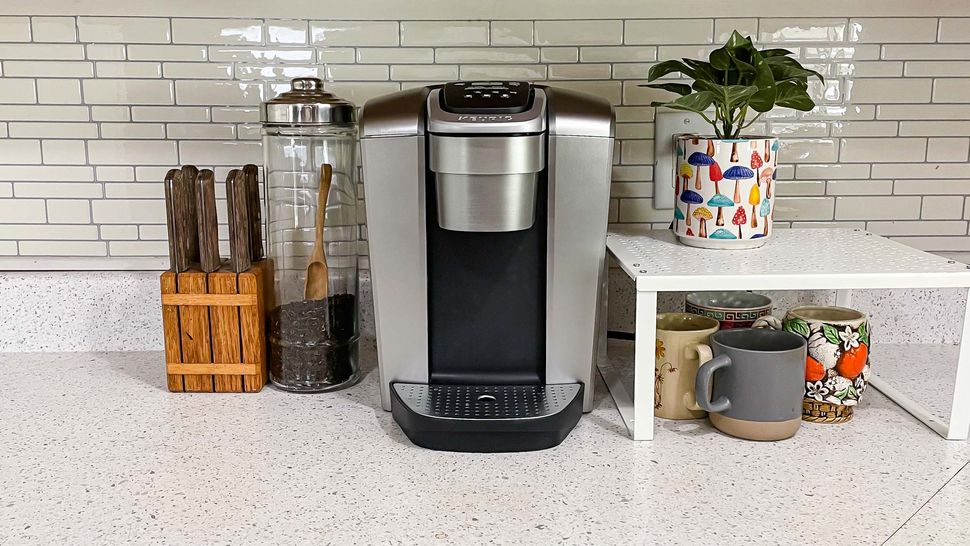 The key to a tastier, more flavorful K-Cup is a slower brew, and the K-Elite's "strong" button feature helps achieve just that, and way more. This beast of a Keurig may lack a milk frother, but it makes up for it with several features: temperature control, a programmable clock to schedule a warming function, a hot water dispenser, the ability to brew iced coffee, and a massive 75-ounce water reservoir. The K-Elite also has the widest serving size range, capable of brewing cups at 4-, 6-, 8-, 10-, and 12-ounces. It even comes with a Keurig-branded water filter to further purify the tank.
We found the machine to be incredibly versatile with its range of coffee options, and during testing, it brewed K-Cups faster than any other Keurig home model, with an average brew time of 34 seconds per serving. It uses about ​​115 kWh, which is slightly more energy than we recorded with the smallest Keurig offering, the K-Mini. With a coffee pod latch that practically glides open and a noise reading of 67dB, this machine is both easy to use and quiet in operation.
The K-Elite also produced the best-tasting coffee on test. We found the depth, flavor, and texture to be comparable to a cup made by a typical coffee maker. However, like all Keurigs on this list, the K-Elite can't produce coffee at the temperatures required for providing the absolute best taste. The hottest cup of coffee we measured from the K-Elite was 182 degrees Fahrenheit, while the warmest was 165 degrees Fahrenheit.
This is one of the best Keurig coffee makers that you can buy, though a lack of a frother and an expensive price may deter some from trying its magic.
Read our full Keurig K-Elite review.
Most quiet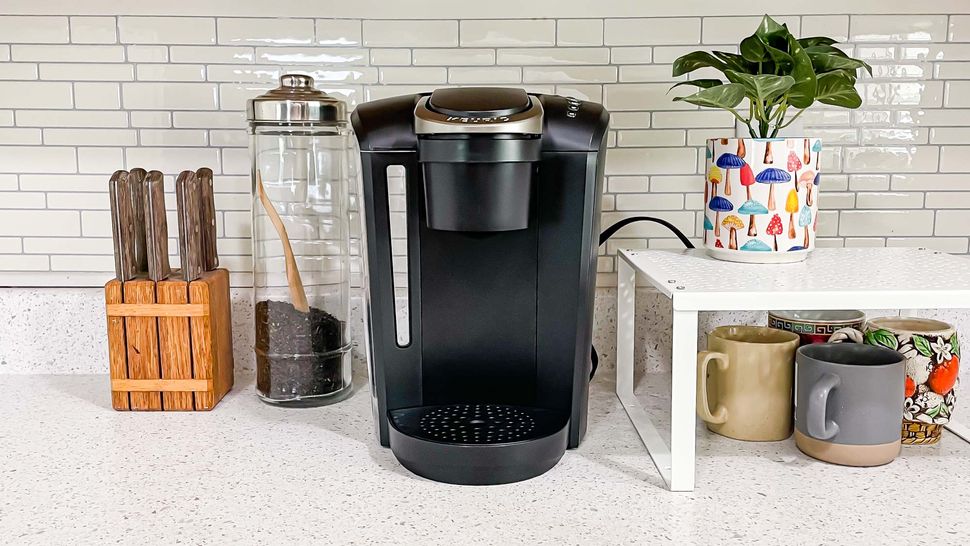 The K-Select feels like a smarter upgrade of the K-Classic, with a slightly smaller build, though somewhat bulky. It features that coveted "strong" button found in few Keurigs that kicks up the flavor of K-Cups, and it didn't disappoint. Though it's the same price as the K-Classic, the K-Select offers more in terms of boldness and, as testing revealed, a quieter warm-up and brew cycle. A 52-ounce water reservoir gives a 4-ounce lead over its predecessor, plus it can brew a 12-ounce serving, the largest size for Keurigs on the market today.
Most Keurigs separate each warming and brewing cycle, and both can produce a range of noise. The K-Select was the quietest machine we recorded while it warmed up, edging out at 63 decibels, and finishing its brew at around 67 decibels. This makes the K-Select the quietest Keurig we've tested. It uses about 125 kWh, which is lower than what we measured with the K-Classic at 130 kWh. It's also fairly easy to use and clean, with its straightforward button scheme and removable water reservoir. Take note that its performance might make for a messier kitchen, though, as plenty of splashing can occur during brewing.
The K-Select takes an average time of 54 seconds to brew a cup of coffee––including the typically longer "strong" pour––and roughly 40 seconds to heat up, which is as fast as you'd expect with a Keurig.
The K-Select best beats its other Keurig brethren with its ability to make delicious coffee with barely any noise. Where it lacks, though, is its considerable stature and splashy brew cycle, which stymies the easy clean-up process it seems to present. It's still one of the best Keurig coffee makers for its quiet operation and delicious results though.
Read our full Keurig K-Select review.
Best compact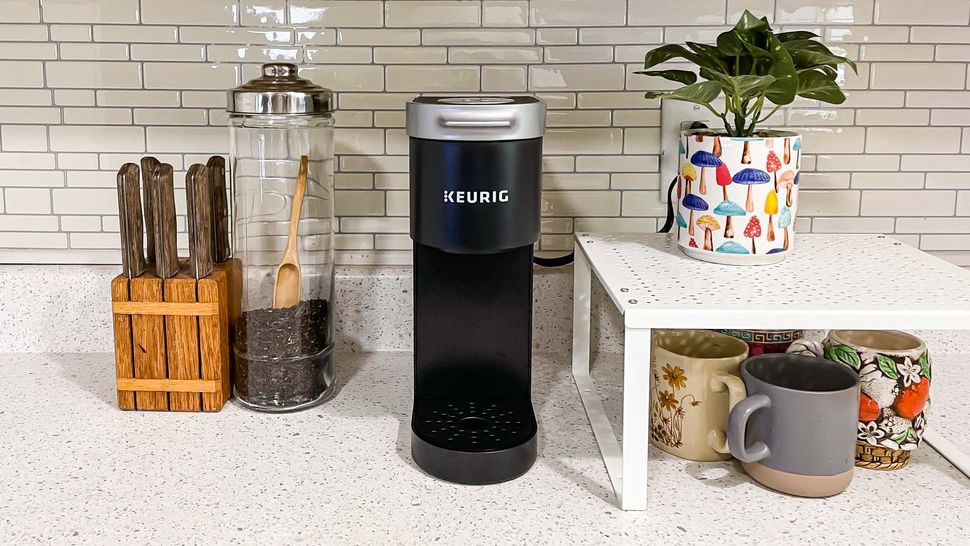 The K-Mini is the easiest Keurig machine money can buy. Its water reservoir is fit for the exact serving size you'd like––however much water you add is how much coffee you'll get. It can hold and brew up between 6- to 12-ounces. It comes equipped with hideaway cord storage, making it easy to move around, and its two buttons––one for power, another for brew––make operating it a cinch. It's the smallest Keurig available, measuring 4.5-inches in width and about 11-inches deep, which is slimmer than the K-Slim, and it's available in eye-catching colors including green, rose, teal, gray, and red.
However, like many barebones Keurigs that lack a 'strong' setting or multistream technology, the K-Mini can't produce a deep flavor profile. The coffee produced by this machine is just okay, but that doesn't match up to some of the higher ranked models on our list. The K-Mini makes coffee that tastes flat and burnt, though we did measure the coffee temperature to be 189 degrees Fahrenheit, which, surprisingly, is the hottest cup we recorded. In fact, no coffee brewed was lower than 180 degrees.
The K-Mini has the longest brew time of any Keurig on this list, averaging 2 minutes and 33 seconds out of a total of five cups. It's also the loudest, as we measured 80 decibels during its brew cycle.
For what it's worth, it's still impressively easy to operate due to its minimal button scheme and small water tank, and it's also the lowest energy hog, clocking in at 110 kWh. Although it can get annoying having to constantly fill up the water reservoir, it also ensures you're not letting water sit in your machine's tank, which results in less waste. This one is worth looking into if space is a premium and you just want the bare essentials from one of the best Keurig coffee makers.
Read our full review of the Keurig K-Mini.
How we tested
To find the best Keurig machines, we performed rigorous amounts of testing, combining objective specs and data with subjective everyday use.
We timed how long it took for every Keurig machine to warm up, as well as brew coffee and, when appropriate, froth milk. We also measured the energy consumption of each appliance over the course of about 30 minutes of use. We considered the size, stature, and noise level of each machine for at-home use, comparing measurements between every Keurig using a noise meter.
For tasting, we brewed at least three cups of the same K-Cup variety, per machine, using a variety of brew settings, like "strong" and iced. We used a decaf roast from Publix so we could taste each cup without keeping our tester awake through the night. (That's a lot of caffeine!) We also measured the temperature of every serving size each Keurig machine produced, and recorded our ratings with regards to the depth and flavor of each K-Cup brewed.
The National Coffee Association considers the optimal brew temperature to be between 195 to 205 degrees Fahrenheit. Each cup of coffee we produced with a Keurig measured lower than this, between 160 to 189 degrees Fahrenheit. Furthermore, most Keurig machines have a preset temperature and cap of 192 degrees, which is lower than the optimal suggestion of the NCA.
We also rated the ease of use and cleaning for every Keurig, based on the number of functions, buttons, and removable accessories available for each machine. Those appliances with minimal buttons scored higher than any with an abundance of them, though it must be noted that all Keurigs on this list are fairly easy to operate. Any machine with a water reservoir that seemed flimsy or tough to grasp and fill was graded lower than those that featured inserts for fingers or a handle. As most Keurigs have top rack dishwasher safe pieces, nearly all the machines scored well in terms of cleanliness. Points were deducted based on the amount of splashing and condensation a Keurig produced during the brewing process.
Swipe to scroll horizontally
Test results

| | | | |
| --- | --- | --- | --- |
| Model | Average time to brew (mins/secs) | Noise produced brewing (dB) | Energy consumption (kWh) |
| K-Classic | 0:35 | 66 | 130 |
| K-Mini | 2:12 | 80 | 110 |
| K-Cafe | 0:36 | 75 | 160 |
| K-Elite | 0:34 | 67 | 115 |
| K-155 Office Pro | 0:17 | 70 | 124 |
| K-Slim | 1:25 | 74 | 139 |
| K-Select | 0:54 | 67 | 125 |
Which didn't make the list?
We also tested the K-Classic as well as the K-155 Office Pro, however neither of these machines performed well enough to make the list of the best Keurig coffee makers. We found the K-Classic brewed coffee both quietly and quickly, but its bulky design held it back. It also produced coffee which lacked in both depth and flavor. Meanwhile the K-155, while featuring a more modern and advanced design, also struggled in terms of flavor and didn't offer great value for money as a consequence.
Keurig coffee maker FAQs
How does a Keurig coffee maker work?
Keurig coffee makers use K-Cups, small sealed pods containing ground coffee. After inserting the pod into a compartment in the coffee maker, you then select the size drink you want. The machine then pierces holes in either end of the pod and forces water through the ground coffee in the pod and down into your mug. Once the water is hot, the brewing process takes just a little over a minute.
How long do Keurig coffee makers last?
Keurig offers a one year warranty on all of its home coffee makers, under usual everyday use. That means you're covered for the first year of your coffee maker's life, but consumers generally report that their Keurig coffee makers can last from between two to five years. To make the most out of your machine, then, it's advised to keep regular maintenance and follow the top tips below.
How to care for and maintain a Keurig coffee maker
Find out how to clean your Keurig to ensure fresh brews and a seamless process every time.
If you're using a reusable coffee filter, be sure to use coarsely ground coffee and fill the mesh basket only to the bottom of the brown band (2.5 tablespoons).
If you find grounds in your coffee or you're getting a smaller cup of coffee than the size you selected, one of the needles may be clogged or need cleaning. Before cleaning the needles, unplug the machine. To unclog the exit needle, you need to remove and disassemble the pod holder and then use a paper clip to clear away any debris. Lift the head and use the paper clip to clean the entrance needle. We suggest that you watch this helpful video on the Keurig website before beginning the procedure.
Every three to six months, or when you notice that brewing has slowed down, we recommend descaling your Keurig. Begin by filling the reservoir with 10 ounces of white vinegar (or Keurig's Descaling Solution). Start the brew cycle without a K-Cup in place and let the machine run as usual, being sure to use a mug to catch the liquid. Repeat this process a second time with vinegar and then a third time with 10 ounces of fresh water.
Keurig coffee makers and the environment
Until recently, K-Cups were not recyclable and wound up in landfills. New recyclable K-Cups made of polypropylene have been developed and have been rolled out across the US through 2019 and 2020. Keurig promised that by the end of 2020, all K-Cups will be recyclable, however there hasn't been an update on this initiative since then. That means you may have to double check you are buying a recyclable K-Cup pod. To identify recyclable pods, look for a symbol on the package if you're buying them at a store, or on the listing on Keurig.com if you're shopping online.
Although the pods are recyclable, they are not compostable. And they're only recyclable if you take the time to peel off the lid, toss or compost the coffee grounds inside and then rinse out the pods before throwing them in your recycling bin. There is also a concern that because they are so small, the K-Cups may be filtered out at recovery facilities and still wind up in landfills.
You can purchase a so-called My K-Cup Reusable Filter that you can use with your own ground coffee and then wash and reuse. Although it solves some of the problems associated with the pods, it does reduce the convenience of brewing with a Keurig, especially if you have many people using the machine throughout the day.
Which type of coffee maker should you buy? Check out our guide if you're unsure.