When it's too far to walk but too short to drive, then maybe one of the best electric scooters is the answer. Electric scooters have exploded in popularity because they're easy to use and zip you around quickly. And, because they're more compact than bikes, they're easier to store in apartments and smaller spaces.
Choosing the best electric scooter for your needs comes down to price and purpose: What are you willing to spend, and what are you using it for? We've tested dozens of scooters, ranging from less than $200 to more than $1500 to find the best electric scooter for everyone. In the process, we've taken them over hill and dale, on subways and trains, through cities and suburbs, to see how well they perform in a variety of conditions.
Regardless of the electric scooter you choose, we suggest plenty of practice before you hit the road. If you're looking for something for your child, be sure to check out the best electric scooters for kids, as well as our guide to the best bike helmets. You'll also want to pick up one of the best bike locks to make sure that your scooter doesn't get stolen.
Read on for all of our favorite picks for the best electric scooters.
The quick list
Best scooter overall
The best electric scooter overall
This scooter has everything: Looks, power, and range. It got us up the steepest of hills, it has a great design, and it's packed with all sorts of features.
Best budget scooter
The best budget electric scooter
This scooter costs less than $400, but will get you where you need to go. While not the most powerful, it's light and compact, and has large tires to smooth out the road.
Best for commuters
Best for commuters
We love the Unagi Model One because it's incredibly light, which makes it easy to carry anywhere. And, its dual motors gives it more power than most electric scooters its size.
Best for long distances
4. Segway Ninebot Kickscooter Max G2
Best for long distances
With an estimated 40-mile range, this scooter will get you where you need to go — wherever it is. It's comfortable and has a number of safety and security features.
Best for carrying stuff
Best scooter for carrying stuff
With a large basket in the rear, the Balto is great for a trip to the grocery store. And, it folds up into a very compact space, making it great for apartments.
Best for kids
The best electric scooter for kids
This fun and cheap scooter will give your kids plenty of thrills — safely — as they learn to ride. It doesn't go too fast or too far, but comes in plenty of fun colors.
The best electric scooter overall
The Niu Kqi3 Max is an electric scooter that has it all: A powerful motor, great range, stylish looks, and much more. We had a lot of fun riding it around, and were especially impressed at how it handled hills. The Kqi3 Max's front ring headlight cuts a real profile, and the red mechanical disc brakes on the front and rear wheels give it a sports car feel.
To be sure, its actual range is a good deal less than its advertised range of 40 miles, especially when you're cruising up hills, but was plenty long enough to get us around for a week without recharging. You can also use the Niu app to customize the Kqi3 Max's ride, and even lock it. However, at 46 pounds, this is one heavy scooter. If you have to carry this up and down stairs, we recommend the Unagi Model One instead. But if weight is not a concern, this is a pretty awesome electric scooter.
Read our full Niu Kqi3 Max review.
Best budget scooter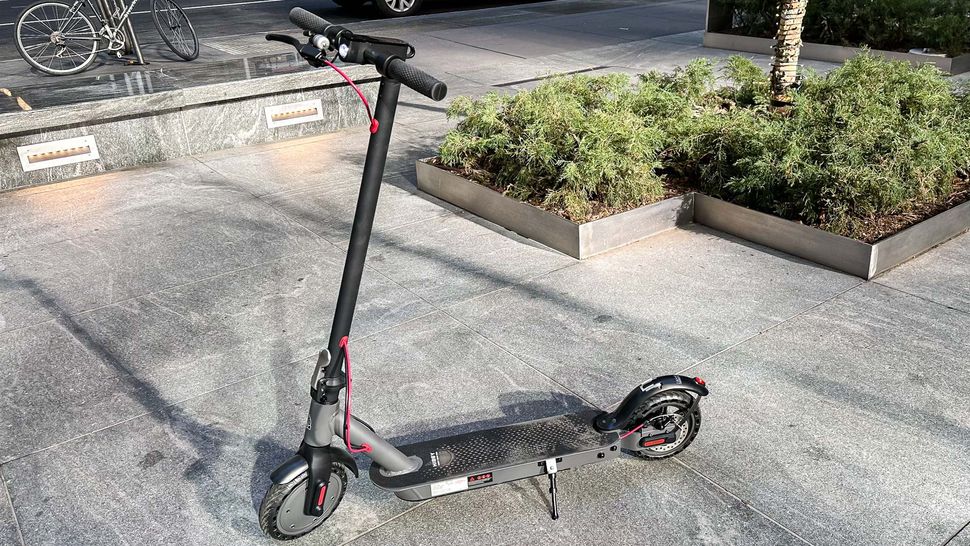 The Hiboy S2 has several features you don't typically find on a budget electric scooter. These include such things as dual brakes — both regenerative and a mechanical disk — and lights, not just in the front and back, but around the sides of the scooter, too. Not only does it make you more visible, but it's also a really cool effect.
I also liked the very clean design of the Hiboy S2; there aren't a lot of dangling wires and such. The one caveat is its rear latching mechanism, which was a bit finicky. The S2's 350-Watt motor proved up to the task for most situations, but like most budget scooters, I found it had trouble on hills. Its battery life is good for a scooter in this price range, but expect to charge it every few days if you plan on doing a lot of riding.
If you can get the Hiboy S2 for $399 or less, it's a great value, as it delivers more than most other scooters at that price.
Read our full Hiboy S2 electric scooter review.
Best electric scooter for commuters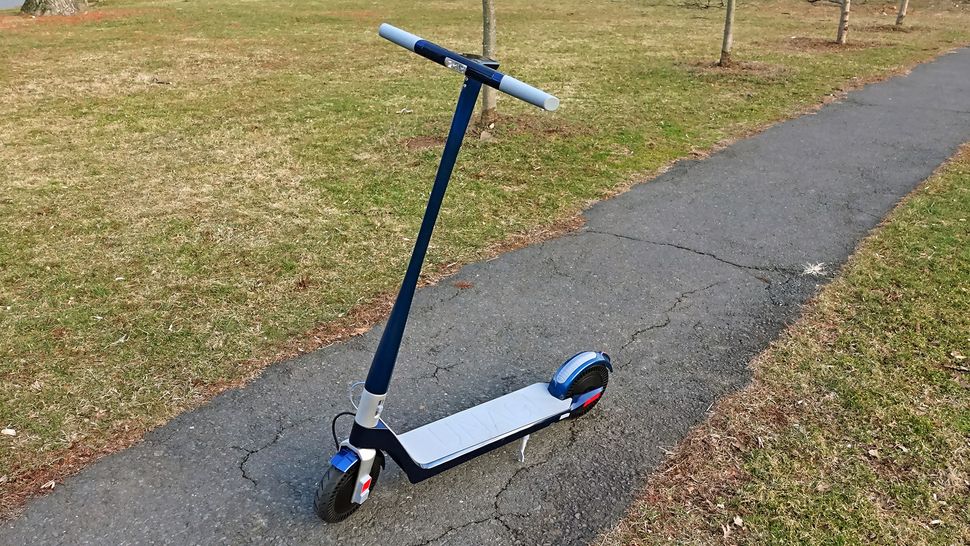 Thanks to its dual 250-watt motors, the Unagi Model One powers up hills with aplomb, zipping along twice as fast as other scooters with just a single motor. Using both motors (you can opt to use just one) causes the battery life to drop significantly lower than the scooter's advertised 15-mile range.
The Unagi also has a great display that's bright enough to easily see even in daylight; we also liked its intuitive controls and loud, electric-sounding horn. It has both head and taillights, the latter of which blinks rapidly when you hit the brakes.
We were also enamored with the Unagi's sleek design; its carbon-fiber front post changes in geometry from a circle to a triangular shape, making for an intriguing look. And, on Unagi's site, you can personalize the look with custom skins.
All of this comes at a price: The Model One costs $990. However, Unagi has a scooter rental program which lets you rent one of its scooters for $49/month, or $39/month with an annual subscription.
Unagi has also just released the Unagi Model One Voyager, which costs about $200 more, but offers roughly twice the range and a few other handy features. Read our Unagi Model One Voyager review to see if it's worth the upgrade. It's currently unavailable, but the company should have more models available to purchase by mid-August.
Read our full Unagi Model One review.
Best scooter for long distances
The Segway Ninebot Kickscooter Max G2 is an excellent upgrade to the original, featuring a longer range, more powerful motor, and some excellent new safety and security features.
For starters, the Max G2 has turn signals built into the handlebars that we found to be plenty bright — at least to oncoming traffic (my body tended to block the signals from those behind me). You can also set an unlock code to help deter thieves, and Apple Find My is built in, should the scooter ever go missing. You should still get one of the best bike locks to be safe.
The G2's 1000-Watt motor was more than powerful enough to get me up steep hills, and a capacious battery was able to deliver about 22 miles of range. That's shorter than Segway's advertised 43 miles, but still longer than most other scooters. And, thanks to dual suspension and thick 9 x 2.5-inch inflatable tires, I was able to ride around in comfort, too.
The one tradeoff: This scooter weighs a heavy 53.5 pounds, so it's not something you'll want to carry around.
Read our full Segway Ninebot Kickscooter Max G2 review.
The fastest scooter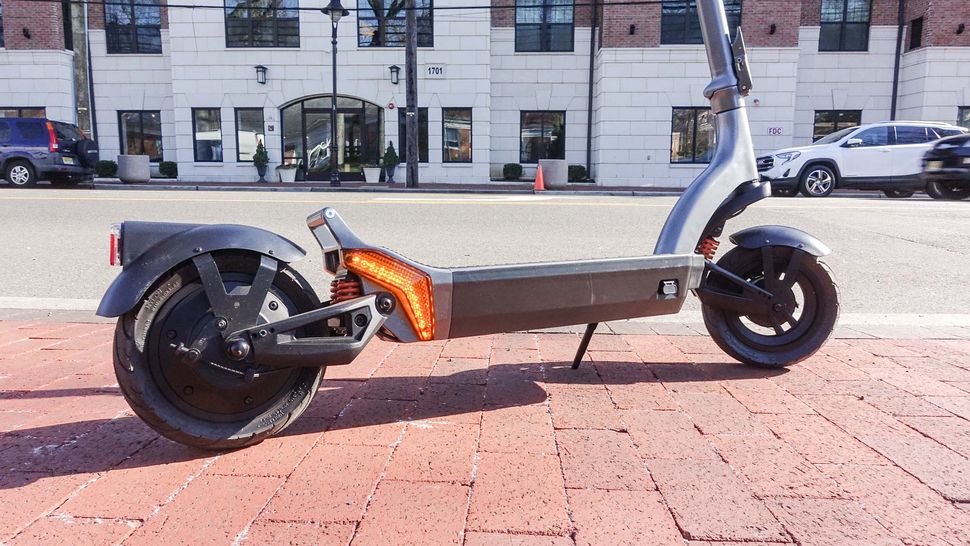 The Apollo City has something most other electric scooters lack: Turn signals. It's a lot easier to let other drivers know you want to go left or right if you can switch on a light, rather than holding your arm out. Yet, the Apollo City is also a great scooter on its own; its 500-Watt motor can get you up and down hills easily, it has full suspension and puncture-resistant tires, and, when connected to an app, you can customize its performance.
Still, at 57 pounds, this is a pretty heavy electric scooter — it's not our first choice if you have to carry it up a flight of stairs — and its latching mechanism is more finicky than you'll find on many other electric scooters. But, otherwise, this is a fun and fast electric scooter with a good safety feature built in.
If you want something even faster, check out our Apollo Ghost review: That model goes up to 35 MPH and has a range of up to 39 miles. However, we preferred the ride of the City, which felt more manageable.
Read our full Apollo City review.
Best electric scooter for kids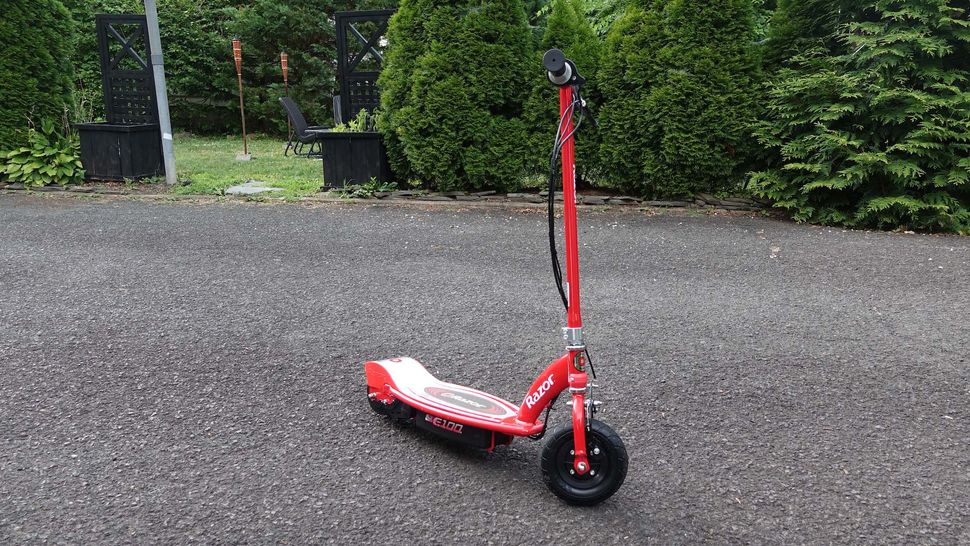 The Razor E100 is the best electric scooter for parents who want to get a scooter for their kids to safely ride around town. It comes in a variety of colors and features twist-grip acceleration controls, as well as a hand-operated front brake. The E100 tops out at 10 mph but offers enough torque for heading uphill or over steep bumps. And with 40 minutes of drive time, that's plenty to get to school and back with a pit stop in between.
The Razor E100 is available in a variety of colors and styles, so you should be able to find a model that best fits your child's personality. Just remember to get them a helmet. One caveat of the E100 is that it uses a chain-drive motor, which can be noisier than hub motors, and could require some maintenance over time. Also, the E100 lacks a bell or reflectors of any kind, so you'll want to purchase some at a bike shop to help make your child more visible on the road.
For more options, be sure to check out the best electric scooters for kids.
Read our full Razor E100 electric scooter review.
The Razor Icon is a throwback to the original Razor scooter, and updates it for the electrified age. This all-aluminum ride not only looks great, but rides well, too. This is a great mid-range ride for those who can afford something more than a budget scooter, but don't want to spend upwards of $700 on a scooter. It's also equipped with lights, so you'll be more visible in the dark.
We found that the Razor Icon handled hills fairly well, and could easily hit its top speed of 18 miles per hour. At 25.6 pounds, it's also one of the lighter scooters around; coupled with an easy locking mechanism, it should be well suited for those who want to take it on public transportation, and use it as a last-mile option.
Read our full Razor Icon review.
Best scooter for carrying stuff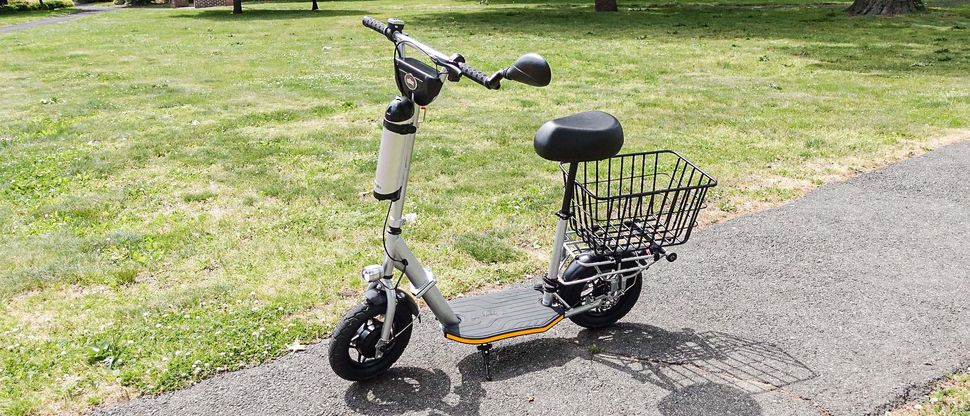 The Glion Balto is the best electric scooter for those who want something they can use to pick up groceries or carry things to and from the store. It's just as powerful as the Razor EcoSmart Metro HD, yet the Balto is more portable, as it can fold up on itself, making it much easier to store.
We also really like that the Balto comes with a side-view mirror, lights, and turn signals, which made us feel safer in traffic. And, the Balto's battery is removable, so you don't have to park the scooter near an outlet. As a bonus, you can also use the battery to charge your phone — but you'll need to buy an adapter first.
Read our full Glion Balto review.
The Razor EcoSmart Cargo has a neat trick: It can either haul your groceries or a second person — one of the few electric scooters that can do so. That's because its basket can be swapped out for a rear seat. Granted, the max weight is 300 pounds, so you'll both have to be pretty light, but it's a nice option to have.
Thanks to its 1,000-Watt motor, the Cargo has some real getup — it was real fun cruising around our neighborhood — but the chain drive was a bit noisy compared to direct-drive motors. And, its size and weight — 75 pounds — makes it best suited for those who have a garage where they can store it.
Read our full Razor EcoSmart Cargo review.
How to choose the best electric scooter for you
How are you going to use the scooter?
How you plan to use your scooter will go a long way to determining the best electric scooter for your needs. If you're using it as a "last-mile" vehicle — getting you from your home to the bus or train, and then from the bus or train to your office — you'll want to prioritize an electric scooter that's small and light. Look for a scooter that weighs between 20 and 30 pounds.
You'll also want an electric scooter that folds quickly and easily. There's nothing worse than having to fumble with a latch when you're rushing to catch a train — and your fellow passengers will appreciate it, too.
Are you riding on hilly terrain?
Where you plan to ride your scooter should also help determine your purchase. If you live in a flatter area, a scooter with a 300W to 350W motor should give you all the power you need. If, however, you live in, say, San Francisco, you'll want a scooter with a stronger motor to get you around. Larger individuals should also consider electric scooters with more powerful motors.
Price: For many, the price of an electric scooter will be the starting point for any buying decision. Here's a quick rundown of what to expect at each price tier.
$100 to $300: These scooters tend to be of the budget variety and come with smaller motors, low-capacity batteries and simple braking mechanisms, though they don't require maintenance and are great for getting the feel of the electric scooter. This is where you'll also find most electric scooters for kids.
$300 to $600: These scooters can be considered as either midrange or entry-level commuters, and they tend to include bigger wheels, slightly longer ranges, fast-charging batteries and the ability to scale hills.
$600 and up: These scooters are in the premium range. You can expect a longer, more comfortable ride, along with larger tires, faster speeds, disc brakes and better suspension.
Battery life/range: After price, this will be the next deciding factor for many. It's a bit difficult to provide an accurate estimate of battery life and range, because it's dependent on a variety of factors, including the rider's weight, the temperature, and the terrain — if you're riding on flat surfaces, you'll be able to go much farther than if you're riding up and down hills. Battery life is typically measured in Amp Hours (aH); the higher the number, the longer you'll be able to ride.
Speed: Most electric scooters will top out at around 15 to 18 miles per hour on a flat road. That's plenty fast for most uses, but there are scooters that will zip along at speeds in excess of 25 MPH.
Motors: The majority of electric scooters will have a single hub-mounted motor (meaning the motor is built into the wheel itself), and will typically have a power rating of 250 to 350 Watts. If you live in a particularly hilly area (or want to go fast) you'll want a motor with higher wattage.
Tires/suspension: There's nothing worse than a jarring ride as you bump over potholes and cracks in the road. To mitigate this, most electric scooters are now outfitted with air-filled (pneumatic) tires, which help cushion things. Others will have front or rear suspension (or both), which makes for an even more comfortable ride. Bigger tires also mean a more stable ride, too.
Lights: If you plan on riding your electric scooter in the early morning, at dusk, or among city traffic, it's worth getting a model with lights so you can see and be seen. Look for electric scooters with headlights and taillights — the better ones will have taillights that flash when you apply the brakes. Unfortunately, turn signals are rare, so you'll have to look out when changing lanes.
Electric scooters: Frequently asked questions
What's a good speed for an electric scooter?
The vast majority of electric scooters are designed to travel at speeds of 15 miles per hour. More expensive models can reach speeds of up to 20 MPH. Others can go even faster — we've seen (and rode) models that exceed 30 MPH — but here, you're getting into a gray area when it comes to state motor vehicle laws and regulations.
What is the best wattage for an electric scooter?
A typical electric scooter will have a 250-350 Watt motor, which should be more than enough power for most city riding on level terrain. As you go up in price, you'll find scooters with 500 Watt and higher motors, which are helpful if you need to get up steeper hills. At the top end, you'll find 800 to 1,000-Watt motors, which not only make getting up hills a cinch, but can also scoot you at much faster speeds.
What are the safety features for electric scooters?
Most, if not all electric scooters will have some sort of reflective surface so that you'll be more visible when a car's lights shine on you. As you go up in price, electric scooters will have headlights and tail lights — some tail lights will even blink when you apply the brakes.
Speaking of brakes, almost all scooters have some sort of handbrake; some will have a secondary brake that can be activated by pressing down on a scooter's rear fender.
Almost all electric scooters will also come with a bell or horn so you can warn others that you're approaching — but this doesn't mean you should ride recklessly. And, it's important to always wear a helmet when riding an electric scooter.
How we test
There are dozens of varieties of electric scooters on the market, but only a few are worth bringing home to ride.
To test electric scooters, we ride them around a New Jersey suburb and, if the scooter is light and small enough, we take it on a train and into New York City. As increasing numbers of people are bringing scooters on public transportation, we like to see how easy it is to lug a scooter up stairs, and to see how well it can be stowed under a seat.
Once in New York, we ride the scooter some more to see how well it handles potholes and other road obstacles. We also take each scooter up a street with a 6-percent grade, to see how well its motor performs under strain. More powerful scooters will be able to maintain a somewhat consistent speed, while lesser models will slow to a crawl.
In addition, we evaluate each scooter to see if it can reach its advertised top speed, and how close its range comes to the company's estimates. Spoiler alert: Most electric scooters will get around 60% of their advertised range.
As part of the testing process, we also evaluate a scooter's brakes, lighting, and design, as well as its price.
For entry-level and commuter scooters, we primarily consider things such as portability — how easy it is to fold up to bring on the bus or other types of public transportation, or how light it is to cart up a long stretch of stairs — along with range and top speed.
Commuter scooters don't need to be the fastest things around, but it helps if they can manage at least 15 MPH for a sustained time so that you're not holding up anyone in the bike lane. We also looked at braking mechanisms, including hydraulic disc brakes, which are the best for stopping quickly and safely at top speeds, and mechanical disc brakes, which are considered the second best for their reliability. Extra features like headlights, reflectors and available speedometer also factored into our commuter picks.
For the performance-based, higher-end rides, we consider range, speed and braking mechanisms, but we also looked at suspension. If you're paying upward of $1,000 for an electric scooter, it should be comfortable to ride and able to scale curbs, hills and bumpy roads.
For our picks for kids, electric scooters in this category don't offer the same bells and whistles as commuter models. For instance, many of the child and preteen picks don't fold up for portability, so we considered overall weight and size for kids with longer rides to school. We also stuck with scooters that topped out at 15 mph for utmost safety. And like our commuter and high-performance picks, we pored over reviews from parents where accessible.
For more information, check out our how we test page for Tom's Guide.
More from Tom's Guide