5 Reasons to Buy the Fitbit Versa (and 4 Reasons to Skip)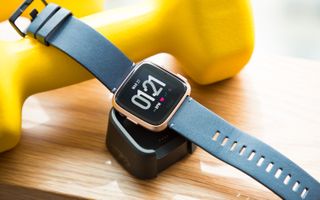 Fitbit Versa challenges Apple Watch
Fitbit's Ionic smartwatch wasn't exactly a runaway success, so the company went back to the drawing board to design a follow-up, the Fitbit Versa. The company fully embraced the square face with slightly rounded edges that Apple made popular with the Apple Watch. But Fitbit is undercutting Apple on price, at $200 to the Apple Watch Series 3's starting price of $329.
If you're looking for a fitness-focused smartwatch, Fitbit is giving Apple a serious run for its money. But price isn't everything. Here are five reasons to buy the Versa, which is available to preorder now and ships in April, and four reasons to pass on it.
Credit: Tom's Guide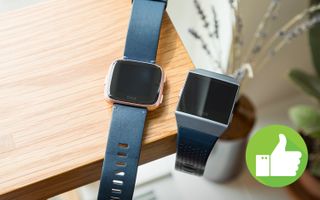 Stylish design
Yes, the Versa looks like an Apple Watch, but we're not complaining. Fitbit's newest device is far more fashionable than the company's last watch, the chunky Ionic. The Versa is smaller and slimmer than the Ionic and even thinner than an Apple Watch. It comes in rose gold and black with a variety of interchangeable band options in premium materials such as Horween leather and stainless steel.
Credit: Tom's Guide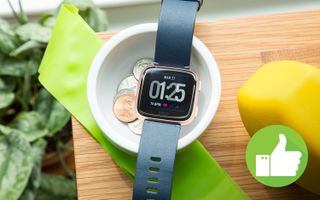 Affordable (for a smartwatch)
The Versa is pricier than many other devices in the Fitbit lineup, but for a smartwatch, it's downright affordable. For $200, you get a swim-proof watch that supports apps, stores up to 300 songs and can track a variety of workouts. The Apple Watch Series 3 starts at $329, and Fitbit's first smartwatch, the Ionic, sold for $300 at launch (it's now $250).
Credit: Tom's Guide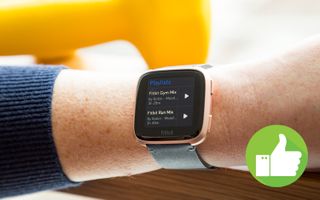 Multiple ways to listen to music
Smartwatches typically offer just one or two ways to download music for offline listening, but Fitbit offers three. You can connect your Versa to your computer and move MP3 files over the old-fashioned way, or you can pay for a $9.99-a-month premium subscription to Pandora or Deezer. The Apple Watch supports only Apple Music, and the Garmin Forerunner 645, that company's first watch with music storage, works only with iHeartRadio (and that integration isn't even functional at launch).
Credit: Tom's Guide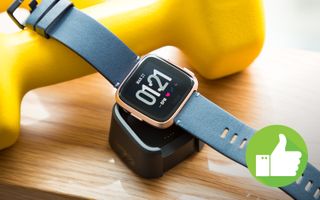 Four-day battery life
The Apple Watch can last barely a full 24 hours on a charge, especially if you use the device during workouts. The Fitbit Versa easily cruises through four days without needing to be plugged in, even after you use it to work out, listen to music and track your sleep.
Credit: Tom's Guide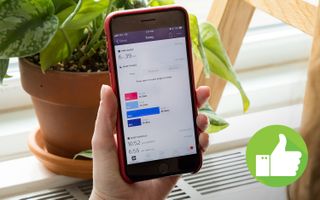 Accurate sleep-tracking analysis
The Versa's four-day battery life makes it the perfect bedtime companion. Instead of needing to be charged while you sleep, the watch can stay on your wrist and analyze how much time you spend in light sleep, deep sleep and REM sleep, as well as how much time you're awake during the night.
The Versa accurately detects when I fall asleep and when I wake in the morning, while other smartwatches are often wildly off. The Fitbit app accurately recorded the times I remember waking during the night. You can also use the Versa as an alarm clock by setting the watch to vibrate on your wrist when it's time to wake up.
Credit: Tom's Guide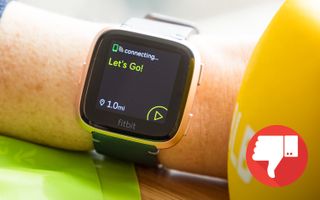 No onboard GPS
In order to make the Versa thinner and more versatile than the Ionic, Fitbit sacrificed onboard GPS. Instead, the Versa connects to your smartphone's GPS, which means you need to carry a phone with you while you're running or biking in order to accurately map your route. For serious athletes, that makes the Versa a no-go.
Credit: Tom's Guide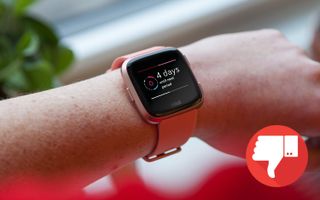 Missing female health-tracking features at launch
When Fitbit announced the Versa, the company said the watch would allow women to track their periods and log their symptoms directly from the watch. (Period-tracking is also coming to the Fitbit app, so Fitbit users who identify as women will have access to it regardless of what device they wear.) But those features won't be available for use until May, Fitbit says. Women who were hoping to track their cycles immediately can hold off on buying a Versa for now.
Credit: Tom's Guide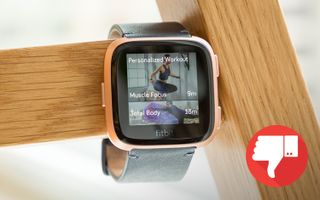 Thick bezels
Fitbit is embracing a more modern look with the Versa's design, but the company can't seem to hold back from slapping its logo on the bottom bezel of its devices. That makes the Versa's display smaller than it could be (and should be). If you want a smartwatch with a bigger display, Garmin's Vivoactive 3 and the Apple Watch Series 3 are solid alternatives.
Credit: Tom's Guide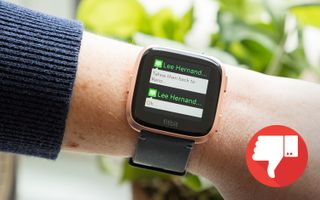 Can't respond to notifications (yet)
The Fitbit Versa delivers notifications from your smartphone to your wrist, but you can't do anything about them if you're an iPhone user. The Versa will soon support quick replies to text messages on Android, but that's not possible for iMessages. Hopefully, Fitbit finds a way to support actionable notifications from third-party messaging apps so Versa users don't have to pull out their smartphones to deal with every alert.
Credit: Tom's Guide