11 Cheap Keyboards (Under $20) Ranked from Best to Worst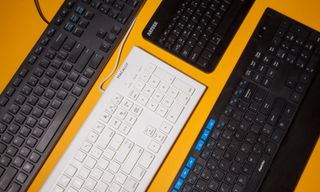 Cheap thrills
Between food, rent and the $1,000 iPhone, there's probably not much money left over in your wallet for a decent keyboard. But unless you've become a truly proficient touch-screen typist, you still need one of these prominent peripherals to write documents, browse the Web and type out furious 280-character screeds on Twitter.
We've surveyed 10 of the most popular under-$20 peripherals on Amazon to find the best cheap keyboards on the market. Some of these gadgets deliver cheap thrills and some are just, well, cheap. Whether you want full-size or tenkeyless, wired or wireless, there's likely a keyboard that suits your needs. Furthermore, Amazon may discount some of these keyboards even further on Amazon Prime Day, which will likely occur sometime in July. Granted, the keyboards aren't that expensive to begin with, but why not save a few extra bucks if you can?
Credit: Tom's Guide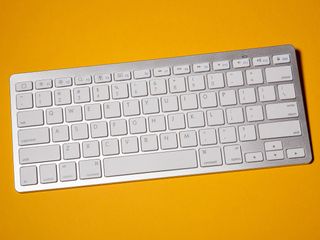 A word of warning
A few caveats before we dive in. First and foremost, each of these keyboards was less than $20 when we placed our order on Amazon. However, prices fluctuate over time, so double-check before you hit that "Buy" button. Second, while some keyboards I reviewed were better than others, none of them was stellar. If you can afford a mechanical keyboard instead, it's a much better investment, since they're more comfortable and last much longer than their membrane counterparts. But if your budget is especially tight, here are your best options.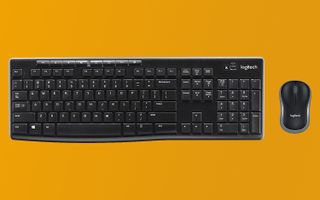 Logitech MK270 Mouse and Keyboard Combo
While we don't usually review mouse-and-keyboard combos, Logitech's MK270 is probably the best cheap keyboard you can get — even if the mouse is just OK. Both devices are wireless, and connect via a handy USB dongle. The small, sleek mouse is a little on the sensitive side, but the MK270 keyboard is a wonderfully simple peripheral with well-designed keys, a discrete media bar and a slightly ergonomic design. You could spend a lot more money for a keyboard that unsuccessfully apes Logitech's design; the MK270 lets you get the real deal, plus a mouse, for less than $20. 4.5/5
Credit: Logitech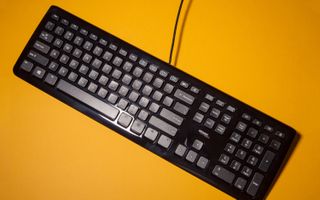 AmazonBasics Wired Keyboard
Although I was skeptical of a keyboard manufactured by Amazon, this wired USB peripheral eventually proved its worth with large, responsive keys, comfortable key travel and spacious profile. As the product's name suggests, it gives you all the basics you'll need to operate a computer: a full-size keyboard, a few discrete media keys and a sensible key layout. The keyboard doesn't have foldable feet; instead, it's on an angle by default. Touch typists will probably like this setup just fine, but those who prefer a totally flat keyboard should pick something else. 4/5
Credit: Tom's Guide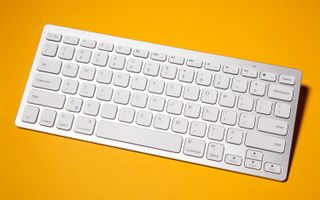 Anker A7726
Another Apple copycat keyboard, the Anker A7726 will connect via Bluetooth to the Android, iOS, Windows or MacOS device of your choice, and it works pretty well on all four. The keys have surprisingly decent travel, given the peripheral's small size (it's tenkeyless), but it's still relatively easy to type without errors. Although the media control and search keys aren't discrete, they're easy to activate, and the device's Bluetooth connectivity seems reliable. Aesthetically, it's probably the best cheap keyboard you can get to go along with a Mac. 4/5
Credit: Tom's Guide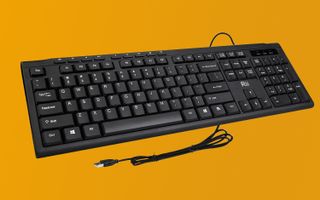 Rii RK907
For a keyboard that doesn't even break the $10 range, the Rii RK907 performed surprisingly well. The backspace and enter keys are both of normal size, and there's a row of useful extra keys on top. This includes discrete media controls, as well as buttons to take you to your default Internet browser, e-mail client and music player. The keys are unremarkable — neither as stiff nor as mushy as cheap membrane keys get, although the travel is still fairly short. While it's hardly luxurious, the RK907 gives you more than you'd expect for the price. 3.5/5
Credit: Rii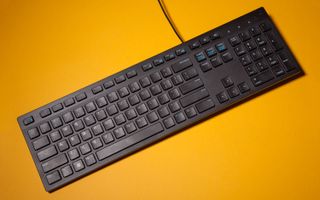 Dell KB216
If you've ever worked in a corporate office, you've either used the Dell KB216, or else something very similar to it. In spite of a shallow key travel and relatively small keys, the Dell KB216 is not bad. With discrete volume keys and springy keycaps, you could conceivably type on this model all day and not suffer too much wrist fatigue. My only caveat is that the keyboard eats up a surprising amount of desk space; I have worked with full-size gaming keyboards that were smaller. It's not the best cheap keyboard you can get, but if it's good enough for the office, it's probably good enough for most home uses. 3/5
Credit: Tom's Guide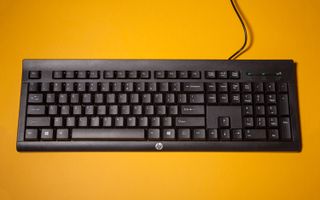 HP K1500
If you've been around computers for a while, you probably know that you can rely on HP in a pinch for a cheap, reliable keyboard that looks basically the same now as it did in the early '90s. In my notes for the HP K1500, I wrote that it would be "hard to imagine a more generic keyboard." But generic isn't necessarily bad. In spite of shallow key travel, the K1500 earns some brownie points for its incredibly thin body and reasonably responsive keys. There are no extra keys of any kind, but for less than $10, were you expecting any? 2.5/5
Credit: Tom's Guide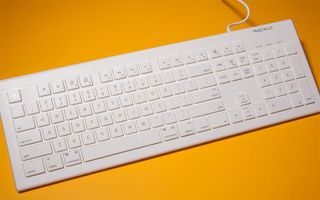 Macally USB Wired Keyboard
From its white color scheme to its prominent Command keys, the Macally is a Mac keyboard, through and through. Although it does technically work with Windows, there's no real reason why you'd want it for Microsoft's OS. That aside, Macally's keyboard defines "middle-of-the-road" quality. The key travel is shallow, but not that shallow. They keys are springy, but not that springy. Still, if you have an iMac, you probably paid a ton of money for it. If you need a replacement keyboard that kind of looks like the real thing, and you don't feel like dishing out a few dozen bucks, the Macally is fine. 2.5/5
Credit: Tom's Guide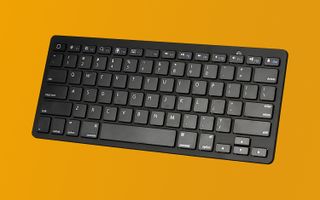 Omoton Wireless Keyboard
The Omoton Wireless Keyboard is a pretty standard Mac-style knockoff peripheral, and it could be worse. Although Omoton clearly designed the device with iOS in mind, it works pretty well with Macs and PCs, too. The keys are responsive and feel comfortable, even though the keyboard itself is small, and doesn't give users much margin for error. It's also a tenkeyless model, so take that into account. While this one doesn't have anything special to offer PC users, those on iOS and MacOS should find that it works pretty well for the price. 2.5/5
Credit: Omoton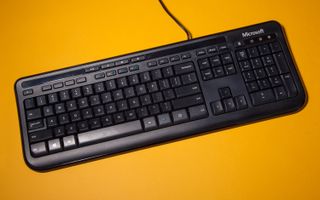 Microsoft Wired 600
Although the Microsoft Wired 600 isn't bad, per se, it's probably the weakest of the traditional wired models I tested. Between shallow key travel and an overall mushy feel, typing on it for long periods of time isn't very comfortable. On the other hand, it has discrete media control buttons, as well as Windows 10-specific buttons, which can bring up Search, Settings and the Calculator. You could probably get by with the Wired 600 as your everyday keyboard, but there are better options out there for a similar price. 2/5
Credit: Tom's Guide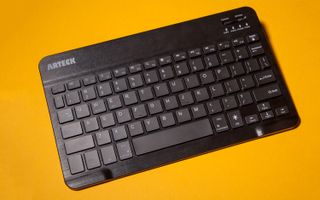 Arteck HB030B
The colorful Arteck HB030B keyboard used to claim it had been discounted from $80, but don't be fooled; this was most likely just an artificial price jack to make users feel like they were getting a great deal. While the HB030B features a solid Bluetooth wireless connection and seven pretty backlighting color options, it doesn't have much else going for it. The keyboard is absolutely tiny, and the keys are too close together — although they have pretty decent travel, all things considered. The keyboard doesn't have any feet, so you'll have to use it perfectly flat, and that's a deal-breaker for most touch typists. 1.5/5
Credit: Tom's Guide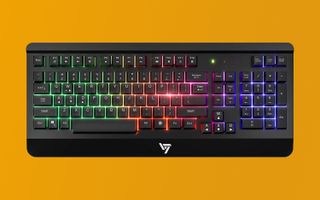 VicTsing Gaming Keyboard
Don't be fooled by the VicTsing Gaming Keyboard's name; nothing about it is really suitable for gaming. Between the mushy keys, the oddly shaped Enter key and a lack of media keys, this keyboard is more likely to hamper your gaming skills than help them. There are only two gaming-focused in the VicTsing: the ability to lock the Windows key (which is useful) and a haphazard rainbow lighting pattern (which is not). The lighting has too few colors to be true RGB, and it's not very bright, to boot. Worst of all, the VicTsing doesn't have any expandable feet, meaning that it's stuck in a flat conformation — an uncomfortable position for touch typists and gamers alike. If you're looking for the best cheap keyboard you can buy, you'll have to look elsewhere. 1.5/5
Credit: VicTsing