Best cheap Xbox One games under $20
Xbox Games for Less
Finding the best games for your Xbox One doesn't have to break the bank. From first-person shooters to action platformers to racing titles and more, here are some of the best gaming deals for your console, whether you're playing on your Xbox One S or going full 4K on the Xbox One X.
Untitled Goose Game
In a quaint English village, the people are going about their daily business without a care in the world. But you're a goose, and you can't sit idly by while there's chaos to cause and discord to sow.
With your goose abilities of honking, flapping your wings and picking things up with your beak, you'll have to terrorize the population as you pass through gardens, streets and the local pub. You'll have lots of fun ticking off the various tasks on your to-do lists, figuring out how to avoid any pesky humans interfering. It's a short game, but you'll be smiling throughout the whole time you're playing.
Credit: House House
My Friend Pedro
Why are you going on a series of suicidal raids against a bunch of well armed gangsters? Simple. The banana told you to do it.
This is a game about stylishly fighting your way through rooms full of baddies, and to help you out there's a variety of weapons that you can dual-wield and aim separately, mobility techniques like flips, jumps and dodge spins, plus copious amounts of slow motion to let you line up your shots and avoid enemy bullets.
Credit: Devolver Digital
Five Nights at Freddy's
The first four installments of the indie horror series made famous by YouTube and Twitch streamers are now available on Xbox, but the original is still probably the best. 
As the security guard at a restaurant full of free-roaming animatronic figures, you'll need to keep an eye on the building's security cameras to see where everything is, while managing your limited power supply so you can close the doors in case anything tries to get in.
Credit: Scott Cawthon
Afterparty
Dying is often pretty final, except when there's a get-out clause if you can drink Satan under the table. That's what Milo and Lola, your player characters, must to do escape their untimely fate. Your weapon is a flexible conversation system that builds your relationships with your friends and enemies over time, as you progress on your quest through an underworld that looks more like college than Hell.
Credit: Night School Studios
Return of the Obra Dinn
A merchant ship, long thought lost at sea, has just returned to port without any surviving crew or passengers. You, armed with your powers of deduction and a pocket watch that can rewind time to see a person's death, must record the identity and fate of everyone on board, and hopefully understand why the Obra Dinn has returned after so long.
Credit: 3909
Slay the Spire
If you're familiar with the roguelike genre, then you'll understand the basic premise of Slay the Spire: enter the Spire, a tall and dangerous dungeon, fight as hard as you can, inevitably die and then start again having unlocked some new upgrades and powers. What makes this game different though is that it isn't an action game but a card game. Your abilities are part of a deck you prepare before each trip into the Spire, which when combined with one of many discoverable relics making for a fun tactical experience with endless variations.
Credit: Humble Bundle
Burnout Paradise Remastered
One of the most popular racing games ever, only with a new coat of paint to make it more enjoyable on modern systems. Anywhere you drive in this open world leads to a race, whether something as long as travelling from the tops of the hills to the dockyards on the other side of the map, or just a block-long drag race. There's plenty of different cars to pick from, and many shortcuts to discover as you improve your skills in racing, drifting and taking out our opponents in high-speed crashes.
Credit: Electronic Arts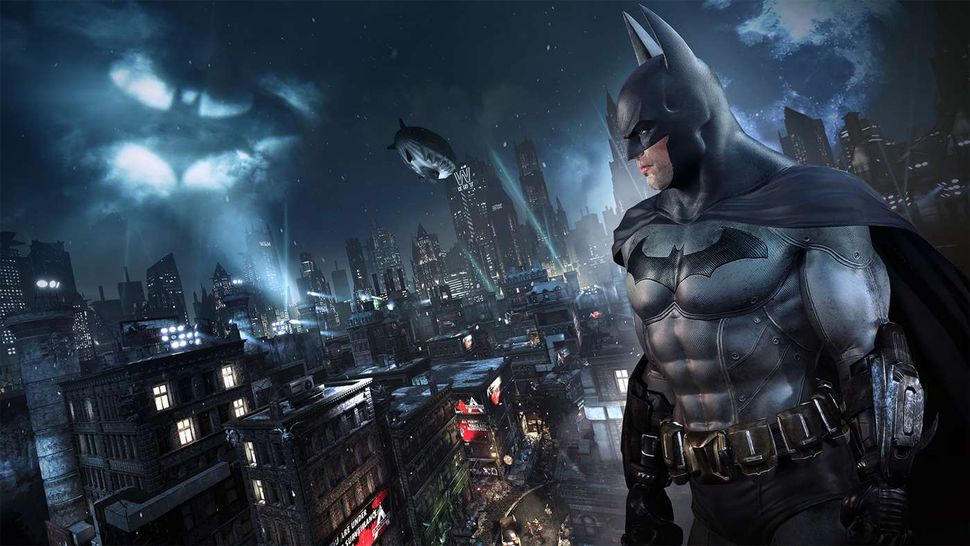 Batman: Return to Arkham
The Arkham series has been one of the best adaptations of a comic book character to a video game, and this bundle gives you the first and second parts together. Explore Arkham Asylum during a takeover by the Joker, and then Arkham City, an abandoned quarter of Gotham City where the villains from Batman's rogues' gallery vie for control. You use all of Batman's skills and gadgets as you fight, sneak and infiltrate these open locations, with the characters brought to life by some amazing voicework. If you've yet to try these games, then this is a deal you shouldn't miss.
Credit: Warner Bros. Interactive Ent.
Doom (2016)
On Mars, an interplanetary corporation accidentally unleashes a horde of demons while trying to tap into their dimension for a source of energy. As the Doom Slayer is awakened from a long slumber, all they care about is the fact that there's a bunch of monsters that need slaughtering. A modern reimagining of the classic first person shooter, you charge around battlefields at high speed, firing your weapons at the beasts of Hell and then closing in for some wince-inducing 'glory kills'. If you're bored of military shooters or third person action based around taking cover, Doom will provide you another option, and it simply feels fantastic.
Credit: Bethesda Softworks
Firewatch
In the hot summer months, the state of Wyoming hires volunteers to keep an eye on forest fires. You play Henry, one such volunteer who heads out into the woods to escape his responsibilities back home. With only the voice of Delilah, another volunteer, via walkie-talkie for company, you travel the trials around your watchtower to check that everything is as it should be. As a mysterious stalker and the ransacking of Henry's property proves, it isn't, and you've got to explore the area to find answers. A thoroughly good story topped with some beautiful vistas, this is one that will stay in your thoughts for some time.
Credit: Campo Santo
The Evil Within
A horror game directed by the creator of Resident Evil, so you know it's got horror game pedigree. As detective Sebastian Castellanos, you have to defeat enemies and traps while keeping an eye on your own resources, lest you run out of bullets with some twisted monster bearing down on you. Where you are is less obvious - after travelling to a mental hospital to investigate a mass murder, you'll find yourself in a confusing new world that breaks apart and reforms as you travel through it. It's tense and terrifying, both in tone and in gameplay, which is pretty much exactly what you want from a horror game.
Credit: Bethesda Softworks
Unravel
Yarny is a living piece of thread woven into a little creature. The world outside is a large place, but with the help of his stringy form, you will move him onwards on his adventure around charming locations based on the memories of the old woman who created him. The platforming is engaging, but the story and tone makes it a chilled out and emotionally touching experience.
Credit: Electronic Arts
Snake Pass
In this puzzle platformer, you play a cute snake named Noodle. Since snakes are not known for jumping around or moving at high speed, you instead progress by slithering your way up around and along obstacles, with your bird companion helping lift your long serpent body if you need a little help. It's completely unique among other platform games, and this makes it both refreshing and exceptionally challenging.
Credit: Sumo Digital
Ori and the Blind Forest
A hand-drawn artistic masterpiece, Ori and the Blind Forest intertwines players in the endearing journey of Ori, an orphan creature, through a thoughtful tale of hope and fear. But make no mistake, this game is still a difficult action-platformer, with exacting movement and combat mechanics that are sure to trip up even the most skilled players. A beautiful soundtrack and excellent narrative pacing make all of these challenging sections well worth the trouble.
Credit: Microsoft
Stardew Valley
Stardew Valley evokes memories of Harvest Moon, but stands up as an exceptional and heart-warming farming experience of its own. The authenticity of Stardew Valley and its inhabitants, combined with the variety of activities on the coast, deep in the mines and within its buildings are more than enough to guarantee genuine enjoyment. An easily accessible control setup and routine-inducing gameplay complement its relaxing 16-bit visual style.
Credit: Chucklefish
Wargroove
If you grew up playing Advance Wars or just love turn-based tactics games, Wargroove is made for you. You'll command an army across a series of gorgeous 16-bit battlefields that bring the glory days of the Game Boy Advance to mind, complete with more than 12 playable commanders, a meaty solo campaign and both local and online multiplayer options.
Credit: Chucklefish
Rocket League
Up for a challenge? Cuphead is a visually captivating and notoriously difficult sidescroller that channels the shoot-em-up gameplay of classics like Contra and Gunstar Heroes. While Cuphead will make you want to throw your controller at times, you'll ultimately stick around thanks to its immensely satisfying gameplay and arresting, 1930s cartoon-inspired art style.
Credit: Studio MDHR
Playing soccer with cars inside a closed arena with boosts and jumps is as crazy as it sounds. Add in a variety of gorgeous and distinctive arenas, custom cars and inventive game types such as a demolition and basketball mode, and you can see why Rocket League is such an overwhelming success. Consistent content updates keep the game looking fresh, while cross-platform multiplayer with PC players ensures a healthy user base and a quick matchmaking process.
Credit: Psyonix
Steamworld Dig 2
If you're a fan of colorful, highly replayable Metroidvania games, Steamworld Dig 2 is one of the genre's best. This charming 2D platformer lets you dig your way through a series of vibrant levels that are filled with secrets to discover and challenging enemies to take on. Thanks to your trusty shovel, hookshot and jet engine, simply moving around Steamworld Dig 2 is a joy -- the well-crafted and highly replayable stages certainly don't hurt either.
Credit: Image and Form Games
Okami HD
Okami HD is a remaster of Capcom's 2006 cult-classic, and the closest you'll come to playing The Legend of Zelda on your Xbox One. This stunning action/adventure game has you explore a gorgeously hand-drawn rendition of Japan as Amaterasu, a sun-goddess that can wield all kinds of cool powers as she fights to restore a broken world. Filled with satisfying combat, challenging puzzles and a unique painting mechanic, Okami HD will scratch a major itch for Zelda fans or simply anyone seeking an engrossing, beautiful adventure on the cheap.
Credit: Capcom
Titanfall 2
What game has epic wall-running, big stompy robots and a price tag under $20? Titanfall 2, otherwise known as the rare AAA sequel that actually tries, and succeeds, to improve upon its predecessor. Featuring a full-fledged campaign, a bevy of neat multiplayer maps and a lot of character customization, Titanfall 2 is a game that does its series justice. If you want one of the most electric, pulse-pounding FPS experiences on the market, this is the game to grab.
Credit: Electronic Arts
Hollow Knight: Voidheart Edition
One of the most beloved metroidvania games of this generation is finally on Xbox One. Hollow Knight: Voidheart Edition delivers the beautifully bleak, brutally difficult 2D platforming action of the original game, complete with four additional content packs that give you new abilities to master and new bosses to vanquish. If you're looking for a challenging sidescroller with a stunning art style, engrossing atmosphere and tons of exploration, Hollow Knight is among the genre's best.
Credit: Team Cherry
Killer Instinct
There's never been a better time to get into the C-C-C-Combo Breaking action than now, since the game's first season's character roster is available for $10. It includes a great variety of fighters to get yourself acquainted with, and serves as a fantastic introduction to what Killer Instinct has to offer. If you like season 1's characters such as the Spartan-esque robot Fulgore and sentient icicle Glacius, you'll be in prime shape to start exploring the game's other seasons.
Or, if you're not much into fighting games but want to give this one a try, you can always download the base Killer Instinct game for free and get to try out a different character each week.
Credit: Microsoft
Celeste
Celeste is an engrossing 2D sidescroller that's as brutal as it is beautiful. Created by the folks behind multiplayer smash TowerFall, Celeste brings the same charmingly pixelated graphics and airtight platforming controls and crams them into a narrative-driven adventure filled with challenging stages to conquer. While Celeste might make you want to toss your controller on occasion, its serene soundtrack and touching story will keep you around.
Credit: Matt Makes Games Inc.
Life is Strange Complete Season
Life is Strange is an episodic adventure that takes players firsthand through protagonist Maxine "Max" Caulfield's harrowing emotional encounters with such themes as death, suicide and violence. The main gameplay elements focus on Max's ability to rewind time over short periods as well as intense character encounters with interactive dialogue.
Credit: Square Enix
Wolfenstein: The New Order
Sonic Mania is a love letter to classic Sonic that remixes the best parts of the classic Genesis games into something exciting and new. Mania features a host of challenging and charming levels that you can zoom through as Sonic, Tails or Knuckles, as well as some of the most wonderfully inventive boss battles in the series' history. Sonic Mania isn't just a cheap nostalgia grab – it's legitimately one of the best Sonic games ever made.
Credit: Sega
From the key creative mind behind Journey comes Abzu, which encourages players to take the plunge into beautiful aquatic environments. The game's smooth mechanics encourage aerobatic swimming and diving through an ocean full of procedurally generated sea life and explorable structures. There are some dangers in the depths, but Abzu mainly builds a relaxing and rewarding experience that's perfect for taking in its stunning scenery.
Credit: 505 Games
The New Order sees war hero B.J. Blazkowicz return in an alternate future where Nazis won World War II and took over the globe. This first-person shooter leads players through a diverse set of environments, including underwater chambers, industrial tunnels and even on a moonbase, while heavily armed Nazi soldiers and monstrous war machines put up significant resistance at every turn. Shooting and movement mechanics are easy to pick up, while the game's sound design, from the background music to the weapon effects, is equally impressive. Surprisingly, the game also has one of the best narratives of any modern shooter.  
Credit: Bethesda Softworks